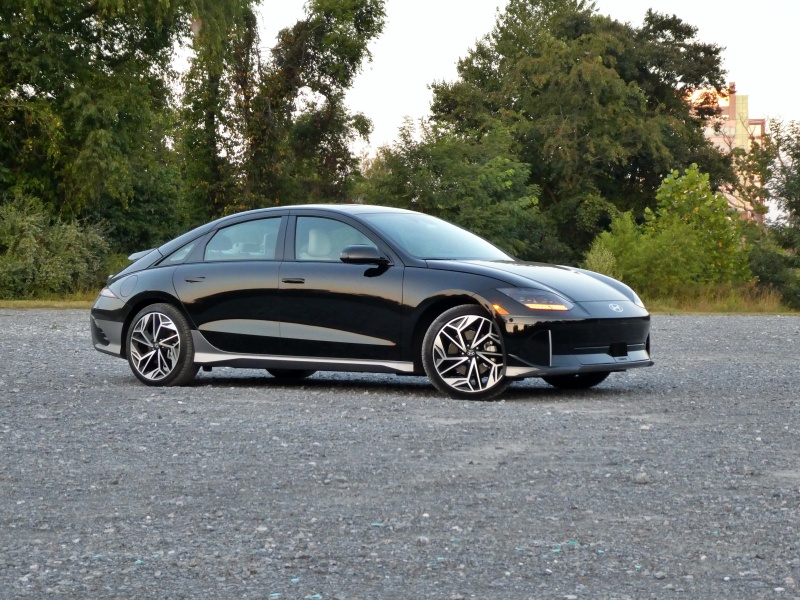 Photo by Brady Holt
Hyundai won design awards for the Ioniq 5, an '80s-retro blocky crossover SUV. But most modern electric vehicles are notably sleek and modern. And Hyundai hasn't forgotten about them, either. 
The carmaker recently launched a cousin to the Ioniq 5: the all-new 2023 Hyundai Ioniq 6, which wraps the Ioniq 5's excellent engineering inside the body of a lower, swoopier sedan that's priced from $41,600. We recently spent a week testing the new Ioniq 6 to learn more about how it fits into the burgeoning EV marketplace. Here are our 10 favorite things about the latest electric Hyundai. 
Swoopy Styling
One of the main reasons the Hyundai Ioniq 6 exists is to provide a different look from its Ioniq 5 cousin. And the two EVs couldn't look more different. 
The Ioniq 6 is a deceptively large sedan, stretching its ultra-aerodynamic body across 191 inches of length. That's 8 inches longer than an Ioniq 5, and it's 10 inches more than a Tesla Model 3. A rear-wheel-drive platform and a lack of an engine let Hyundai give the Ioniq 6 a stubby little hood, yet it preserved a sharp angle between the hood and windshield. That's a contrast from a similarly sized Mercedes-Benz EQE, whose windshield flows uninterrupted into the hood. But around the back, the Ioniq 6 has the look of an old Porsche 911: The roof dips down toward the rear bumper, which sits just below a slim horizontal lightbar. In sharp contrast to most modern cars, the windowline even dips down toward the back of the car, too, rather than rising up. Overall, the Ioniq 6 manages to stand apart from other cars on the road.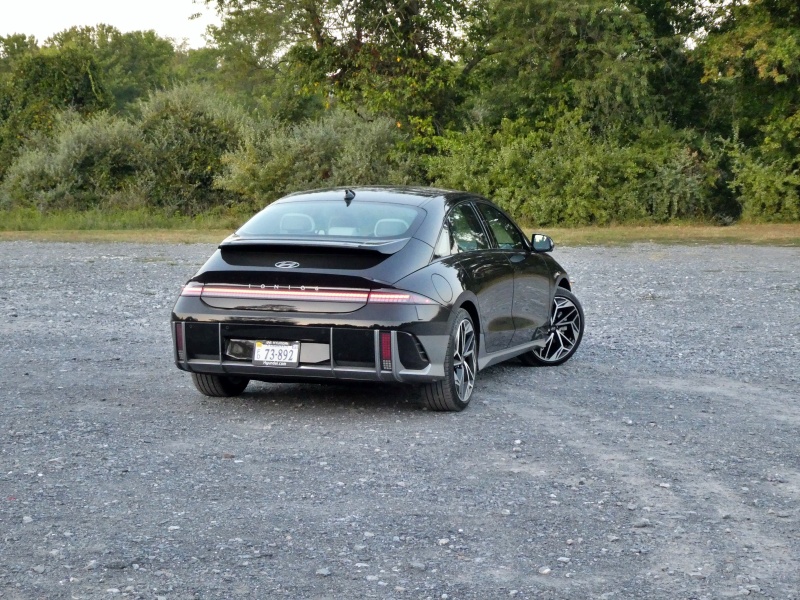 Photo by Brady Holt
Longer Range Than Tesla
The other chief reason to buy the Ioniq 6 over the Ioniq 5 (or any other electric car) is its incredible range per charge. If you pair the base SE trim level with the optional larger battery and the standard rear-wheel drive, you can travel an EPA-estimated 361 miles per charge. That's even longer than the best 2023 Tesla Model 3 (358 miles), formerly the class leader among relatively affordable electric vehicles. 
Opting for larger wheels or all-wheel drive cuts that estimated range to as little as 270 miles, like on our test vehicle equipped with both. But while we didn't run our battery to empty, our test vehicle was on track to beat that estimate with 306 miles of range. The base SE Standard Range travels a more modest 240 miles per charge, but even that distance is enough for most folks' everyday driving plus short road trips without recharging. Just note that like most EVs, the Ioniq 6 gets its best mileage and longest range at lower speeds than on the open freeway.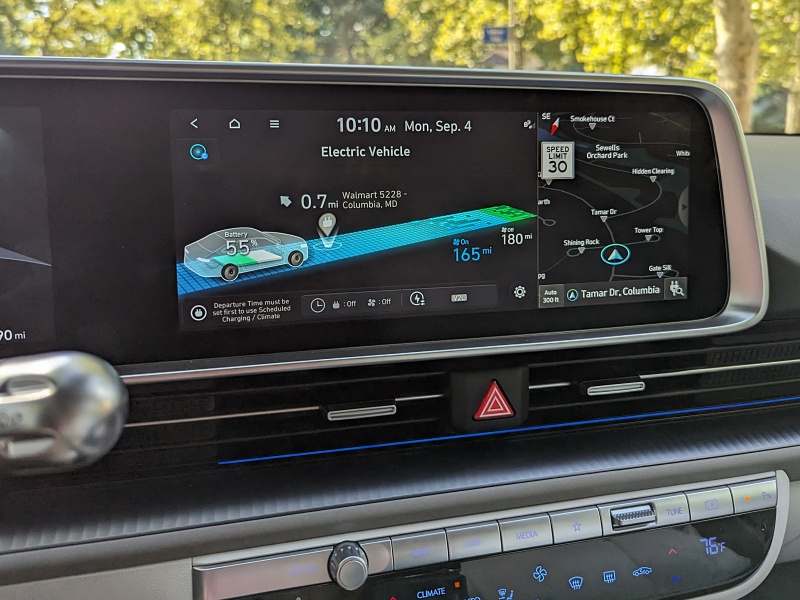 Photo by Brady Holt
More Efficient Than Tesla
While some long-range electric cars put up big numbers using big batteries, the Ioniq 6 is also a leader for efficiency. It ties a version of the Lucid Air luxury car as the most economical vehicle sold in the U.S., averaging the equivalent of 140 miles per gallon on the base model with the upgraded battery and 135 MPGe with the base battery. 
That beats the best Model 3 (132 MPGe), as well as the most economical versions of the BMW i4 (120 MPGe) and Polestar 2 (115 MPGe). Once again, our test car has the weakest showing of any Ioniq 6, but even its 103 MPGe stacks up well against similarly powerful electric rivals – to say nothing of gasoline-powered sedans. And our test vehicle did far better than the EPA estimate once again, with its trip computer reporting 142 MPGe. For further context, at the average U.S. residential rate of 17 cents per kilowatt-hour of electricity, it would cost only about $13 to bring an Ioniq 6's battery capacity from empty to 100 percent.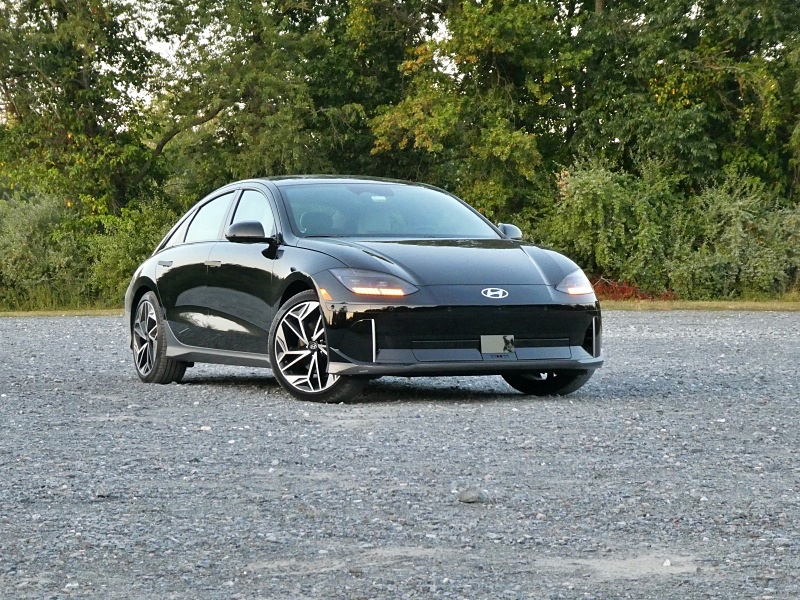 Photo by Brady Holt
Faster Charging Than Tesla
Not only does the Ioniq 6 go a long distance per charge, but it regains its charge in a hurry, too. A 240-volt car charger like you'd install in your garage or find at the grocery store needs just 6.1 hours to fully recharge the base battery or 7.5 hours to fill the plus-sized one. That means up to 48 miles of range per hour. And if you find the right fast-charging station, the Ioniq 6 can add 65 miles of range in as little as five minutes and get from a 10 percent to 80 percent charge level in as little as 18 minutes. 
Once again, these numbers beat what you'd find in the Tesla Model 3, making the Ioniq 6 an easier EV to accept if you're concerned about spending all your time tethered to a charger. On the other hand, Tesla has the superior network of Supercharger stations; Hyundai counters with two years of free 30-minute charges at Electrify America stations.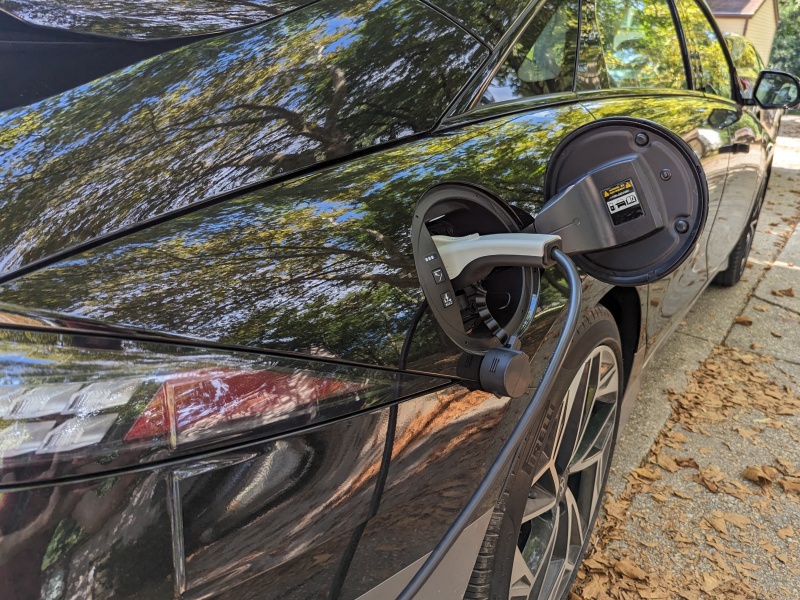 Photo by Brady Holt
Comfortable and Fun to Drive
Like most modern EVs, the Hyundai Ioniq 6 is wildly quick in addition to being incredibly economical. With the second electric motor you get in the 320-horsepower all-wheel-drive versions, it reaches 60 mph in less than 5 seconds. Other Ioniq 6s are less wild, with 225 hp on most rear-drive models and just 149 horsepower with the base battery. But especially given that their near-silent acceleration will avoid the strained growl of an overworked gas engine, any of these should feel speedy – though a Tesla Model 3 wins this round with even quicker acceleration. 
The Ioniq 6 also stands out for its serenely smooth and quiet ride. It's a luxury sports sedan that doesn't forget to pair its performance with comfort and refinement. And it's well engineered to allow for agile, responsive handling despite a comfortable ride. This electric sedan hums along at any speed you pick with no complaint, while its power and handling make it genuinely fun to drive.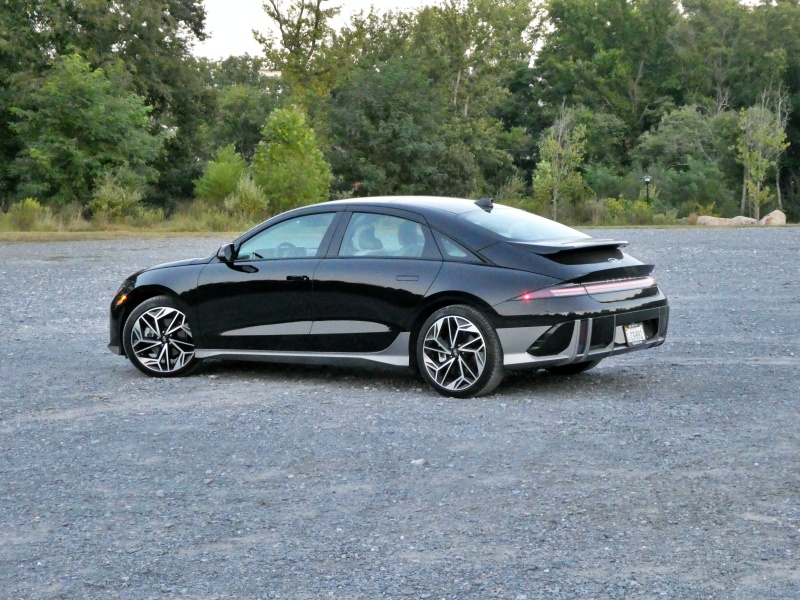 Photo by Brady Holt
Simple Yet Elegant Interior
We'll admit it: When we first saw photos of the 2023 Hyundai Ioniq 6's interior, we thought it looked drab in a sedan with such exuberant exterior styling. But we came to appreciate it once we were actually inside. The Ioniq 6's interior is gentle and soothing, with simple shapes and rounded edges. It's not flashy, and its trim pieces are more unique than classically fancy. To us, the result is an interior that feels high-end without being showy about it. Only the stereo's volume knob and tuning switch jumped out as a cheap piece of plastic. 
We also appreciate that Hyundai blends technology with familiarity. A 12.3-inch digital gauge cluster sits past the steering wheel, next to a 12.3-inch touchscreen at the center of the dashboard. A few physical buttons sit below that, along with some fixed-placement touch-sensitive climate controls. We faced some frustrations, like needing multiple steps in two different places (the climate controls and the main touchscreen) to heat or cool the front seats. But the Ioniq 6's controls don't have the steep learning curve of a Tesla.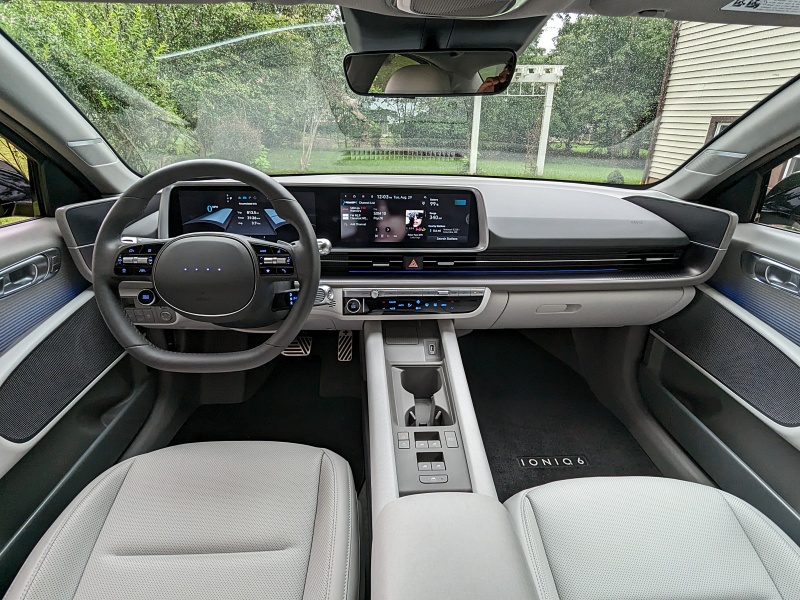 Photo by Brady Holt
Unexpected Spaciousness
A tiny front overhang, given the Hyundai's rear-wheel-drive architecture and lack of an engine under the hood, means that most of its generous length goes to the passenger cabin. The front seats feel open and airy, and they're trimmed in a choice of cloth on base models and convincingly luxe leatherette on upper trim levels like our test vehicle. 
The backseat also has generous leg and knee space, and the cushions are well-shaped and comfortable. The sloping roofline cuts into rear headroom, though it's not as disastrous as you might have assumed since this is such a big sedan. Our bigger complaint was that there isn't much foot space under the front seats, but there's plenty of room to move them forward if someone tall sits in the back. Trunk space is a modest 11 cubic feet, and the tiny front trunk ("frunk") measures just 0.4 cubic feet and can't hold anything bigger than a charging cable. But overall, the Ioniq 6 is a spacious sedan with more room to stretch out than most similarly priced rivals.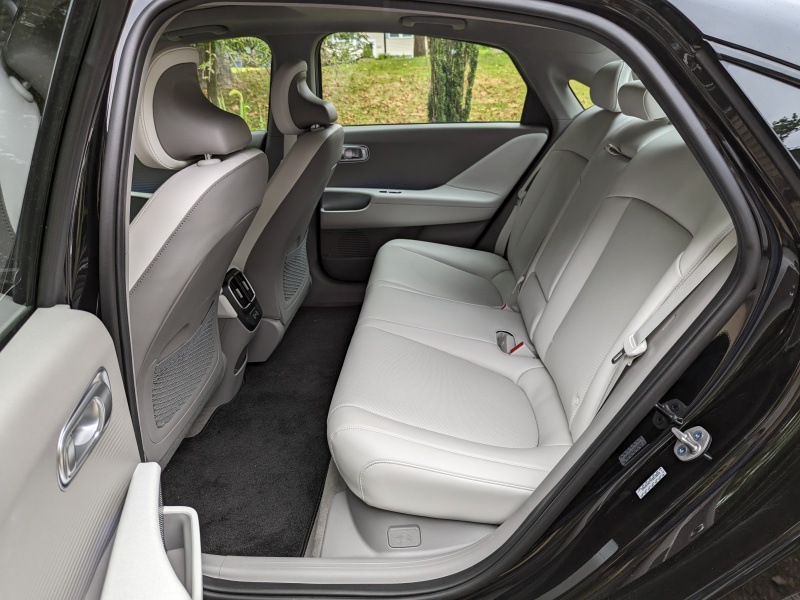 Photo by Brady Holt
Loaded With Features
As we mentioned, the base Ioniq 6 SE costs $41,600. It's decently equipped at that price; you get cloth upholstery, but there's a power driver's seat, heated front seats, the twin 12.3-inch screens, automatic climate control, adaptive cruise control, lane-keeping steering assistance, blind-spot monitoring, and automatic emergency braking. Most folks will pay an extra $3,900 for the stronger motor (225 hp instead of 149) and longer range (361 miles instead of 240), and AWD (with extra traction and 320 hp) costs $4,500 more for a total of $49,000. 
At $47,700, the SEL comes standard with extra power and range for a $2,200 premium over the equivalent rear-drive SE. It adds leatherette, the ability to unlock and start the car using your phone, a wireless smartphone charger, and flashier 20-inch wheels instead of the base 18-inchers (though these reduce the car's range). AWD costs $3,500 extra. And the top Limited like our test vehicle buys extras like a Bose stereo, surround-view parking camera, rain-sensing windshield wipers, and a power passenger seat. But it's also the only way to get ventilated front seats, a heated steering wheel, a sunroof, or the ability to charge another EV using your car's battery. It costs $52,600 with rear-wheel drive and $56,100 with the tested AWD.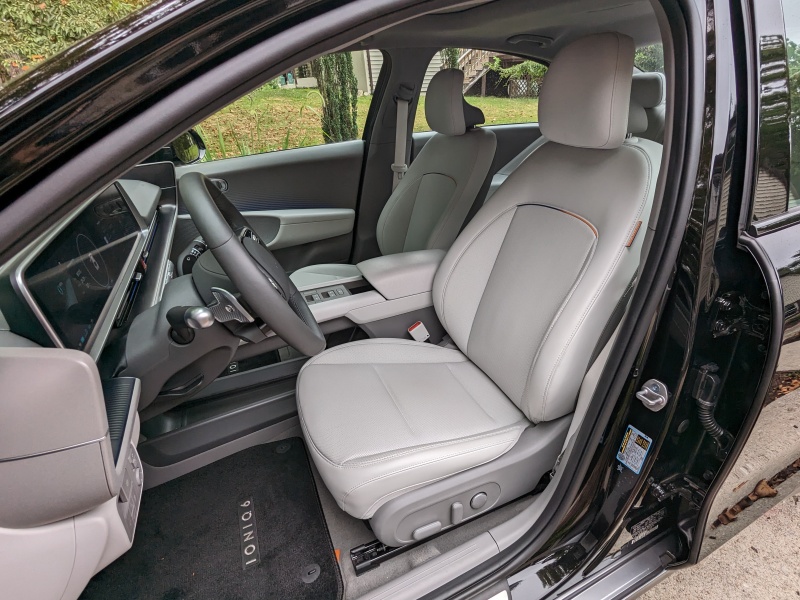 Photo by Brady Holt
Lots of Strengths vs. the Competition
The Ioniq 6's top rivals are all slightly smaller luxury sports sedans: the BMW i4, Polestar 2, and Tesla Model 3. The former two are more expensive than the Hyundai, especially since they don't offer an equivalent base version to the Ioniq 6 SE. And of the trio, the Ioniq 6 has the smoothest ride, roomiest cabin, and (as we mentioned) the longest maximum range, charging speed, and efficiency, though the smallest trunk. 
The toughest challenger is the best-selling Tesla. That's because unlike the Korean-built Hyundai, the Tesla qualifies for a $7,500 federal tax credit that takes a big bite out of its sticker prices. Plus, though it also starts at just over $40,000, the base Model 3 trounces the base Ioniq 6 for speed and range. The Hyundai's chief advantage is refinement and luxury. The Model 3 has a bumpier ride, lower-rent interior materials, and fewer premium features. Also, while the Ioniq 6's controls can be annoying, they're at least familiar; Tesla famously reserves most functions for the center touchscreen, and soon it won't even give you a simple turn-signal stalk or physical gear selector.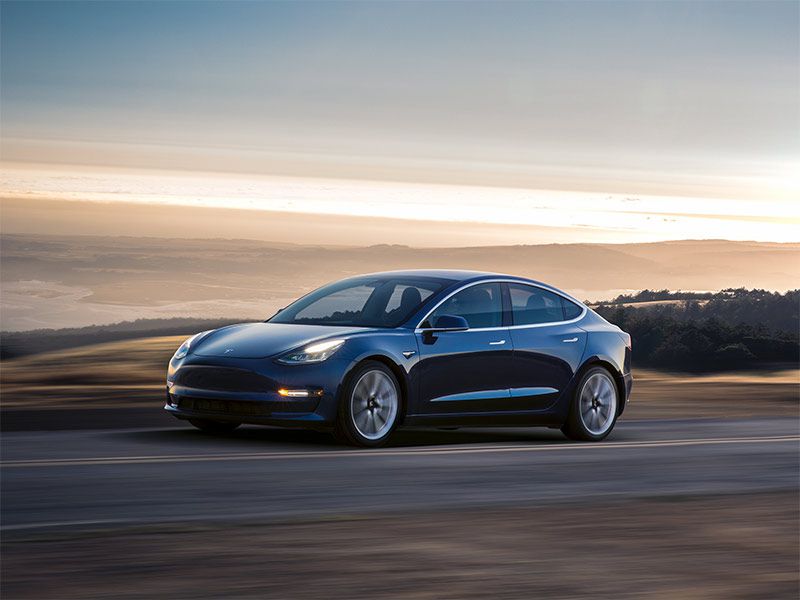 Photo by Tesla
A Luxury Sedan With a Hyundai Badge
Given the Tesla Model 3's superiority on everything from major considerations like value, ease of charging, and performance to minor points like trunk volume and rear foot space, it's easy to see why it's the best seller. The Ioniq 6 isn't going to change that. 
But if you're willing to spend more, Hyundai provides you with plenty of reasons to look beyond the obvious choice. Despite its humble badge, the Ioniq 6 is more of a luxury car than the Tesla. It brings technological advances like the fastest charging speeds, greatest efficiency, and longest possible range (though the last point is limited to a very specific trim level). It also has refinement and amenities that can make a Model 3 feel crude by comparison. And its styling is more distinctive and less familiar than the now-ubiquitous Tesla. Like the BMW i4 and Polestar 2, the Ioniq 6 costs more for a good reason, and it deserves your attention when a lower-cost Tesla isn't hitting the spot for you.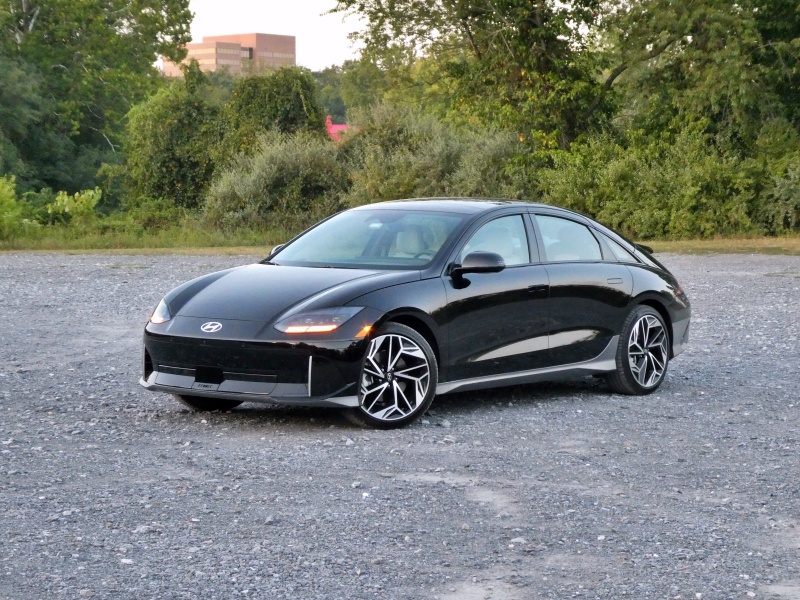 Photo by Brady Holt