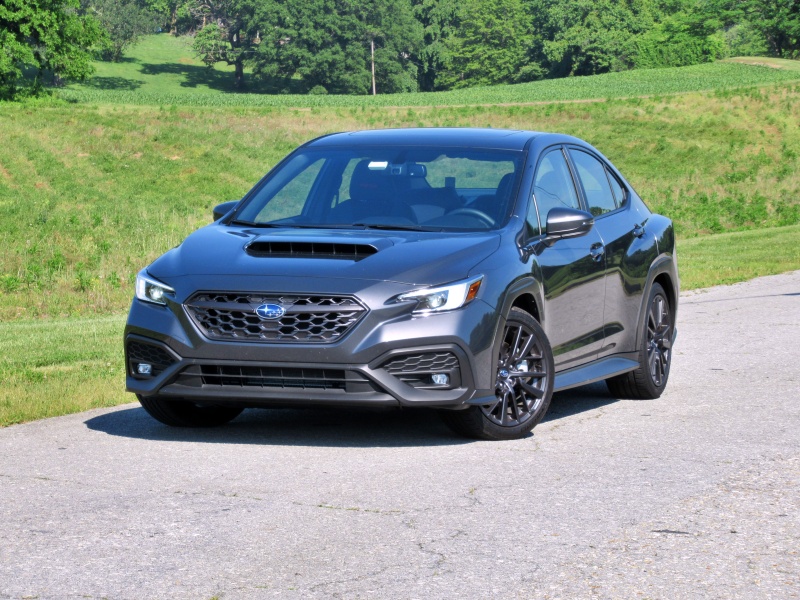 There's a reason that teenagers have high car insurance rates. Inexperience plus youthful decision-making skills can be a dangerous combination — even without a sports car in the equation. 
Still, some teenagers will be trusted with the keys to a sporty vehicle. Today, we've evaluated some of our favorite choices (focusing on comparatively affordable models rather than luxury rides) to come up with a list of the 10 best sports cars for teens. We looked for great cars that can satisfy a young driving enthusiast while keeping the dangers in check. Keep reading to see the cars we selected, sorted alphabetically. 
2023 Chevrolet Camaro
The 2023 Chevrolet Camaro is best known for its enormous V8 engines, like the 455-horsepower SS and the 650-horsepower ZL1. Still, this rear-wheel-drive coupe and convertible has talents that extend beyond its wild horsepower. And that's good news if you don't think your teen needs quite so much performance potential.
Under a modern Camaro's retro skin are the premium underpinnings of a Cadillac sports sedan: an unexpectedly steady ride and remarkably poised handling. This means we'd enjoy even the base 275-horsepower four-cylinder engine or the next-up 335-hp V6, especially with a manual transmission. The interior has little space for passengers, but that's OK for teens who don't need extra distractions from the backseat. Next year may be a teen's last chance to own a new Camaro, with Chevrolet planning to discontinue the model and perhaps borrow its name for a future electric car.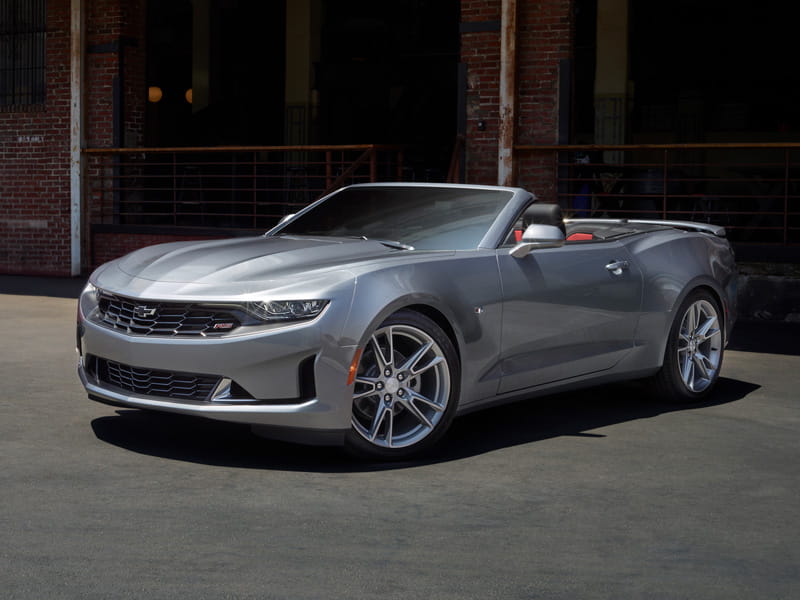 Photo by Chevrolet
2024 Ford Mustang
Unlike the rival Camaro, the Ford Mustang is in no danger of disappearing. In fact, Ford's "pony car" is freshly redesigned for 2024 with updates to its styling, interior, technology, and engineering.
The overall experience is familiar, and it's what has made the Mustang consistently popular for decades. Once again, we'd steer a teen toward the base engine, an already powerful 315-hp four-cylinder turbo. (Only the big V8 — making 480 to 500 hp, depending on the trim level — is available with a manual transmission, though.) And once again, this is a pony that can dance; its appeal isn't limited to straight-line shenanigans. And we appreciate standard safety equipment that includes automatic emergency braking, blind-spot monitoring, and lane-keeping assistance.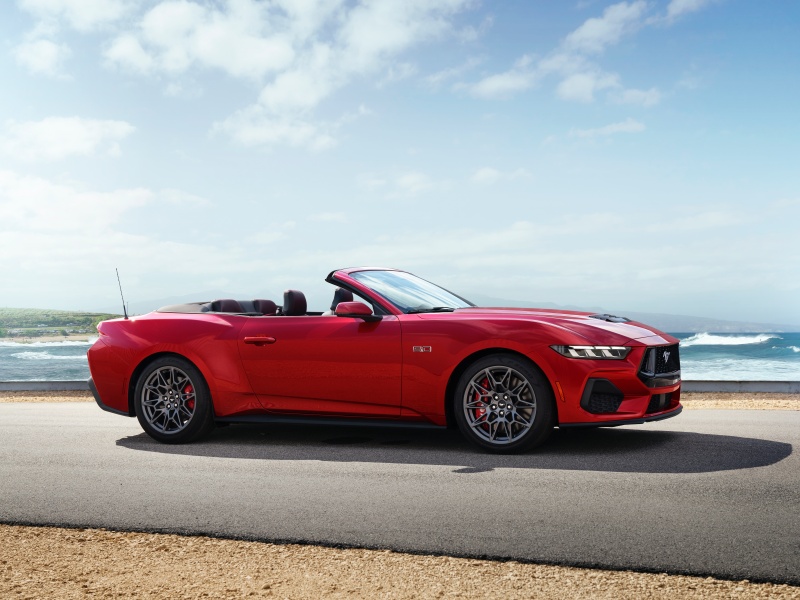 Photo by Ford
2023 Honda Civic Si
The Honda Civic Si has always been a sleeper sports car. It's a thinly disguised economy car with a bigger engine. These days, it's even sleepier than ever, sold only as an anonymous-looking four-door sedan.
Still, the 2023 Civic Si has a 200-horsepower turbo engine and six-speed manual transmission that separates it from ordinary Civics. A sport-tuned suspension makes it even more fun to drive than the already-fun standard version. What's more, the Civic earned a Top Safety Pick designation from the Insurance Institute for Highway Safety, and it comes with safety features that include automatic emergency braking, blind-spot monitoring, and lane-keeping assistance. We'd also happily buy a teen a turbocharged Civic hatchback with a "mere" 180 horsepower.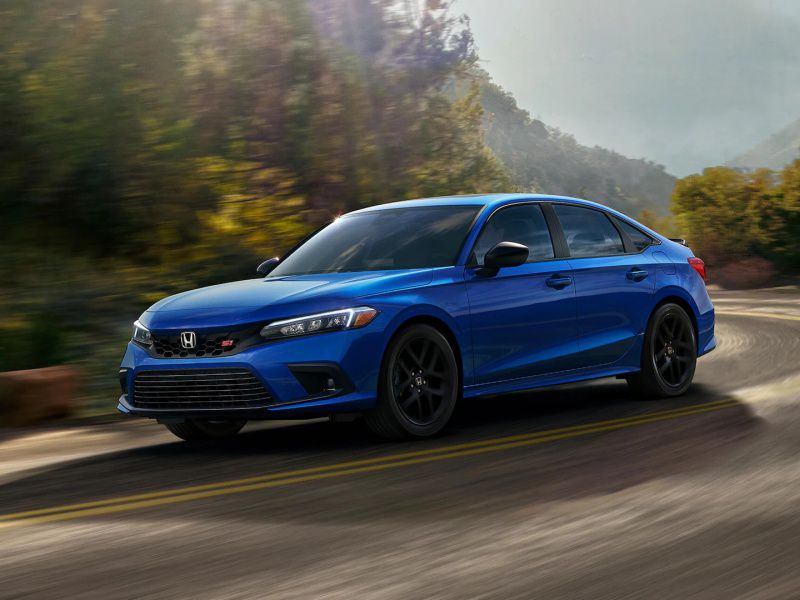 Photo by Honda
2023 Hyundai Elantra N
The Civic Si is a gentle-looking, gentle-driving sports sedan. Dial up the performance and dial back the polished refinement, and you've got the 2023 Hyundai Elantra N. This is another economy sedan with a bigger engine, but at a different magnitude of size: 276 horsepower.
The Elantra N, sold with a dual-clutch automatic transmission or a conventional manual, has tons of firepower for the money. It also comes packed with safety features that include front and rear automatic emergency braking, blind-spot monitoring, lane-keeping assistance, and rear parking sensors. And it's another IIHS Top Safety Pick for its excellent crash-test performance.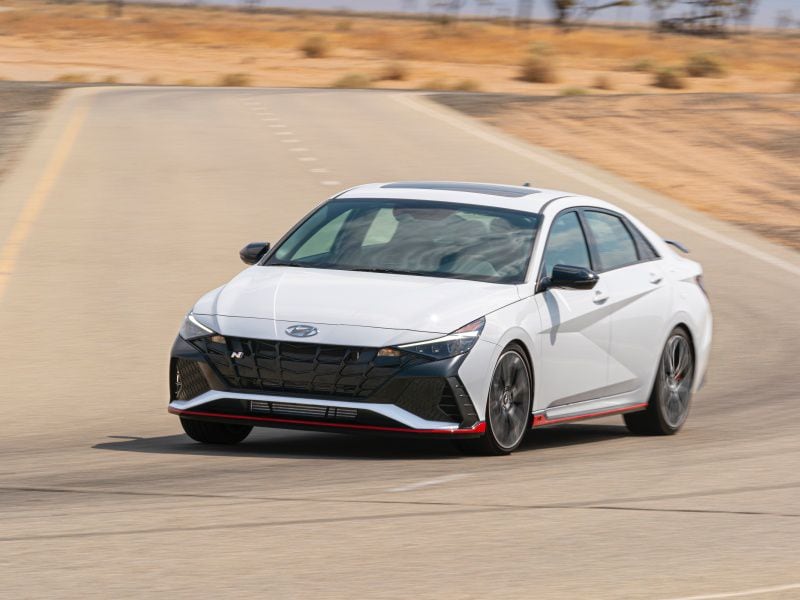 Photo by Hyundai
2023 Mazda3
It has become hard to find cars with racy looks that don't also have potentially dangerous performance. The 2023 Mazda3 defies that trend, especially in its five-door hatchback body style. In a world of SUVs, this low, wide, hunched-forward hatch is sleek and subtly aggressive.
It's also fun to drive, with peppy engines and responsive steering and handling. Even the base engine makes a healthy 191 horsepower, and the optional turbocharged unit goes all the way up to 250 hp. There's a choice of a manual or automatic transmission (on certain trim levels), while available all-wheel drive improves traction when you're speeding from a stop or just trying to get home in slippery weather. And it's another IIHS Top Safety Pick that includes a long list of safety features. The Mazda3 isn't exactly a true sports car, but it's a fun, stylish, and safe ride for a teen who appreciates a fine-driving automobile.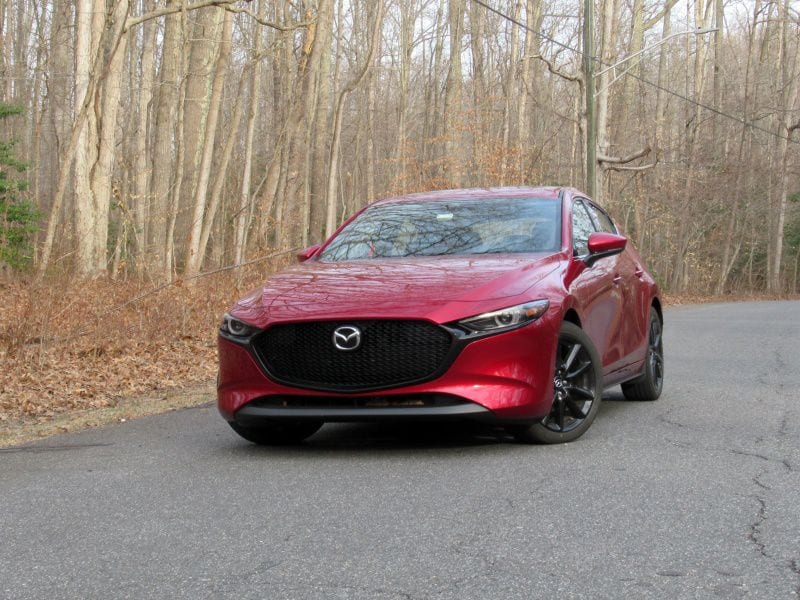 Photo by Brady Holt
2023 Mazda MX-5 Miata
Once upon a time, "sports car" was narrowly defined as a small, two-seat, open-top, rear-wheel-drive roadster. By that metric, the 2023 Mazda MX-5 Miata is the only sports car on our list of the best sports cars for teens. And by many metrics, it's also the most fun.
The genius of the Miata is that it feels fast even when it isn't. With the wind rushing by overhead, the pavement just below the driver's fanny, and the 181-horsepower engine whisking the lightweight body along, it provides an intimate connection to the road — especially with its manual transmission. Some parents might balk at the idea of their teens in such a small car, but at least a Miata doesn't inspire them to chase absurd speed if they want a few grins. They also can only fit one passenger. And between its super-agile handling and its standard automatic emergency braking, lane-departure warning, and blind-spot monitoring, they also have decent odds of avoiding a crash to begin with.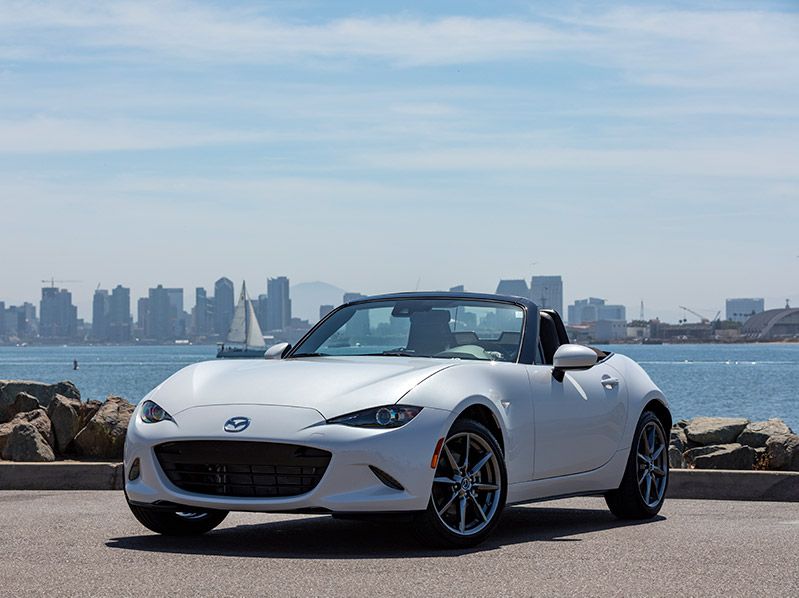 Photo by Mazda
2023 Mini Cooper
Here's another sports car for teens that thinks small: the 2023 Mini Cooper, a cheekily British-looking hatchback or convertible that rides on steady BMW bones.
The Mini's responsive steering and handling are clearly all about fun. And when you buy it new, Mini gives you endless ways to customize its appearance. We're also glad to see the Mini available once again with a manual transmission after briefly going automatic-only. We think the base 134-horsepower engine is prudent for teens, but some might be trusted with the available 189-hp and 228-hp models. As with the Miata, the convertible's intimate connection to the outdoors helps it feel fast without needing excessive speed. But unlike the Mazda roadster, which has enough room to carry a backpack but not much more, the Mini has a backseat. And if you fold that down (at least on the hatchback version), you get a useful enclosed area.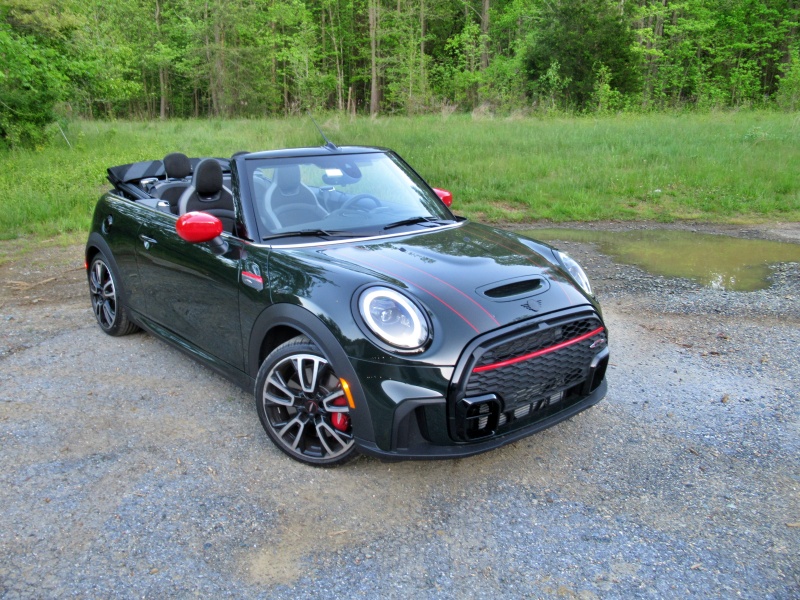 Photo by Brady Holt
2023 Subaru WRX
The 2023 Subaru WRX is another compact sedan with lots of standard safety features, excellent crash-test scores, and a big engine — 271 horsepower, in this case.
This rival to the Honda Civic Si and Hyundai Elantra N has a useful trick up its sleeve, though: Like most Subarus, it comes standard with all-wheel drive. That's because the WRX has a history as a rally car, racing in bumpy conditions rather than carefully smoothed race tracks. This engineering decision can also help it withstand the daily grind better than most sports cars. And as with the Mazda3, AWD means the WRX has a better shot at maintaining traction even in messy weather. Most WRX trim levels give you a choice of a manual or automatic transmission, too, while the Mazda limits a stick shift to front-wheel drive and its base engine.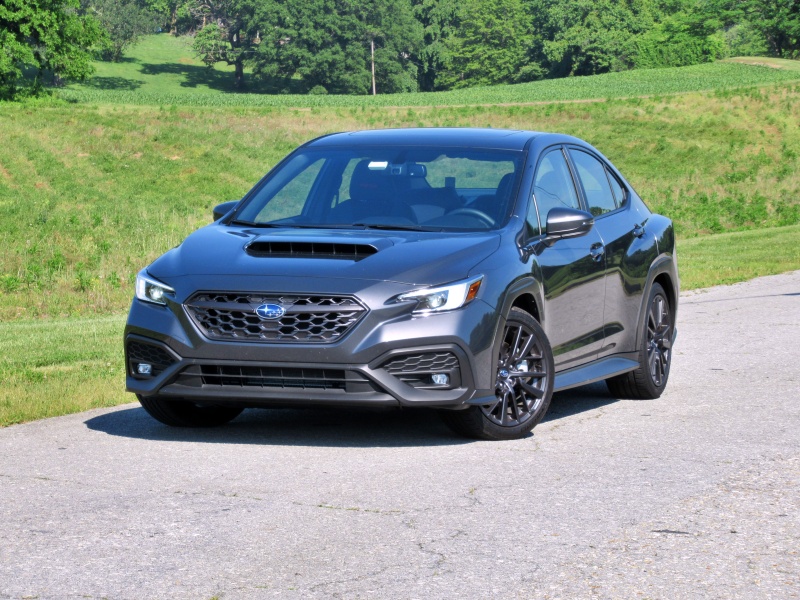 Photo by Brady Holt
2023 Toyota GR86
Turning back to small, light, rear-wheel-drive two-doors, the 2023 Toyota GR86 is something like a Mazda Miata with a roof. Along with its mechanical twin, the Subaru BRZ, the GR86 prioritizes sharp handling and pure driving pleasure over maximum straight-line speed.
This is a little sports coupe that doesn't forget about safety. Like many of the best sports cars for teens, the GR86 has a long list of safety features. But it's also the only car of these 10 to score the highest possible IIHS Top Safety Pick+ designation. And as with several of the other cars here, we think its relatively modest 228 hp is a safer choice for many teens than an enormous engine.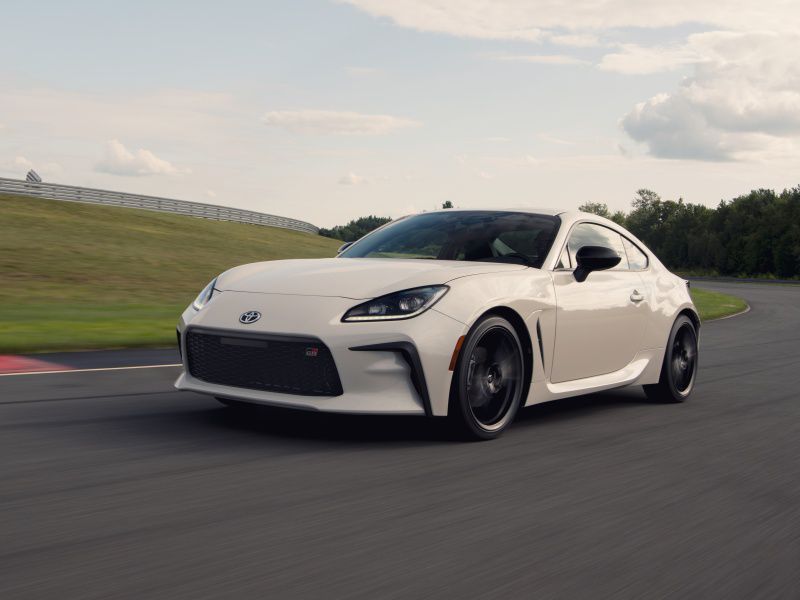 Photo by Toyota
2023 Volkswagen GTI
We'll close our list of the 10 best sports cars for teens with a classic: the 2023 Volkswagen GTI. This "hot hatch" has been delighting U.S. drivers for more than 40 years, and its history internationally goes back even further.
The five-door GTI doesn't look like a sports car. And it doesn't have hair-trigger responses that urge the driver to speed. It's a comfortable, relaxed, and practical car when driven gently, just with additional performance potential when it's pushed. This unflappable 241-horsepower hatchback is another IIHS Top Safety Pick, too (though it misses out on the top "+" mark). As a final reminder, not every teen driver can safely handle a sports car, either in terms of driving skill or the ability to use it safely. But if they're getting behind the wheel of something that goes beyond merely sensible transportation, one of these 10 sports cars could serve them well.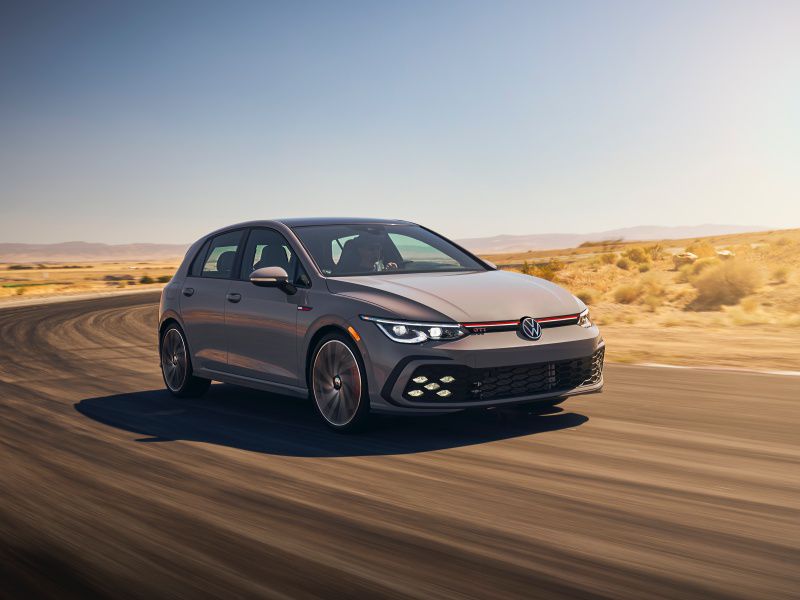 Photo by Volkswagen