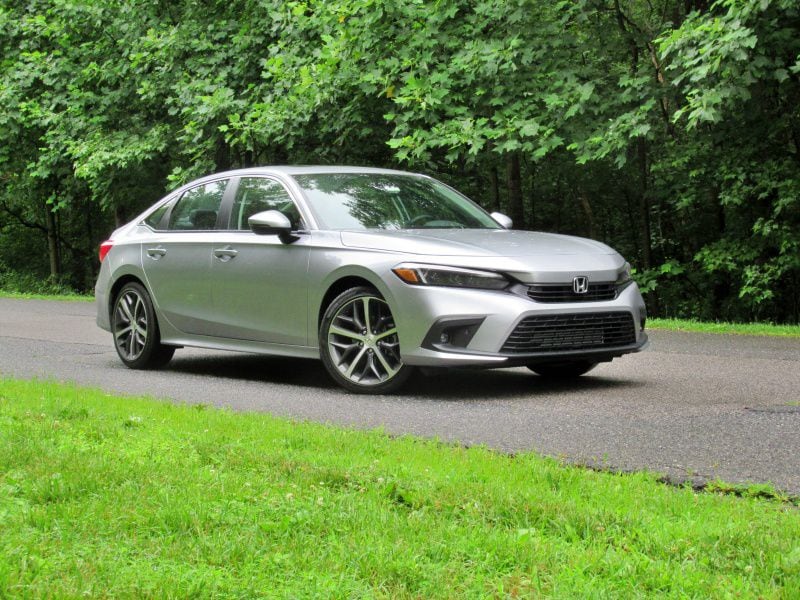 Photo by Brady Holt
New cars are infamously expensive these days. When the average new car sells for nearly $50,000, it's easy to throw up your hands and assume there's nothing left for budget-minded customers. 
But you're in luck. Today, we've rounded up 10 cheap reliable cars. Each of them has a starting price of less than half of that national average. Each of them has average or better reliability ratings from top consumer groups. And each of them gets at least 30 mpg, so they won't be too expensive to operate, either. Keep reading to see these 10 cheap reliable cars, which we've sorted by base sticker price. Just keep in mind that these base prices don't include destination charges, taxes and registration fees, mandatory dealer fees, or any dealer markup. Be sure to get online price quotes that include these extra costs to ensure the car you choose really will stay cheap. 
2023 Nissan Versa: $15,980
The 2023 Nissan Versa subcompact sedan has the lowest starting price of any car in the U.S.: just $15,980. And that money doesn't buy a miserable penalty box, either. The freshly updated 2023 Versa is crisply styled, decently roomy even in the backseat and trunk, and packed with modern safety features, including a lane-departure warning and both forward and reverse automatic braking.
We recently spent an agreeable week in the Versa: It's no sports car, but comfortable and easy to drive. And we averaged a remarkable 42 mpg during our test, trouncing the EPA estimates of 32 mpg in the city, 40 mpg on the highway, and 35 mpg combined with its optional automatic transmission. Base models come with a five-speed manual, keeping costs down for folks who are still willing and able to drive a stick and save even more money.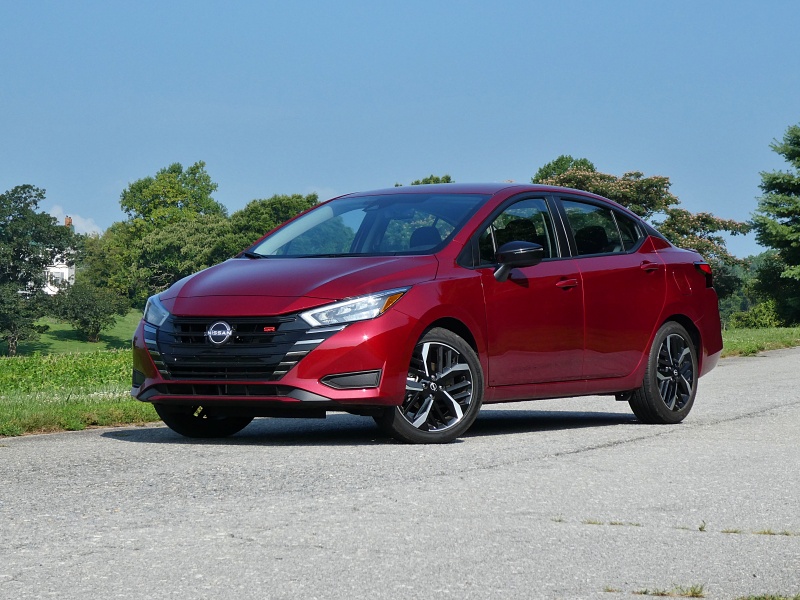 Photo by Brady Holt
2023 Mitsubishi Mirage: $16,245
Unlike the Nissan Versa, the Mitsubishi Mirage is closer to a penalty box. Its 78-horsepower three-cylinder engine is the smallest by far of any car sold in the U.S.; its runner up (the next car on our list, the 2023 Kia Rio) has more than 50 percent more horsepower than the little Mitsubishi. In hatchback form, the Mirage is also the smallest car still sold in the U.S., measuring just 151 inches long.
But it's certainly cheap. Its $16,245 base price includes an automatic transmission (a $1,700 upcharge on the Versa) along with niceties like forward automatic emergency braking and automatic climate control. Its EPA estimates beat any other gasoline engine in the U.S. at 36 mpg city, 43 mpg highway, and 39 mpg combined. And even though it's tiny, even the Mirage hatchback has decent passenger room and, with the backseat folded down, a useful cargo hold. (You can also pay $1,000 extra for the Mirage G4 sedan with a bigger backseat and trunk.) If you find this noisy, slow Mitsubishi tolerable to drive, it will help you score big savings.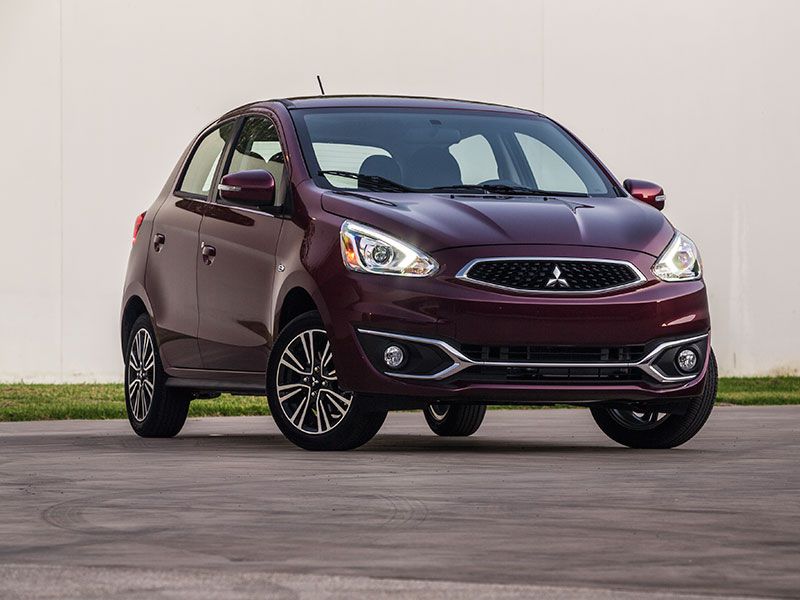 Photo by Mitsubishi
2023 Kia Rio: $16,750
The next of our cheap reliable cars is the luxury car of the subcompact class, at least relatively speaking. That's the 2023 Kia Rio, whose comparatively smooth ride, quiet engine, and well-finished interior make it less rudimentary (though not flashy). Even so, it starts at an affordable $16,750 with an automatic transmission, Kia's famously long warranty coverage, an EPA-estimated 36 mpg in mixed driving, and a choice of sedan and five-door hatchback body styles.
The Rio has notable drawbacks. It has fewer standard safety features than the Mirage, Versa, or nearly any other car on sale today. It also has a smaller backseat than the Versa or Mirage. But it's a bargain-basement car that doesn't constantly remind you that you pinched your pennies.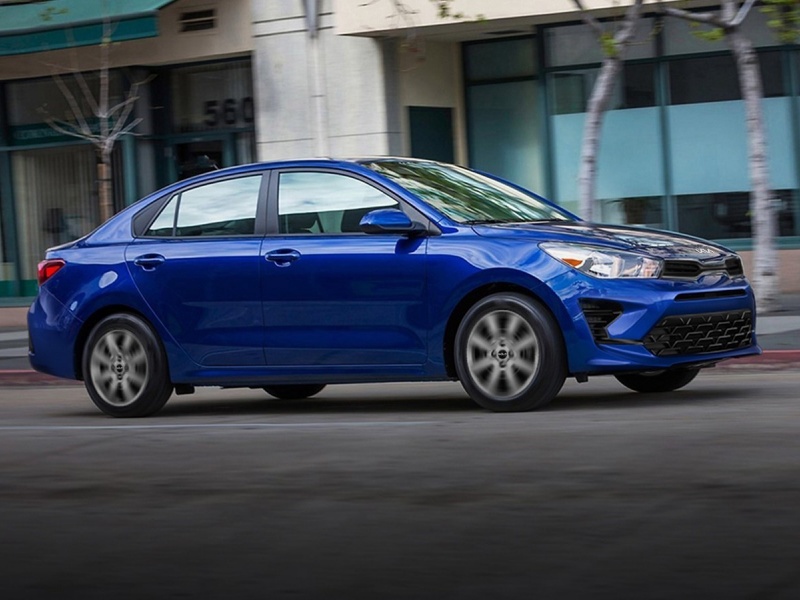 Photo by Kia
2023 Hyundai Venue: $19,650
If you've thought that crossover SUVs were taking over everywhere, you'd be right. The 2023 Hyundai Venue is derived from the Hyundai Accent sedan (a mechanical twin of the Kia Rio), but it's taller and boxier, with more cargo room and a higher seating position.
But even SUV pretenses don't mean high prices. The subcompact Venue is well equipped at a $19,650 base price, with features that include forward automatic emergency braking, lane-keeping assistance, alloy wheels, and an 8-inch infotainment touchscreen. Its 121-horsepower engine is peppy around town, and its tiny size and tight turning radius make it a super-easy city car. The backseat may not be generous for adults, but there's decent cargo room. And while EPA estimates aren't incredible at 31 mpg in mixed driving, our latest Venue test vehicle beat that figure by 10 mpg.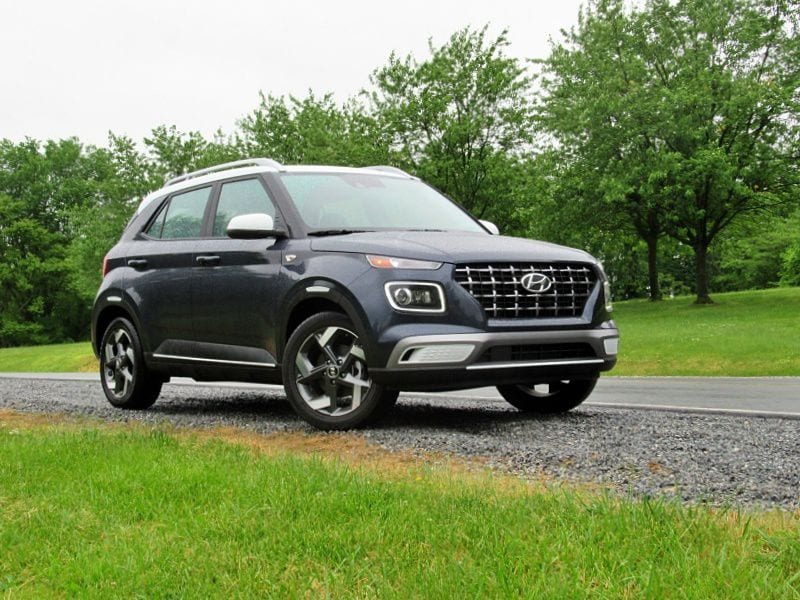 Photo by Brady Holt
2023 Kia Forte: $19,690
The 2023 Kia Forte compact sedan, costing about the same as the Hyundai Venue crossover, is the cheap, reliable car for someone looking for bargain-priced refinement. It's a size larger than the vehicles we've covered so far in this article, and you feel that in its extra power (147 horsepower standard, with an optional 201-hp turbo), spaciousness, and effortless highway-speed solidity.
What's more, while the Forte's EPA ratings trail many fellow small sedans at 28 mpg city, 39 mpg highway, and 32 mpg combined, we averaged 38 mpg in mixed driving and 44 mpg on the open freeway. Overall, this is a well-built car that exudes competence at a reasonable price, even if it doesn't inspire thrills.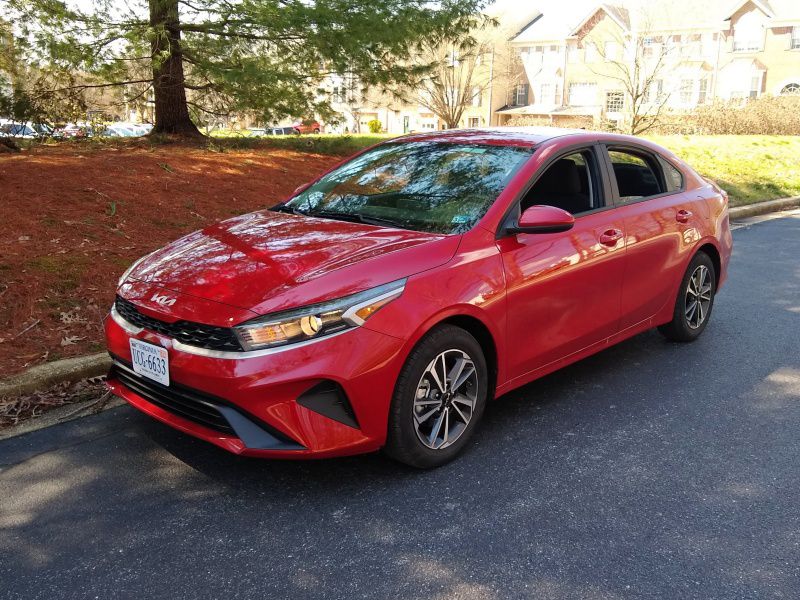 Photo by Brady Holt
2023 Kia Soul: $19,890
For $200 more than the Forte sedan, Kia will wrap the same mechanical components in a much less conventional package. It's called the 2023 Kia Soul, and whether you call it a sub-compact crossover or a tall hatchback, it's an incredible package at a great price.
With the Soul, you get the spaciousness and high seating position of an SUV, the low price of a small sedan, and the same no-stress ride, handling, and acceleration as the Forte. That makes it feel a cut above ordinary budget cars, both in how it drives and how well it carries passengers and cargo. The EPA projects it will get about 30 mpg in mixed driving, which isn't incredible for a small car but is pretty good if you consider the Soul a roomy little SUV.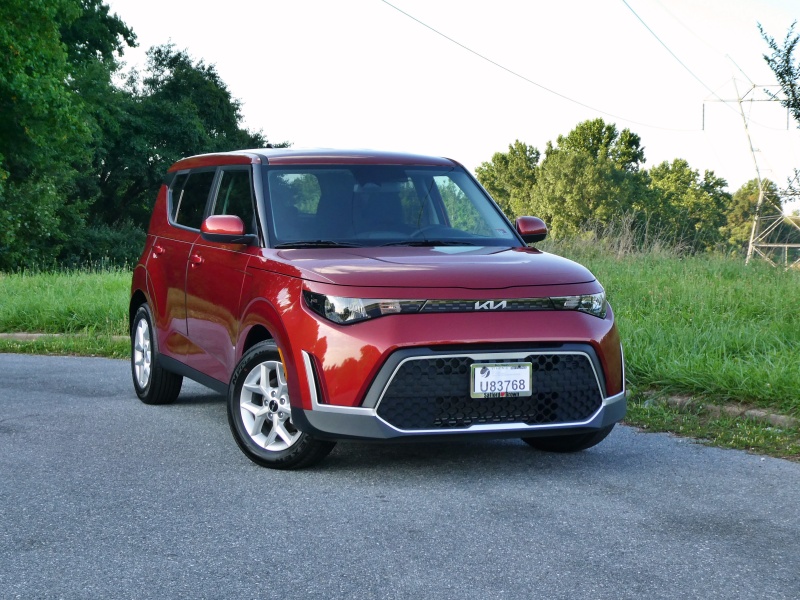 Photo by Brady Holt
2023 Toyota Corolla: $21,700
The 2023 Toyota Corolla isn't the cheapest car on our list, or admittedly our favorite to drive, but it may be the most reliable. The Corolla has a long history of longevity, and Toyota continues to favor tried-and-true technologies over the latest turbochargers or dual-clutch automatic transmissions.
The Corolla sedan starts at $21,700 with a pleasantly finished (though not incredibly roomy) interior and a decently peppy (though noisy) 169-horsepower engine. We didn't find its ride, handling, or acceleration as polished as the Kia Forte's, but it gets an excellent 35 mpg in the EPA's mixed-driving calculation. If you drive enough, especially in stop-and-go conditions, you might also find it worth your money to buy the Toyota Corolla Hybrid. It starts at $23,050 and gets EPA ratings of up to 53 mpg in the city, 46 mpg on the highway, and 50 mpg combined. Consider it a more conventional-looking, much less expensive Toyota Prius — a hybrid that's legendary for its reliability as much as its efficiency.
Photo by Brady Holt
2023 Mazda3: $22,550
Our next cheap reliable car avoids feeling cheap. The 2023 Mazda3 compact sedan and five-door hatchback has the style, poise, interior finishes, and high-end features of a luxury car. Yet this reliable small car is priced from just $22,550 despite a long list of high-end standard features, including adaptive cruise control, push-button starting, an eight-speaker stereo, rain-sensing windshield wipers, and a big 191-horsepower engine. An update this year also improved the Mazda3's EPA estimates to as high as 28 mpg city, 37 mpg highway, and 31 mpg combined — not incredible, but less of a liability than earlier Mazda3 years.
This fun, fancy little Mazda isn't a master when it comes to everyday sensibility. It's one of the least roomy mainstream-brand cars you'll find, the racy-looking hatchback has lousy rear visibility. We also aren't fans of its non-touchscreen infotainment interface. But overall, the Mazda3 is a cheap, reliable car that never comes across as cheap.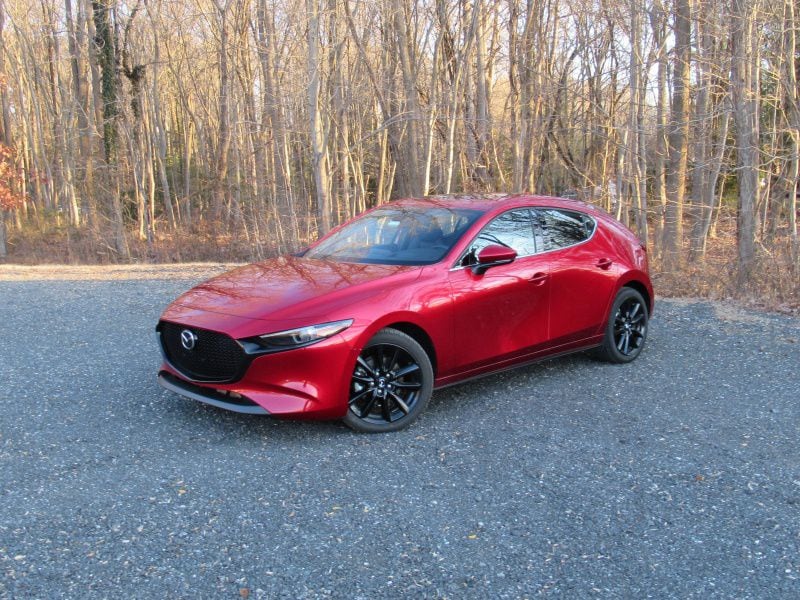 Photo by Brady Holt
2024 Subaru Impreza: $22,995
The 2024 Subaru Impreza is another unconventional choice when you're looking for merely a cheap, reliable car. That's because this compact hatchback's key calling card is its standard all-wheel-drive system, a Subaru staple. But even if you don't care how many wheels your engine can power, the Impreza is a comfortable, versatile, economical, and decently affordable way to get around.
With a starting price of $22,995, the Impreza is among the country's most affordable compact hatchbacks. And it gets an EPA-estimated 27 mpg in the city, 34 mpg on the highway, and 30 mpg combined, also reasonable for a compact hatchback. What's more, Subarus tend to hold their values well, putting you in better financial shape whenever you're ready to trade in this cheap, reliable car for your next ride.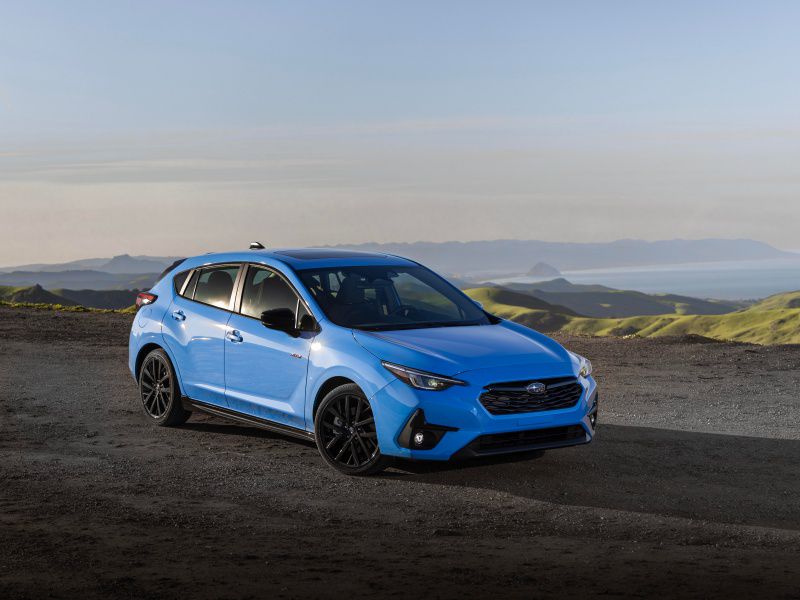 2023 Honda Civic: $23,750
We'll close our list of 10 cheap, reliable cars with the 2023 Honda Civic. At a starting price of $23,750, it's an expensive small car compared with a Nissan Versa, Kia Forte, or even Toyota Corolla. But as we promised at the start, the Civic (sold as a compact sedan or five-door hatchback) still costs less than half of the average new car sold today — and it's an outstanding car, too.
Whether you're looking for an extra-roomy interior, a beautifully finished interior, zippy handling, or great gas mileage, the Civic delivers. The base LX model's 158-horsepower engine achieves EPA ratings of 31 mpg in the city, 40 mpg on the highway, and 35 mpg combined, while the smoother, quicker turbo engine on upper-trim Civics is more economical still. And if you're looking for an affordable family car, you'll appreciate its big backseat. The Civic isn't your top choice when cheapness comes first, but if you're looking for greatness at a not-astronomical budget, the Civic is one of our favorite small cars.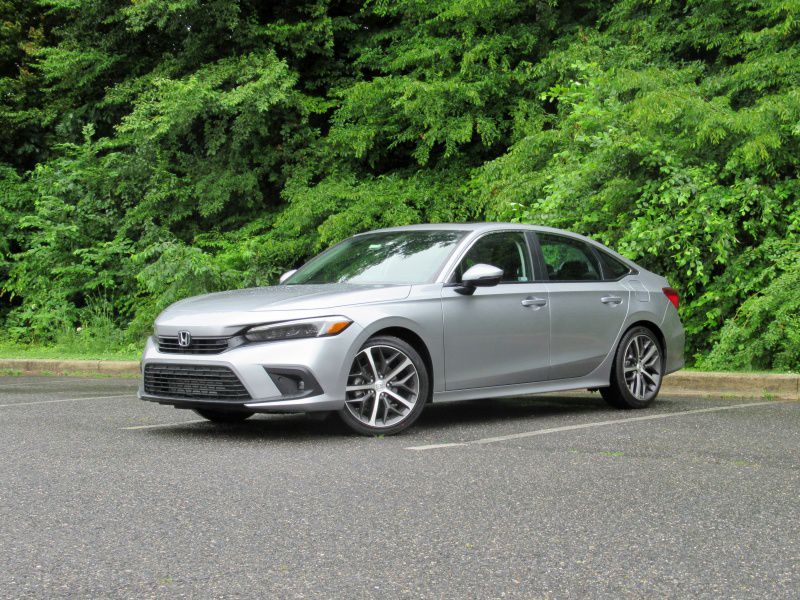 Photo by Brady Holt