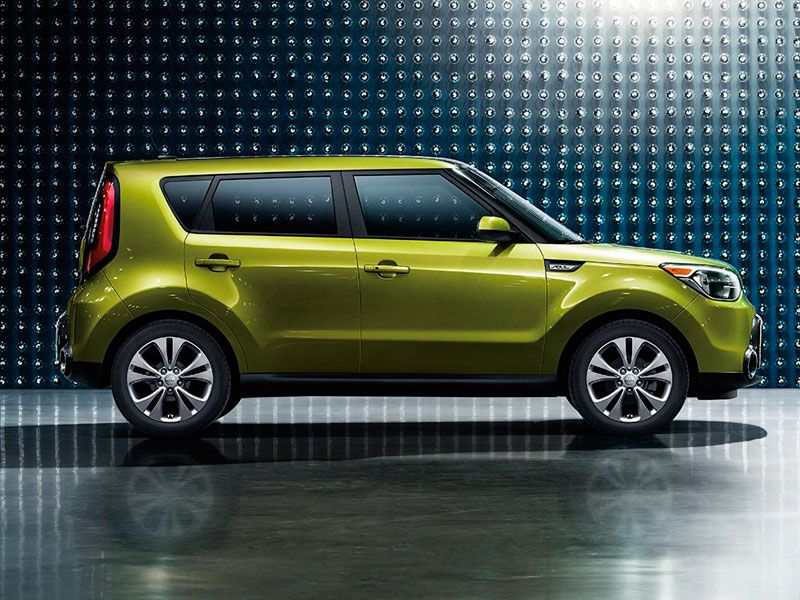 2016 Kia Soul ・ Photo by Kia
When you were a teenager, what were your priorities in a car? In many cases, the winning car for teenagers combined cool styling, a big engine, and room for all your friends? Looking back, was that really what made the best car for a teen? Or should a teenager's first car be affordable, dependable, safe, and fuel-efficient?
For today's list, we've focused on those criteria to develop a varied list of vehicles that will provide capable service in the high school parking lot and — barring a smashup or too many neglected oil changes — into adulthood. A $10,000 budget doesn't go as far as it did even a few years ago, but these 10 used cheap used cars for teenagers should still get the job done. We've listed them in approximate order of size, from smallest to largest.
1. 2016 Smart ForTwo
Cool styling, big engine, and room for all your friends? You can forget about that in the Smart ForTwo. Instead, this two-seat, 89-horsepower hatchback is all about sipping fuel, acing the parallel-parking test, and limiting how many teens will pile inside at once. And while you might worry about your teen's safety in the country's smallest car, know that Smart's Tridion safety cage is built to withstand powerful impacts.
The ForTwo was fully redesigned for 2016 with more shoulder room, a smoother powertrain, and new safety features that include electronic crosswind corrections. That's our pick over the earlier generation, and you should be able to find one under $10,000.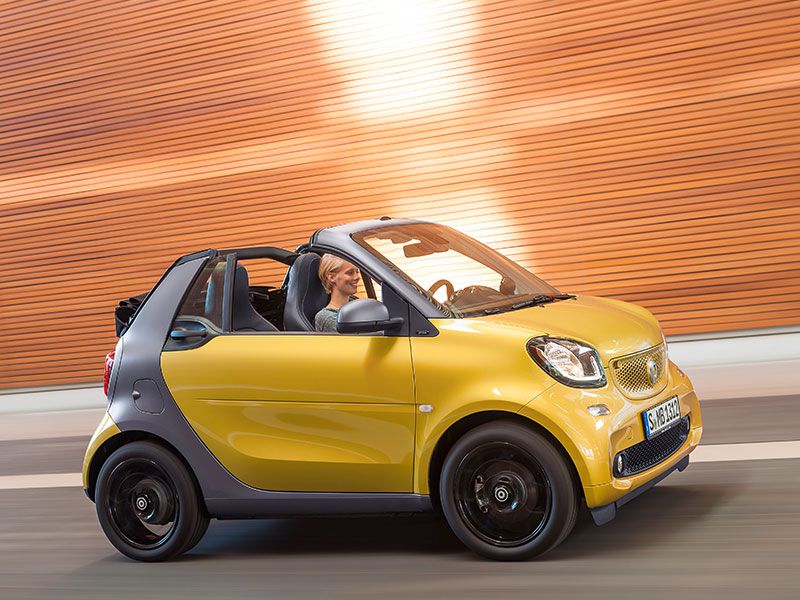 2017 Smart ForTwo Cabriolet ・ Photo by Smart
2. 2017 Hyundai Accent
The Hyundai Accent is a more conventional small car than the Smart. For the 2017 model year we've chosen (the newest Accent year that's widely available for less than $10,000), it was available as a subcompact sedan or five-door hatchback. The Accent is easy to drive, it's fuel-efficient, and you can get an affordable one that even has some life left on its factory warranty.
If you get extra lucky, you can find the newer-generation 2018 Accent at this price point. It improves fuel economy and crash-test scores while adding a backup camera — a valuable assist for a teen still mastering the art of reverse.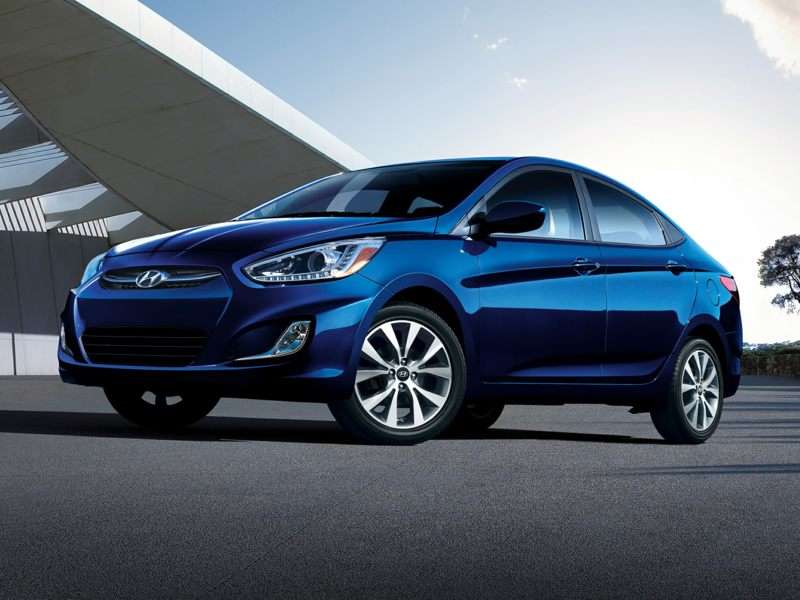 Photo by Hyundai
3. 2015 Honda Fit
The Honda Fit is a subcompact hatchback that's designed for whatever life throws at your teen for the next decade. It's a tiny, fuel-efficient city car that's easy to park outside their downtown apartment, yet it's also amazingly roomy for its size — ready to swallow their belongings when they move, or even squeeze in a child safety seat if their family grows.
We'd pick the current Fit generation, introduced in 2015. It brought improved safety, fuel economy, highway-speed driving manners, and safety features — including a backup camera that's standard equipment even on the base model.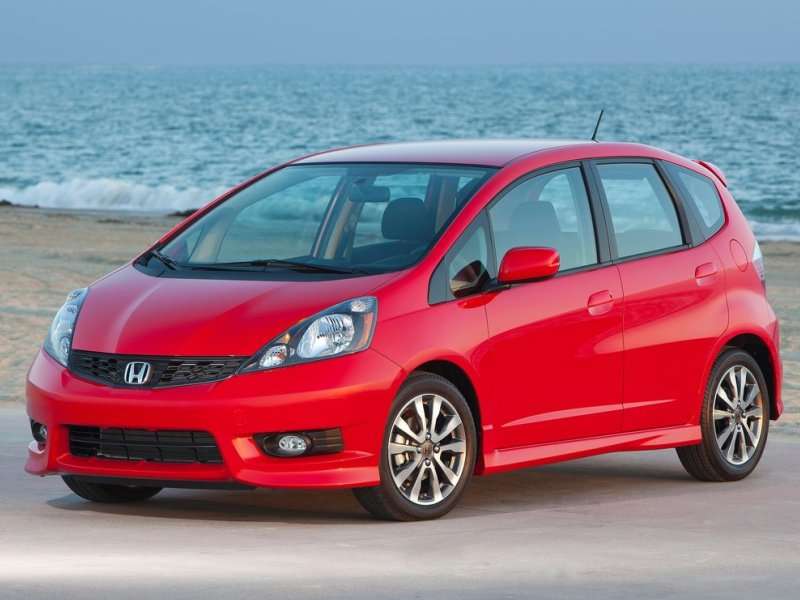 Photo by Honda
4. 2016 Kia Soul
Another little hatchback that punches above its size is the Kia Soul, which is widely available for under $10,000 in its 2014-2019 generation. A high seating position and roomy cargo hold give it some of the feel of an SUV, but with car-like handling stability and gas mileage.
This Soul generation also delivers a high grade of refinement and interior build quality. That's good news for teens who keep their first car for a long time — it won't feel like a cheap, sad car they can't wait to move on from.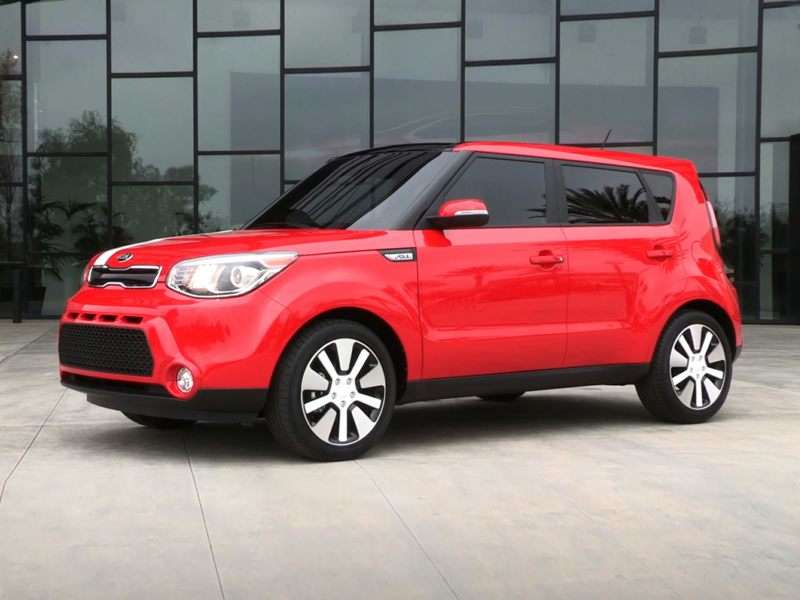 Photo by Kia
5. 2018 Nissan Sentra
Moving up from the subcompact to the compact class, we present the 2018 Nissan Sentra. This four-door sedan doesn't attract as much interest as the competing Toyota Corolla or Honda Civic — and that's why you can get such a new one for less than $10,000, compared to more heavily used examples of the Honda or Toyota. The Sentra isn't sporty to drive, but it boasts a spacious cabin, fuel-sipping mileage, and easy outward visibility.
What's more, that year introduced newly standard safety features that can prove invaluable for a teen driver. Every 2018 Sentra came with automatic emergency braking that can avoid or mitigate a collision, along with a rearview camera to keep the back bumper free of scrapes. If you'd rather save more money and get an older model, we'd still pick at least a 2015; that's when Nissan updated the car to improve its crash protection.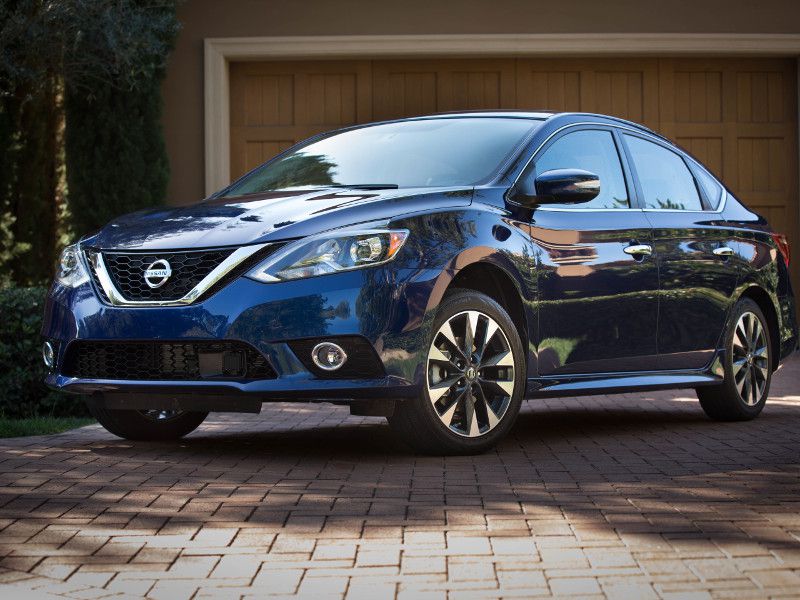 Photo by Nissan
6. 2015 Mazda3
Not all cheap cars for teenagers have to be a snooze to drive. For something that's more fun yet still economical and affordable, the Mazda3 is a go-to choice for all ages. Available as a compact sedan or five-door hatchback, the Mazda3 isn't nearly as roomy as the competing Nissan Sentra, and you have to go back a few more years to get under $10,000.
To justify this price, the Mazda3 looks and feels more expensive than an ordinary economy car. And while a powerful engine and agile handling might inspire misbehavior behind the wheel, they also make it easier to accelerate into traffic or swerve to avoid an accident. A $10,000 budget buys 2015 Mazda3 — part of the generation sold from 2014 to 2018 — which excelled in crash testing and was available with optional safety features that include automatic emergency braking, a backup camera, and a lane-departure warning.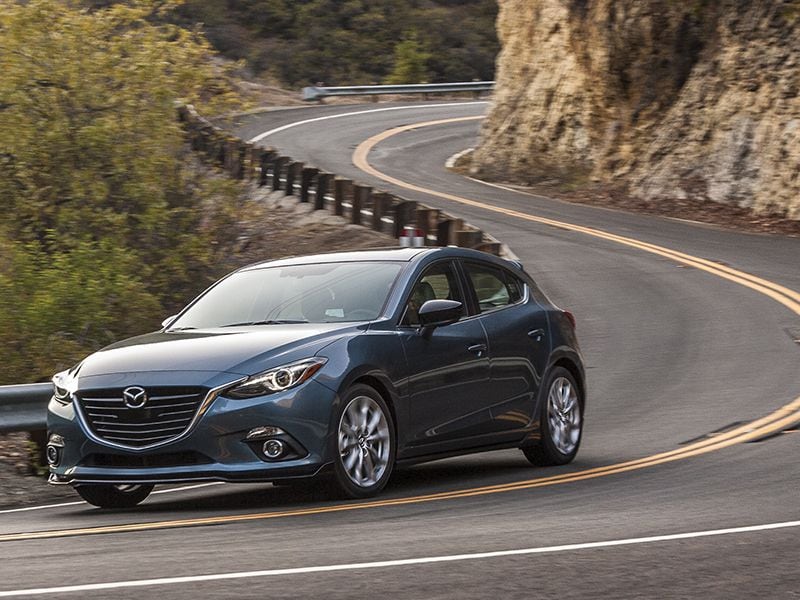 Photo by Mazda USA
7. 2012 Toyota Prius
For eco-minded teens, the Toyota Prius is an excellent choice that can be had for less than $10,000. This five-door gas-electric hybrid famously blends exceptional gas mileage, industry-leading reliability, and a usefully spacious interior. It's not the kind of car that inspires a teen to get into trouble. And unlike an all-electric car, they won't tell Mom and Dad that, oops, they forgot to plug it in and need a ride.
The Prius remains a desirable car on the used market, so don't count on finding one newer than 2012 at this price point. You could also opt for the smaller Prius c or the larger Prius v, but neither of these is as fuel-efficient as the standard Prius.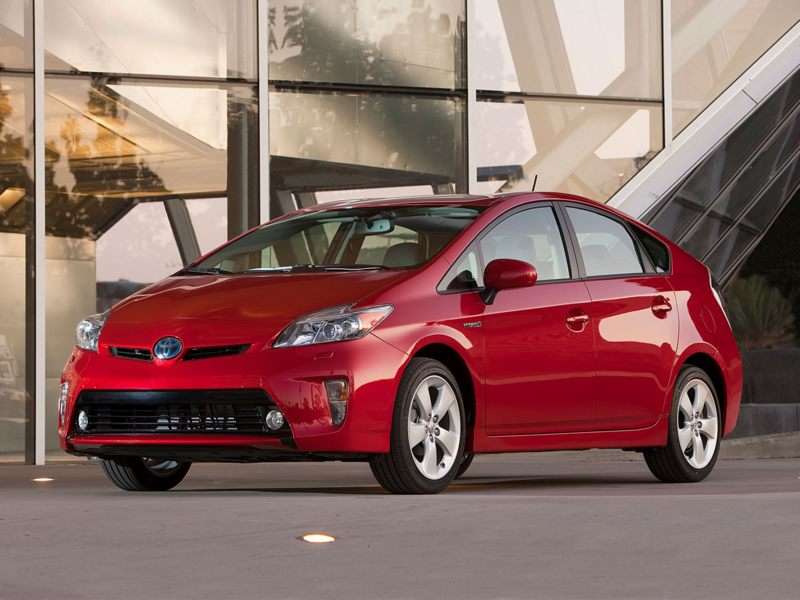 Photo by Toyota
8. 2015 Hyundai Sonata
Small cars have a lot of advantages for a teen driver. They tend to be more maneuverable, agile, fuel-efficient, and affordable than bigger vehicles — all valuable priorities with a novice behind the wheel. But sometimes even a teen needs more space, or the peace of mind that comes with surrounding a teenager with extra sheetmetal.
When bigger is better, our first choice is the mid-size Hyundai Sonata sedan. You can get it several model years newer than a competing Honda Accord or Toyota Camry, and it's a fine combination of comfort, spaciousness, and agility. We're recommending the 2015 model, the year of a redesign that improved the car's ride quality and fuel economy. However, the 2011-2014 generation has most of the same benefits.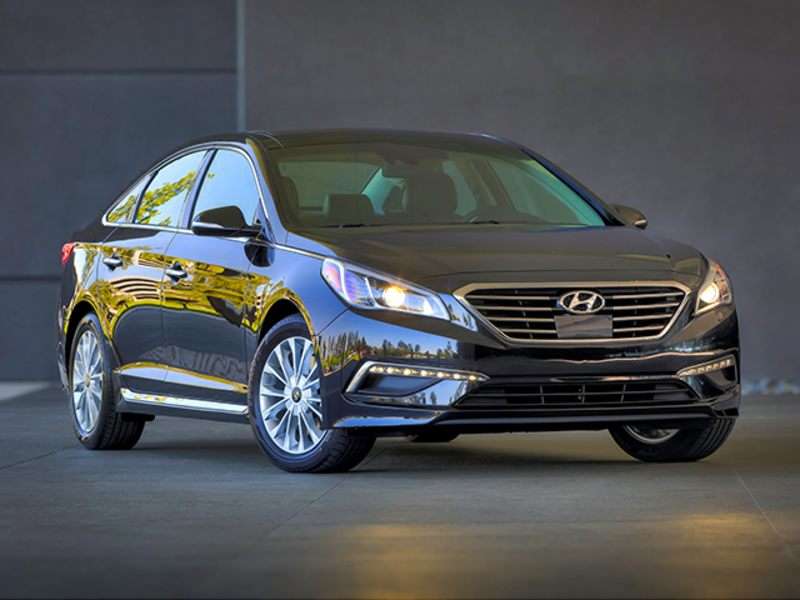 Photo by Hyundai
9. 2013 Subaru Outback
Another spacious mid-size car for teens is the Subaru Outback, a station wagon/crossover version of the Legacy sedan. In addition to lots of room for passengers, the Outback boasts more cargo space than some similarly sized SUVs — but with much better fuel efficiency. There's all-wheel-drive to help maintain traction in slippery road conditions.
Subaru was also one of the first mainstream automakers to offer a suite of advanced safety features, and the 2013 Outback and Legacy were the first to receive what Subaru calls EyeSight. It includes automatic emergency braking, a forward collision warning, and a lane-departure warning. The system wasn't standard equipment, so check carefully for any used vehicles that include the option.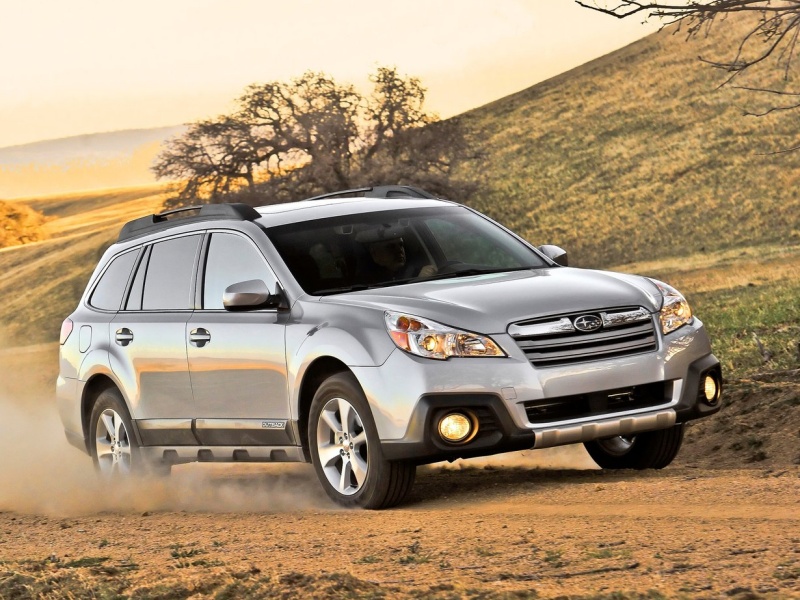 Photo by Subaru
10. 2014 Chevrolet Impala
When you want even more physical mass surrounding your teen, the Chevrolet Impala is our pick among full-size sedans. Although it's big — nearly twice as long and twice as heavy as the smart fortwo — it corners with enjoyable agility. There's plenty of safety in the event of a crash, but it's also easy to avoid one. Buyers can choose between a slow-paced four-cylinder engine that discourages excess speeding, or a powerful V6 that makes it easier to merge with fast-moving traffic.
The Impala was fully redesigned and greatly improved for the 2014 model year, and that's our pick over the previous 2006-2013 generation. But watch out for 2014-2016 models called the Impala Limited; these are a continuation of the less-agile, less-safe previous generation.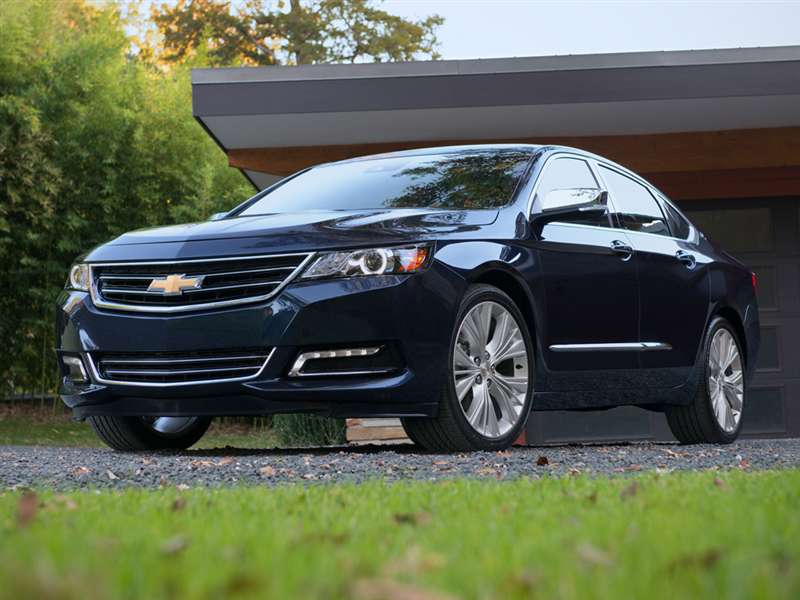 Photo by Chevrolet