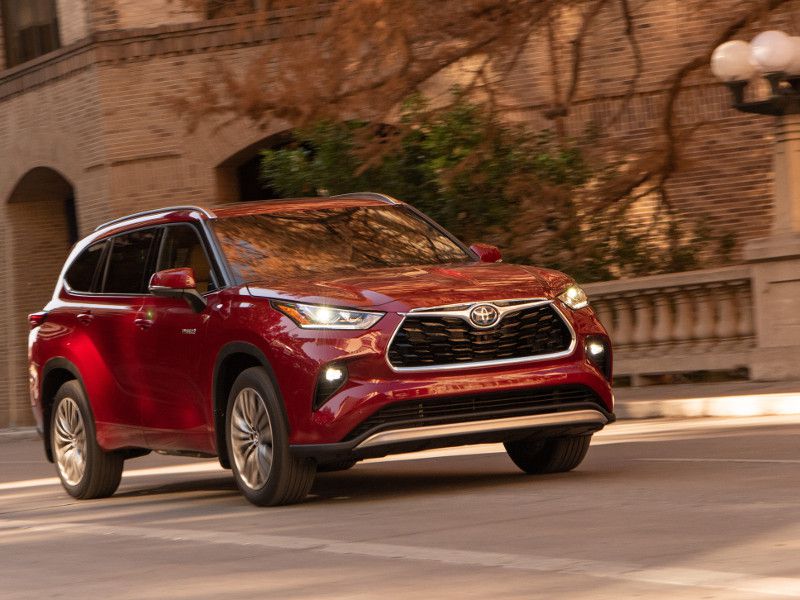 2020 Toyota Highlander Hybrid Platinum ・ Photo by Toyota
When you're looking at a hybrid, the first number you're probably looking at is its fuel economy. That's why you're likely buying a gas-electric vehicle in the first place: You're looking to stretch each gallon of gas farther. 
Still, some hybrids will make you stop by the gas station just as often as a gas-only car — or even more so. That's because many have tiny gas tanks. Even if each gallon goes a long way, you still need to fill the tank regularly if the car can't fit many gallons. When you want great gas mileage along with the convenience of avoiding the gas station, you want one of the 10 hybrid cars with the longest range. We've focused on convenentional hybrids that you don't have to plug in (rather than plug-in hybrids). We also excluded hybrid pickups with lousy gas mileage but massive gas tanks. The remaining hybrid cars with the longest range cover a mix of vehicle types, from little hatchbacks to luxury sedans to eight-passenger family cars. Keep reading to find out which hybrid cars can go the farthest between fillups and learn more about those fuel-sipping vehicles. 
1. 2021 Hyundai Ioniq Hybrid: 702 miles
This compact hatchback doesn't look special, but the 2021 Hyundai Ioniq Hybrid can go an incredible 702 miles before you need to refuel it. That's if you choose its base Blue trim level, which gets an EPA-estimated 58 mpg in the city, 60 mpg on the highway, and 59 mpg combined — also the best efficiency of any car on the market that doesn't need to plug in. Other trim levels manage still-outstanding ratings of 54 mpg city, 56 mpg highway, and 55 mpg combined; with an 11.9-gallon gas tank, that's good for 654 miles. 
The Ioniq is priced from $23,400 with standard features that include automatic emergency braking, lane-keeping assistance, push-button starting, automatic climate control, a power driver's seat, and an 8-inch touchscreen infotainment system. This 139-horsepower hatchback is quieter, quicker, more refined, and equipped with better infotainment than its Toyota Prius archrival. However, its rear seat and cargo hold — while looking great on paper — feel less generous in person.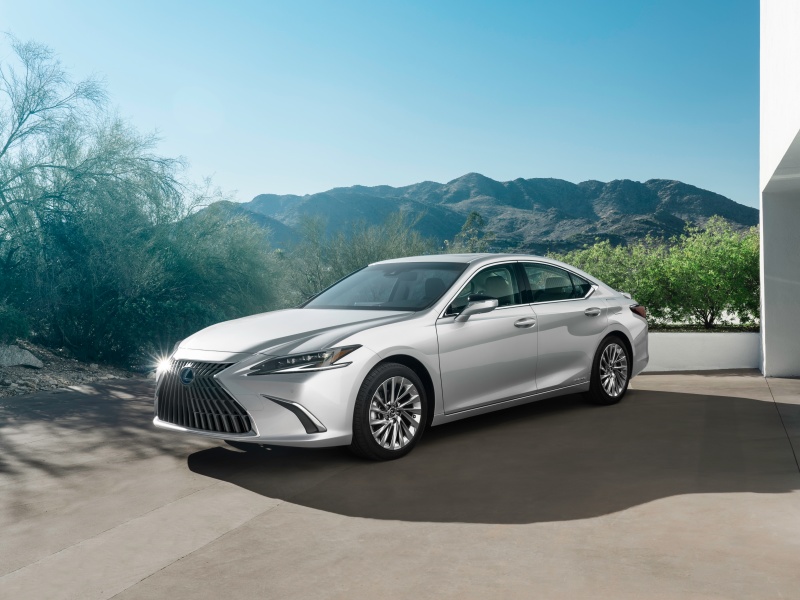 Photo by Lexus
2. 2021 Hyundai Sonata Hybrid: 686 miles
The Hyundai Sonata Hybrid is a spacious, quiet, and stylish mid-size sedan with outstanding gas mileage. It feels like a luxury car compared with the little Ioniq — and even some competing mid-size sedans. 
This Hyundai's 192 horsepower and conventional six-speed automatic transmission make it drive more naturally than hybrids that use continuously variable automatic transmissions (CVTs). And it's a modern-looking car without simply setting out to be weird. Its Blue model gets an incredible 50 mpg in the city, 54 mpg on the highway, and 52 mpg combined; with a 13.2-gallon gas tank, that's 686 miles of range. Most trim levels slip to 45 mpg city, 51 mpg highway, and 47 mpg combined for 620 miles of range, but we beat the EPA estimates when testing a top-of-the-line Sonata Hybrid Limited. Prices start at $27,750.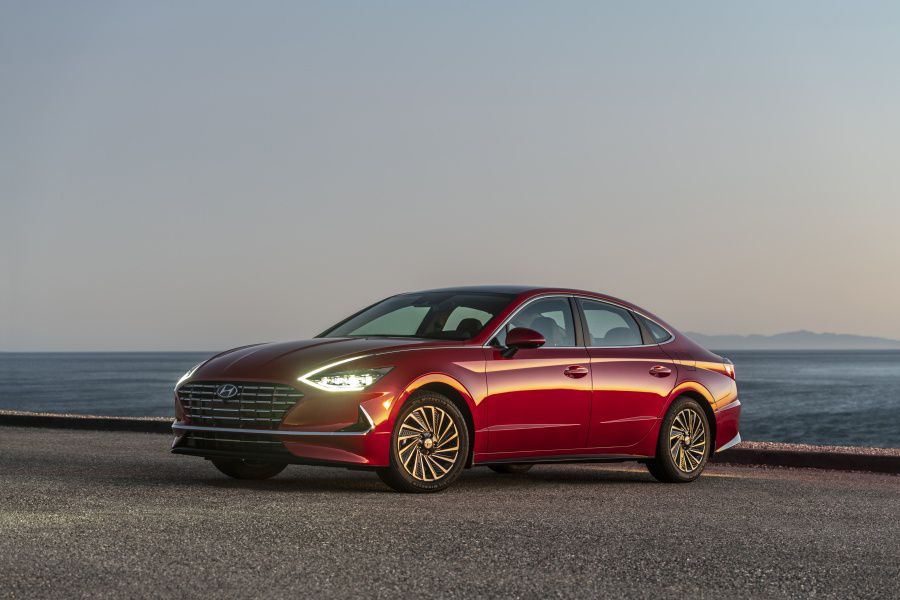 Photo by Hyundai
3. 2022 Toyota Camry Hybrid: 686 miles
The Toyota Camry Hybrid ties its competitor's range on the base LE model. Its EPA ratings of 51 mpg city, 53 mpg highway, and 52 mpg combined and its 13.2-gallon gas tank give it the same 686-mile range as the Hyundai Sonata Hybrid Blue. But if you upgrade past the base model, the Camry's ratings (and range) fall farther: 44 mpg city, 47 mpg highway, and 46 mpg combined, for 607 miles of range. 
While we've also beaten EPA ratings while testing the Camry Hybrid, the Toyota isn't as fancy inside as the Hyundai, and it has a smaller infotainment screen. On the other hand, we prefer the Camry Hybrid's livelier handling, and we like the way Toyota lets you press an "EV mode" button to lock in additional gas-free driving. It's perfect for avoiding gasoline as you putter through residential neighborhood streets or cruise a parking lot for a space — times at which a gas engine will chew through your range. It's priced from $37,380.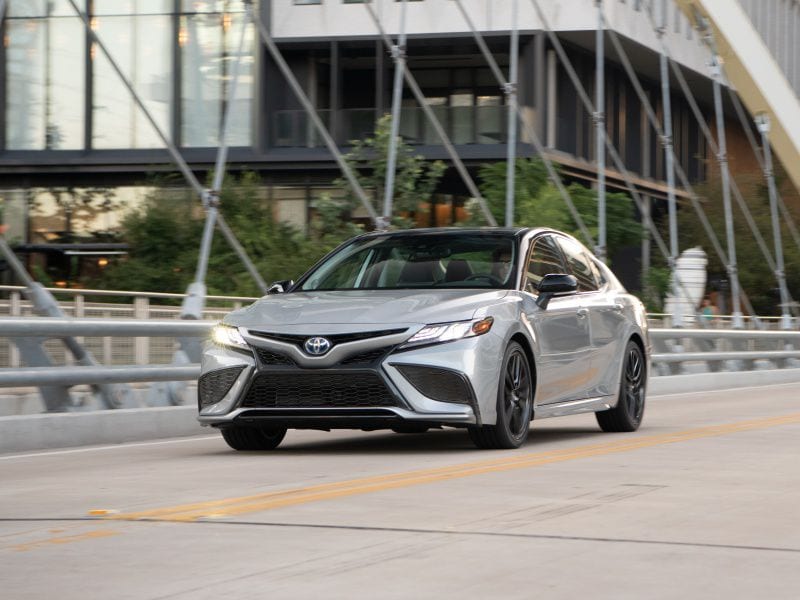 Photo by Toyota
4. 2021 Kia Sorento Hybrid: 657 miles
The Kia Sorento Hybrid isn't the most fuel-efficient hybrid on the market. It has EPA ratings of 39 mpg in the city, 35 mpg on the highway, and 37 mpg combined. But not only is that amazing for a crossover with three rows for seats, but the Sorento Hybrid also has a big 17.7-gallon gas tank. That pushes its range to 657 miles. 
This mid-size SUV has a smooth, quiet ride, a peppy engine, and agile handling, and it starts at just $33,590. However, there are some drawbacks: The Sorento Hybrid has a limited range of trim levels, doesn't offer all-wheel drive, seats only six passengers, and has little cargo space with its third row in use. Also, in our experience, its highway mileage falls faster than the EPA suggests. This isn't an SUV with lots of range for road trips, but if you commute to work in stop-and-go traffic, you won't have to fill that tank for a while.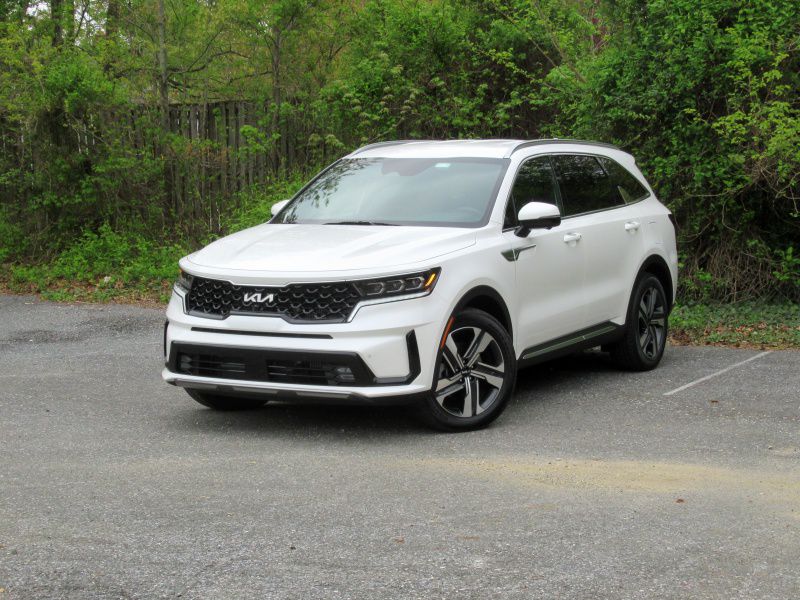 Photo by Brady Holt
5. 2021 Toyota Sienna: 648 miles
Similar to the Sorento Hybrid, the Toyota Sienna is a big family car with middling gas mileage for a hybrid but a big gas tank for a long range. The Sienna is a minivan that seats up to eight passengers, and while most vans get around 22 mpg in mixed driving, this Toyota stretches each gallon of gasoline to 36 miles (the EPA pegs it at 36 mpg in both city and highway driving). 
We also like the Sienna's extra-comfortable second-row seats, its expansive cabin storage, and its available all-wheel drive. If you're used to a normal minivan, you might wish for more cargo space and a quieter, more powerful engine than this four-cylinder hybrid. But you won't find another hybrid this roomy that can go so far without filling up: 648 miles with front-wheel drive or 630 miles with AWD.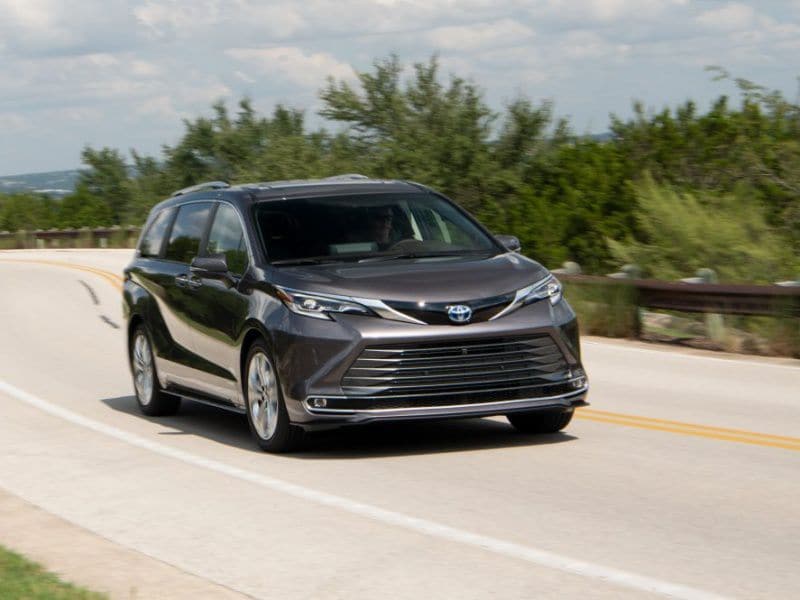 Photo by Toyota
7. 2022 Toyota Prius: 633 miles
Next on our list of hybrid cars with the longest range is the non-PHEV version of the Toyota Prius. With smaller electric batteries, the Prius hybrid is lighter than the Prius Prime; this improves its fuel economy to 58 mpg in the city, 53 mpg on the highway, and 56 mpg combined for the base L Eco model. With its 11.3-gallon gas tank, that's good for 633 miles of range. (Other trim levels, which average 54 mpg city, 50 mpg highway, and 50 mpg combined drop to 588 miles.) 
We mentioned some of the Prius's strengths and weaknesses while discussing its top competitor, the Hyundai Ioniq. This 121-horsepower hatchback is noisy and slow, and its infotainment technology is dated. And with its smaller gas tank, its range trails the Hyundai's. Still, the Prius's airier cabin and optional all-wheel drive are valuable perks. Prius prices start at $24,525 — actually higher than the Prius Prime once you factor in the federal tax credit. The regular hybrid has a bit more cargo room, though, with less battery capacity to rob space.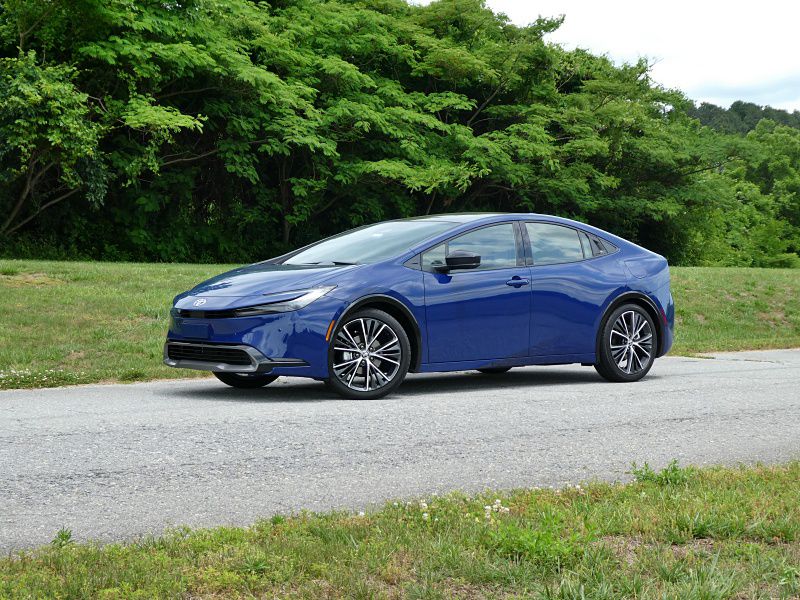 Photo by Brady Holt
8. 2021 Hyundai Ioniq PHEV: 620 miles
As with the Toyota Prius Prime to the regular Toyota Prius hybrid, the Hyundai Ioniq PHEV is a plug-in hybrid version of the standard Hyundai IONIQ Hybrid. However, there's a bigger range disparity between the two Ioniqs because the PHEV's gas mileage falls more sharply. 
The Ioniq PHEV does travel an EPA-estimated 29 miles per electric charge — a bigger boost for most owners' real-world ranges. It averages 52 mpg after that charge is used up, which pushes its total range to 620 miles when you've filled its 11.4-gallon gas tank. The Ioniq PHEV starts at $26,700 and is eligible for a $4,543 federal tax credit. That credit effectively brings its price below the Ioniq hybrid's, which makes the PHEV the more cost-effective choice for anyone who can regularly recharge the battery.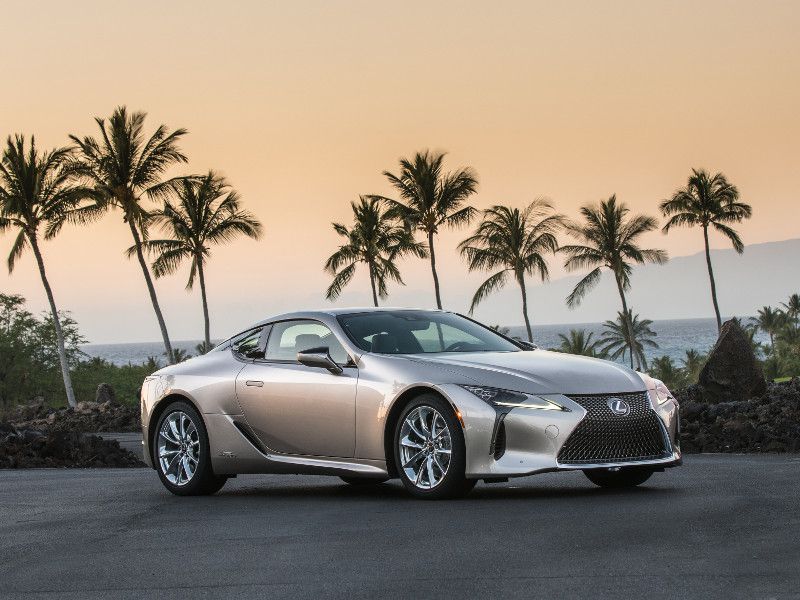 Photo by Lexus
10. 2021 Honda Accord Hybrid: 614 miles
The Honda Accord Hybrid is a mid-size sedan that competes with the gas-electric versions of the Toyota Camry and Hyundai Sonata. Its mileage slightly lags those models — 48 mpg in the city and on the highway in EPA testing — and its smaller 12.8-gallon gas tank pushes its range down further to 614 miles. Opt for the Touring trim level and EPA ratings plummet by about 5 mpg, knocking range to 550 miles. 
Still, the Accord Hybrid is definitely the most fun to drive of these hybrid cars and has the longest range. Its beautifully calibrated 212-horsepower powertrain lets you forget you're driving a hybrid, so you can sip fuel without facing any drawbacks but the extra $1,600 cost versus a gasoline-only Accord. In steady freeway driving, we didn't find our Accord Touring test vehicle to be any more efficient than a gas-only mid-size sedan; it'll eat their lunches in stop-and-go conditions, though, all while delivering the same sporty driving manners and upscale interior decor.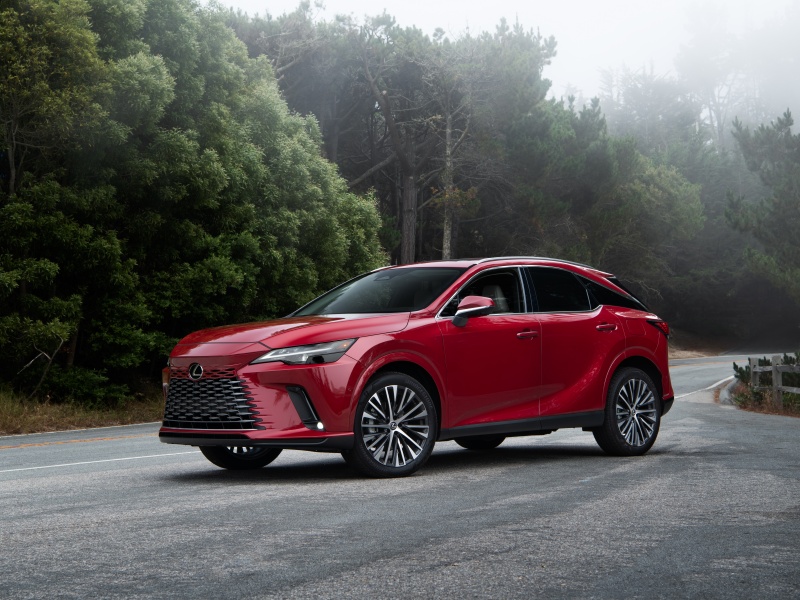 Photo by Lexus
6. 2022 Toyota Prius Prime: 640 miles
The Toyota Prius Prime is a plug-in hybrid. If you plug it in to charge its battery, it can travel up to 25 miles using only electricity. Then its 54 mpg gasoline engine turns on, and its 11.4-gallon gas tank can take it another 615 miles for a total range of 640 miles. 
However, owners of many plug-in hybrids will do much better. Any time you charge it up, you're adding another 25 miles of EPA-estimated range before you need to fill it up with gasoline. And if you drive less than 25 miles per day, you can theoretically drive thousands of miles without burning any gasoline at all. The Prius Prime starts at $28,220 and qualifies for a $4,502 federal tax credit. The Prius Prime also seats four adults in decent comfort and can squeeze in a fifth, and its hatchback body style adds versatility. This is a small car, and it isn't fast, and its infotainment technology is behind the curve for such an advanced vehicle, but the Prius Prime is a great way to stretch a gallon of gasoline.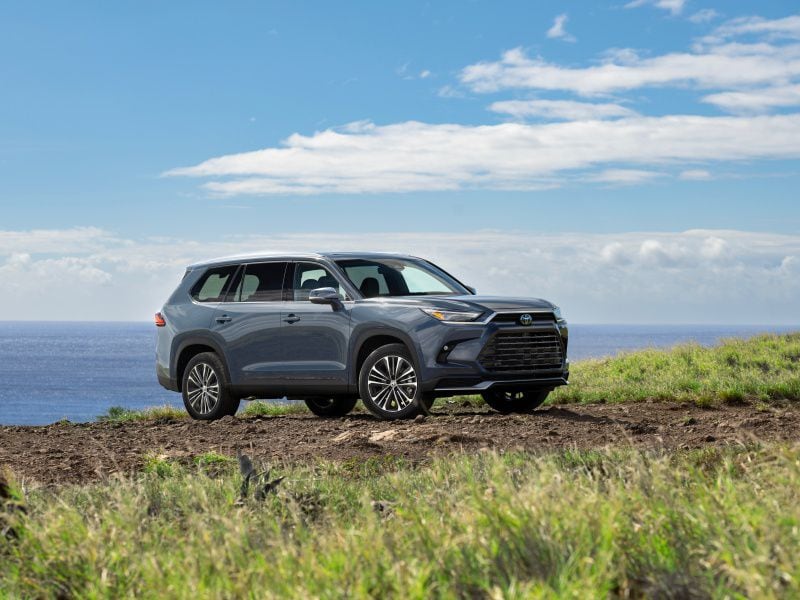 Photo by Toyota
9. 2021 Toyota Highlander Hybrid: 616 miles
Turning back to big hybrids with big gas tanks, the Toyota Highlander Hybrid mid-size crossover manages EPA ratings of 36 mpg in the city, 35 mpg on the highway, and 35 mpg combined. With its 17.1-gallon gas tank, it can travel 616 miles before needing to refuel. (Opt for all-wheel drive over the standard front-wheel drive, and gas mileage slips by 1 mpg — cutting range to 598 miles.)
Logically speaking, there's little reason to choose the Highlander Hybrid over its mechanical twin: the significantly roomier and slightly more economical Toyota Sienna. But if you prefer the style of an SUV or appreciate the Highlander's slightly smaller footprint, this crossover is another economical choice with a long range. Prices start at $38,735.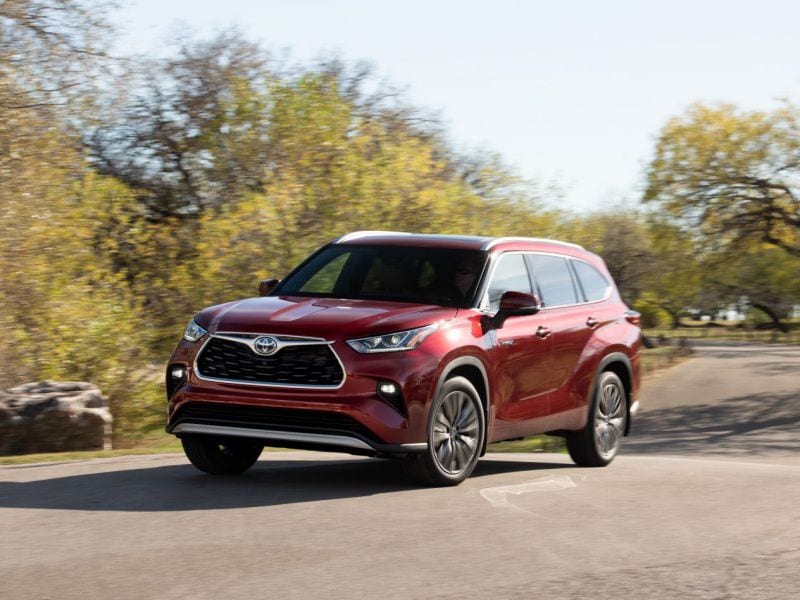 Photo by Toyota