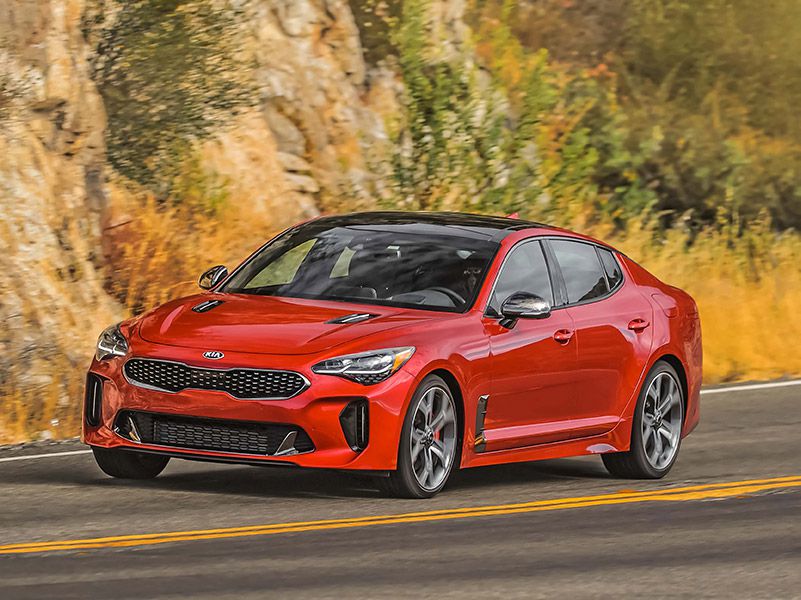 2019 Kia Stinger ・ Photo by Kia
When it comes to performance, torque is as important as horsepower, as is a vehicle's power-to-weight ratio. But why cloud the situation with complexity, am I right? Horsepower ruled yesterday, horsepower rules today, and horsepower will rule tomorrow (or so we think).
To find 10 of the most affordable cars with high horsepower, we set a floor of 325 hp, then researched the cheapest and most powerful models from every single automaker, both mainstream and luxury. In cases where a model line offers multiple high-powered engines, we factored those into the equation. The result is a list of cars making between 332 hp and 485 hp, all priced between $28,000 and $40,000. We've listed them in order of base price, not including destination charges. 
1. 2020 Chevrolet Camaro 1LT ($28,090)
The most affordable car with high horsepower is the Chevy Camaro 1LT. When equipped with its optional 3.6-liter V6 engine, it makes 335 hp. At that price, you need to know how to use a manual transmission; the automatic runs another $1,575. You're also going to want to ditch the rental car 18-inch wheels for a sweet set of 20s, which is a minimum of $800.
Then there's the 1LE Track Package, which preps the Camaro for weekend track duty for an extra $4,500. But if you get that, you're gonna need the Recaro performance seats for $1,595. If you can restrain yourself beyond these additions, you've got a terrific performance bargain-priced just over $35,000. And because it's the V6 and not the V8, this Camaro won't cost as much to insure.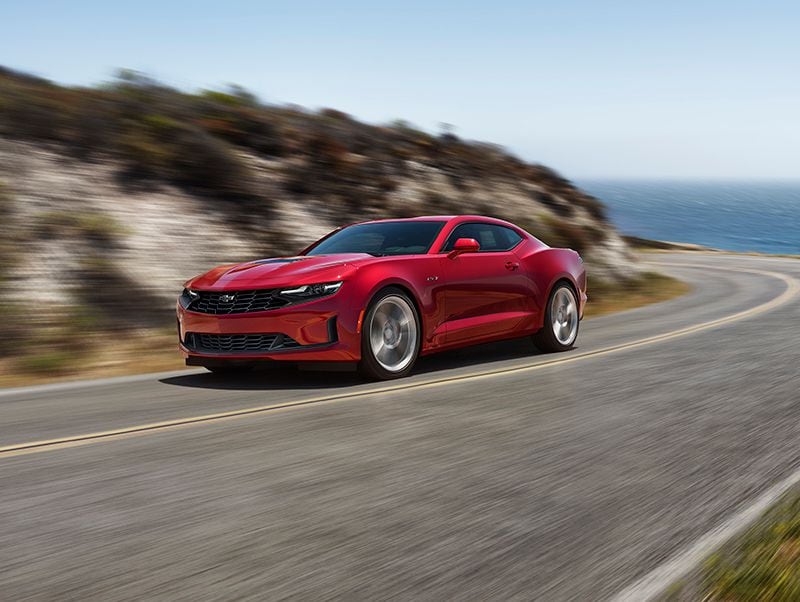 Photo by General Motors
2. 2020 Nissan 370Z ($30,090)
Well, look at what we have here: a genuine, rear-drive, two-seat sports car descended from one of the most iconic vehicles of all time. Yes, Nissan still makes the 370Z. And because it's as old 2020's presidential contenders (at least in car design years), the Z is remarkably affordable.
The engine is the legendary VQ-series V6, displacing 3.7 liters. It generates 337 hp, and at the base price uses a six-speed manual gearbox. For an extra $1,400, you can swap it for a seven-speed automatic with downshift rev-matching. Upgrade to the Sport trim level ($33,820), and the Z gets a limited-slip rear differential, a sports braking system, and larger 19-inch forged aluminum wheels to reduce unsprung weight. A NISMO-tuned version is also available, but it runs more than $45,000.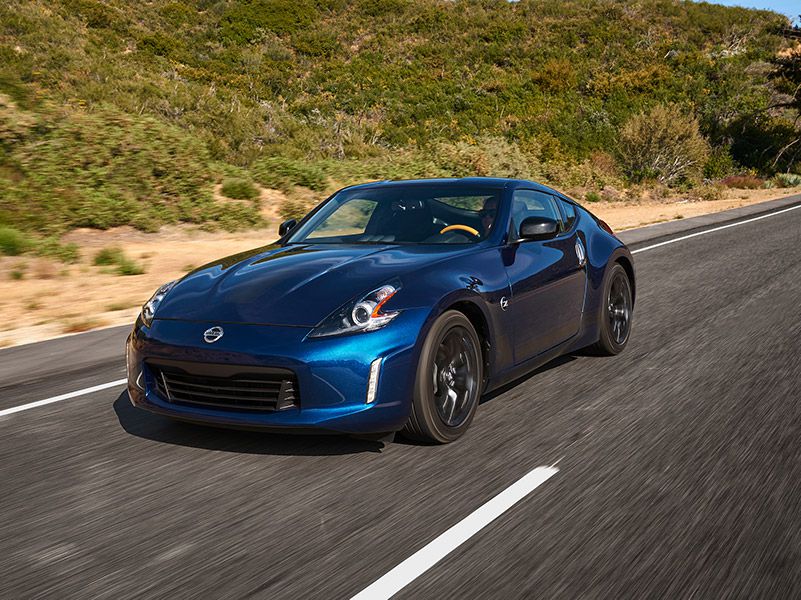 Photo by Nissan
3. 2020 Chevrolet Camaro LT1 ($34,000)
A new version of the Camaro for 2020, the LT1 is not the same as the 1LT. Basically, to create the Camaro LT1, Chevy dropped the Camaro SS model's 455-hp 6.2-liter V8 into a stripped-down car, in the process creating the performance bargain of the year.
The LT1 comes standard with a stick-shift. A 10-speed automatic transmission with paddle shifters runs an extra $1,595. A set of 20-inch wheels is baked into the price, along with a limited-slip rear differential and Brembo front performance brakes. Recaro performance seats run another $1,595, a dual-mode exhaust is $995, and Chevy offers a long list of a la carte performance parts to let owners upgrade the wheels, suspension, and braking components. Nothing can be done about the Camaro LT1's cheap interior, though.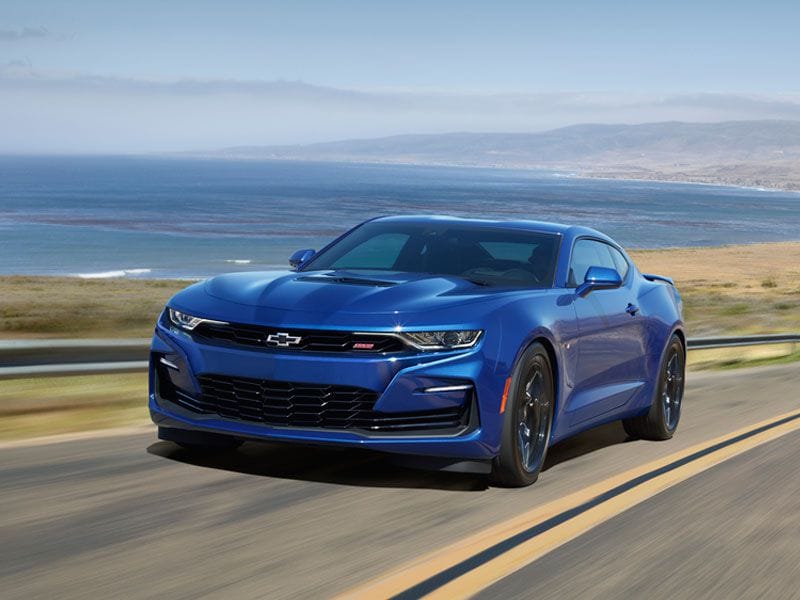 Photo by Chevrolet
4. 2020 Dodge Challenger R/T ($34,995)
Bet you were wondering when a Hemi-powered Dodge would show up, eh? Here it is, the 2020 Challenger R/T — good for 375 hp and a tire-smoking good time. Need an automatic transmission? That'll be $1,595 extra, please.
Yes, the current Dodge Challenger looked old when it first went on sale in 2008. Stylistically, that's because the car recalled the Challengers of the early 1970s. Now, 13 years later, the Challenger looks really old. But that is a part of this car's charm. That and the rumbling 5.7-liter V8 under the scooped hood. What lots of people don't realize about the Challenger is that it's more than just retro, or loud, or fast, or obnoxious. This car is actually practical. How so? The back seat can carry adults, for starters. And the trunk swallows much more than a couple of suitcases. Neither can be said for this Dodge's primary competitors: the Chevrolet Camaro and Ford Mustang.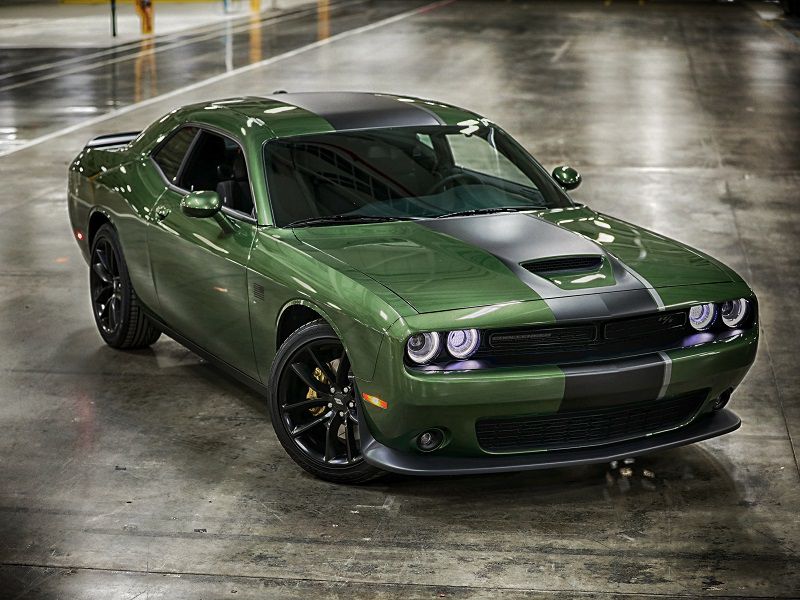 Photo by Dodge
5. 2020 Ford Mustang GT ($35,360)
Speaking of the Ford Mustang, here it is. It's priced a little higher than the Camaro LT1 and Challenger R/T, but it makes a healthy 460 hp from its 5.0-liter V8 engine. That starting sticker is with the six-speed manual gearbox. A 10-speed automatic runs another $1,595.
As is true of both the Camaro and the Challenger, Mustang buyers can upgrade the car with a variety of paint colors, wheel designs, body stripes, and performance enhancements. Ford charges more for its GT Performance Package and Performance Package Level 2 options, though, each putting the Mustang GT well beyond $40,000 even when equipped with the six-speed rev-matching manual transmission. But, when a Mustang is properly set up with go-faster goodies, the Chevy and Dodge can't hang with this horse.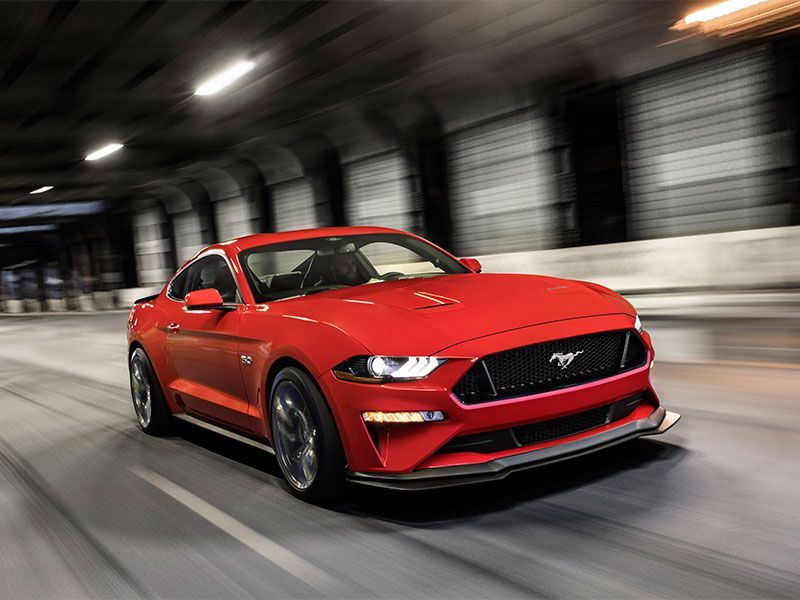 Photo by Ford
6. 2020 Dodge Charger R/T ($36,395)
Sometimes, you need four doors and a real back seat. If that describes you, the 2020 Dodge Charger R/T is the most affordable path to high horsepower.
Equipped with a 370-hp 5.7-liter Hemi V8 powering the rear wheels through a standard eight-speed automatic transmission, the Charger R/T offers numerous upgrades to its exterior appearance, interior features, safety technology, and performance. Or you can keep this car basic and enjoy plenty of bang for your family car buck. The one concern about the Charger is a Marginal crash-test rating for the driver in a small overlap frontal-impact collision, according to the Insurance Institute for Highway Safety (IIHS). And the IIHS hasn't tested the right side of the car yet. Ratings that would pertain to kids riding in the back seat are all Good, though.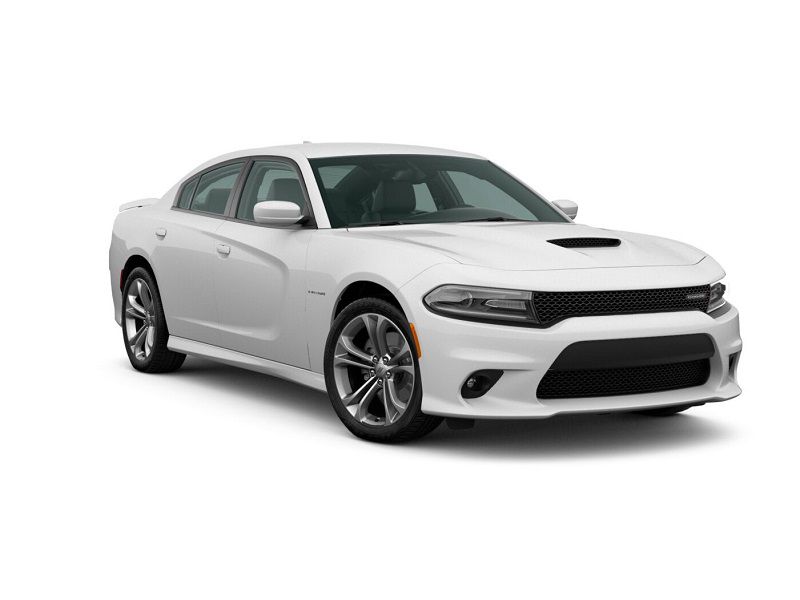 Photo by Dodge
7. 2020 Kia Stinger GT ($39,500)
I don't understand why the Kia Stinger isn't more popular. In a country infatuated with SUVs, it offers a sportback design and folding rear seats to expand the 23.3-cubic-foot trunk to 40.9 cubic feet. A torque-vectoring all-wheel-drive system is available. The back seat holds adults with no problem. And it looks terrific.
The version we're talking about here is the GT, which has a twin-turbocharged 3.3-liter V6 engine making 365 hp, fed to the rear wheels through an eight-speed automatic transmission. Summer performance tires are wrapped around 19-inch wheels, and the Stinger GT includes a limited-slip rear differential and variable gear ratio steering. This is a great car to drive, it's a rarity on the road, and it blends speed, style, and sophistication in a practical, useful, and enjoyable automobile. And the warranty can't be matched by anything else on this list.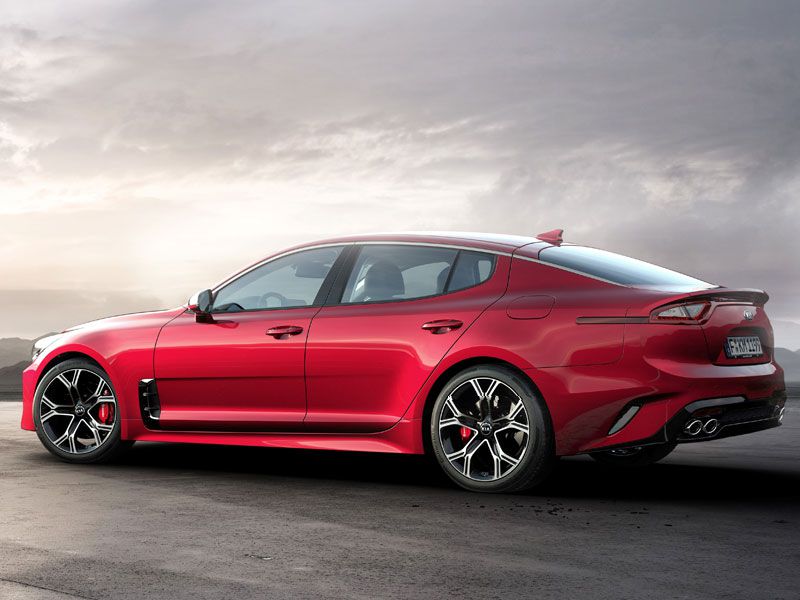 Photo by Kia
8. 2020 Chrysler 300S ($39,995)
Yes, Chrysler still makes the 300. And it's older than the Nissan 370Z, dating to 2005. Sure, Chrysler has heavily updated the car during its 16-year run, but the platform, the vehicle architecture, and even the available 5.7-liter Hemi V8 engine draw clear lines to the Bush administration. Some components go as far back as Clinton.
Here, we're talking about the 300S, which is the least expensive path to the optional V8. It makes 363 hp, and powers this full-size sedan's rear wheels. A ritzier 300C is also available, but it costs a couple of grand more. Perhaps because the Chrysler 300's original designers blatantly ripped off Bentley, the car has a timeless look. Its foundation dates to the DaimlerChrysler days and parts of it served beneath the E-Class in the 1990s. Inside, a mixture of cheap plastic, soft-touch materials, and available premium leather somehow convince enough to consider the 300 a luxury car, or at least luxury-adjacent.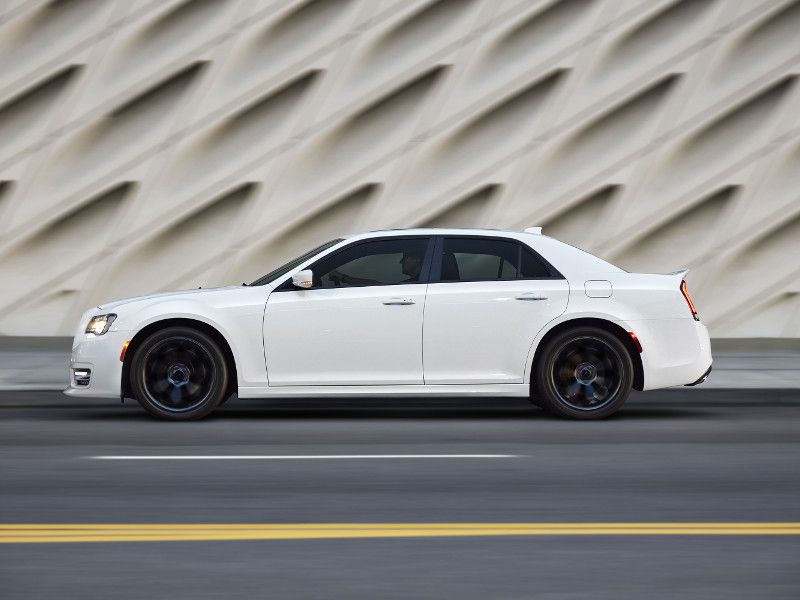 Photo by Chrysler
9. 2020 Dodge Challenger R/T Scat Pack ($39,995)
What makes the Challenger R/T Scat Pack different from the R/T? For starters, it's got a bigger 6.2-liter V8 engine cranking out 485 hp and 475 lb-ft of torque — 30 and 20 more, respectively, than the $34,000 Camaro LT1. Dodge says this is enough grunt to get to 60 mph in the low-4-second range and blast through the quarter-mile in about 12.5 seconds. For such a big linebacker of a coupe, that's fast.
Additional upgrades include standard performance brakes, launch control, a line-lock tire warming system, a high-performance suspension, and upgraded engine-cooling and electrical systems. As is true of the standard R/T, the Scat Pack comes with a six-speed manual transmission. The available eight-speed automatic pushes the car past the $40,000 mark.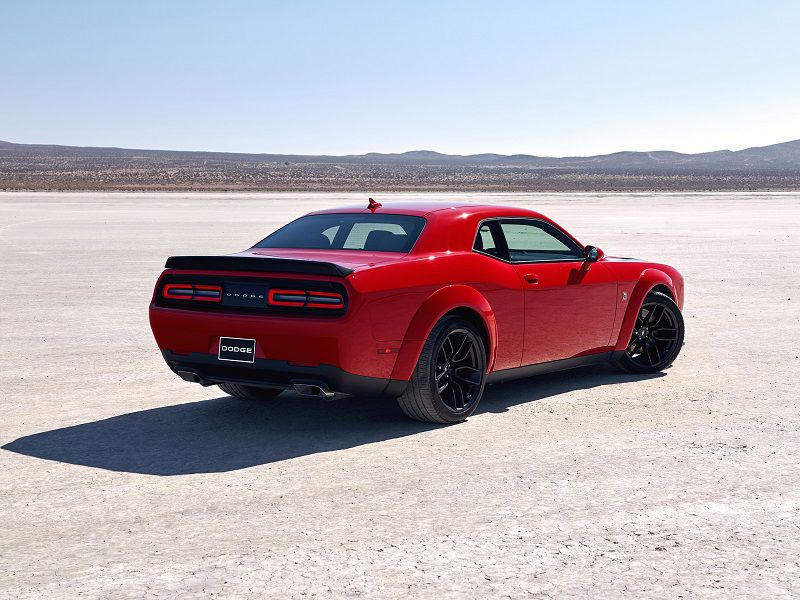 Photo by Dodge
10. 2020 Dodge Charger R/T Scat Pack ($39,995)
Take the recipe applied to the Challenger R/T Scat Pack, and you've got the Charger R/T Scat Pack. There are a few differences, though. For example, an automatic transmission is standard for the Charger, while launch control is not. But for the most part, the two cars share components, including that all-powerful 485-horse 6.2-liter Hemi V8.
Unless you buy a used car, you cannot get this kind of power in a four-door sedan for less money (or any other brand's two-door coupe, for that matter). No doubt, the fact that the Charger is just as old as the Chrysler 300 allows Dodge to keep the price relatively low. And buyers on a budget need to understand that the gas, the tires, and the brakes for this car will not be cheap. But considering the fire-sale price, you should have plenty of money left over for that stuff.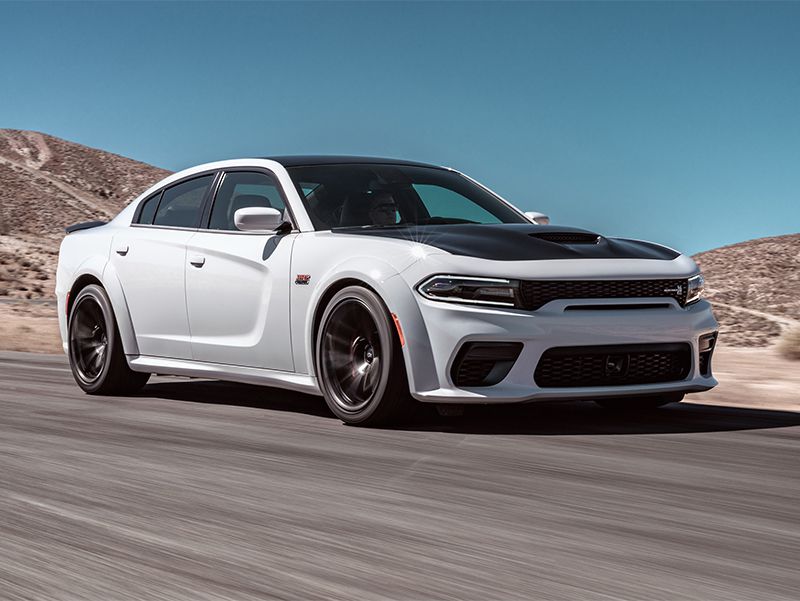 Photo by Dodge