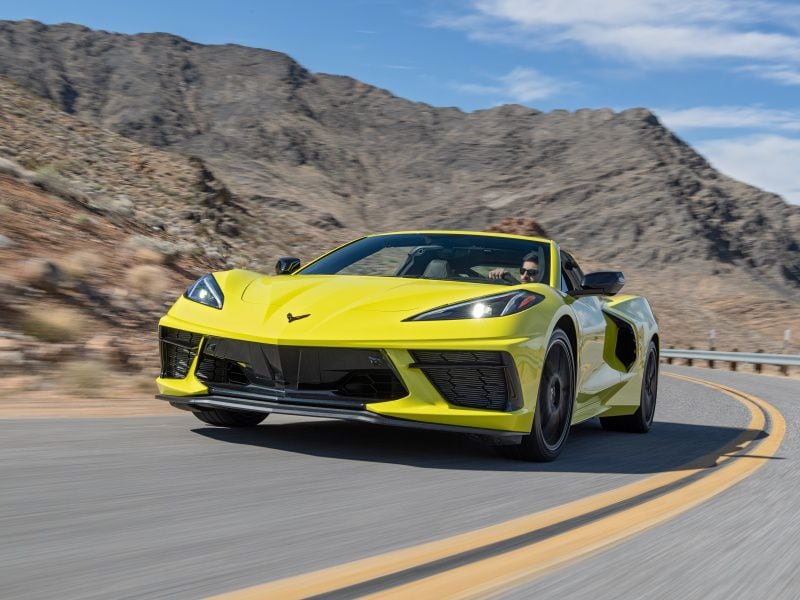 2020 Chevrolet Corvette Stingray ・ Photo by Chevrolet
There are a lot of incredible sports cars in the world. These are sharp-looking, beautifully engineered machines with superlative performance. And many of them are incredibly expensive, too. 
Still, you don't have to spend six figures to get a great sports car. That's why we've rounded up 10 of the best sports cars under $75,000. These performance-focused vehicles represent a variety of "sports car" definitions — we've included a mix of coupes, convertibles, and hatchbacks — and several of them cost a fraction of that $75,000 price cap. Keep reading to learn about our selections, which we've listed in approximate ascending order of price.
1. 2021 Mazda MX-5 Miata
The least expensive vehicle on our list is also one of the purest forms of driving pleasure you can buy — at any price. The 2021 Mazda MX-5 Miata starts at $26,830, but that affordable price doesn't mean this is any ordinary car.
The Miata is a tiny, light, rear-wheel-drive, two-seat roadster with an intimate connection to the road and looks that would be at home on an exotic. It's not about spec-sheet domination — its 2.0-liter engine has 181 horsepower and 151 lb-ft of torque, less than some economy sedans. But this is a light enough car that it's still quite quick. And you sit so low, it feels even faster. Especially if you stick with the standard six-speed manual transmission and open up the top, the Miata gives you a thrill whether you've found an empty winding road or are just keeping up with traffic between two stoplights. The interior doesn't feel as upscale as it did when the current Miata generation debuted in 2016, and not everyone will fit inside, but the MX-5 Miata has more approachable fun than most sports cars at any price.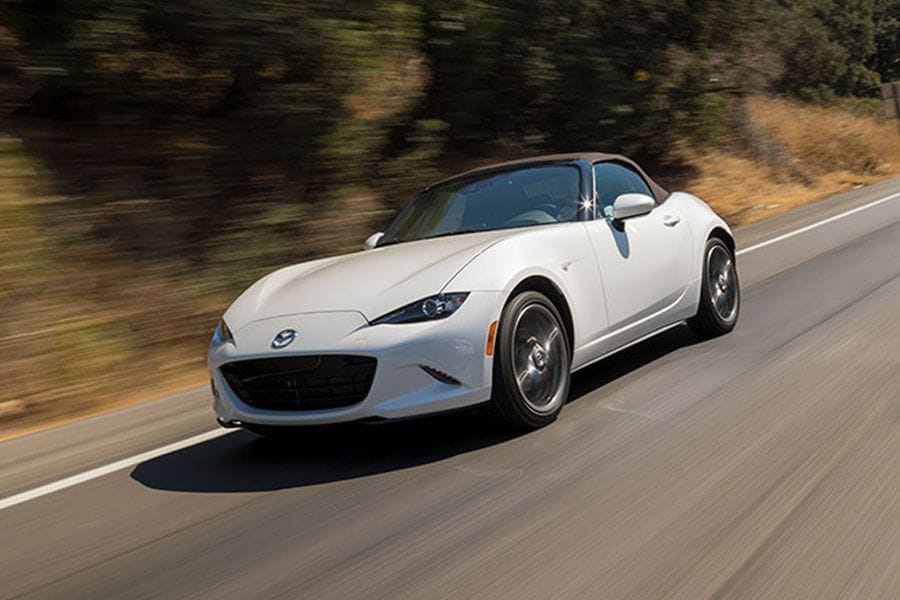 Photo by Mazda
2. 2022 Subaru BRZ
The Subaru BRZ is a little like a coupe version of the Miata. We don't mean there's any mechanical connection between the cars, but their themes are similar: They're both small, light, rear-drive cars with sharp handling and relatively modest horsepower. 
For the 2022 model year, the Subaru BRZ (and its twin, the Toyota GR 86) received a full redesign that bumped horsepower from 205 to 228. It also brought modernized styling, more available safety features, a contemporary-looking interior, and a less tinny feel. It brings delight with fewer sacrifices than before. The BRZ is not as light as the Miata, and there's no open-top version, but Subaru did make room for a small backseat. Prices start at $27,995.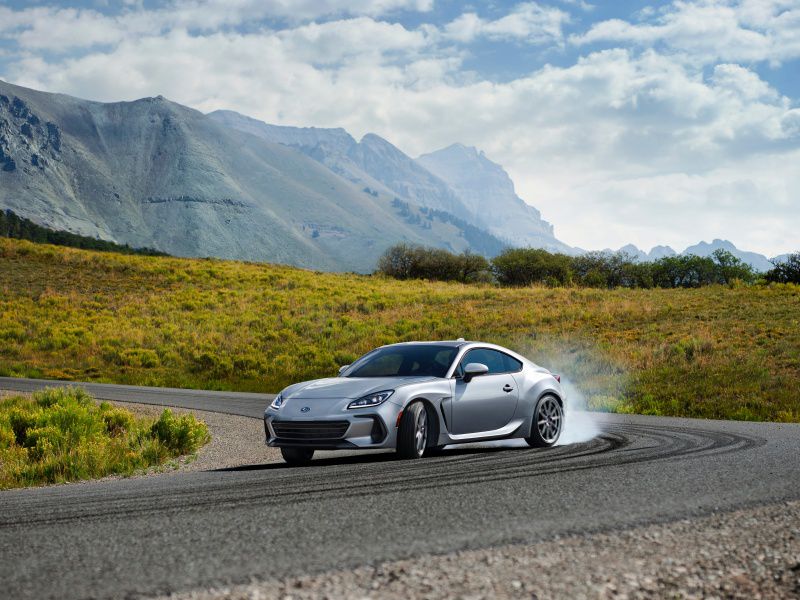 Photo by Subaru
3. 2022 Chevrolet Camaro
When horsepower is a priority, the best sports cars under $75,000 are American. And our pick is the 2022 Chevrolet Camaro. It's not as roomy as the rival Ford Mustang or Dodge Challenger, but if you're not looking to squeeze anyone into the back, the Camaro is a delight. It shares its platform with Cadillac's sports sedans, and you feel that extra luxury-grade smoothness and sharp handling. It's also less overtly retro than the Ford or Dodge, opting for subtler nods to its heritage. 
The Camaro is available for as little as $25,000, but that's for a 275-horsepower four-cylinder. That's not slow, but the car's true character emerges with the quicker, richer-sounding 335-hp V6 (starting from $27,095) or 455-hp V8 (starting from $34,000). You can even buy the 650-hp supercharged Camaro ZL1 for well under $75,000 (a starting price of $63,000).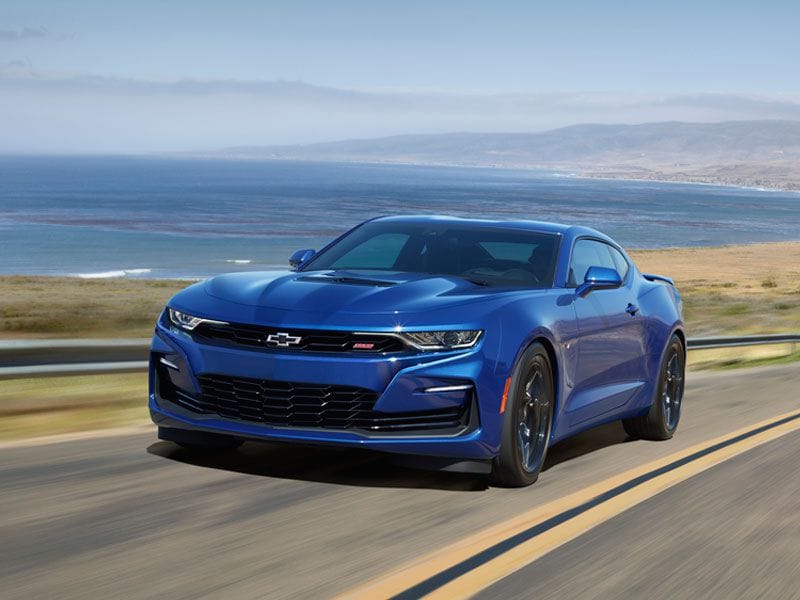 Photo by Chevrolet
4. 2022 Volkswagen Golf
Turning back to small, lithe cars, the newly redesigned 2022 Volkswagen Golf is a terrific driver's car disguised as an ordinary five-door compact hatchback. The new Golf is no longer available in base economy-car versions, coming only in its zippy GTI and even zippier R versions. 
These Golfs aren't stylish sports cars, but they offer excellent handling poise, excellent manual and dual-clutch automatic transmissions, and ample power. For 2022, the GTI makes 241 horsepower, while the Golf R increases 315 hp. Under the VW skin, these Golfs share their mechanical components with much pricier Audi models. The latest Golf abandons the old model's simple interior in favor of a higher-tech, less user-friendly design, but this is otherwise one of the best sports cars you can buy.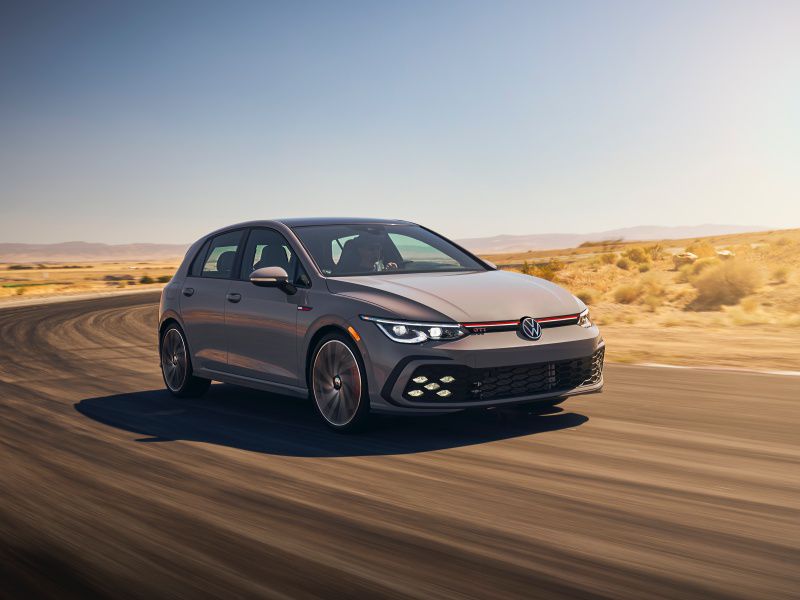 Photo by Volkswagen
5. 2022 BMW 2 Series
The BMW 2 Series is another great-driving car that doesn't look like a classic sports car. This is the smallest BMW, and this stubby two-door coupe and convertible is today's purest expression of the automaker's classic experience. The driver remains connected to the road rather than kept isolated for a cushier, more relaxing experience. And the rear-wheel-drive-based platform offers top-tier capability to go with its everyday driving experience. 
The 2 Series is redesigned for the 2022 model year, going on sale in November 2021 with crisper styling and slightly more graceful proportions. (We've shown the 2022 model on this page.) You'll initially choose between a 255-horsepower four-cylinder and a 382-horsepower six-cylinder — the latter is the obvious choice if you're interested in a great sports car. A replacement for the current high-performance M2 model will follow, too. Prices start at $36,350 for the four-cylinder 230i and $48,550 for the six-cylinder M240i, similar to the outgoing 2021 models; the 2021 M2 starts at $58,900.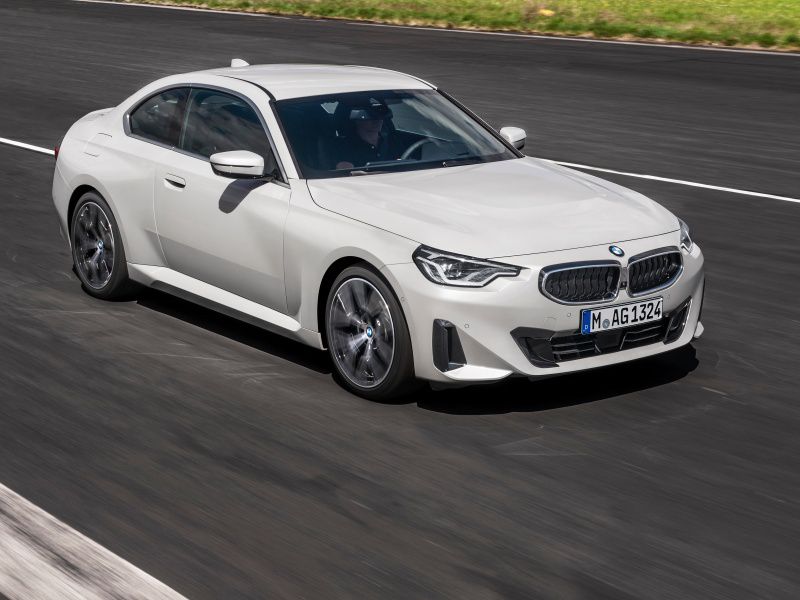 Photo by BMW
6. 2022 Toyota Supra
Now we come to a great sports car that definitely looks like a sports car. It's the 2022 Toyota Supra, the newly reinvented version of a Japanese classic. 
The Supra is instantly notable for its styling. It's exotic, it's exuberant, and it's wrapped around a tidy two-seat cabin. Not everyone will love it, but this isn't a sports car you'll overlook. And under that uniquely Toyota exterior is a BMW-sourced platform, engine, and interior. The new Supra is a fixed-roof version of the BMW Z4 convertible, but for thousands of dollars less. They each have a familiar pair of BMW engines: the same 255-hp four and 382-hp six as the 2 Series. The Supra is priced from $43,190, which is a lot for a Toyota but a steal for a BMW sports car.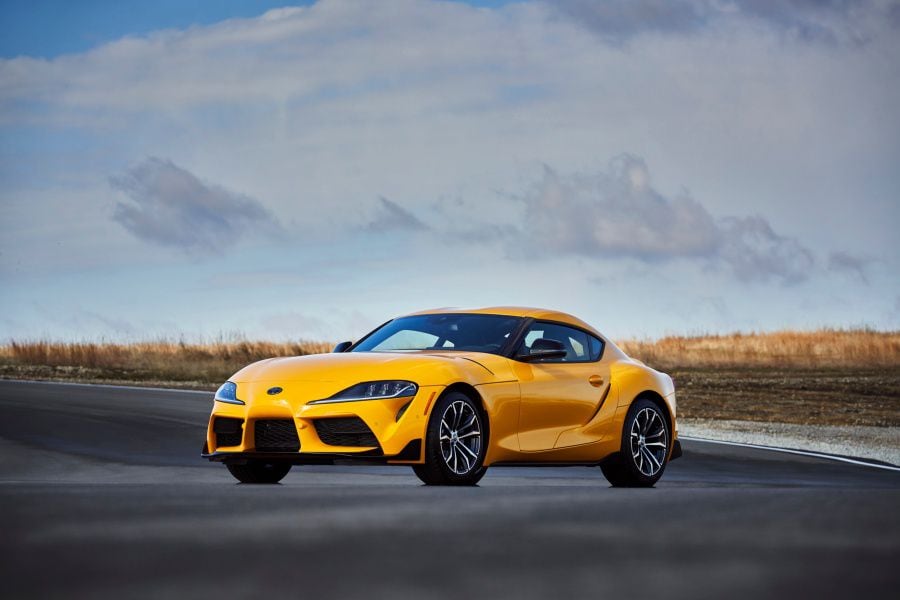 Photo by Toyota
7. 2022 Audi TT
The Audi TT is something like a posher, sportier-looking version of the Volkswagen Golf — specifically, the GTI and R performance models. If that sounds like a criticism, you haven't driven those Golfs. These are agreeable sporty cars that are fun to drive without beating you up about it: a little two-seater that's also a comfortable and upscale commuter car. 
The base TT makes 228 horsepower and starts at $49,800. But you can liven up this little coupe and convertible with 288 horsepower on the TTS model ($59,500) or 394 horsepower on the TT RS ($72,500). That's not the most horsepower you can get for the money, but when you're not out to win a race, this Audi delivers plenty of performance without forgetting to be a luxury car. The TT offers tiny rear seats in its fixed-roof version, while the convertible drops any pretense of carrying more than two people.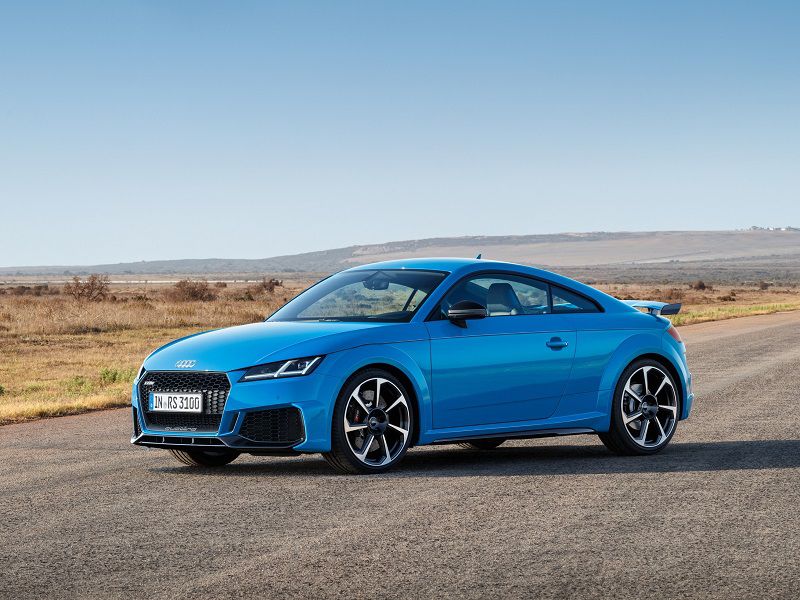 8. 2022 Chevrolet Corvette
The Chevrolet Corvette is a classic example of a great sports car under $75,000, and the latest model has become even more so. Originally, the Corvette was a classic American performance car that prioritized a ridiculous amount of horsepower at relatively affordable prices. Now, it's essentially a mid-engine exotic supercar. And yes, it still provides a ridiculous amount of horsepower at a relatively affordable price, too. 
The Corvette starts at $60,900 with a 490-horsepower V8 engine, now paired with extra-balanced handling and the proportions of a Ferrari. It's easy to push the price past $75,000 when you add options, and older Corvettes' improbably spacious cargo holds are no more. But when you're looking for incredible performance without a mortgage-like car payment, the Corvette continues to deliver that — and more.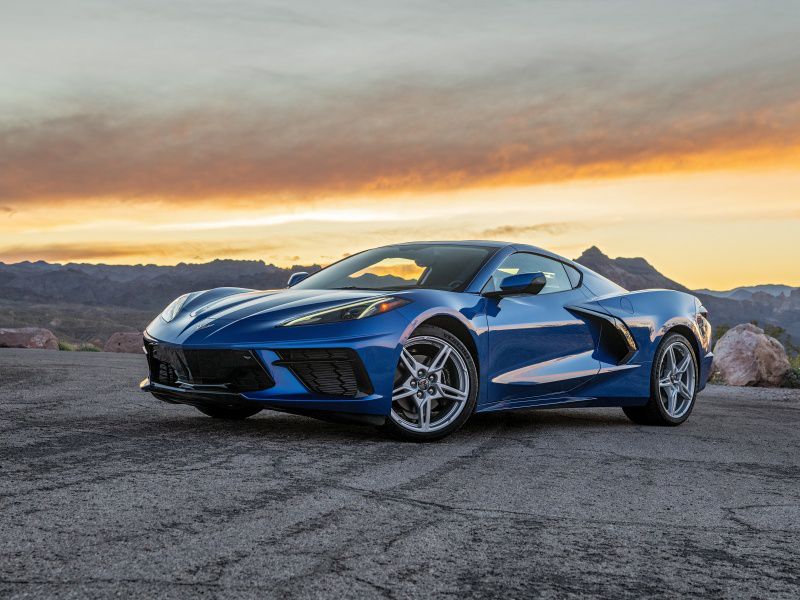 Photo by Chevrolet
9. 2022 Porsche 718
The Porsche 718 lineup includes two models: the 718 Cayman coupe ($60,500) and 718 Boxster convertible ($62,600). Whichever you choose, you get a finely honed performance machine — though not as much horsepower as you get from a bruiser Corvette. 
A $75,000 budget probably buys you the Porsche's base 300-horsepower four-cylinder engine, or maybe the optional 350-horsepower turbo four if you go easy on the options. (You can get up to 414 horsepower from a turbocharged six-cylinder, but only once you're spending six figures.) It combines Porsche's panache and handling precision with the company's ever-improving interior detailing. Some automotive enthusiasts like to say the Porsche 911 is the finest sports car you can buy today, but others argue that the 718s are even better and for less money. However you feel about that point, this is one of the best sports cars under $75,000.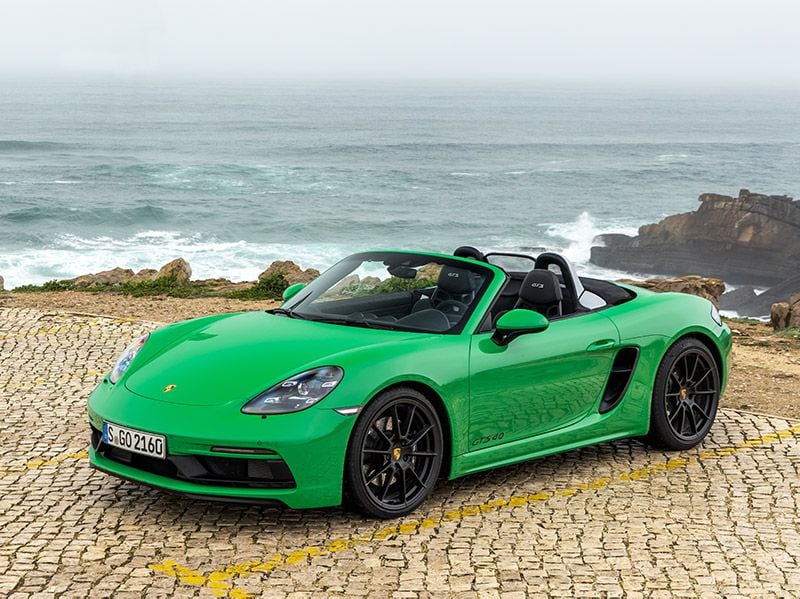 Photo by Porsche
10. 2022 Jaguar F-Type
The Jaguar F-TYPE is a genteel take on the two-seat sports car. Graciously styled and smooth-riding, it's less about racetrack domination than a mix of elegance and driving pleasure. 
Priced from $69,900, the F-Type is available as a coupe or convertible comes standard with a 296-horsepower four-cylinder engine. That's quick but not thrilling. You'd have to pay more than $75,000 for a supercharged V6 or V8, but if you're more interested in a great-looking cruiser than a max-performance machine, even the four-cylinder can be great. And if it sounds like we're describing a car that's all show and no go, don't worry — the F-Type also has sharp handling. It just doesn't have the single-minded focus on performance that makes it less rewarding to drive some great sports cars on a daily basis.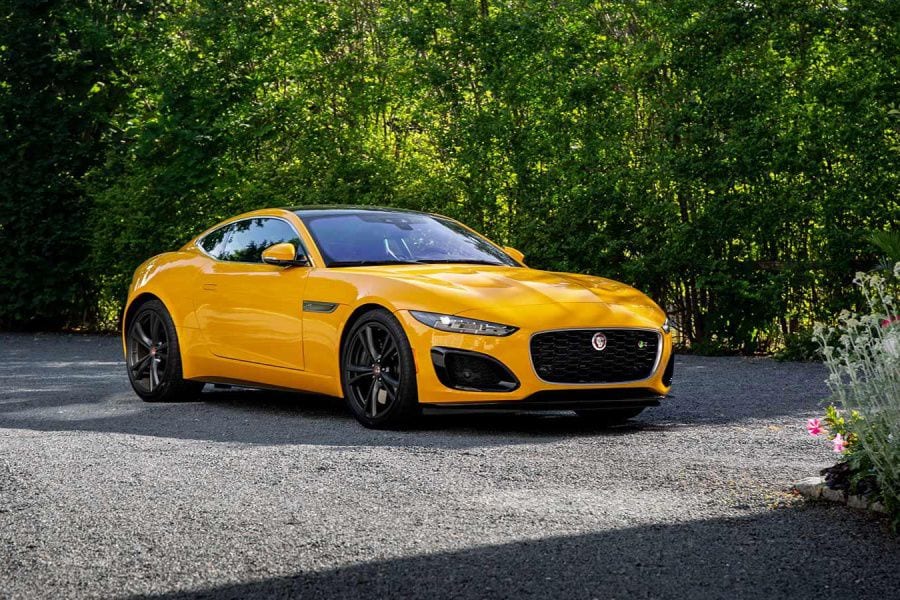 Photo by Jaguar