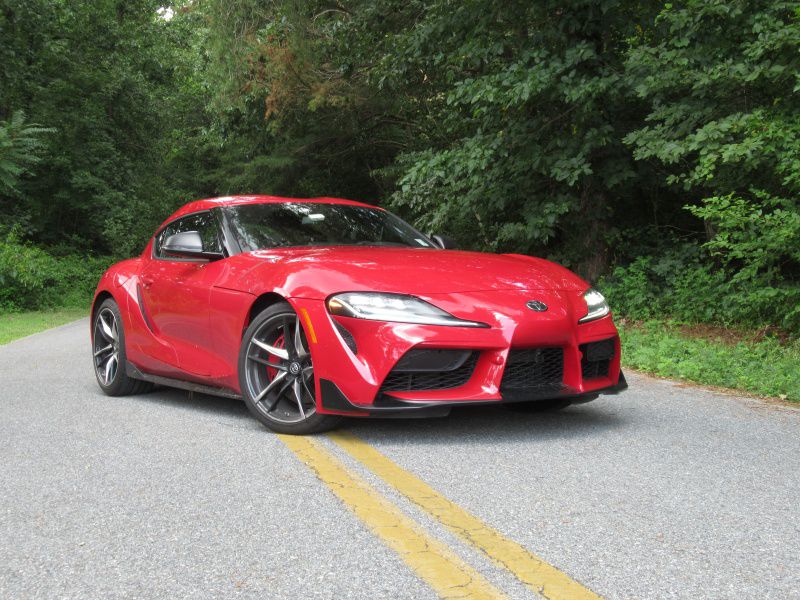 2020ToyotaSupra ・ Photo by Brady Holt
Sometimes, you just want to go fast. Today's automobiles have gotten eerily speedy almost across the board. A 0-60 mph time of 5.0 seconds was Ferrari territory just 30 years ago; today, some pickup trucks are even faster.
We're not trying to sell you on a pickup truck. We're just trying to give you some context. Because when you spend up to $60,000 on a new car, you're going to get some serious speed. However, you will find many different sizes, shapes, and approaches to speed. The fastest cars under $60,000 include two-seat coupes and four-door sedans, and they represent both mainstream and luxury brands. They're powered by everything from honking V8s to turbocharged four-cylinders to even hybrid and electric powertrains. Take a look at our selections, which we list alphabetically and have curated for variety.
1. 2020 Audi RS 3
It's a classic formula for speed: Take a small car and put a big engine inside. The 2020 Audi RS 3 — a high-performance version of the A3 subcompact luxury sedan — is precisely that. This little four-door packs a 2.5-liter turbocharged five-cylinder engine with 394 horsepower and 354 lb-ft of torque.
But power isn't any good if you can't get it to the road. That's why the RS 3 also has high-performance tires and Audi's Quattro all-wheel-drive system. The combination means it can reach 60 mph in 3.9 seconds. This multitalented sedan also boasts fantastic handling and a beautifully built, though snug, interior. You won't get the fetching styling of a low-slung coupe, but you won't care when you put down your foot. Prices start at $56,200.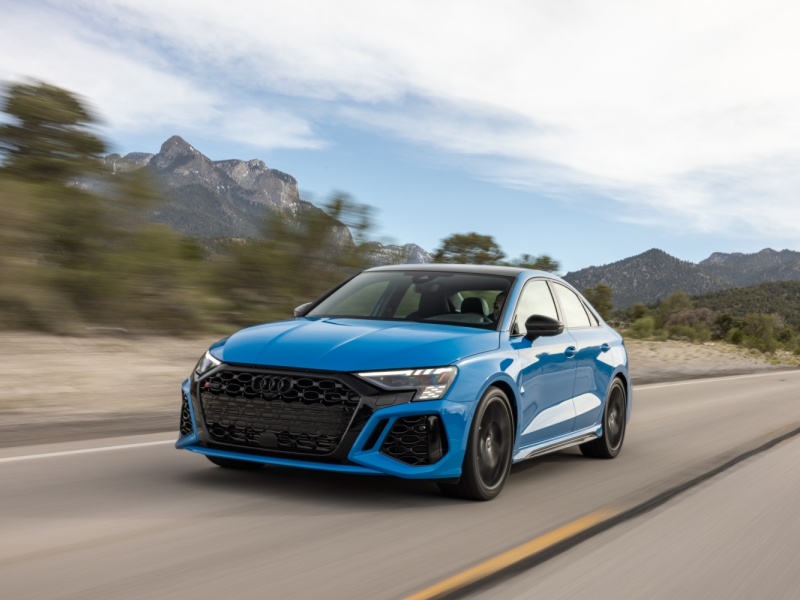 Photo by Audi
2. 2021 BMW M340i
Another European luxury sedan is one of the fastest cars under $60,000. This one is the 2021 BMW M340i, which is a size larger and a good deal more genteel than the gleefully rambunctious Audi RS 3.
The M340i, which starts at $54,700 with rear-wheel-drive or $56,700 with all-wheel-drive, has a silky 3.0-liter six-cylinder turbo with 382 hp and 368 lb-ft of torque. Its 4.1-second sprint to 60 mph (or 4.4 seconds with the rear-drive model's reduced traction) is better described as smooth than exuberant, but refined speed is a fine skill. Driving purists might prefer the sharper handling of the smaller two-door BMW 2 Series, but this larger 3 Series is actually faster.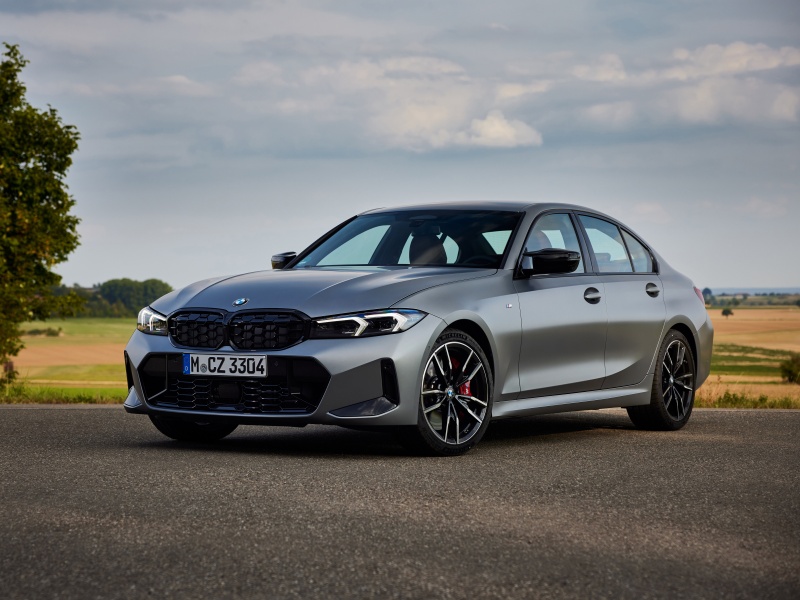 Photo by BMW
3. 2020 Chevrolet Corvette
The Chevrolet Corvette is a longtime example of affordable speed, with supercar-rivaling acceleration at a fraction of the price. But the redesigned 2020 Corvette is not only fast in a straight line, but also boasts improved handling and a more exotic design.
The Corvette brings a naturally aspirated 6.2-liter V8 engine with 490 horsepower and 465 lb-ft of torque, all at a base price of $58,900. What's new is that instead of living under the hood, the big V8 now sits just behind the two seats — providing a mid-engine configuration with improved weight distribution and a new cab-forward stance. It's an even more incredible bargain than before. And by roaring to 60 mph in less than 3 seconds, it's the fastest car under $60k.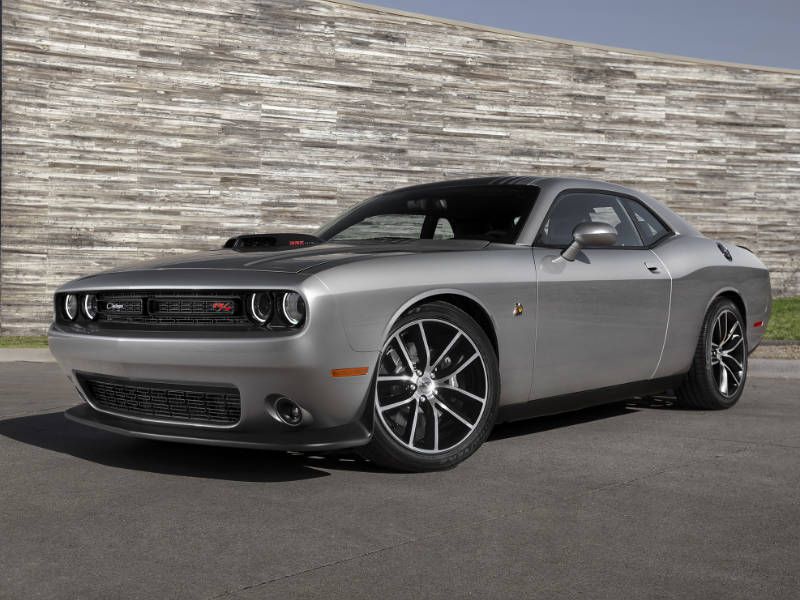 Photo by Dodge
4. 2020 Dodge Charger Scat Pack
Another all-American car with a big V8 engine is the 2020 Dodge Charger Scat Pack. This isn't America's take on a Ferrari like the Chevrolet Corvette — this is a spacious, comfortable sedan that roars its way to 60 mph in less than 4.5 seconds.
This rear-wheel-drive full-size sedan starts at just $40,495 with a 6.4-liter V8 that makes 485 horsepower and 475 lb-ft of torque. This isn't a delicate sports sedan, but it also has respectable ride and handling composure considering its size and affordable price. You can get the same mechanical bits in the marvelously retro-styled Dodge Challenger coupe, but the Charger sedan has its own sinister vibe along with superior practicality, making it an even more achievable performance bargain.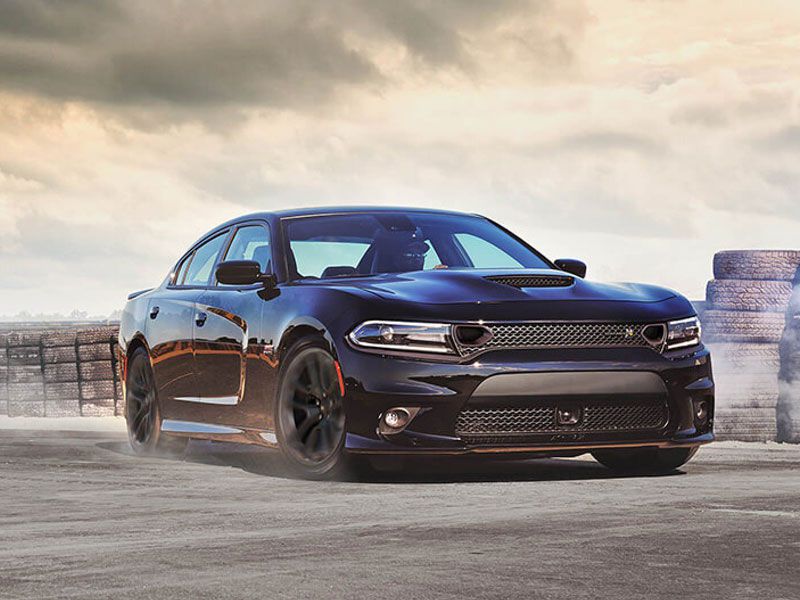 Photo by Fiat Chrysler Automobiles
5. 2020 Ford Mustang Shelby GT350
The Ford Mustang is another classic all-American that has dialed in steadily increasing refinement and handling poise over the years. But when you want the fastest Mustang for under $60k, forget about a smooth ride and head for the Shelby GT350.
Ford calls the Shelby GT350's 5.2-liter V8 engine "Voodoo." It has 526 horsepower and 429 lb-ft of torque, and this retro-styled coupe reaches 60 mph in just over 4 seconds. In a straight line, the $59,140 GT350 is only an incremental improvement over the $35,880 GT. But the GT350 turns the Mustang from a muscle car into a street-legal racecar. The experience is all-out ferocity and supreme capability, and its speed can wow you whether your racetrack of choice is a drag strip or a curved loop.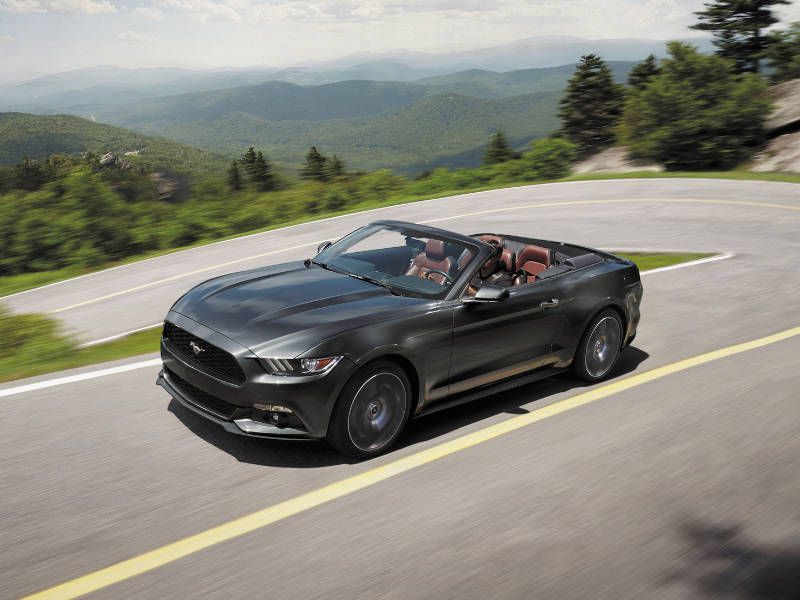 6. 2020 Infiniti Q50 Red Sport 400
A more mild-mannered take on relatively affordable speed is the highest-performance version of the Infiniti Q50 compact luxury sports sedan. Every Q50 is a performance bargain, with the base model ($36,400) combining premium features, a graceful design, and a smooth ride with a 300-horsepower turbocharged V6. But the Red Sport 400 model takes things up a notch.
As the name suggests, the Red Sport 400 ups its game to 400 horsepower, along with 350 lb-ft of torque. Some high-performance luxury sedans beat the Q50's 0-60 time of about 4.5 seconds, but few come packed with features at $54,250 like this Infiniti. If the sedan is too conservative, you can also get the same engine — and the same choice of rear-wheel-drive and all-wheel-drive — in the fetching Q60 coupe, albeit for a few thousand dollars more.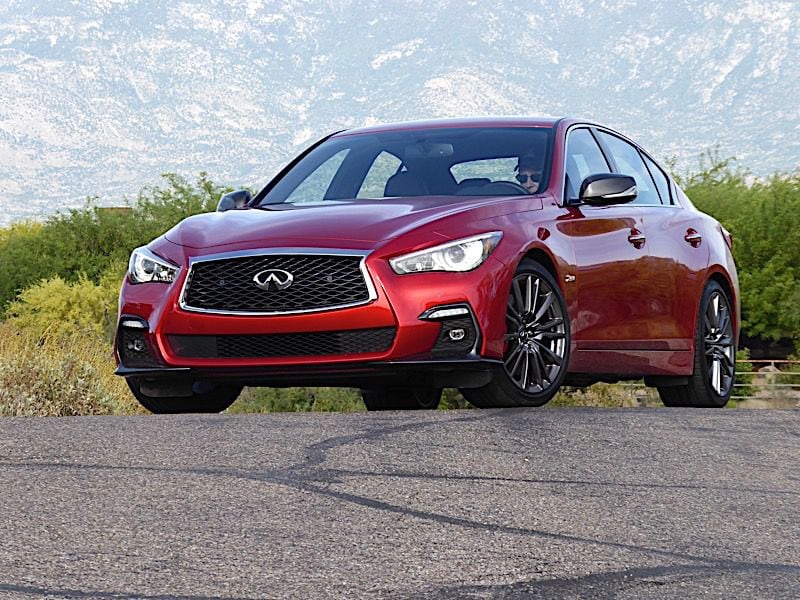 Photo by Ron Sessions
7. 2020 Mercedes-AMG CLA 45
The next of our 10 fastest cars under $60k is the archrival of our first selection, the Audi RS 3. This one is the freshly redesigned 2020 Mercedes-AMG CLA 45.
While the RS 3 is an upright, functional sedan, the CLA is what Mercedes-Benz calls a four-door coupe. That means its roofline is lower and sleeker, and its windows are smaller. You still get the convenience of rear doors to access the backseat, but this is a car more about beauty than maximum practicality. More to the point for the purposes of this article, the AMG CLA 45 packs serious speed at a base price of $54,800. Its hand-built 2.0-liter four-cylinder turbo makes 382 hp and 354 lb-ft of torque, which can whip this little four-door to 60 mph in 4.0 seconds.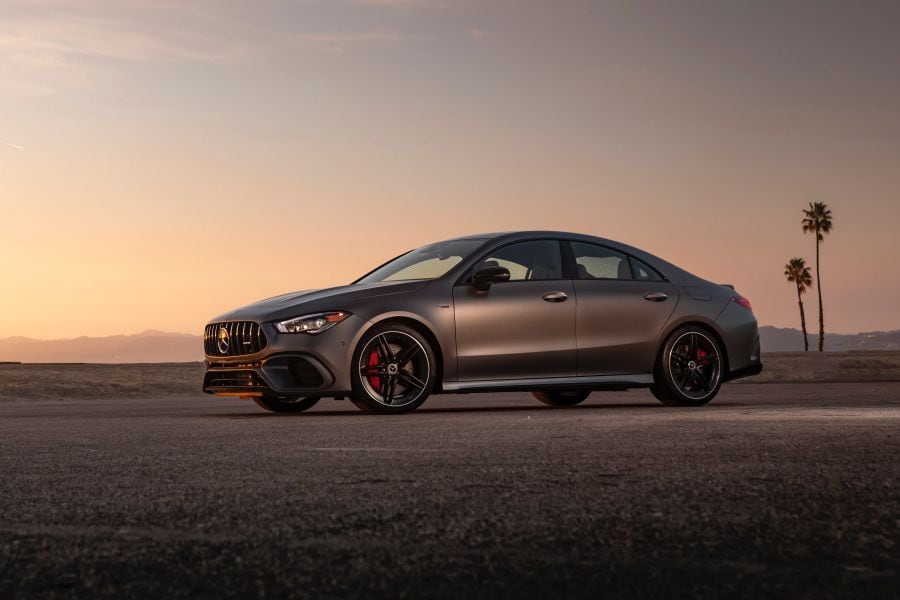 Photo by Mercedes-AMG
8. 2020 Tesla Model 3 Performance
One of the fastest cars under $60k can also accelerate with the least drama. That's the 2020 Tesla Model 3, an all-electric compact luxury sports sedan.
The Model 3 delivers an aggressively high-tech flavor, with a big touchscreen in lieu of conventional dashboard controls, and unique tech features that range from eye-catching (displays that illustrate how the car "sees" surrounding traffic) to playful (a setting that plays flatulence sounds). Purists will scoff at its electric powertrain, but the result stomps every car under $60,000 except the Chevrolet Corvette. Opt for the Model 3's Performance model ($54,900) and it will whir to 60 mph in near silence — and nearly instantaneously, in just 3.2 seconds. Agile handling rounds out this high-tech, fuel-saving, extra-speedy package. 
Photo by Tesla
9. 2021 Toyota Supra 3.0
The Toyota Supra two-seat hatchback was already one of the fastest cars under $60k when it reappeared as a 2020 model, combining exuberant Toyota styling cues with mechanical components — the powertrain, platform, and even most of the cabin — shared with the pricier BMW Z4.
Now, for 2021, the BMW-built six-cylinder engine has even greater output: 382 hp and 368 lb-ft of torque (up from 335 hp and 365 lb-ft). It also has revised suspension and steering systems for sharper handling. There's also a more affordable four-cylinder engine, but for the fastest, you still want the 3.0-liter six-cylinder for an extra $8,000 ($50,990 and up). The car doesn't feel as playful as its styling suggests, showing its German luxury roots, but it's undeniably capable and it's one of the few cars that can reach 60 mph in less than 4 seconds for under $60,000.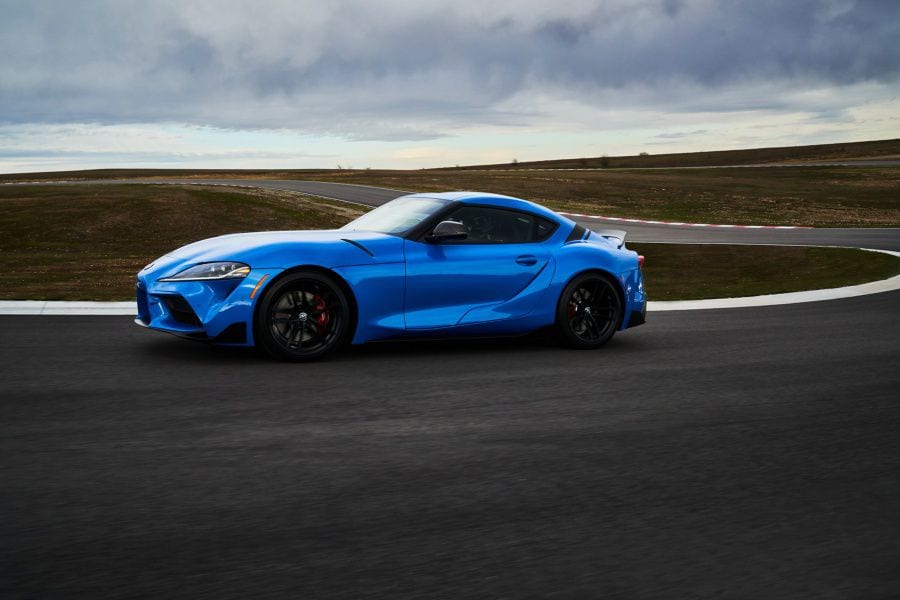 Photo by Toyota
10. 2020 Volvo S60 T8
Like the Tesla Model 3, the 2020 Volvo S60 T8 uses electric power to achieve ultra-quick acceleration. The difference is that the Volvo is a plug-in hybrid instead of a fully electric car. This means you use gasoline for anything but a short, low-speed drive, but also that you don't have to worry about running out of range.
Specifically, the S60 compact luxury sedan has a 2.0-liter four-cylinder engine that's turbocharged and supercharged in addition to its electric juice. Total output is 400 hp and 472 lb-ft of torque, and that's good for a 0-60 run of 4.3 seconds. You also get a stately design, beautifully finished interior, and usefully spacious rear seat. The S60 lacks extra-zesty handling, but at least you can go up to 22 miles without needing gasoline. Prices start at $55,400, but buyers can claim a $5,419 federal tax credit.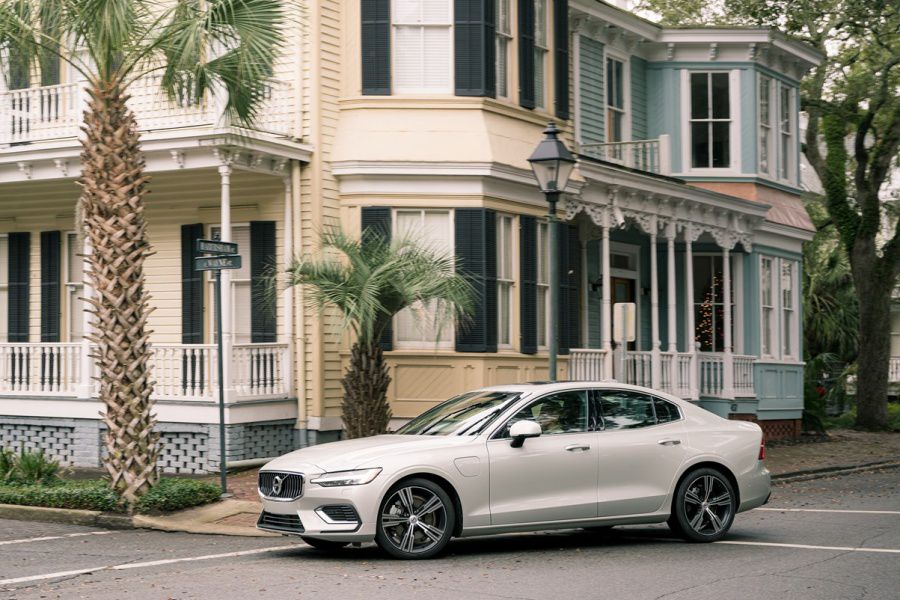 Photo by Volvo