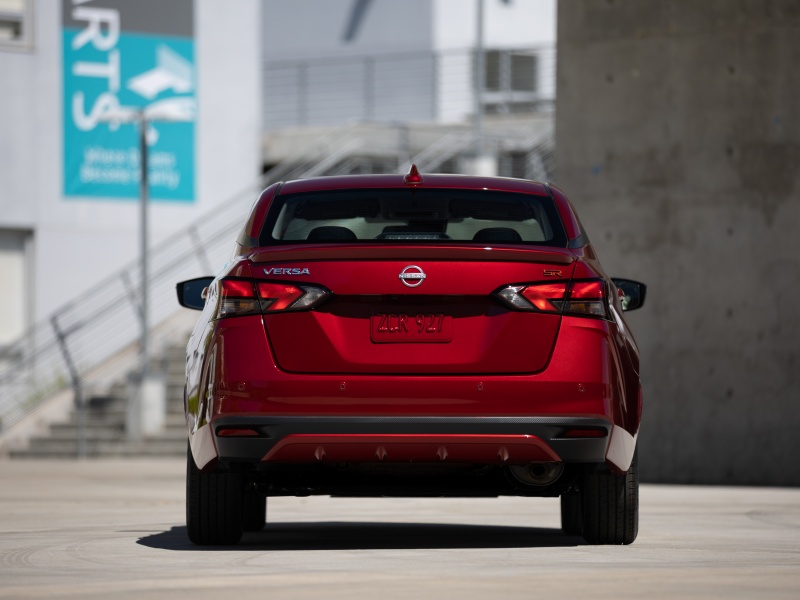 Photo by Nissan
It seems everyone wants an SUV these days, and ground clearance is just one of their many advantages. Sitting higher off the ground means they're less likely to scrape on an obstacle. 
But maybe you don't want an SUV — or anything that looks like one. So today, we've rounded up 10 ordinary sedans and hatchbacks with the highest ground clearance. They won't challenge an SUV when it's time to power through snow or avoid scraping the bumper on a high curb. But they're higher off the ground than other non-crossover passenger cars. A few are even available with all-wheel drive. Keep reading to learn which cars have the highest ground clearance.
1. 2021 Nissan Versa: 6.8 inches
The Nissan Versa doesn't look like a car with high ground clearance. This subcompact sedan wears a scaled-down version of Nissan's design language, with crisp lines and a trendy "floating roof"  — the rear window trim connects to the rear windshield. 
Still, the Versa sits 6.8 inches off the ground. That's just 0.2 inches less than the mechanically related Nissan Kicks crossover, and it's more than you'll find in many small crossovers, including the Hyundai Kona, Mazda CX-3, and Buick Encore. The Versa may not have as much space inside as an SUV, it doesn't offer all-wheel drive, and it's nothing fancy. But it starts at just $14,980, gets an EPA-estimated 35 mpg in mixed driving, and can bounce along a rutted road without bottoming out easily.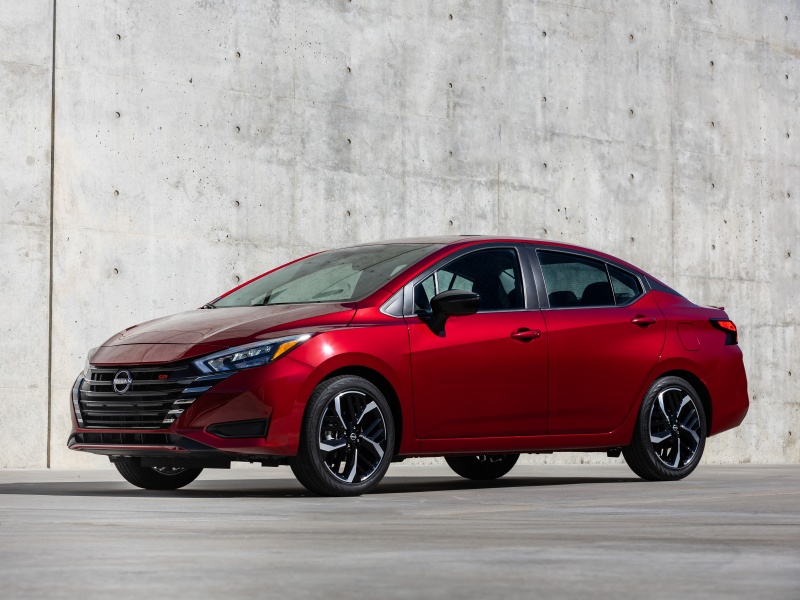 Photo by Nissan
3. 2021 Mitsubishi Mirage: 6.3 inches
The Mitsubishi Mirage hatchback and Mirage G4 sedan are competitors to the Nissan Versa, and they're also among the cars with the highest ground clearance. The sedan and hatch each provide 6.3 inches of ground clearance. 
Mitsubishi designed these subcompact cars primarily for developing countries where they'll spend less time on smoothly paved roads. The Mirage is often savaged by critics for its tiny 78-horsepower three-cylinder engine, clumsy handling, and blob-like styling — but if you need a car to tackle rough roads or driveways, this little machine is ready to take a beating. Prices start at $14,295 for the hatchback and $15,295 for the G4 sedan, whose extended wheelbase brings an uncommonly spacious rear seat.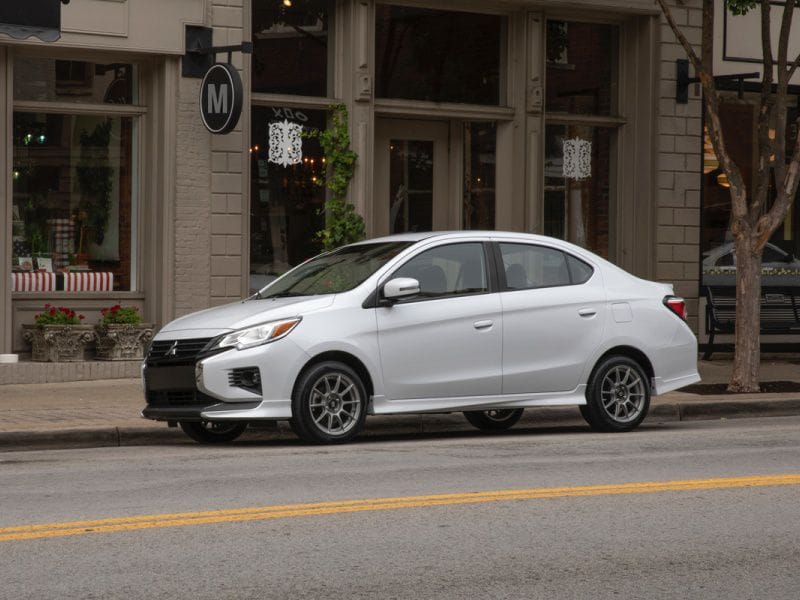 Photo by Mitsubishi
3. 2023 Toyota Prius: 6.0 inches
The freshly redesigned 2023 Toyota Prius hybrid has made waves for its dynamic new styling and zippy new 194-horsepower powertrain. Freshly attractive to look at and sporty to drive, this gas-electric hatchback averages an EPA-estimated 57 mpg at a starting price of $27,540.
But despite its focus on style and aerodynamics, the Prius also rides higher off the ground than nearly any other hatchback or sedan: 6.0 inches, up from last year's 5.3 inches. And the Prius continues to be available with all-wheel drive, unlike the Mirage or Versa. So you can use that higher ground clearance in messy conditions – all while sipping fuel.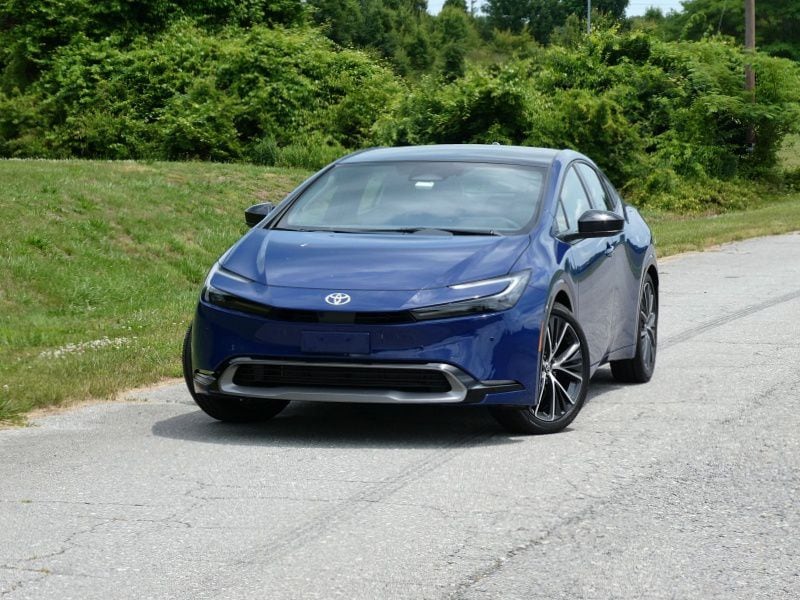 2023 Toyota Prius Limited ・ Photo by Brady Holt
4. 2023 BMW 2 Series Gran Coupe: 6.0 inches
The 2023 BMW 2 Series Gran Coupe isn't really a coupe (it's a four-door sedan with a sleek roofline). It isn't really a 2 Series (this front-wheel-drive-based model shares no mechanical connection with the rear-drive 2 Series two-door).
But this subcompact luxury car does let you enjoy Bavarian driving manners without having to worry about bottoming out. With 6.0 inches of ground clearance, the 2 Series Gran Coupe rides higher off the ground than any other luxury-branded sedan in the U.S. It's relatively affordable, too, with a starting price of $37,800. And it has a choice of two peppy turbo four-cylinder engines making either 228 hp or 301 hp, along with optional all-wheel drive. Just don't count on much backseat room from this little BMW.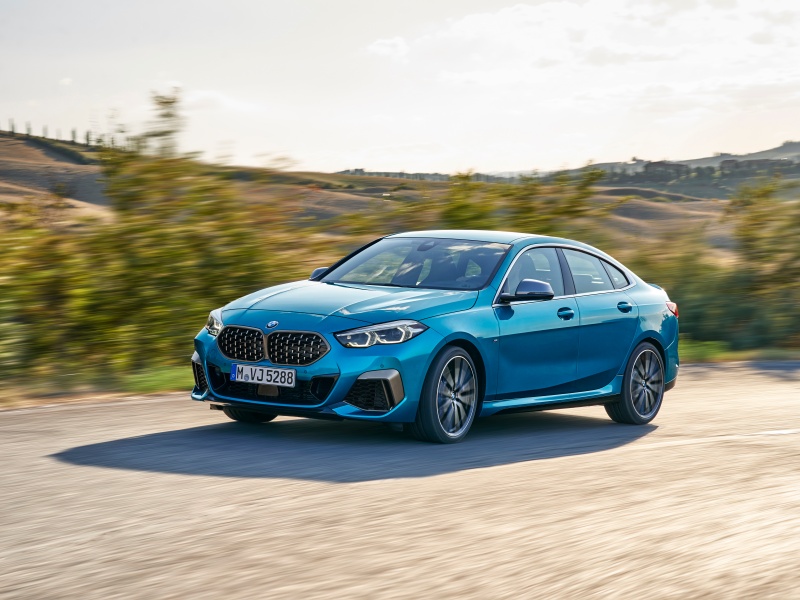 Photo by BMW
4. 2022 Subaru Legacy: 5.9 inches
Subaru is often a go-to brand for rough conditions, since it provides a highly regarded all-wheel-drive system as standard equipment on all its models — including hatchbacks and sedans. Still, until you buy a Subaru crossover, ground clearance isn't incredible. 
The Subaru Legacy mid-size sedan does provide more ground clearance than any of its competitors except the Mazda6, but at 5.9 inches, it only barely edges out some more popular rivals. Still, if you're dealing with mud or snow, the Legacy's AWD is a big advantage. This is also a comfortable car with a big backseat and a smooth ride, though it's anonymous to look at or drive. Legacy prices start at $22,995. (If you're wondering about Subaru's other AWD non-crossover, the compact Impreza sedan and hatchback have just 5.1 inches of ground clearance.)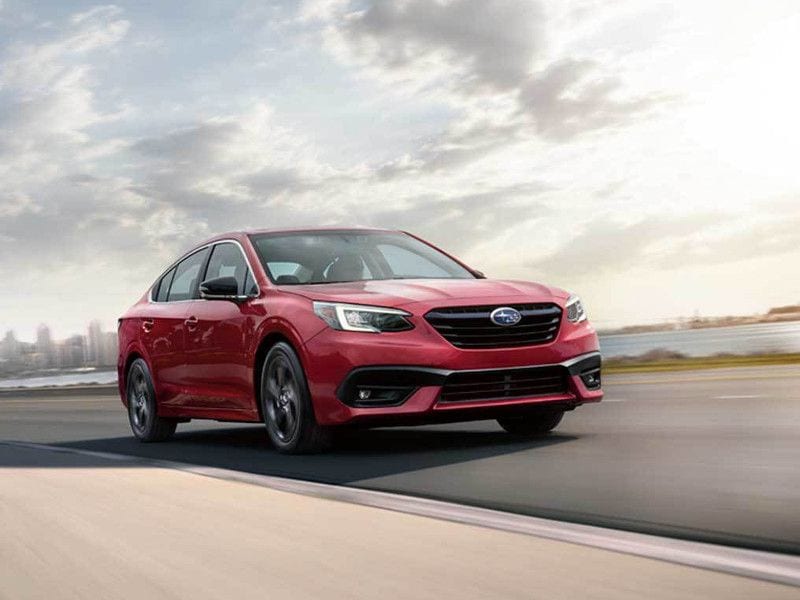 Photo by Subaru
5. 2021 Nissan Leaf: 5.9 inches
Tying the Legacy's ground clearance is the Nissan Leaf, a compact all-electric hatchback. Electric cars don't need to run exhaust pipes under the car, and we expect that helped the Leaf edge out other compact cars to achieve 5.9 inches of ground clearance. 
The Leaf isn't a "cool" electric car like a Tesla. It's a fairly attractive small hatchback, but nothing that says "I'm a car of the future" — especially in the pedestrian interior. But if you're looking for a functional and relatively affordable way to cut out gasoline, the Leaf delivers. It has a base range of 149 miles per charge, while an optional larger battery pushes that to 215 to 226 miles depending on the trim level. It has enough room for four adults to be comfortable inside and carry their luggage in the back. It has a smooth ride. And it has high ground clearance. The 2021 Leaf starts at $31,670 and qualifies for a $7,500 federal tax credit; Nissan has promised the 2022 model will cost even less.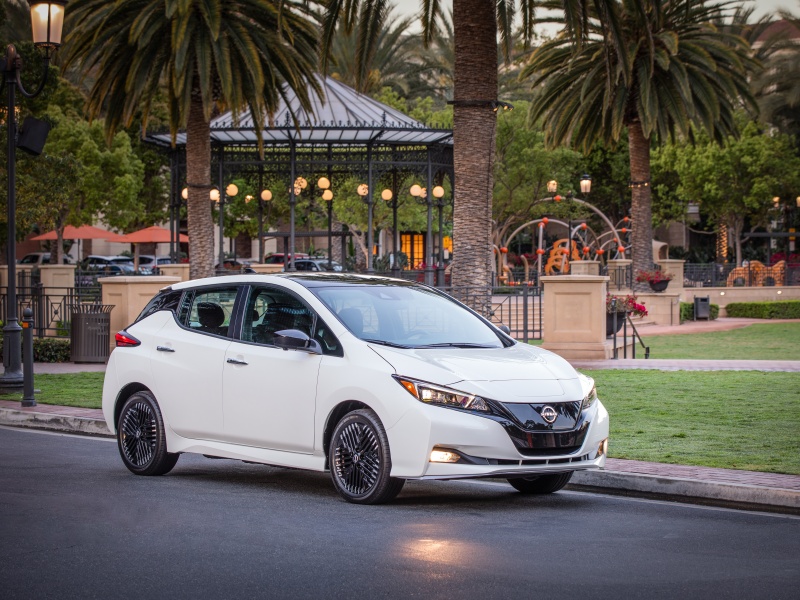 Photo by Nissan
7. 2023 Volvo S60: 5.8 inches
If you'd like a spacious luxury car with high ground clearance, check out the Volvo S60. It's a compact sports sedan with zippy engines, a smooth ride, agile handling, and a comfortable, beautifully finished interior. 
The S60 isn't a razor-sharp performance machine or an extra-cushy luxury car. Nor is it the most technologically cutting-edge vehicle on the market. But it's a well-rounded vehicle that never feels like anything but a high-end machine – posher and more spacious than the BMW 2 Series. It also provides 5.8 inches of ground clearance along with optional all-wheel drive. For a similar experience but a more SUV-like design, the V60 Cross Country is a station wagon version of the S60 sedan with a bit of extra body cladding and an excellent 8.3 inches of ground clearance. S60 prices start at $41,300, while the V60 Cross Country costs $48,800.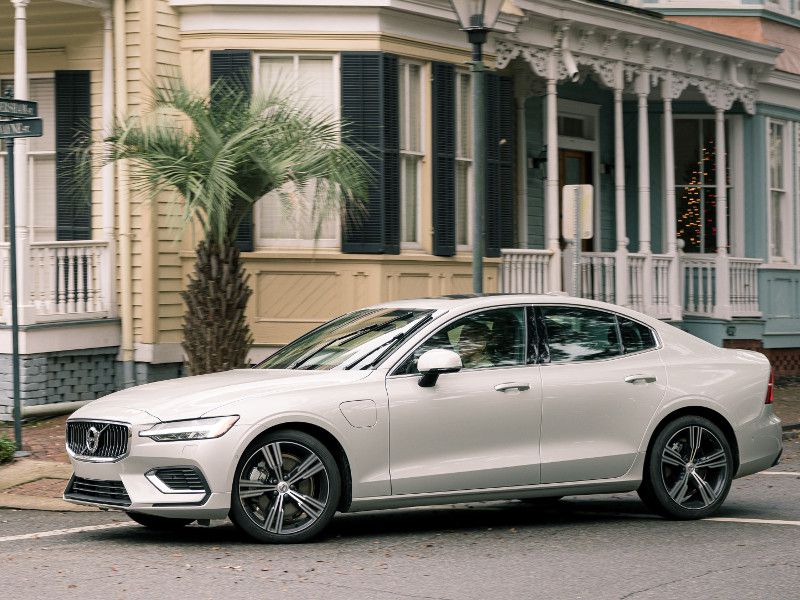 Photo by Volvo
8. 2023 Toyota Camry: 5.7 inches
Nearly every Toyota Camry comes with 5.7 inches of ground clearance, which trumps most rival mid-size sedans. Plus, like the Subaru Legacy but unlike, say, a Honda Accord or Hyundai Sonata, the Camry has optional all-wheel drive. That means you get to ride higher while also getting better traction. 
Whichever Camry you buy, you get a spacious and comfortable interior, a cushy ride, and more responsive acceleration and handling than you might expect. You choose between extra-efficient four-cylinder and hybrid powertrains or a lively 301-horsepower V6, though only the gas-only four-cylinder offers AWD. The Camry isn't the most luxuriously finished mid-size sedan, but it's comfortable and practical. Camry prices start at $26,320, with AWD costing $1,400 extra.
Photo by Toyota
9. 2023 Volkswagen Jetta: 5.6 inches
An affordable compact sedan with above-average ground clearance is the Volkswagen Jetta. It rides 5.6 inches above the ground and is priced from $20,665. 
The Jetta isn't an exciting car, at least until you've sprung for its higher-performance GLI version, whose ground clearance falls to 5.0 inches. But even with 147 horsepower instead of the GLI's 228 horsepower, the Jetta delivers a sportier flavor than some of its competitors – and certainly than a Versa or Mirage. And while the Jetta's interior feels basic, especially since its most common trim levels have a mere 6.5-inch infotainment screen, we don't object too strongly given the fairly affordable pricing.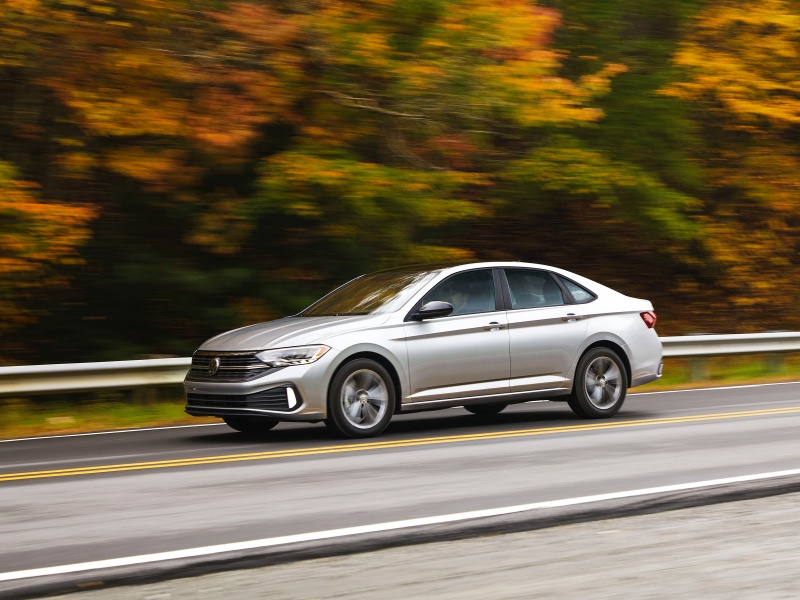 Photo by Volkswagen
10. 2023 Tesla Model 3: 5.5 inches
We'll close our list of 10 sedans and hatchbacks with the best ground clearance by returning to electric models. In this case, it's the best-selling 2023 Tesla Model 3, which has 5.5 inches of ground clearance.
Tesla is known for cutting-edge technology, wild speed, long ranges per charge, and a top-tier charging network. It's also known as a costly luxury brand. But as we write, the 2023 Model 3 starts at just $40,240 while qualifying for a $7,500 federal tax credit. That's pretty good for a roomy, fast compact luxury sedan that can travel 272 miles per charge (or as much as 358 miles with the upgraded Long Range battery). And like many cars we've highlighted today, the Model 3 has optional all-wheel drive to take even better advantage of its good ground clearance.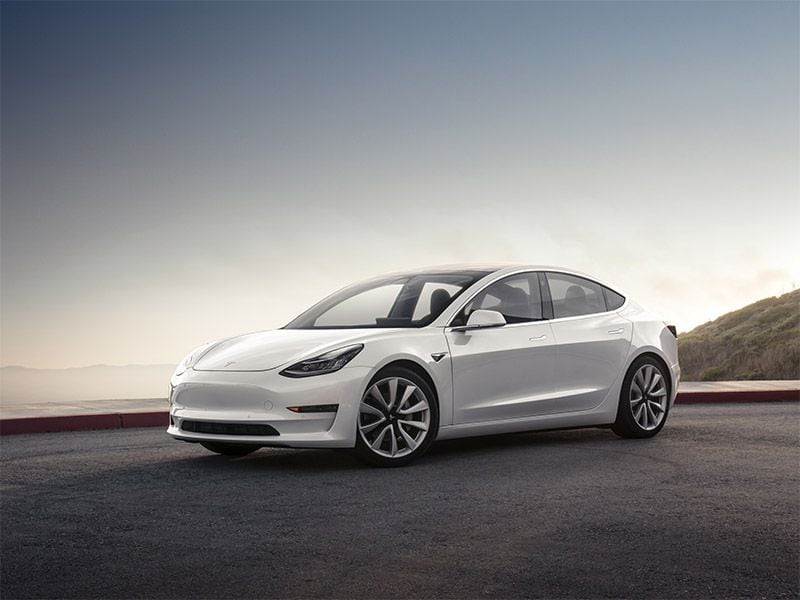 2018 Tesla Model 3 ・ Photo by Tesla