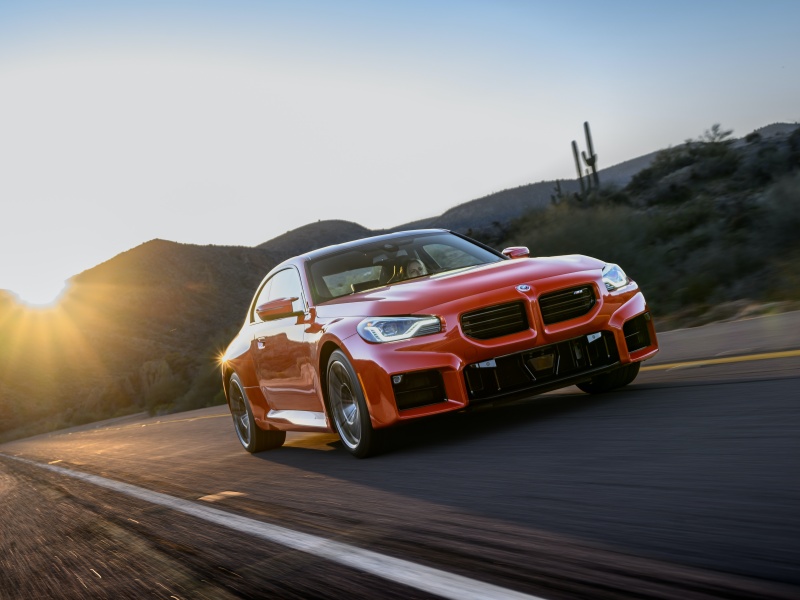 2023 BMW M2 ・ Photo by BMW
The 2023 BMW M2 is the performance version of the recently redesigned 2 Series coupe. Available only with rear-wheel drive as a two-door vehicle, it has its limitations when it comes to handling winter weather. Honestly, if you're looking for practicality, then this is not the right car for you. On the other hand, if you're looking for a sports coupe that's so fun that you'll look for the longest way home every time, then the BMW M2 is a great choice.
It looks the part on the outside with a low, wide stance. That sporty first impression carries over to the interior. Especially with the optional carbon fiber package, the BMW M2 looks every bit the performance car. Take it for a spin, and it delivers a genuinely fun and engaging drive experience. Let's take a closer look at the 2023 BMW M2 to see if it's right for you.
Only One Available Trim
There is only one well-equipped trim level of the BMW M2 available, but it comes with a wide range of options to make it uniquely your sports car. Pricing starts at $63,200. Standard features include rear-wheel drive and a 3.0-liter twin-turbo inline 6-cylinder engine with 453 horsepower and 406 lb-ft of torque paired to a 6-speed manual transmission. An 8-speed automatic is optional.
Additional standard features include 19-inch front and 20-inch rear wheels and illuminated M trims. There are black Vernasca leather seating surfaces available with either bold blue and red highlights, more reserved blue contrast stitching, or simple brown leather. The seats are heated and feature an illuminated M trim, and there's a single curved display for the digital instrument cluster and infotainment. Options include everything from carbon fiber to remote start and a head-up display. The M2 is a luxury sports car even in its standard configuration.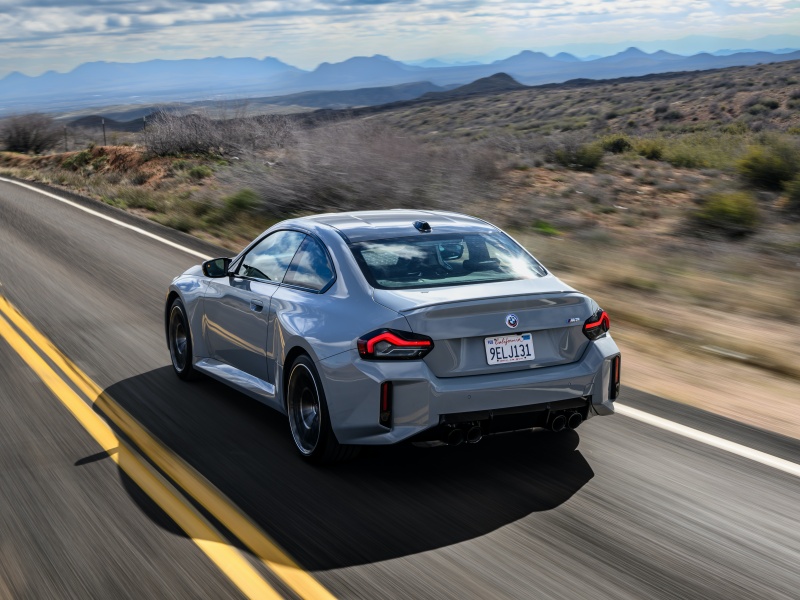 2023 BMW M2 ・ Photo by BMW
A Powerful Engine
BMW makes performance cars, and the M lineup the the top performer of the lot. These are the trims for those who put a priority on power and handling. The M2 Coupe takes that mission to heart and is a thoroughly enjoyable sports car whether you plan to take it to the track or simply hit the highway for the daily commute.
The 3.0-liter twin-turbo inline 6-cylinder delivers 452 horsepower with 406 lb-ft of torque for outright aggressive acceleration. It's paired with a standard 6-speed manual transmission, but an 8-speed automatic is optional. Go with that automatic and the M2 posts a 0-60 mph time of just 3.9 seconds. There is no hesitation when you hit the gas, just instant acceleration that pushes you back in your seat and plasters a smile across your face. That time drops to 4.2 seconds with the manual, which is still quick.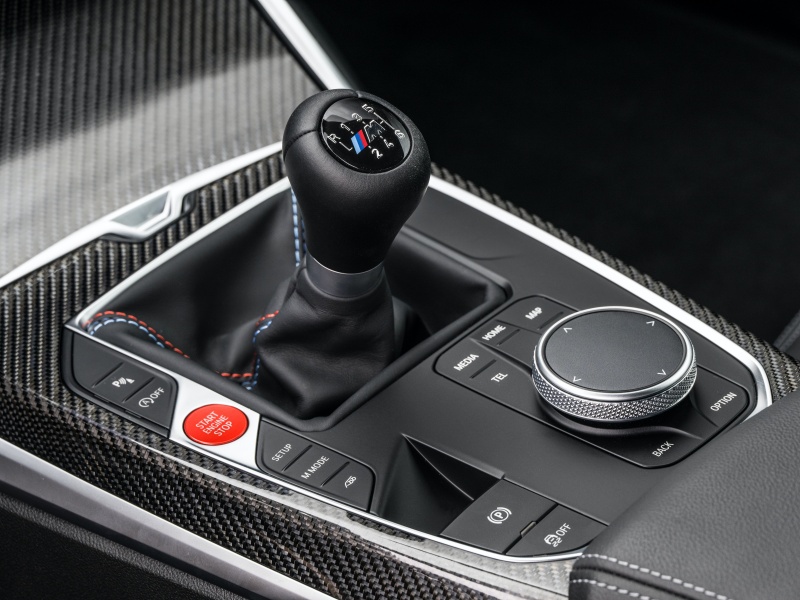 2023 BMW M2 ・ Photo by BMW
Responsive Handling With a Customizable Drive
Unsurprisingly, the BMW M2 has crisp, sporty handling to balance out its powerful engine. There are 19-inch front and 20-inch rear wheels with rear-wheel drive only, so should you choose to have a little fun at the track, it will definitely allow for that scenario. The standard Active M differential optimizes traction to ensure that torque is not lost at the rear wheels. It works with dynamic stability to control to adapt as you drive, accounting for torque, wheel speed, overall speed, and lateral acceleration.
The M Mode button tailors the drive with a choice of Sport or Track, both of which scale back driver assistance systems for more aggressive driving scenarios. Systems can be further adjusted in a setup menu with engine, chassis, steering, braking, and traction control systems all open to adjustment depending on your personal driving preferences. The end result is a car that's composed and adaptable to a variety of driving situations.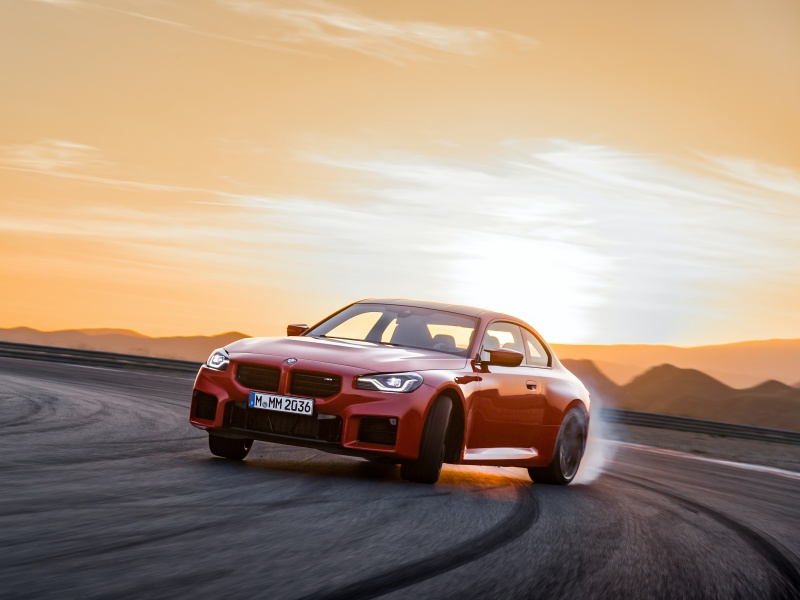 2023 BMW M2 ・ Photo by BMW
Two Brake Settings
This is a performance car, so it comes with a long list of customizable features that let you create exactly the drive experience that's perfect for you. This includes the adaptive M suspension system with electronically controlled dampers, a variety of drive modes, and the ability to adjust the steering to either comfort or sport.
In addition, you can even adjust the brakes depending on how you're driving to create the brake feel you want from moment to moment. The M compound brakes feature 15-inch front discs and 14.6-inch rear discs for confident stopping power. Through the M setup menu, choose to have either a comfort brake feel or a more direct brake feel. This makes it easier to take the M2 from the track to the road and back again.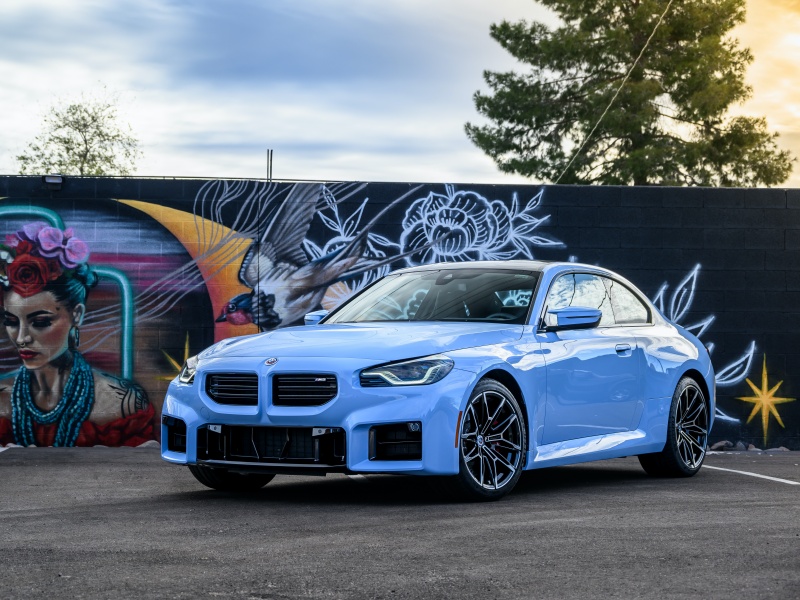 2023 BMW M2 ・ Photo by BMW
Sports Seats That Hug You in the Corners
The M2 has seating for four, but no one realistically fits in the rear seats. That leaves just the driver and front passenger with heavily bolstered sports seats. The carbon package adds more aggressive hard-shell carbon bucket seats that look fantastic. They include a carbon divider of sorts on the seat cushion between your lower thighs, and while they look impressive, they simply are not comfortable.
The bolstering is too strong, and the thigh divider presses against your leg, which is uncomfortable even on shorter trips. The bolstering is strong on the seat cushion, too. While great on the track, you must lift your leg up and over to climb out of the car. Stick with the standard sport seats. They're more comfortable no matter the trip and available with bright red and blue accents so you can still get that striking first impression when you open the door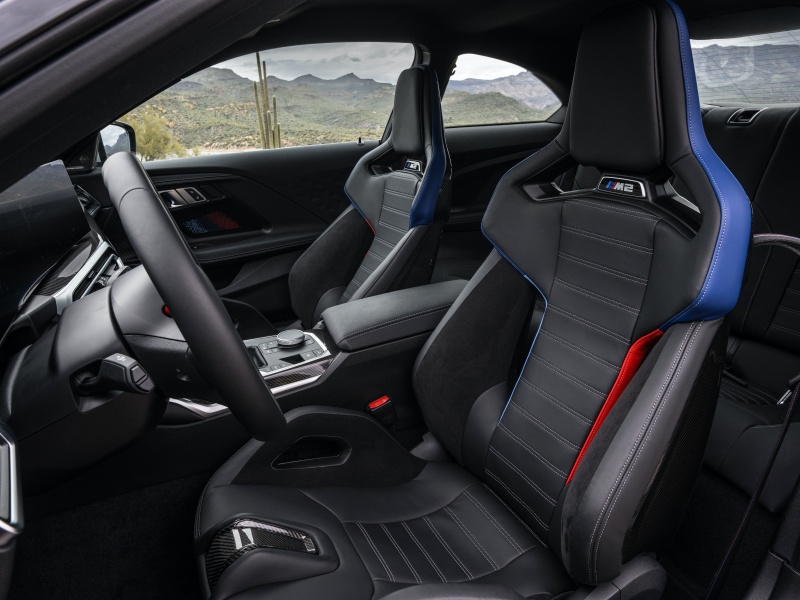 2023 BMW M2 ・ Photo by BMW
Tech-savvy Interior
The interior of the M2 has a tech-savvy feel with a curved display that angles toward the driver to create a cockpit. It includes a 12.3-inch digital instrument cluster alongside a 14.9-inch infotainment touchscreen. There's standard wireless Apple CarPlay and Android Auto with a responsive touchscreen and logically organized menus that help reduce driver distraction.
The whole thing is controlled either by voice, touchscreen, or a controller on the center console that also has a couple of buttons that will take you to commonly used areas like the home screen. It's all quite easy to use with crisp, clear graphics. Even passengers unfamiliar with how it works will find it easy to figure out so the driver can simply focus on the fun of driving.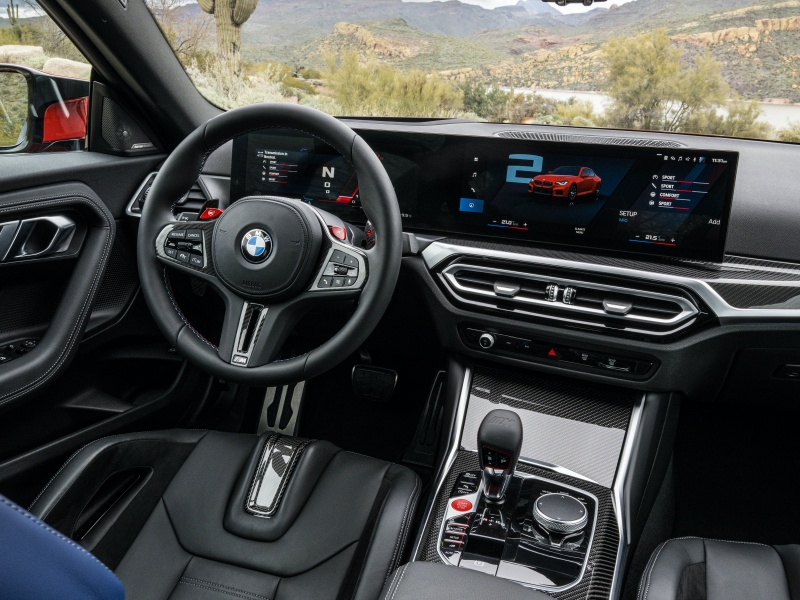 2023 BMW M2 ・ Photo by BMW
Good Standard Safety
Standard safety features in the BMW M2 include park distance control with both front and rear sensors, dynamic cruise control, front collision warning, automatic emergency braking, and lane departure warning. Options include active cruise control with stop and go on models with the automatic transmission only. This maintains a set cruising speed while also adjusting to keep a safe distance from the lead vehicle. Four proximity settings let you choose just how close is too close.
It's a solid offering of safety features but not the expansive list found in some vehicles. Rather, BMW has focused on the key features, like automatic braking, leaving out things like rear seat reminders that don't apply as much to a sports car that's unlikely to even have anyone in the second row of seats.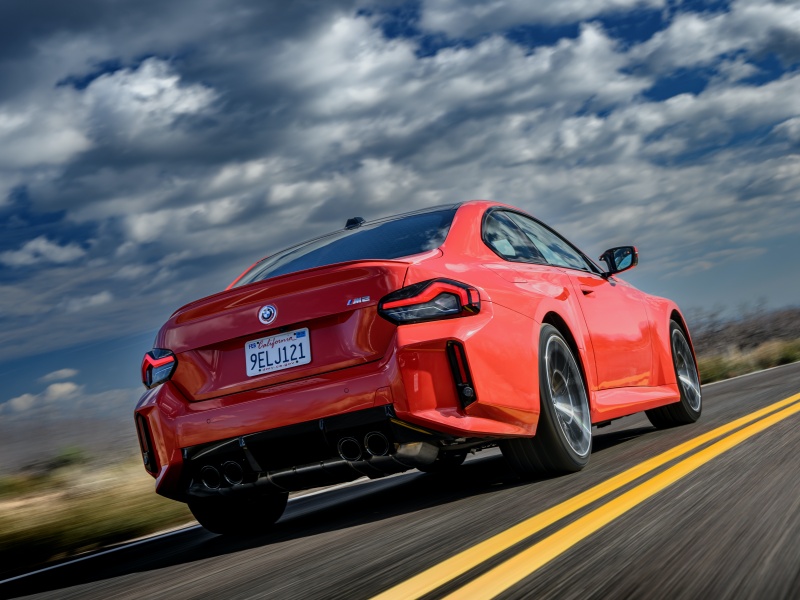 2023 BMW M2 ・ Photo by BMW
Three Options Packages
You can choose from three options packages to customize your M2 experience. First up is the Shadowline package. This adds M Shadowline lights and black exhaust tips for a stealthy exterior appearance. Then there's a Lighting package that adds adaptive full LED headlights and automatic high beams. Lastly is the carbon fiber package. This is the most visually striking of the lot with an M carbon roof, M carbon bucket seats with black full merino leather and M color highlight, and carbon fiber trim.
Additionally, there are multiple standalone options. This includes the 8-speed automatic transmission, parking assistant, wireless charging, heated steering wheel, and adaptive cruise control. The carbon fiber features in the package are also available individually, letting you pick and choose exactly which extras are a priority as you build your own M2.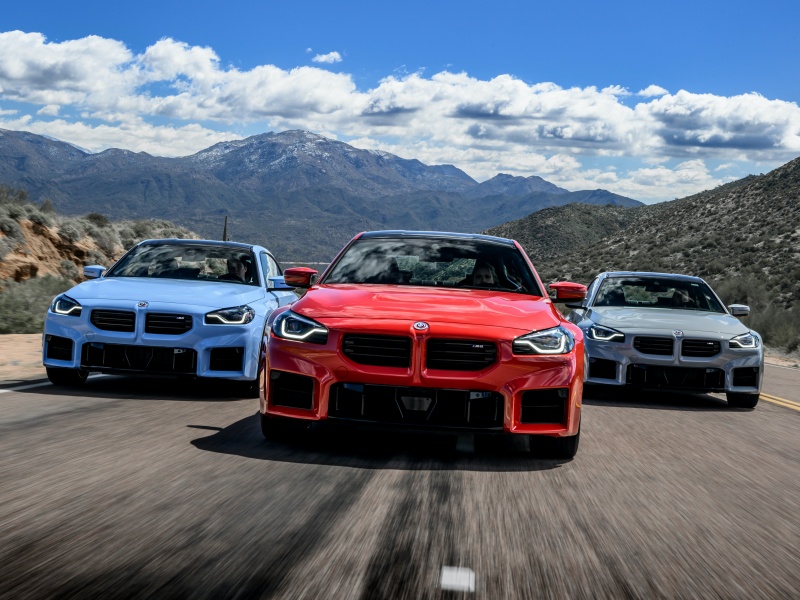 2023 BMW M2 ・ Photo by BMW
Final Thoughts
The BMW M2 is designed to be a fun, sporty coupe for driving enthusiasts and that's exactly what it delivers once you take a seat behind the wheel. On the outside, its wide stance and aggressive styling make it a car that looks like it wants to be driven hard. On the inside, heavily bolstered seats are ready to keep you in place when you do decide to take it out for more spirited driving.
There's plenty of tech with its long display screen and crisp, clear graphics, but that isn't this car's priority. This is a driver's car and that is its focus. Sure, there are rear seats, but no one will ever fit. Yes, there's room for a front passenger to come along as a lucky co-pilot. But what the BMW does best is deliver a premium driving experience with a fabulous combination of power and handling.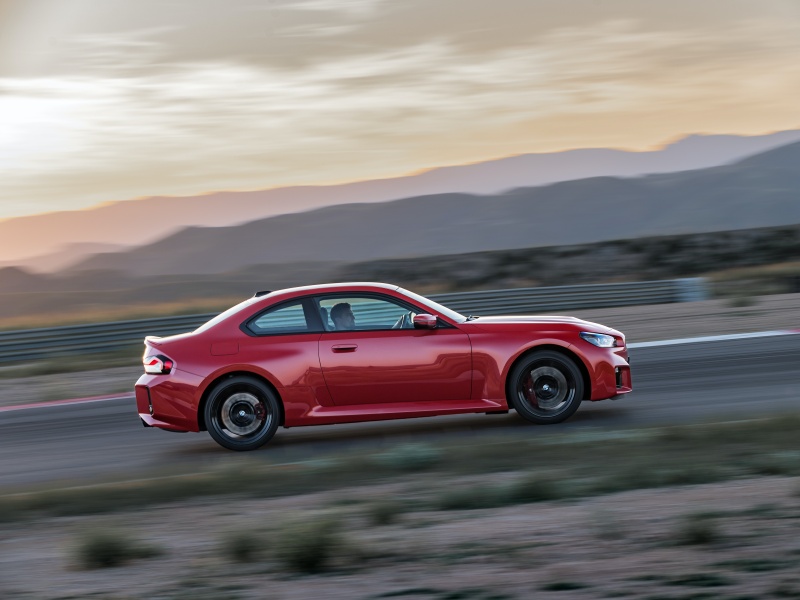 2023 BMW M2 ・ Photo by BMW