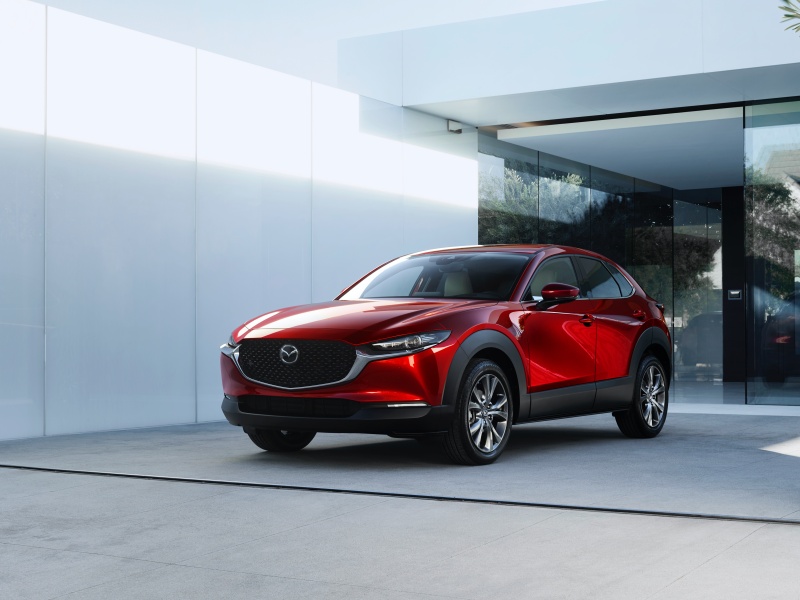 2023 Mazda CX-30 ・ Photo by Mazda
The 2023 Mazda CX-30 is a compact crossover that is surprisingly fun to drive. Where most crossovers focus on being affordable and versatile, the CX-30 adds style and great driving dynamics to the mix. It looks fun and sporty on the outside and delivers on that promise behind the wheel. Mazda has long been known for making cars for people who love to drive, and the CX-30 keeps that reputation alive.
It's available in a range of seven trims with pricing at the bottom of the lineup that makes it affordable for those on more modest budgets. A choice of two engines includes a responsive turbocharged 4-cylinder, but it's reserved only for the top trims so those with a smaller budget are out of luck. Let's take a closer look at the 2023 Mazda CX-30 to see if it's the right crossover for you.
Seven Trims From Which to Choose
There's no shortage of choices for the Mazda CX-30 with a range of seven trim levels. The base 2.5 S is priced from $22,950 with standard all-wheel drive, the naturally aspirated 2.5-liter engine, and an 8.8-inch infotainment screen. The S Select at $25,400 and S Preferred at $28,220 add additional comfort and convenience features, while the S Carbon Edition at $29,290 gets gray paint with a bright red interior accents. The S Premium comes in at $31,060 and is the most well-equipped trim with the base engine.
The more powerful turbocharged engine is available with the Turbo Premium at $33,800 and Turbo Premium Plus at $35,400. It's a big jump in price to get to the turbo since it's only on the top two trims, but there's still a wide range of more affordable trims for those with smaller budgets.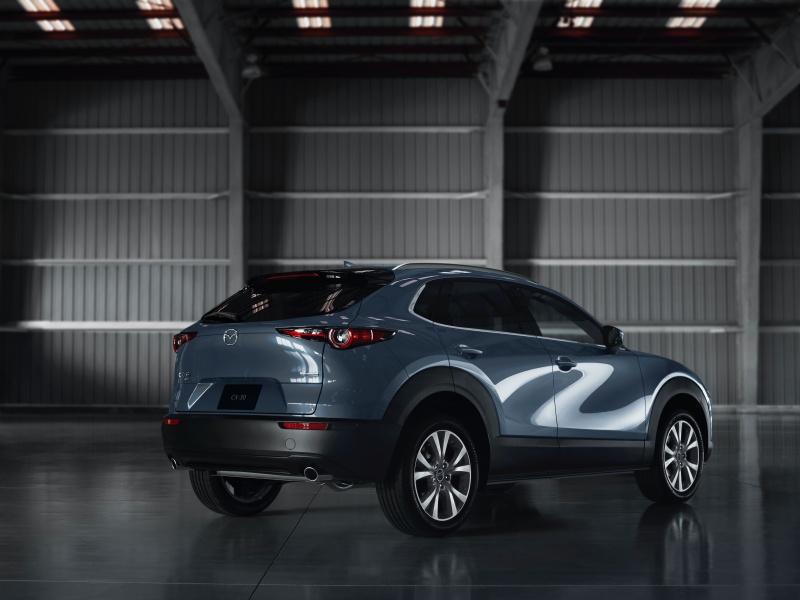 2023 Mazda CX-30 ・ Photo by Mazda
Two Engine Options
The bulk of the CX-30 lineup is powered by a 2.5-liter 4-cylinder engine with 191 horsepower and 186 lb-ft of torque paired to a 6-speed automatic transmission. It's responsive and gets this little crossover up to speed, but it's not especially engaging. Performance with the base engine is better than the average crossover, but not necessarily what most expect out of a Mazda.
Step up to the 2.5-liter turbocharged 4-cylinder and there's 250 horsepower with 320 lb-ft of torque. The numbers tell the story with the turbo delivering a far more responsive and engaging driving experience. Acceleration is strong off the line, and it's easy to get up to highway speeds. Once there, the CX-30 still has ample power to pass slower vehicles. This is by far the more spirited engine of the two and the one we'd pick.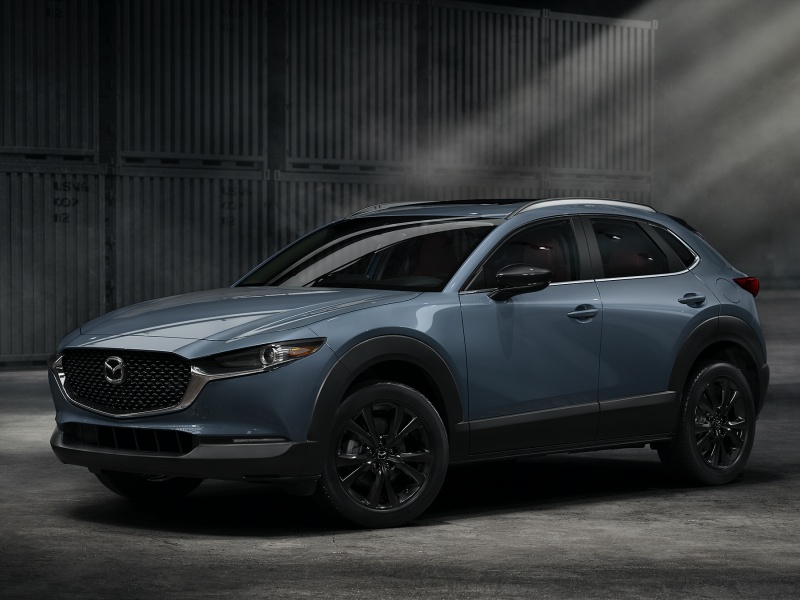 2023 Mazda CX-30 ・ Photo by Mazda
A Sporty Yet Smooth Ride
A sporty car might be fun to drive with crisp, responsive steering, but that doesn't always mean the ride is smooth. Often, it's the reverse with sporty cars – they handle beautifully but deliver a harsh ride quality. The CX-30 strikes a balance between the two so the driver enjoys the drive while passengers can sit back and relax.
The ride is smooth and compliant over rough road surfaces with a minimum of road and wind noise. Rough pavement doesn't rattle the cabin so it's easy to stay comfortable and all but the worst of a road's potholes and imperfections are hidden by the suspension system. It's exceptionally fun to drive this little car, even on twisty roads, which is something uncommon in a crossover. Particularly with the turbocharged engine, the CX-30 delivers an engaging drive with a smooth ride.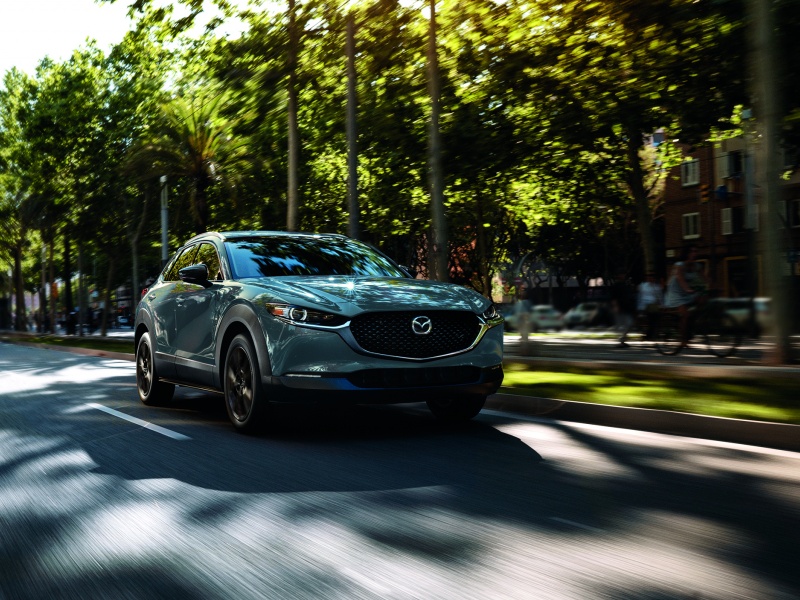 2023 Mazda CX-30 ・ Photo by Mazda
A Comfortable Interior
There's seating for five people in the CX-30 with supportive front seats ideal for longer drives. Cloth trimmed seats are standard with available leather and leatherette surfaces on higher trims. Even in its base configuration, the CX-30 is an attractive vehicle, but as you move up the trim range, materials improve and give this affordable crossover some upscale appeal.
While the front seats are roomy, the rear seats are a bit tighter. They accommodate three adults, but that will only work for shorter drives. Two adults will find headroom and shoulder room good, but legroom is at a premium. Especially if there are taller adults in the front seats, there just isn't a lot of legroom in back, and it will feel cramped on a longer drive. Kids, however, will be just fine back there for hours.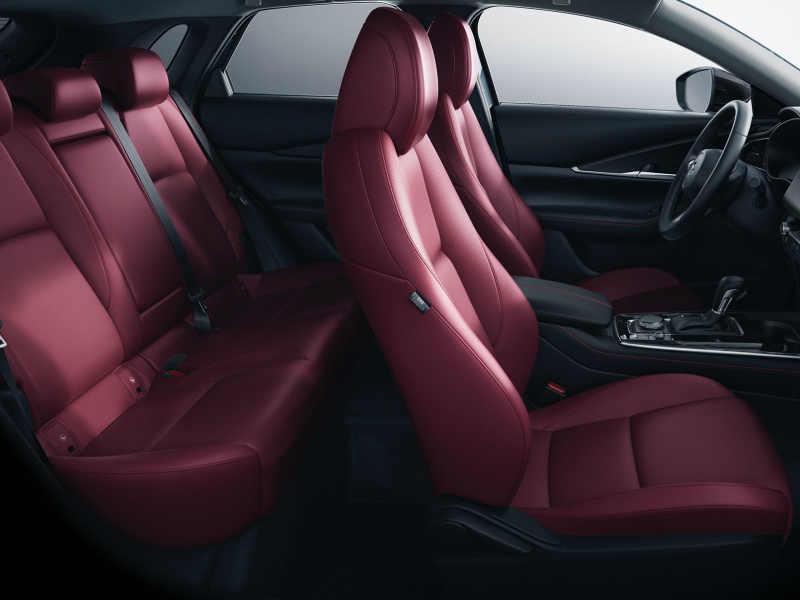 2023 Mazda CX-30 ・ Photo by Mazda
Infotainment With Good Standard Features
The Mazda CX-30 features an 8.8-inch screen with 8-speaker audio, Apple CarPlay, and Android Auto. There's also standard Bluetooth, two USB ports, and Wi-Fi hotspot connectivity. Navigation is standard for top trims only. The system is controlled by a rotary dial on the center console rather than the usual touchscreen, which takes some getting used to if you've never driven a Mazda. We prefer a touchscreen, but the rotary dial does become more intuitive to use over time.
An 8-speaker audio system is standard, but trims with the turbocharged engine get a 12-speaker Bose audio system. It's a comprehensive offering, but the screen size is small for a crossover in this price range, especially one that otherwise exudes such a premium vibe.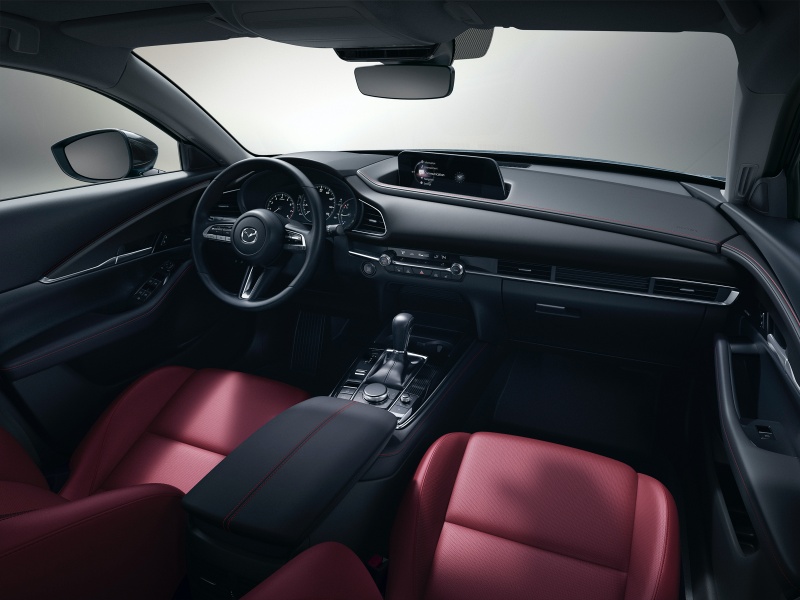 2023 Mazda CX-30 ・ Photo by Mazda
Room for Lots of Cargo
The CX-30 is a small SUV so it's not able to carry the same amount of cargo as a larger SUV, but it still has good room for holding everyone's stuff. There's 20.2 cubic feet behind the 60/40 split-folding rear seats. That's easily enough room to manage groceries and the assorted cargo a family needs to have along for the day. Even luggage is easy to stow behind the rear seats with a wide liftgate opening and a low load floor.
If your cargo needs are greater and there isn't anyone sitting in the second row, then simply fold those seats down for 45.2 cubic feet of cargo room. That makes the CX-30 a more versatile option for cargo with enough room to haul home supplies for a weekend project. It provides the flexibility to manage people or cargo as your needs change from one day to the next.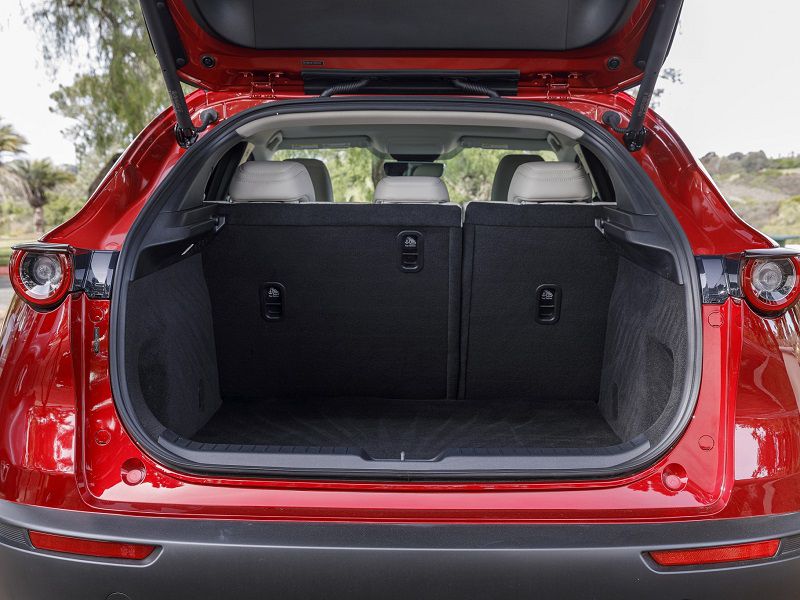 2023 Mazda CX-30 ・ Photo by Mazda
Lots of Standard Safety Features
There's a long list of standard safety features on the CX-30. These include driver attention alert to encourage the driver to take a break and stay alert. Lane departure warning, lane keep assist, radar cruise control with stop and go, and automatic emergency braking with pedestrian detection are also standard features.
All but the base trim also have rear cross-traffic alert. Some features are only available on the top Premium Plus trim. These include a 360-degree camera that provides a full view of the area around the vehicle, traffic jam assist, front and rear parking sensors, rear automatic emergency braking, and rear cross traffic braking. While most features are on the full lineup, to get the best safety offering, you have to go all the way up to the priciest trim.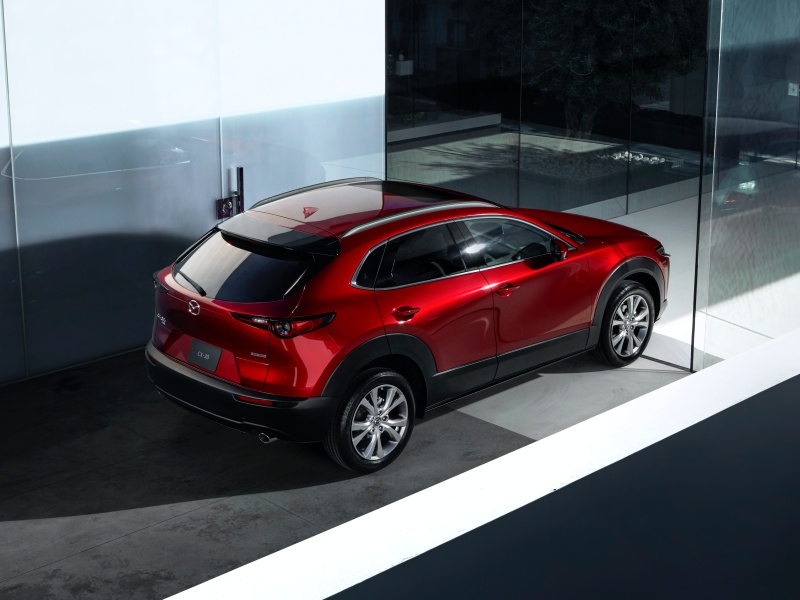 2023 Mazda CX-30 ・ Photo by Mazda
Fuel Economy That Won't Break Your Budget
The Mazda CX-30 delivers strong performance combined with good fuel economy figures. Equipped with the base naturally aspirated 2.5-liter 4-cylinder engine, it gets an EPA-estimated 26 mpg in the city, 33 mpg on the highway, and 29 mpg combined. That's solid fuel economy, and it makes taking the CX-30 on long road trips or using it for the daily commute a more affordable proposition.
Choose the more responsive turbocharged 2.5-liter 4-cylinder engine and fuel economy drops, but it's not dramatic. Equipped with this engine, the CX-30 gets an EPA-estimated 22 mpg in the city, 30 mpg on the highway, and 25 mpg combined. While you will spend more on gas for the turbo, if your budget allows, it's worth the cost for the added performance and the more invigorating drive experience.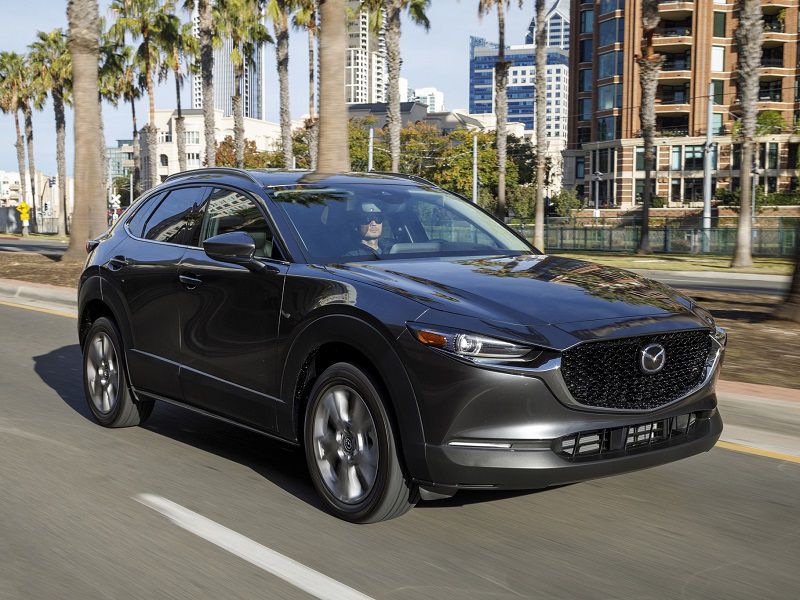 2020 Mazda CX-30 ・ Photo by Mazda
Final Thoughts
The 2023 Mazda CX-30 is a sporty and attractive crossover. It has sleek exterior styling that makes it stand out from other crossovers with an elegant and nicely appointed interior. Seating is comfortable with quality materials that give the CX-30 premium appeal, but the rear seats are snug for adults, especially if the trip is a long one.
Two available engines include a responsive turbo that makes the CX-30 more fun to drive at the expense of fuel economy. There's also a wide range of trims so it's easier to find a version of the CX-30 that fits both your needs and your budget. Those who want the versatility of a crossover to carry both people and cargo, but who still crave a responsive, sporty driving experience will find the 2023 Mazda CX-30 a great choice.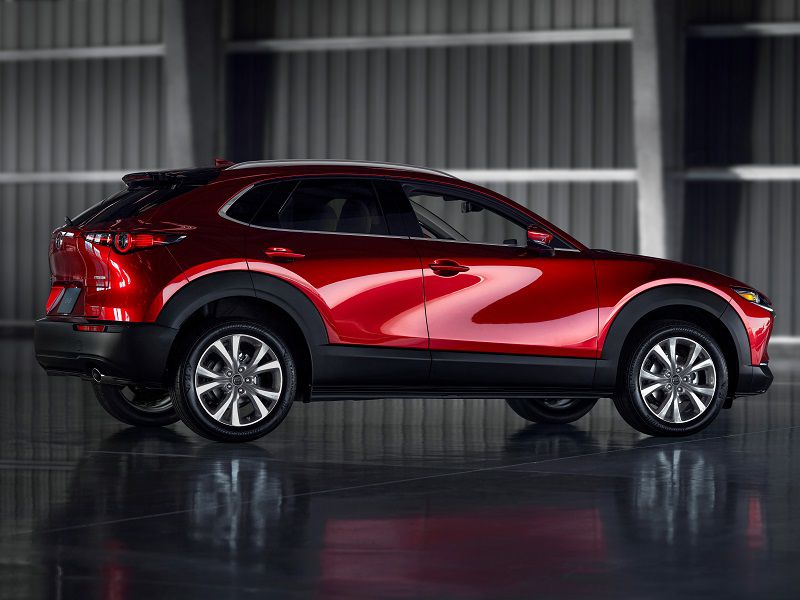 2023 Mazda CX-30 ・ Photo by Mazda