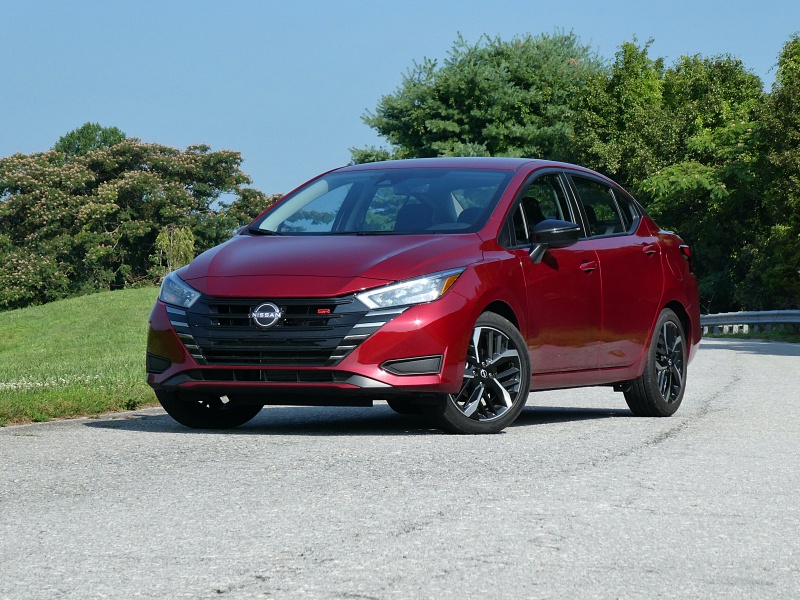 Photo by Brady Holt
It's no secret that cars in the U.S. are getting expensive. But it's easy to see why. Americans increasingly clamor for roomy SUVs that are packed with advanced technologies and powerful engines.
What happens if you want something cheap instead? That's when you can consider the 2023 Nissan Versa. This subcompact sedan starts at just $15,830, which is about a third of the average new vehicle purchased in the U.S. today. And while many automakers are preparing to discontinue their subcompact cars (or have already done so), Nissan just updated the 2023 Versa with revised styling and more features. We spent a week testing the new Versa to see what you get for your modest amount of money. Keep reading to see if this could be a viable value option for you. 
The Cheapest New Car in America
The 2023 Nissan Versa's base sticker price of $15,830 (plus a $1,095 destination charge) is the lowest of any new car sold in the U.S. That money buys the base S model equipped with modern technologies that include a 7-inch infotainment touchscreen, Bluetooth connectivity, three USB ports, front and rear collision warnings with automatic emergency braking, and a lane-departure warning. Unlike some past Versas, you also get power windows, locks, and mirrors; air conditioning; cruise control; and a radio. But you do get a five-speed manual transmission at that price, with a continuously variable automatic (CVT) costing an extra $1,670. 
Next up is the Versa SV, $19,120 with the CVT standard. Your extra $1,620 over an S automatic buys upgraded interior trim; Android Auto and Apple CarPlay functionality for the touchscreen; 16-inch alloy wheels instead of plastic wheel covers; push-button starting; a split-folding rear seat; and blind-spot monitoring. And the top SR, for just $700 more, buys 17-inch wheels, further interior-trim upgrades, heated front seats; automatic climate control; a bigger 8-inch touchscreen; and six stereo speakers instead of four. Even a fully loaded Versa costs less than most economy cars' base models. 
Photo by Brady Holt
Freshly Sharpened Styling
Early Versa sedans were styled with more indifference than flair. And the model sold from 2012 through 2019 looked almost intentionally homely, almost as if Nissan wanted to steer customers into pricier models. 
But the current generation, sold since 2020, has the sharper lines of a scaled-down Nissan Altima sedan. The Versa remains a taller, narrower subcompact sedan, but it's more crisply detailed than fellow super-small cars that (like the previous-generation Versa) are more like rounded-off blobs. This year brought a larger grille that wraps around the headlights, along with sportier alloy wheels on the SR like our test vehicle. The Versa won't make you swoon, and we might argue that the SR's new wheels look too flashy for a simple economy sedan. But whatever your take on them, this isn't a small car that screams "I don't cost much" at a glance.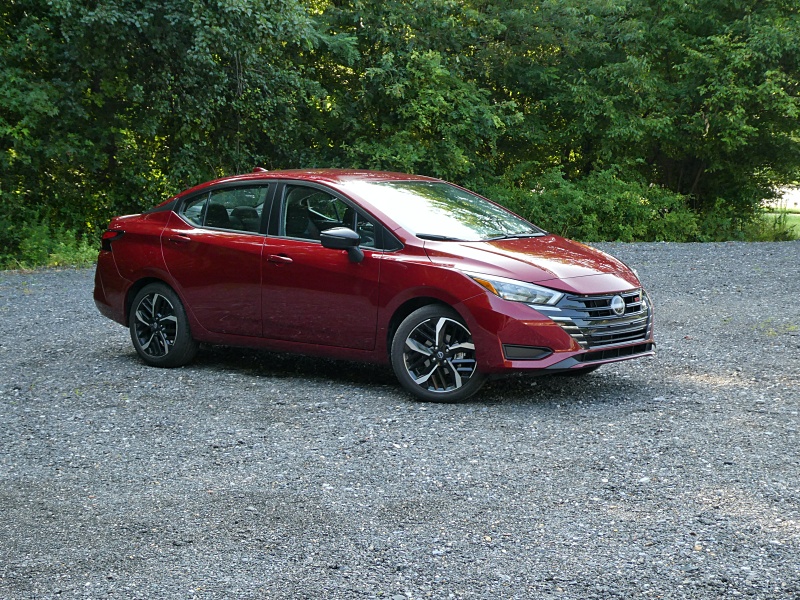 Photo by Brady Holt
Solidly Built Interior
Inside, the Versa is a functional, solidly built car with super-easy controls. The trunk and hood release are extra-generously sized and impossible to miss near the driver's knee, perfect if you rent a Versa. Simple buttons and knobs complement a well-sorted infotainment touchscreen, especially on the SR's 8-inch unit (a new upgrade this year). We're frustrated that Nissan excluded Apple CarPlay and Android Auto from the base S model, though. All but the S include a partially digital gauge cluster, where you can customize views to include vehicle info, a tachometer, or other displays. 
Nissan sculpted the dashboard with evident care to avoid being excessively plain. A mix of shapes and textures breaks up any monotony, and the touchscreens are incorporated seamlessly into the dash rather than perched up on the top — a design cue that strikes some critics as lazy. Nissan provides three tiers of upholstery and cabin trim for the three trim levels, and our top Versa SR test vehicle gets the best treatment, including a leather-wrapped steering wheel. But while no Versa feels like a luxury car, none comes across as badly built junk. This is honest affordability.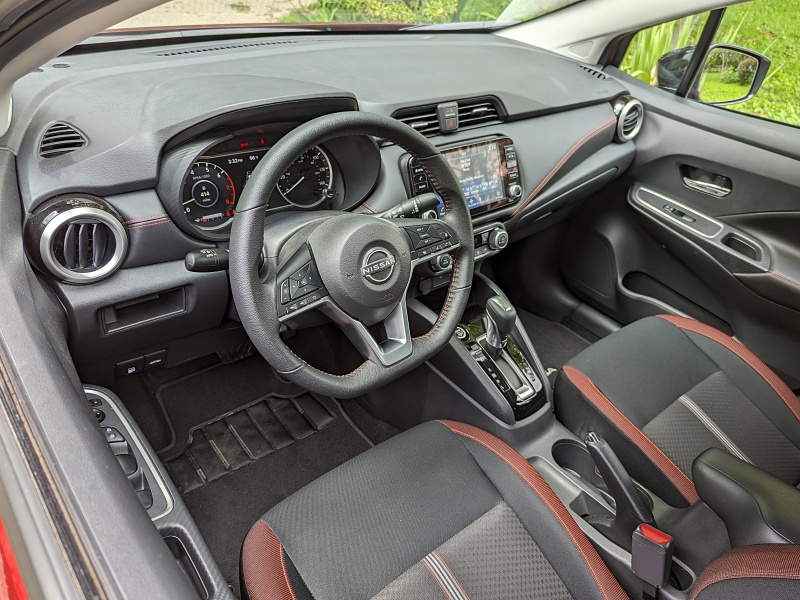 Photo by Brady Holt
Roomy for Its Size
The 2023 Nissan Versa is a subcompact sedan. And as you might expect, that means it's not the roomiest sedan you'll find on the market. While past Versas were unexpectedly roomy, especially in the backseat, the current generation is less magically spacious. 
That means the driver and front passenger sit close to each other with only a skinny center console between them. And it means that you don't have space to stretch your legs out in the back. Still, for a subcompact car, the Versa remains decently comfortable and functional as a people-hauler. And at 15 cubic feet, this little sedan has nearly as much trunk space as a mid-size Nissan Altima and even more than the larger, pricier Nissan Maxima.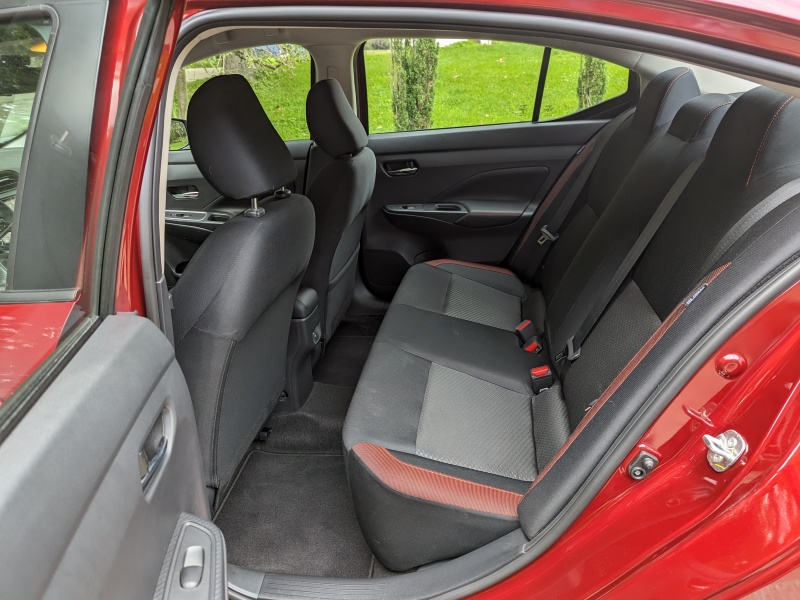 Photo by Brady Holt
Agreeable Ride and Handling
We mentioned how the current-generation Versa advanced beyond its predecessor's decidedly unappealing styling. Its other big step forward was its handling. While the old Versa felt lazy and disconnected from the road, the current model feels confidently planted and easy to drive. 
Now, we don't mean the Versa is a sports sedan. It doesn't have crisp, corner-carving precision. But the steering feels natural and responsive in ordinary driving, making the Versa agreeable to drive when you aren't pushing it. And it has a smooth, comfortable ride for a subcompact car as well. We'll come to its weak point in a moment.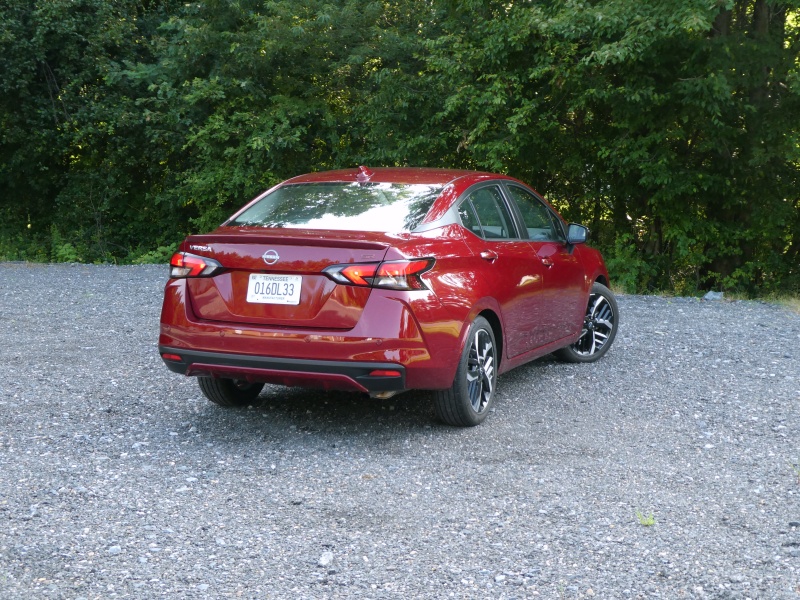 Photo by Brady Holt
Exceptional Gas Mileage
Every 2023 Nissan Versa has a 1.6-liter four-cylinder engine making 122 horsepower and 116 lb-ft of torque. That's not bad in the history of economy sedans, but it's among the lowest outputs of any cars still sold in the U.S. today. The Versa feels peppy at low speeds, and it's capable of humming along at steady speeds on the highway. But getting between the two takes patience and a lot of noise. 
The tradeoff is excellent gas mileage. The Versa gets an EPA-estimated 32 mpg in the city, 40 mpg on the highway, and 35 mpg combined with its CVT automatic, and we managed an outstanding 42 mpg during a weeklong test. Sedans with bigger engines that don't have to work as hard can do even better at 70 mph, but the Versa's little engine and light weight are a tough combination to beat at lower speeds. Note that the base model's manual transmission gets a lousy 27 mpg city, 35 mpg highway, and 30 mpg combined; we suspect that's a mix of an inefficient five-speed and Nissan choosing not to tailor the gearing for the EPA's test cycle.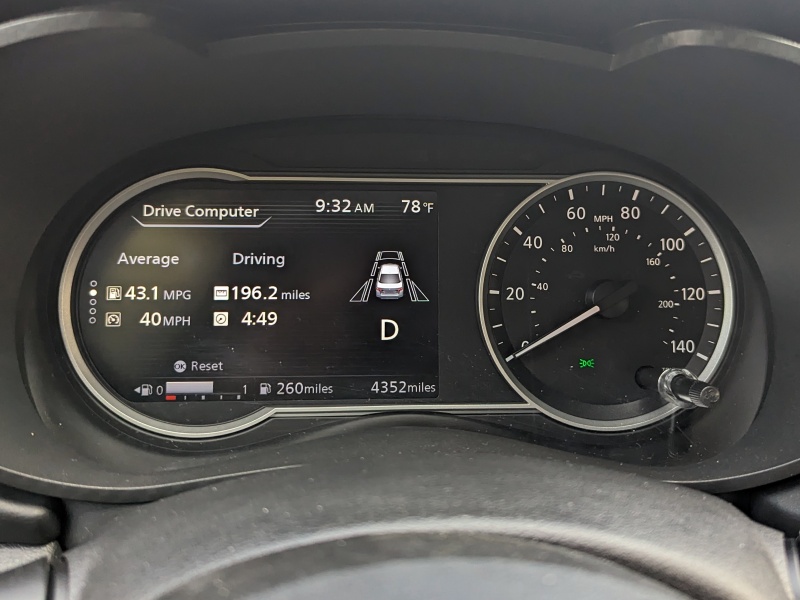 Photo by Brady Holt
Five-Star Safety
Subcompact cars can be excellent choices for new drivers, and wary parents will appreciate that the 2023 Nissan Versa scored five out of five stars in the National Highway Traffic Safety Administration's crash testing. The Versa and its crossover variant, the Nissan Kicks, also earned top marks from the Insurance Institute for Highway Safety; however, the IIHS didn't subject the Nissans to its full complement of tests. 
The Versa is also packed with collision-avoidance technologies. As we mentioned, even the base S model includes front and rear collision warnings with automatic emergency braking, along with a lane-departure warning. Rear automatic braking is a feature that's missing even from many luxury sedans, so it's a particularly notable advantage on a $16,000 Versa. The Versa SV and SR also include blind-spot monitoring with a rear cross-traffic alert, along with a driver-attention monitor.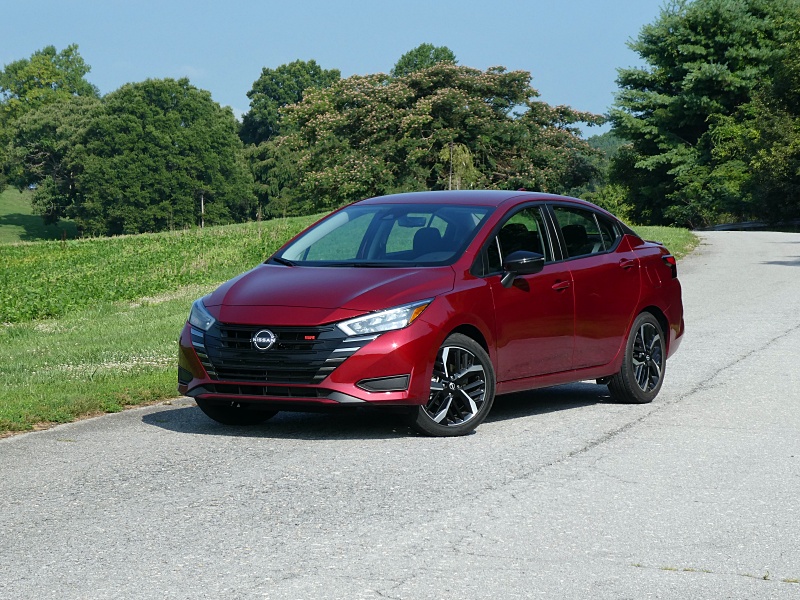 Photo by Brady Holt
Few Remaining Competitors
The Versa squares off against a dwindling number of small, extra-affordable cars. The Chevrolet Sonic and Spark, Ford Fiesta, Hyundai Accent, and Toyota Yaris all vanished in recent years. The Kia Rio will follow suit at the end of the 2023 model year. That leaves the Versa to face the Mitsubishi Mirage, itself rumored for discontinuation next year. 
The Versa isn't as roomy as the Mirage G4 sedan, and the Mitsubishi has slightly lower prices than comparably equipped Versas along with a longer warranty. But the Nissan has sharper handling and a much more tolerable engine than the 78-hp three-cylinder Mirage. Meanwhile, remaining Kia Rios are slightly quicker, quieter, and more richly finished than the Versa, but the Nissan is roomier. And it comes with more safety features than either the Mirage or Rio. You can also shop the Versa against base models of affordable compact sedans like the Kia Forte, Nissan Sentra, and Toyota Corolla. They'll give you more horsepower and roomier interiors for a few thousand dollars extra. We'd also consider subcompact crossovers like the Hyundai Venue, Kia Soul, and Nissan Kicks; they're more expensive and less economical than the Versa, but their higher seating positions and useful cargo holds are valuable advantages.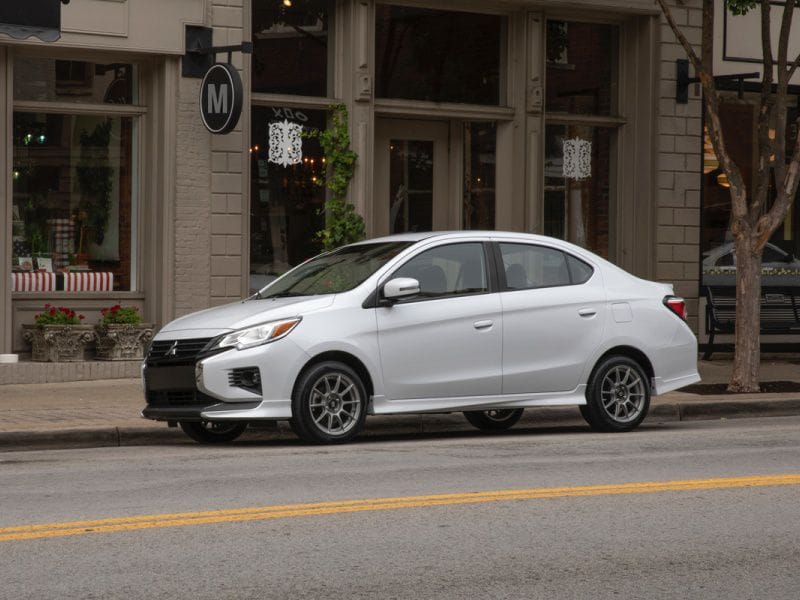 Photo by Mitsubishi
A Surviving Value Option
The 2023 Nissan Versa proves that you don't have to spend a lot of money to get viable transportation. This little sedan avoids looking or feeling like the cheapest car on the market, it delivers modern safety and infotainment features, and it sips fuel. It's generally comfortable, functional, and built for ease of use without abandoning any idea of stylistic flair. 
Now, you could spend a little more to get a car that's bigger, faster, more opulently finished, and better equipped. But that's true of just about any car. You can follow that argument all the way up to the average new car in the U.S. that costs $48,000 today. When it's time for a simple set of wheels, the Versa has more frills than you might expect for well below $20,000. We're glad it's still on the market.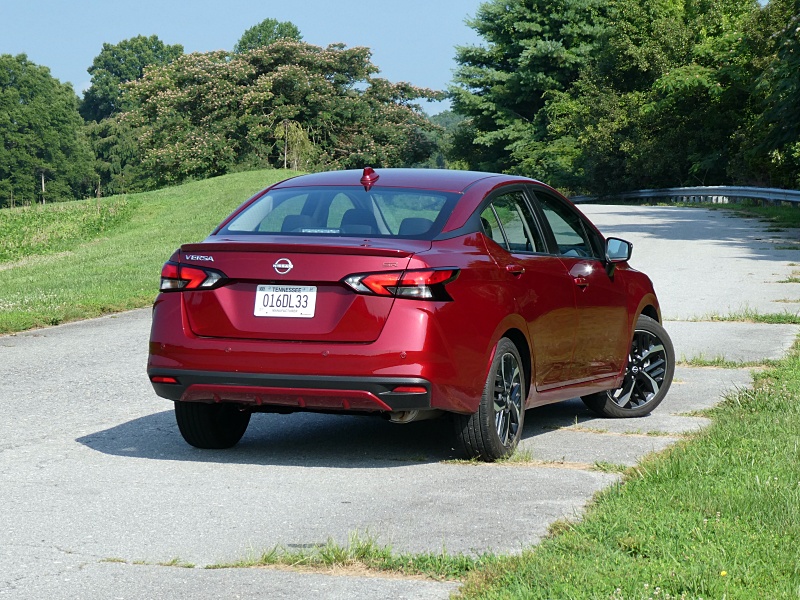 Photo by Brady Holt