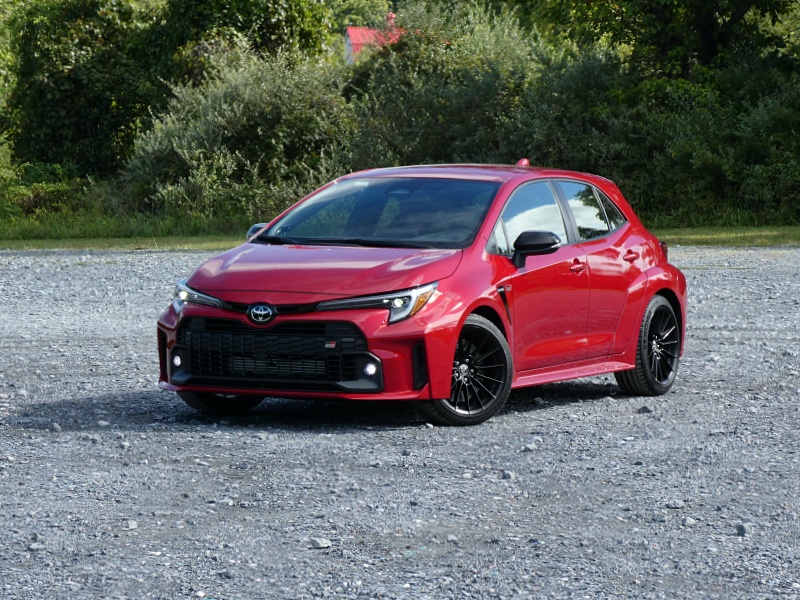 2023 Toyota GR Corolla ・ Photo by Brady Holt
The Toyota Corolla is a comfortable, economical, and affordable transportation appliance. Even as its styling has gotten crisper in recent years, it hasn't matched rivals like the Mazda3 or Honda Civic for driving fun. 
From this inauspicious starting point, Toyota has crafted one of the most fun cars on the market. It's the all-new 2023 Toyota GR Corolla, which slips 300 horsepower, a manual transmission, and all-wheel drive under a moderately amped-up Corolla hatchback body. We just spent a delightful week testing the GR Corolla. Keep reading as we discuss its pros and cons to see if this hot hatchback is right for you. 
What It Costs
The 2023 Toyota GR Corolla starts at $35,900. If that sounds like a lot of money for a Corolla, remember it's more like a powerful, capable sports car that's shaped like a Corolla. 
The base GR Corolla model is called the Core. You might assume that means it's a stripped-down base model, with prices that soar as you add desirable options. Actually, the Core is about as well-equipped as the GR Corolla gets. Our Core test vehicle included its few options: heated front seats and a heated steering wheel ($500), front and rear Torsen limited slip differentials ($1,180), and an eight-speaker JBL stereo plus wireless smartphone charging ($770). The Circuit Edition, $42,900, adds those features, some appearance items, and leatherette upholstery. The top Morizo Edition, $49,900, is a weight-reducing performance machine with no backseat, operable rear windows, rear windshield wiper, or rear speakers. It also has a stiffer suspension, racing seats, and extra torque. Overall, a Core or Circuit Edition are reasonably priced for their performance and features – but beware of steep dealer markups.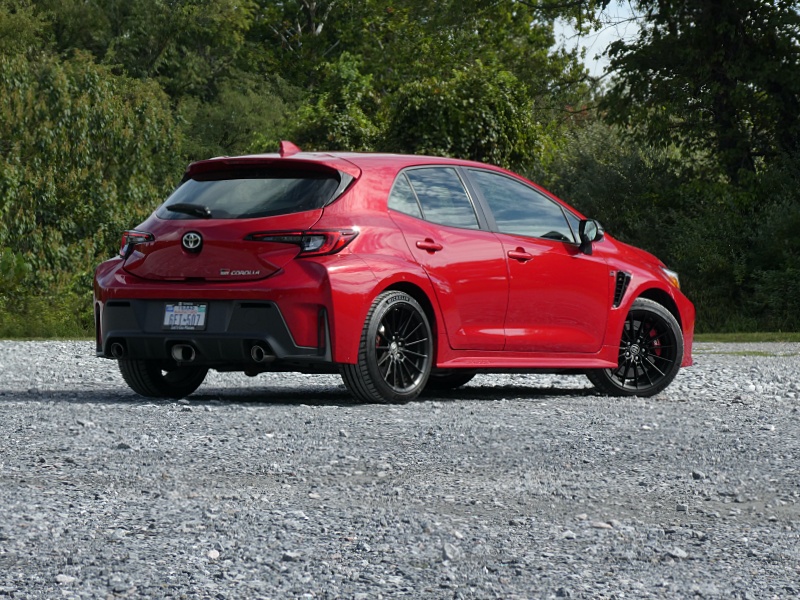 2023 Toyota GR Corolla ・ Photo by Brady Holt
Amped-Up Design
Every 2023 Toyota Corolla is a relatively sharp design, particularly the five-door hatchback that forms the basis for the GR Corolla. The headlights are crisp wedges, and the body is confidently sculpted to lean forward. We found it a more natural starting point for a hot hatchback than, say, the more staid Honda Civic (which birthed the similarly speedy Type R model). 
To create the GR Corolla, Toyota bulged out the front and rear bumpers slightly to make flared fenders. It also reshaped the rear bumper to highlight its three center-mounted exhaust pipes. Exclusive black 18-inch wheels look sporty without being in-your-face about it, and there are also GR badges and functioning vents on the front fenders. For the 2023 model, you get just a choice of four colors: black, white, gray, and red. A sharp light blue joins the palette for 2024. Overall, the GR Corolla takes a sporty-looking hatchback and amps it up. We're fans of the effect.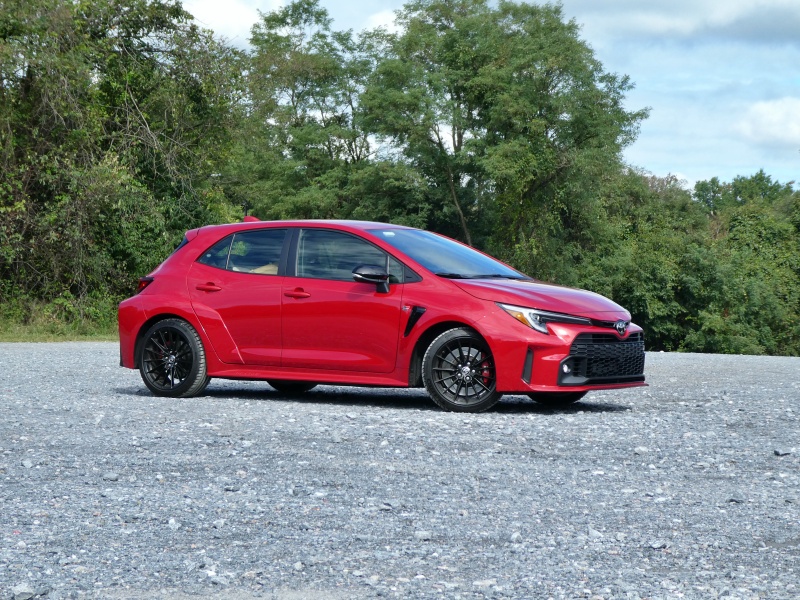 2023 Toyota GR Corolla ・ Photo by Brady Holt
Simple Interior
Toyota made fewer changes to the Corolla's interior to make the GR. The seats and steering wheel are sportier, and there's a digital gauge cluster with a prominent tachometer instead of analog gauges. Toyota dropped the center armrest and console bin to reduce weight and avoid interfering with the shifter on the racetrack. (We've read that owners have installed aftermarket armrests.) 
Otherwise, you get the standard Corolla's likable but humble dashboard in a muted black color scheme. It's a slim, curved horizontal band that floats above the center console, with an 8-inch touchscreen above a tight, sensible cluster of climate controls. The infotainment system supports wireless Android Auto and Apple CarPlay smartphone integration, a handy complement to the optional wireless smartphone charger. Especially with the Core's fabric upholstery, the GR Corolla's interior is nothing fancy, but there's nothing that gets in your way of enjoying a good drive. We'll get to that part next.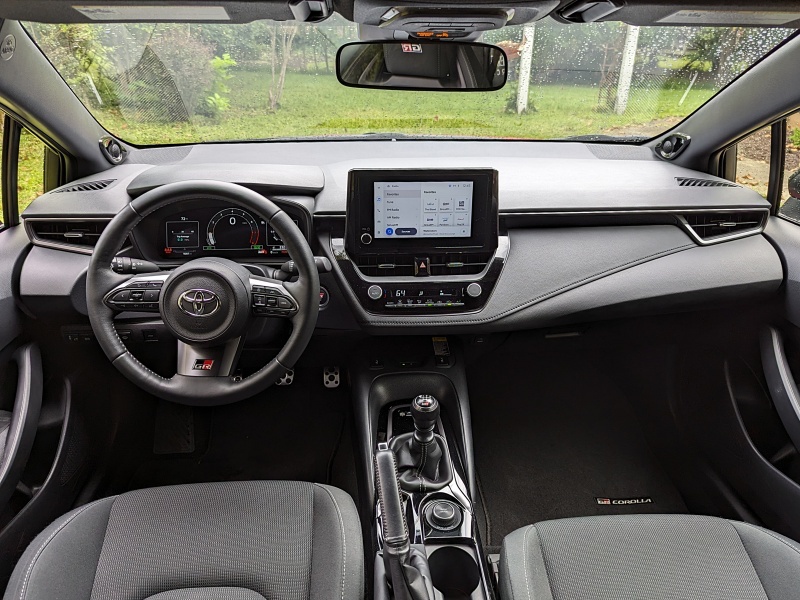 2023 Toyota GR Corolla ・ Photo by Brady Holt
Three Mighty Cylinders
The heart of the GR Corolla is under the hood. That's where Toyota swaps out the standard Corolla's 169-horsepower non-turbo four-cylinder engine for a turbocharged 1.6-liter three-cylinder that makes 300 hp and 273 lb-ft of torque (295 lb-ft on the Morizo Edition). And every GR Corolla has a six-speed manual transmission. 
Drive the GR Corolla spiritedly but not wildly, and the experience isn't unlike a Mazda MX-5 Miata. At lower rpms, you feel like you're exercising a well-engineered machine without putting your driver's license at risk. Unlike many performance cars, the GR Corolla is fun even to drive slowly with a nicely growling engine and a slick shifter. But you can also send the tachometer's digital needle higher to get incredible speed. Toyota quotes a 0-60 sprint of 4.99 seconds for most GR Corollas and 4.92 for the slightly lighter and torquier Morizo Edition. Whether you're looking for dominant track performance or everyday driving pleasure, the GR Corolla has you covered.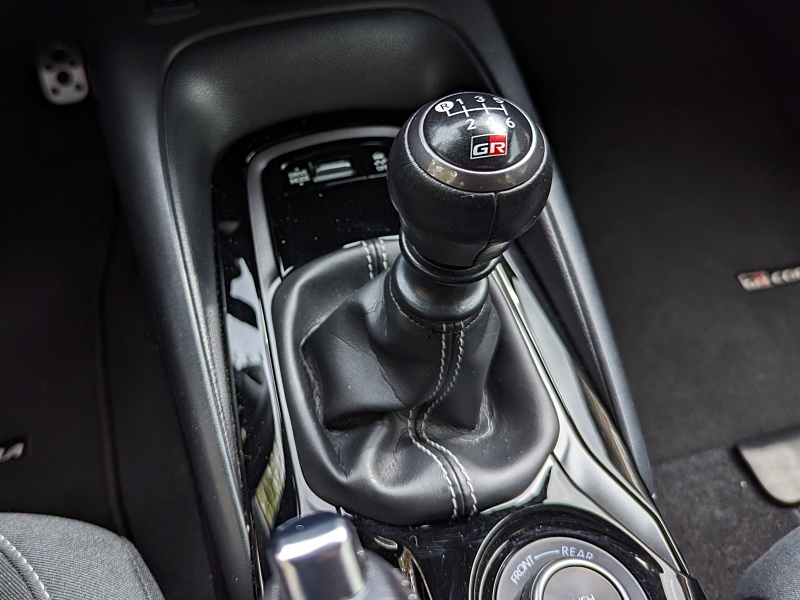 2023 Toyota GR Corolla ・ Photo by Brady Holt
Joyful Handling
The GR Corolla is also a fun corner-carving hatchback. You can tell its all-wheel-drive system to split power either 60/40, 50/50, or 30/70 between the front and rear wheels – once again letting you enjoy everyday fun while also providing the option for different types of closed-course performance. The firm, responsive steering is natural at any speed, and it's not numb like many modern performance cars. 
We've seen some critics lambast the GR Corolla's ride quality. Our experience was more positive. It's certainly firmer than a regular Corolla, but we'd say it has more taut control than bone-rattling stiffness. Considering this hot hatch's capabilities, it's admirably comfortable. It's not the quietest car in the world, either when you're exploring its rev-happy engine or cruising on the Interstate, but this is still a pretty civilized car overall.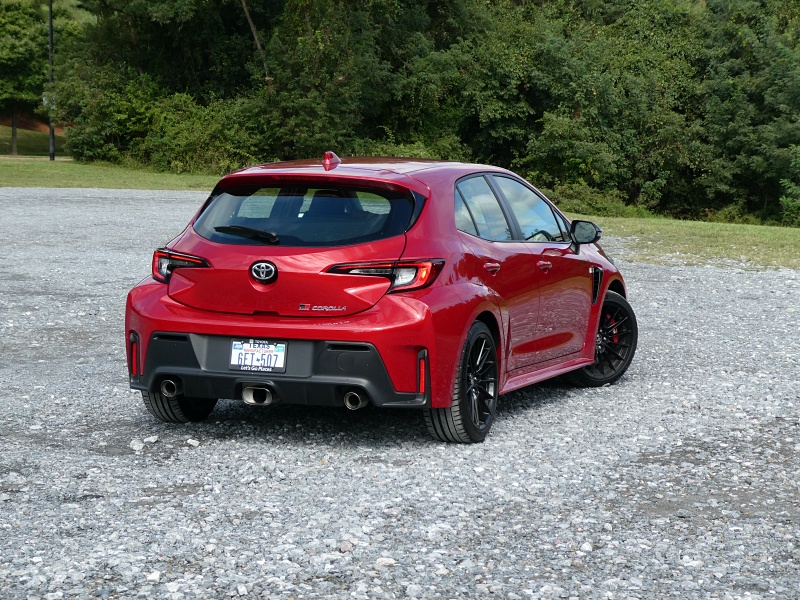 2023 Toyota GR Corolla ・ Photo by Brady Holt
Comfortable Seating for Two
The GR Corolla has comfortable, supportive front sport seats. As we mentioned, cloth upholstery is standard, while leatherette and seat heaters are both available. You can't get power-adjustable seats or a sunroof, though. And also as we mentioned, some folks will miss the convenience of a center armrest. 
Another inconvenience is that every Corolla hatchback has a shorter wheelbase than the Corolla sedan, cutting into backseat room. This applies to the GR Corolla as well. Adults can squeeze in back there without jamming their knees into the front seatbacks, but they can't stretch out. On the plus side, unlike the otherwise roomier Honda Civic Type R, there is a fifth seatbelt for emergencies (except on the Morizo Edition with no backseat at all). Overall, the GR Corolla is comfortable for two people but not optimized for carpool duty.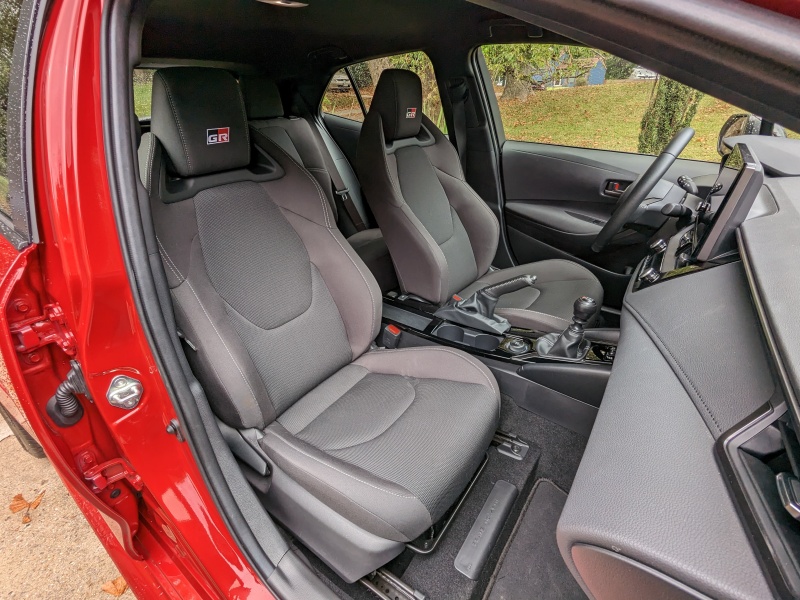 2023 Toyota GR Corolla ・ Photo by Brady Holt
Useful for a Sporty Car
Even though the GR Corolla is designed for fun first, functionality second, it has more of the latter than most performance cars. We mentioned that this five-door hatchback can fit up to five people, even if only two of them will be especially comfortable. It can also fit a decent amount of cargo. 
Behind the backseat, the GR Corolla has 17.8 cubic feet of cargo room. That's less than rival hot hatchbacks, but it's more than you'd get in all but the biggest sedans. Plus, you can fold down the backseat to open up about as much cargo room as some subcompact SUVs (though, once again, less than its top competitors). For an economy car, the Corolla hatchback isn't a winner for utility. But for an affordable performance machine, it's agreeably useful.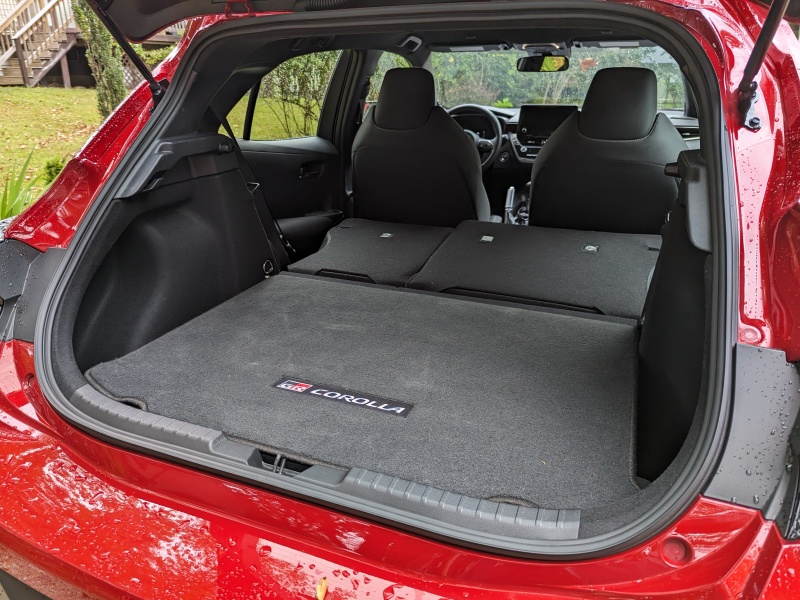 2023 Toyota GR Corolla ・ Photo by Brady Holt
Hot Competition
When you want a small hatchback with 300 horsepower and a manual transmission, you have a surprising variety of choices. In addition to the new GR Corolla, there's the newly redesigned Honda Civic Type R and Volkswagen Golf R. 
Both the Civic and Golf are roomier hatchbacks than the Corolla, and this carries over to their performance models (except for the Civic Type R losing its center-rear seating position). This practicality is part of their more sober characters. The GR Corolla is rowdier fun than the Golf R or even the Civic Type R. The VW is the way to go if you want more luxury features and an optional automatic transmission, if you don't mind more sterile driving manners and obtuse touch-sensitive controls on the dashboard and steering wheel. The Civic splits the difference between the Corolla's simple pleasures and the more capably aloof Golf; other considerations include its red-heavy interior and lack of the others' all-wheel drive. Another fun-to-drive rival is the Hyundai Elantra N, a powerful front-wheel-drive sedan. It's more cheaply finished than the Corolla and lacks the versatility of a hatchback, but it's another performance bargain. Overall, all four cars can be great fun to drive while filling subtly different niches.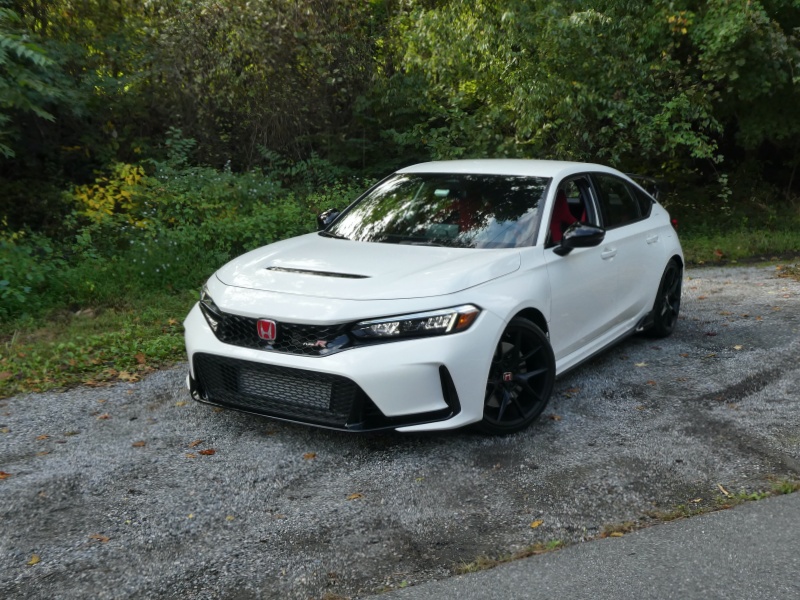 2023 Honda Civic Type R ・ Photo by Brady Holt
Everyday Fun
The 2023 Toyota GR Corolla hits the spot for us as a low-frills delight to drive. In addition to outright performance, it provides the sort of engaging driving experience that makes things fun every time you're behind the wheel. It pairs that with the utility of a five-door economy car with a usable backseat and cargo hold. And it looks pretty sharp while doing it.  
Toyota could have broadened the GR Corolla's appeal. It could have let folks choose an automatic transmission or a sunroof. And it could have built every Corolla hatch with a little more room. But we don't think Toyota is worried. It won't build many GR Corollas, and we don't expect it to have trouble selling any of them. If you can find one without massive markups, it's a delightful yet decently practical little car.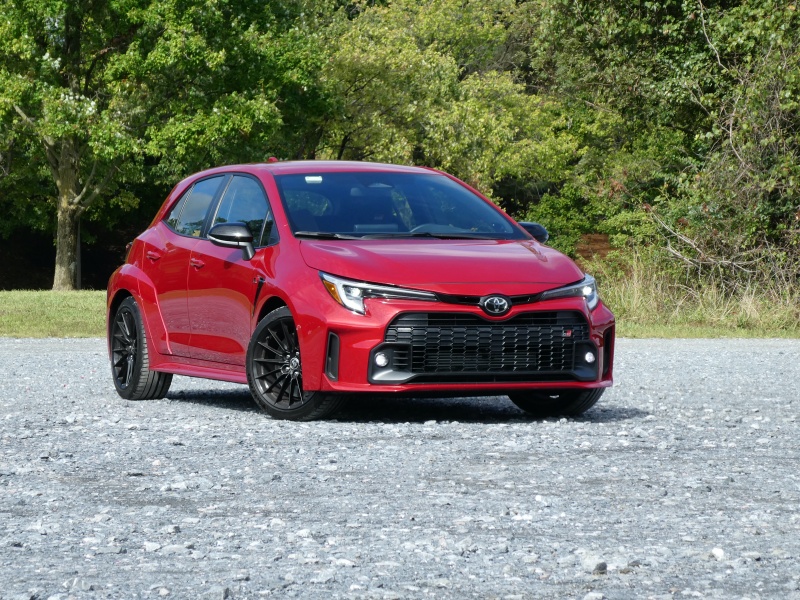 2023 Toyota GR Corolla ・ Photo by Brady Holt