The 2024 Dodge Hornet and 2024 Mazda CX-5 both aim to provide fun and luxury in the compact crossover SUV class. Check out our review to see which one is our pick.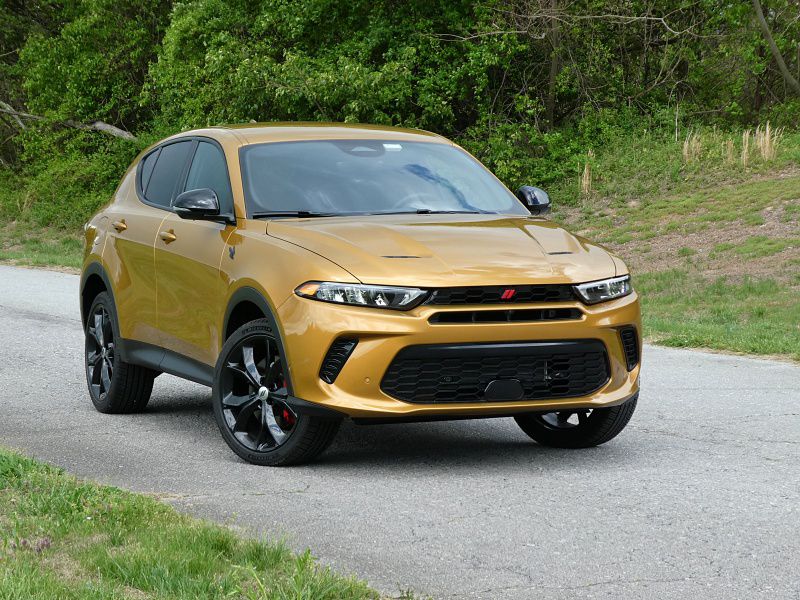 2023 Dodge Hornet ・ Photo by Brady Holt
For much of the past decade, the go-to choice for a sporty compact crossover SUV has been the Mazda CX-5. Rather than replicating extra-spacious, extra-efficient best-sellers like the Honda CR-V and Toyota RAV4, Mazda has prioritized performance, style, and luxury. 
These days, the 2024 Mazda CX-5 faces a fresh rival: the 2024 Dodge Hornet. It aims squarely at Mazda's niche of premium fun. For this review, we tested both the CX-5 and the Hornet to see how they compare in eight categories, then named an overall winner. Keep reading to see which one we chose and which one sounds like the better personality-infused crossover for you. 
Pricing and Features
The base 2024 Mazda CX-5 is the 2.5 S Select, which costs $29,300. That's $2,600 more than the 2023 model. But most of the jump came from Mazda discontinuing the old base S model. Now, even the base model comes with leatherette upholstery with heated front seats and a power driver's seat, along with all-wheel drive, automatic climate control, rain-sensing windshield wipers, push-button starting, adaptive cruise control, automatic emergency braking, and blind-spot monitoring. Genuine leather arrives for just $1,350 more on the Preferred model, while other trim levels add further amenities and richer interior materials. Turbocharged models start at $37,000. 
The base 2024 Dodge Hornet GT, $30,735, is also nicely equipped. But that money buys you partial-cloth upholstery, manual seat adjustments, and no seat heaters. This differential continues as you move up the trim levels. You'll find some features at lower prices on the Dodge than the Mazda, like rear automatic braking and ventilated front seats. But overall, the CX-5 has more features for the money. 
Winner: Mazda CX-5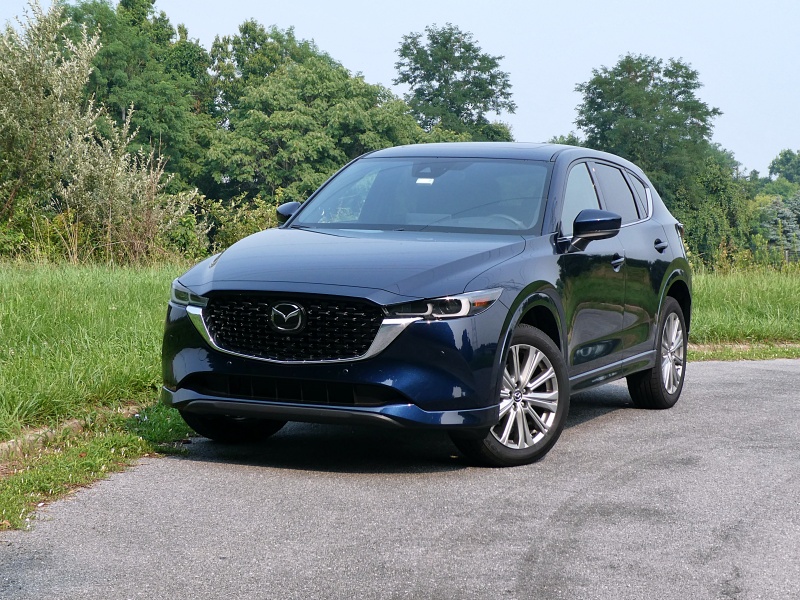 2023 Mazda CX-5 ・ Photo by Brady Holt
Exterior Design
Particularly in our test vehicle's Acupuclo Gold paint job, the Dodge Hornet will get noticed. Not only is it the newer design, trickling into dealerships late in the 2023 model year, but it's also a sharp-looking little SUV. It started life as the Alfa Romeo Tonale, an Italian luxury SUV. Aside from losing the signature Alfa grille, most of the Tonale's design survived the transition to an American brand. The Hornet looks smaller than it is, and sporty without being overdone. It wears simple curves rather than slashy swoops or a boxy truck-like attitude. Its curved haunches and rear lightbar recall a Porsche Macan. 
The current-generation Mazda CX-5 dates all the way back to 2017, with hundreds of thousands of copies on the road. Yet it's also still a looker with slim headlights and taillights, a hunched-forward look, and a small rear overhang. Mazda freshened up the design for 2023 with crisply detailed LED headlights and taillights, along with a simplified front bumper. Overall, we'll let you choose your preferred approach between these two attractive SUVs. 
Winner: Tie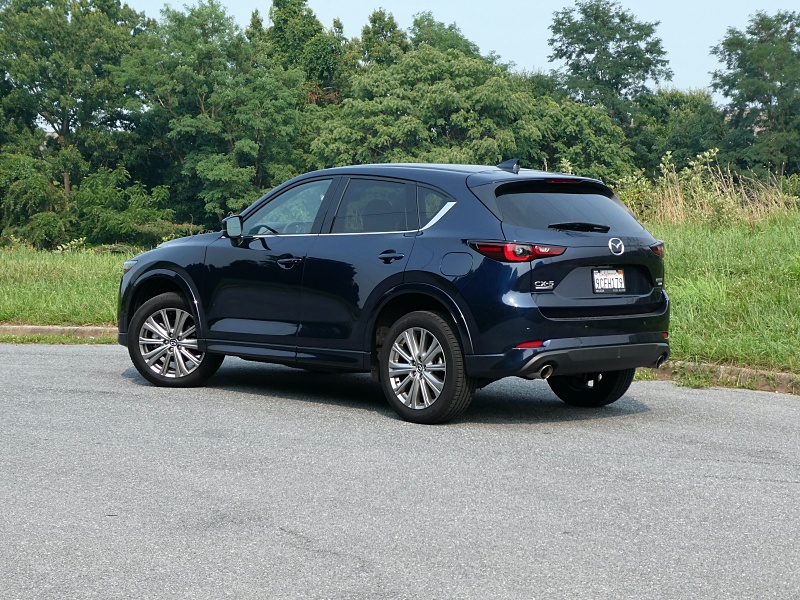 2023 Mazda CX-5 ・ Photo by Brady Holt
Interior Design
Inside, both the CX-5 and the Hornet have upscale dashboards with big infotainment screens – and clunky control layouts. We're going to give the nod to Dodge, but with both crossovers, the interior is a mixed bag. 
For an older design, the CX-5's interior remains mostly modern. Like the Hornet, it achieves a more minimalistic dash by shifting some controls onto the center console. And both SUVs have 10.25-inch infotainment screens. But Mazda's system only supports touchscreen functionality when using Apple CarPlay or Android Auto, otherwise sending you through the console controls. Its graphics are dated, too, and Mazda doesn't make good use of the big screen to display lots of information. We don't appreciate how the Hornet requires multiple steps through the touchscreen to sync driver and passenger climate controls. And we also needed a deep dive into the owner's manual to find the trip computer. But its infotainment system is overall more attractive, modern, and conventional to operate. 
Winner: Dodge Hornet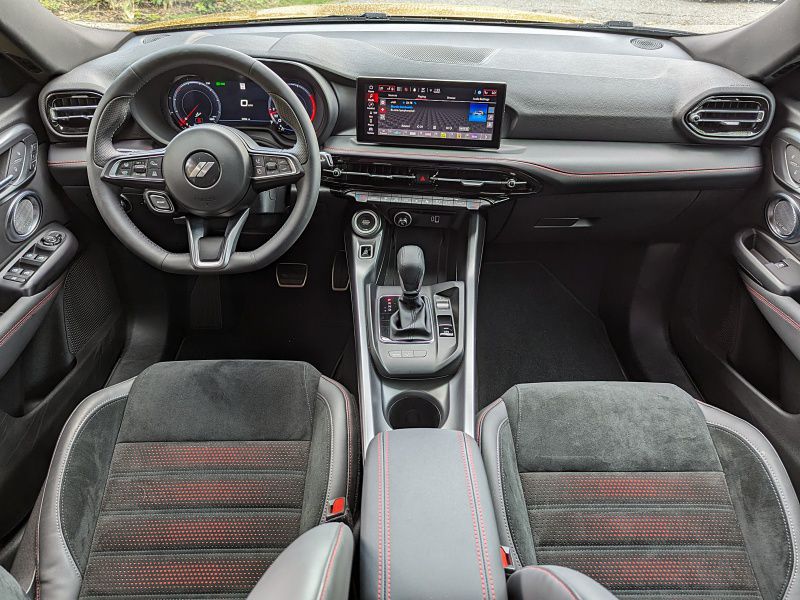 2023 Dodge Hornet ・ Photo by Brady Holt
Interior Space and Comfort
The Hornet and CX-5 are two of the least roomy compact crossovers on the market – to the point that some folks consider the Dodge to be a subcompact. But while neither is super-spacious, both are plenty comfortable for two people and can fit two more without much trouble. 
Overall, our pick is the Hornet because of a slightly bigger backseat. We always brush our knees against the CX-5's front seatbacks, while the Hornet has enough knee clearance for us to "sit behind ourselves." It's a minor difference; overall, both of these are decently spacious vehicles that have less room to spread out than most of their rivals. 
Winner: Dodge Hornet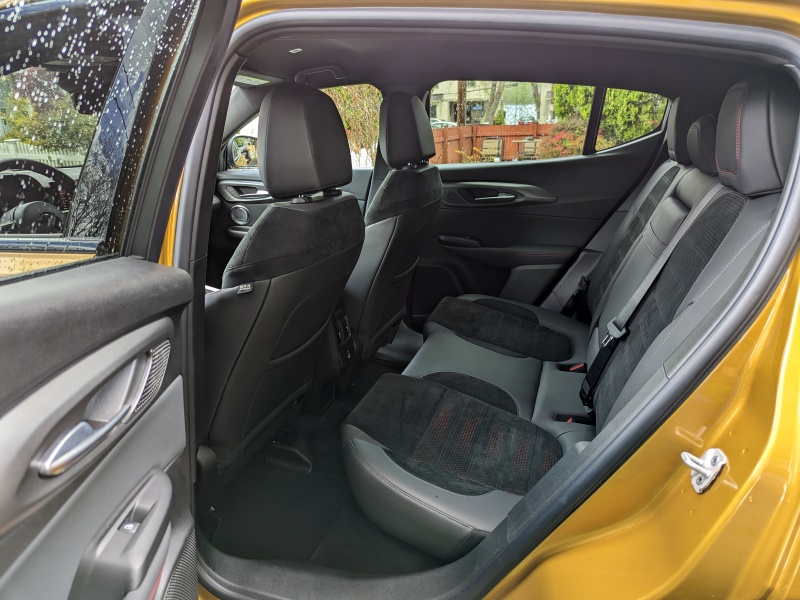 2023 Dodge Hornet ・ Photo by Brady Holt
Cargo and Utility
When it comes to cargo space, we return to a familiar story. The 2024 Dodge Hornet and 2024 Mazda CX-5 are usefully functional vehicles that both have less space than most of their competitors. However, in this case, it's the Mazda that comes out slightly ahead.
The Hornet has 27 cubic feet of space behind the rear seat and 54 cubic feet with the rear seat folded. The cargo hold is a handy boxy shape and you can lower the cargo floor to increase volume (instead of being flush with the folded seatbacks). Still, the total volume is modest, and the rear seat doesn't lie flat when folded. Meanwhile, the CX-5 has 31 cubic feet of cargo room behind its backseat, which you can fold down to reach 59 cubic feet. The seat also folds in a 40-20-40 split for greater flexibility, though also not perfectly flat. Both crossovers are rated to tow an above-average 2,000 pounds. 
Winner: Mazda CX-5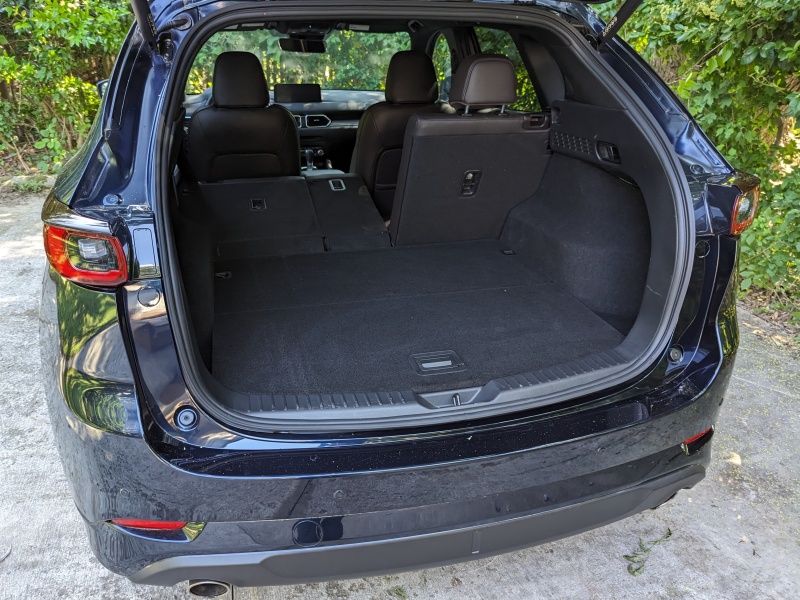 2023 Mazda CX-5 ・ Photo by Brady Holt
Ride and Handling
As we mentioned, the CX-5 has always been a winner for driving enthusiasts and other folks who appreciate agile handling. The ride is on the firm side and the steering is a bit heavy when you're parking, but this Mazda is more responsive and agile than most of its competitors. 
The exception is the new Hornet. The Dodge's tautly tuned suspension and firm, responsive steering provide a thrilling eagerness as you go around a curve. It's fun to drive at any speed, and scarily capable when you go faster. This isn't an ordinary SUV; it's a sports sedan with a higher seating position. And at the same time, it does a better job than the Mazda at lightening up the steering effort when you're spinning the wheel all the way around to squeeze into a tight parking space.
Winner: Dodge Hornet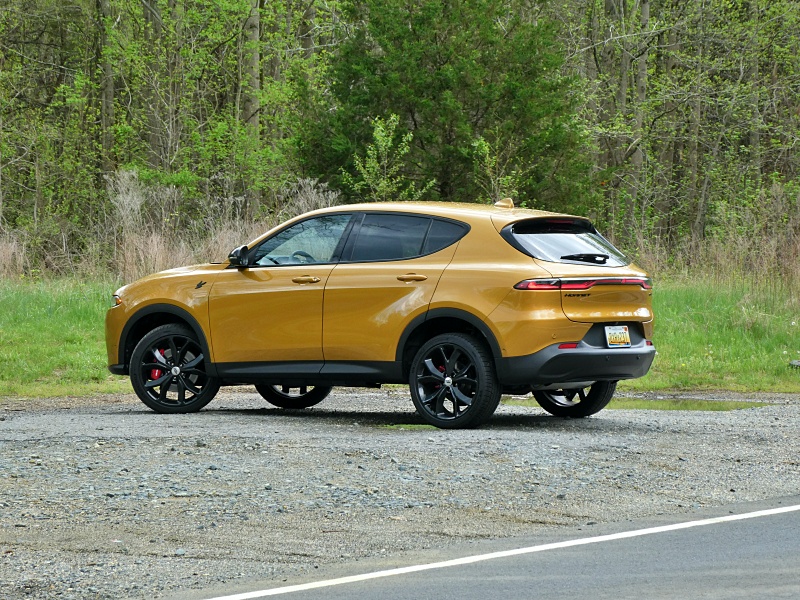 2023 Dodge Hornet ・ Photo by Brady Holt
Acceleration
The Hornet also keeps things exciting under the hood. A mighty 2.0-liter four-cylinder turbo with 268 hp and 295 lb-ft of torque is standard equipment. This engine and its nine-speed automatic transmission are always ready to go, go, go. Forget the humming smoothness of a small SUV with a continuously variable automatic transmission; the Dodge sometimes trips over its feet as it gets moving. Even in reverse, it almost flies backward when you let off the brake; it's the frenetic tuning we'd expect from an Italian car. There's also an even more powerful plug-in hybrid model available, which we'll discuss more on the next page. 
You can also get a fast CX-5. Our test vehicle has a 2.5-liter turbocharged four-cylinder engine that makes 227 hp and 310 lb-ft of torque on regular-grade fuel and 250 hp and 320 lb-ft on premium. But most CX-5 trim levels make do with a non-turbo version of this engine with 187 hp and 185 lb-ft of torque. That's fine for the class, but it can't come close to a Hornet. And neither Mazda engine sounds as nice as the Dodge's. The Mazda and its six-speed automatic transmission are better suited for gentler driving than the Dodge's, but the Hornet's muscle makes it a clear champ. 
Winner: Dodge Hornet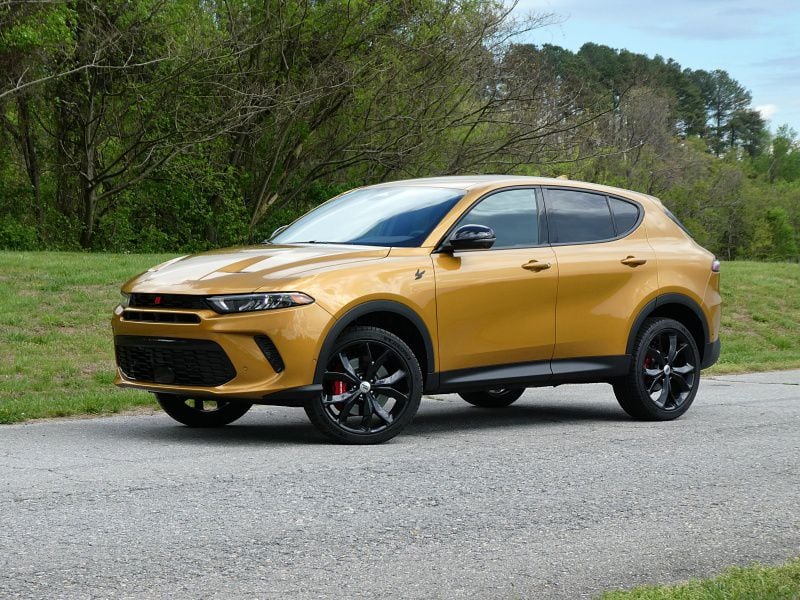 2023 Dodge Hornet ・ Photo by Brady Holt
Fuel Economy
The tradeoff to power is gas mileage, at least most of the time. The base 2024 Mazda CX-5 gets EPA estimates of 26 mpg in the city, 31 mpg on the highway, and 28 mpg combined. (That's an improvement this year, though still less than the class leaders.) The CX-5 turbo gets 4 mpg less. We did beat EPA estimates to average 27 mpg during our weeklong test that included some long highway stretches. Based on trip-computer data when the vehicle arrived for our test, the previous driver had managed just 23.3 mpg over 330 miles. As always, your mileage may vary. 
The 2024 Dodge Hornet, meanwhile, gets similar mileage to the turbo Mazda, well below the base CX-5: 21 mpg city, 29 mpg highway, and 24 mpg combined. We saw 27 mpg during our test, same as the CX-5 turbo. But we'll call this category an overall tie thanks to the Hornet's plug-in hybrid version. It can travel up to 33 miles on an electric charge using no gasoline at all, and then it averages 29 mpg until you can plug it in again. And it's even faster than the gas-only version. The only problem: It costs some $10,000 extra. 
Winner: Tie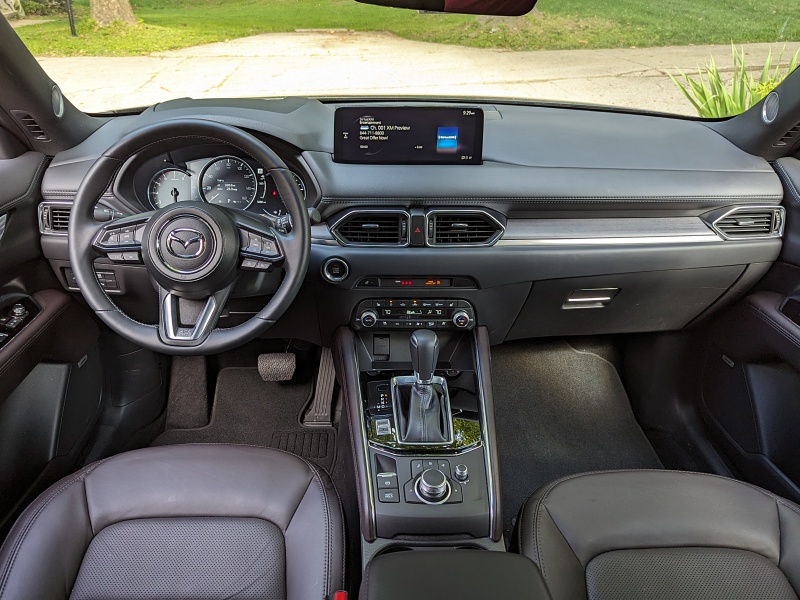 2023 Mazda CX-5 ・ Photo by Brady Holt
Final Thoughts
The 2024 Mazda CX-5 has aged well. It remains a great compact crossover when you're interested in an upscale vibe at an affordable price. 
But the 2024 Dodge Hornet makes an even stronger impression. Whether you're on a winding road or blasting forward in a straight line, it's simply a hoot to drive in a way that other crossovers – including the CX-5 – are not. Its crisply modern infotainment system is another welcome advantage. And the Hornet's chief drawbacks of mediocre interior space, fuel efficiency, and dashboard ergonomics are shared with the CX-5. We understand if some folks will prefer the Mazda's more relaxed (though still sporty) driving experience or its additional features for the money. And we understand if folks would rather buy a crossover with a proven reliability record than a brand-new Italian-made Dodge. Still, if you want a fun small SUV, you want to give the Hornet a look. 
Winner: Dodge Hornet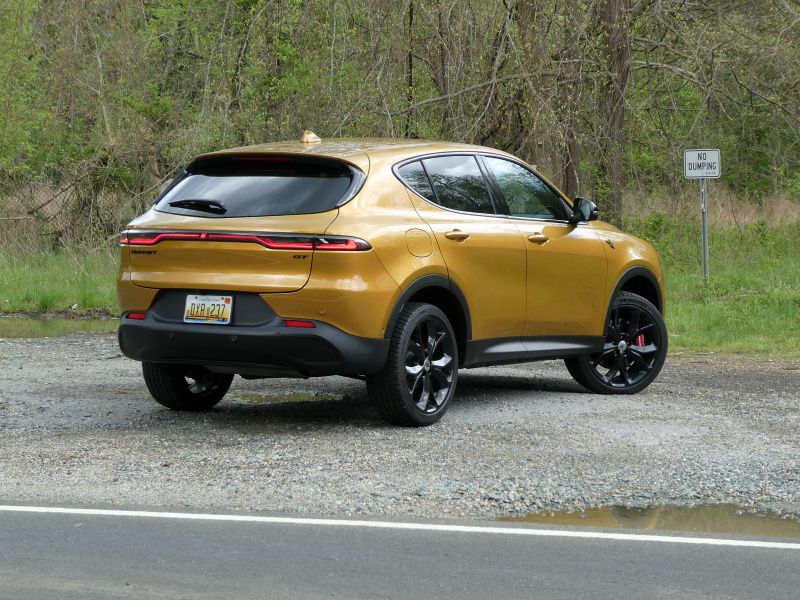 2023 Dodge Hornet ・ Photo by Brady Holt