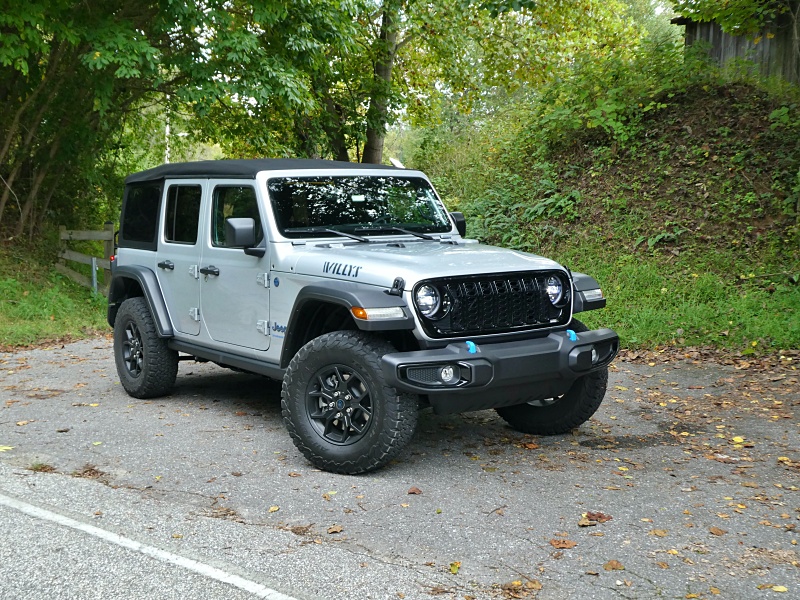 2024 Jeep Wrangler 4xe ・ Photo by Brady Holt
"It's a Jeep thing, you wouldn't understand." For decades, this mantra has explained away the Jeep Wrangler's quirks to folks who have no interest in this off-road-focused SUV. 
But as you see all around you, plenty of folks evidently do understand. The Jeep Wrangler has become one of America's best-selling vehicles. And Jeep just updated this successful icon for the 2024 model year. We just spent a week testing the new 2024 Jeep Wrangler (in its 4xe plug-in hybrid form) to see how the latest tweaks affect this familiar formula. Whether you're an existing Jeep fan eager to learn about the latest changes or you're trying to figure out if a Wrangler life is right for you, keep reading as we dissect this SUV's pros and cons. 
High-End Pricing
If you're still picturing a Jeep Wrangler as a simple utilitarian tool, you might be astonished to hear what this SUV costs these days. For 2024, the cheapest two-door Wrangler starts at $31,895, while the cheapest four-door model costs $35,895. Jeep also charges a steep $1,795 destination charge. 
Now, $31,895 for a small SUV and $35,895 for a mid-sized one aren't crazy prices these days – until you consider the base Wrangler's bare-bones standard features. Yes, four-wheel drive is standard, along with a new 12.3-inch touchscreen, new side-curtain airbags, and, for the first time, air conditioning. But you can still spend more than $37,000 for a Wrangler (including destination) that has a manual transmission, manual locks, and crank windows. For higher-end features like heated leather seats, adaptive cruise control, and the newly available power-adjustable front seats, you can easily spend upward of $50,000. That's also the starting price for the 4xe plug-in hybrid, though it qualifies for a $3,750 federal tax credit. Off-road-focused trim levels and features cost even more. This isn't a traditional luxury car, but it's a high-end item.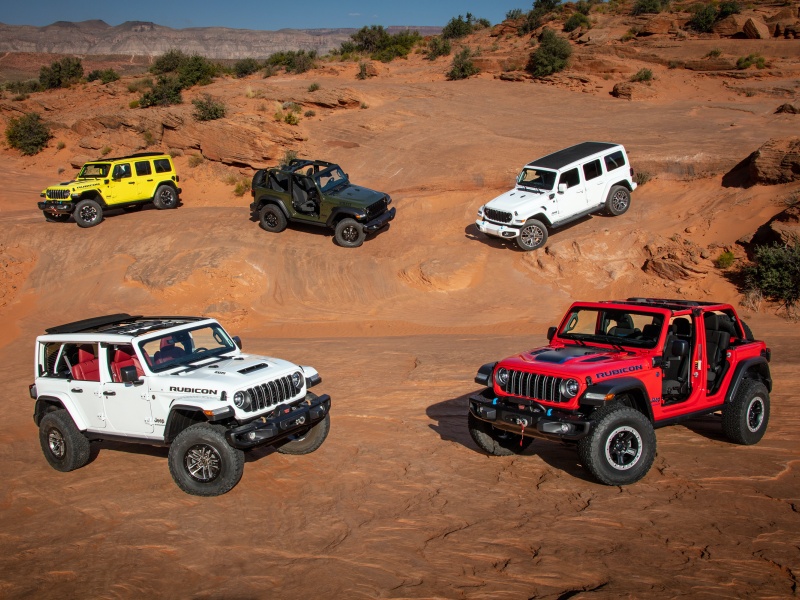 2024 Jeep Wrangler ・ Photo by Jeep
Fresh Face
You'd never mistake the Wrangler for anything but a Jeep, but most trim levels get a fresh face as part of the 2024 update. There's a smaller, more playful take on the classic seven-slot grille between the Wrangler's round headlights. The grille becomes black and chrome instead of body-colored, and there's now room for an available factory-installed winch to squeeze in between the bumper and grille. Jeep also brought new wheel options this year. (The entry-level Sport and Sport S models retain last year's grille.) 
The rest of the Wrangler's body hasn't changed. The classic two-door model remains a stubby little subcompact SUV at just 167 inches long, while the four-door (previously called the Wrangler Unlimited) measures 188 inches long – sized between a Toyota RAV4 and Toyota 4Runner. The Wrangler still wears a spare tire on its swing-out cargo door, still has a bumper and front fenders that stick out from the body, still lets you remove the doors and roof, and still features a fold-down front windshield. Some SUVs might as well be sedans with a different shape. The Wrangler is quite different.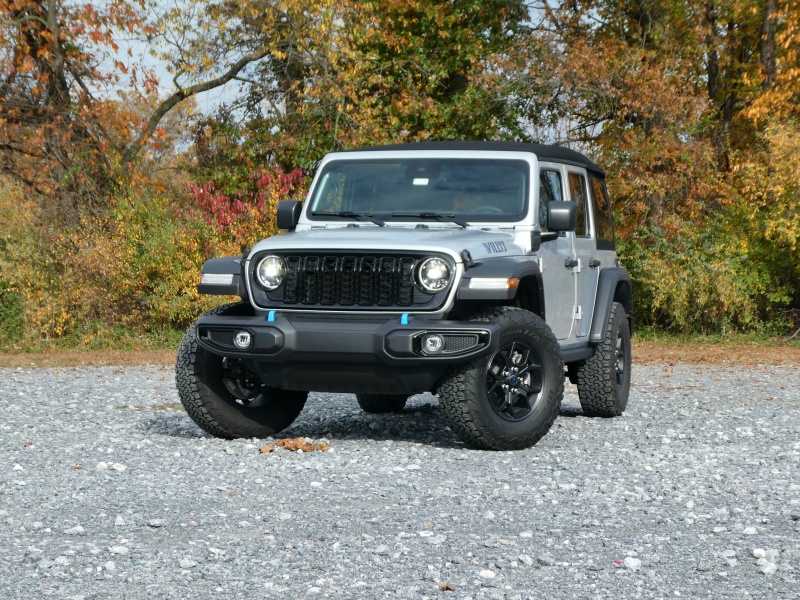 2024 Jeep Wrangler 4xe ・ Photo by Brady Holt
Interior Upgrades
The biggest substantive change to the 2024 Wrangler is inside. That's where last year's perfectly fine 7-inch and 8.4-inch touchscreens are replaced with an all-new 12.3-inch unit. In addition to its bigger size, the new screen is more responsive, crisply rendered, and customizable. This long rectangle displaces the round climate vents that once bookended the screen; now, airflow comes from two small rectangular vents tucked below the screen. This approach protects the Wrangler's physical buttons and knobs, which many automakers abandon to make room for growing screens. Only the controls for the heated seats and steering wheel feel uncomfortably small on the screen.
Jeep also added a new soft-touch dashboard (available in fabric like on our test vehicle or polyurethane). And the Wrangler's skinny, upright dash remains unlike other modern SUVs, even with less hard plastic than before. Overall, the Wrangler's interior retains a vibe of rugged, functional utility, even as technology and creature comforts continue to grow.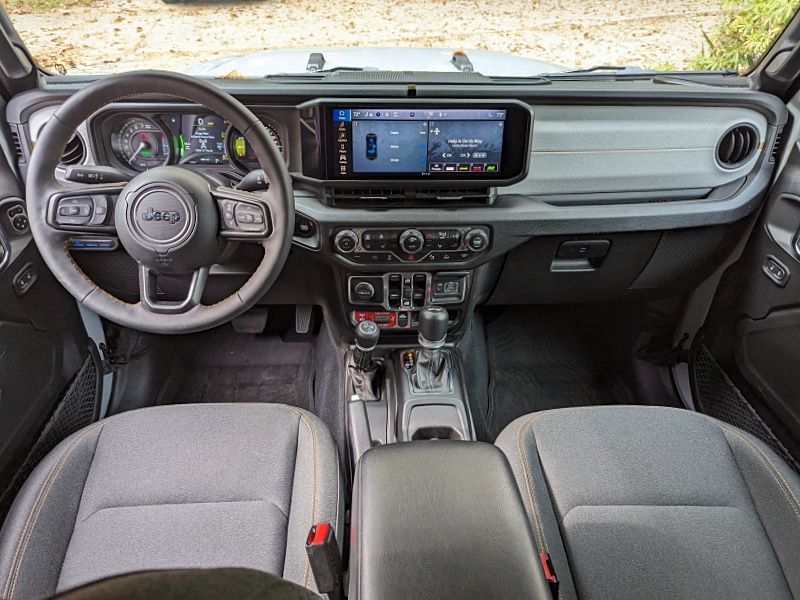 2024 Jeep Wrangler 4xe ・ Photo by Brady Holt
Family-Friendly Spaciouness
Aside from protecting the vehicle's inherent Jeep-ness over the years, adding a four-door Wrangler (back in 2008) was perhaps the best decision Jeep ever made. With four doors, the Wrangler is a true classic Jeep that everyone can enjoy – it can handle families, carpools, or road trips with ease, fitting adults easily (once they've clambered up inside) in the front and rear seats. Kids will appreciate the easy view out of the big windows, too. And as we mentioned, you can finally get the Wrangler with power-adjustable front seats like many folks would expect in a $50,000-plus SUV. 
The four-door Wrangler also has 32 cubic feet of cargo space behind the rear seat and 72 cubic feet with the rear seat folded down, which is about the same as a Toyota RAV4. And it can now tow up to 5,000 pounds. Our main functionality complaint is that soft-top models like our test vehicle have a fixed rear windshield that doesn't open with the cargo door or pivot upward like on hardtop models. You have to unclip and then reinstall it when you want to fit bulky items into the back.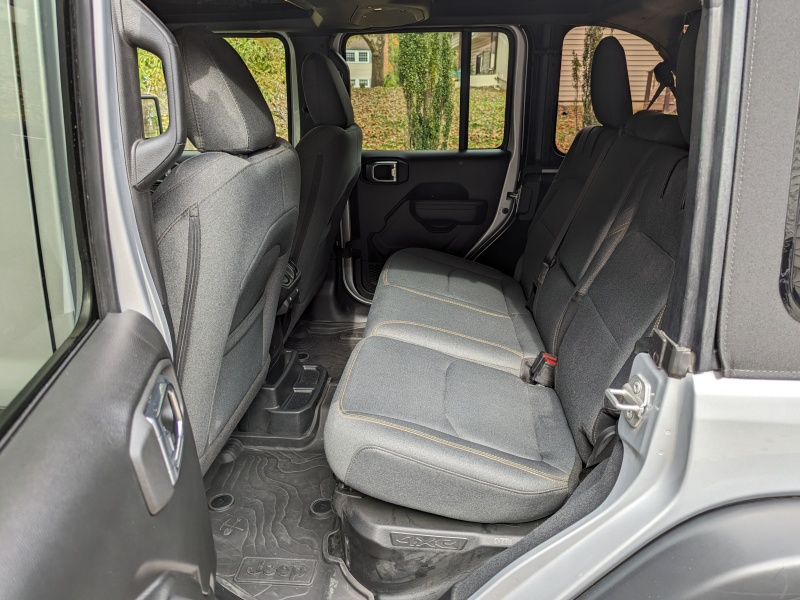 2024 Jeep Wrangler 4xe ・ Photo by Brady Holt
But Mostly Built for Fun
Even though you can use it as a regular family car, the Wrangler is designed mostly for fun. This Jeep's heavy-duty suspension is engineered for ruggedness and flexibility, not maximum on-road handling stability or interior space efficiency. Even those new power seats had to be tested underwater to protect the Wrangler's water-fording capabilities of up to 34 inches. And while many Jeep owners soup up their vehicles with aftermarket equipment, Jeep also has a wide range of off-the-shelf choices – most notably the Rubicon lineup of off-roaders. 
Legendary off-road capability is just one part of the Wrangler's fun. The removable roof and doors give you an open-air experience whether you're tackling a boulder-strewn trail, fording a river, parking for a picnic in the grass or the beach, or just driving to the grocery store. What's more, while some drivers will hate the extra attention it takes to keep a Wrangler pointed straight at high speeds, others welcome a character that's nothing like a mild transportation appliance. Just don't expect the Wrangler's definition of "fun" to mean sporty on-road handling like an SUV from, say, Mazda or even Land Rover.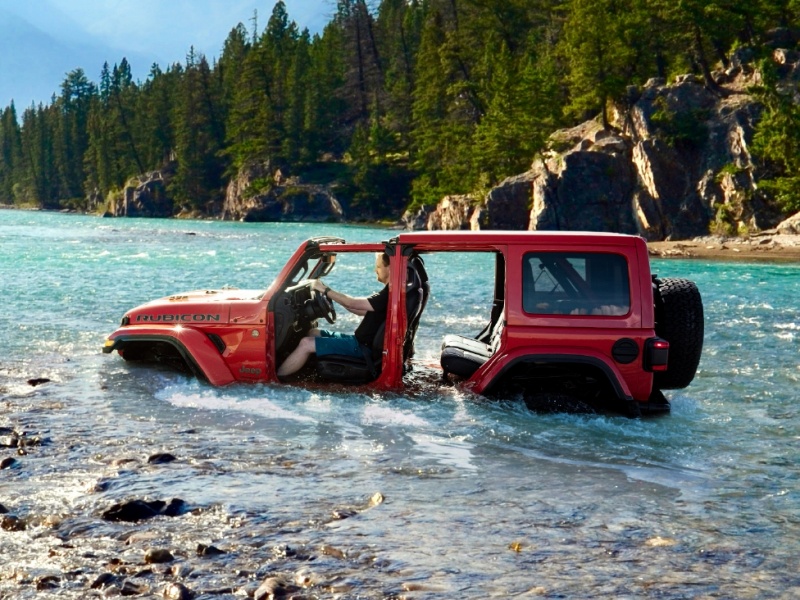 2024 Jeep Wrangler ・ Photo by Jeep
Wide Range of Engines
Jeep does give traditional driving enthusiasts some ways to enjoy the Wrangler on pavement: straight-line speed. No 2024 Wrangler is slow, but two models are downright speedy: the 4xe hybrid (which we'll discuss more shortly) and the Rubicon 392. The latter tucks a 6.4-liter V8 engine behind the friendly Jeep face, and its 470 horsepower and 470 lb-ft of torque rocket this off-roader to 60 mph in a growling 4.5 seconds while you pray you don't have to change direction. It gets the heart racing in more ways than one. 
Two sensible options round out the lineup: an affordable 3.6-liter V6 (available with a choice of manual and automatic transmissions) and a smoother, quieter, and quicker 2.0-liter turbo. The EPA estimates the V6 will get 19 mpg in the city, 24 mpg on the highway, and 20 mpg combined, while the four-cylinder gets 20 mpg in the city and on the highway (varying slightly by trim level, body style, and transmission). The V8 gets a mere 14 mpg. An expensive but economical diesel option is no longer available, but if you're looking for a Wrangler that burns less fuel, the 4xe is an intriguing prospect.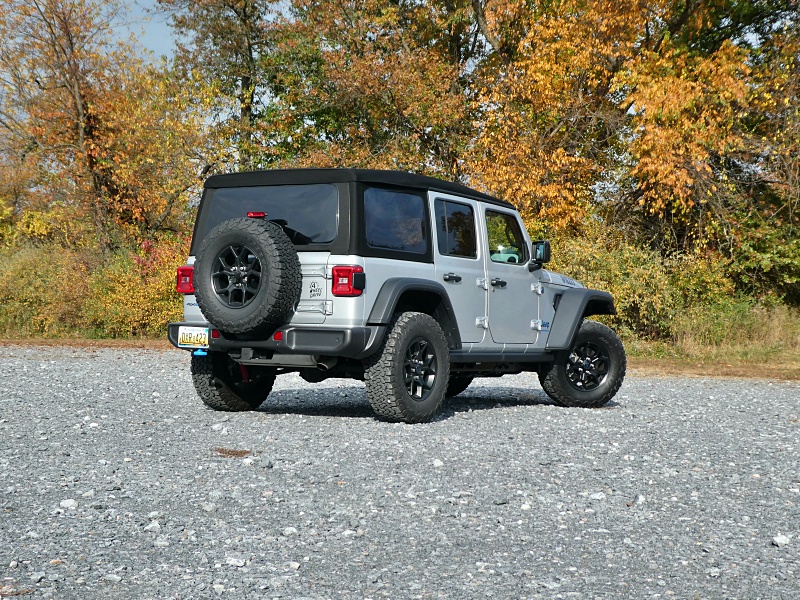 2024 Jeep Wrangler 4xe ・ Photo by Brady Holt
The Hybrid Option
The Wrangler 4xe has become America's best-selling plug-in hybrid. That means it has a gasoline engine and an electric motor, and you can charge its battery using electricity from the grid to get some all-electric range. In the Wrangler's case, that's an EPA-estimated 21 miles of gas-free driving per charge. If your commute isn't much longer than 21 miles, you'll go a long time before needing to fill a 4xe's gas tank, as long as you're able to replenish its battery overnight (it takes 12 hours on a regular household power outlet). Once the range is used up, though, it gets the same 20 mpg rating as a standard Wrangler, so choose carefully.
You can also use the 4xe as another performance Jeep. It's no 392, but with its gas engine and electric motor working together, it can hit 60 mph in a manufacturer-estimated 6 seconds flat. (When it's operating in electric mode, you can push past a resistance point on the accelerator to wake up the gas engine; we mainly needed to do that while accelerating on the highway.) And a setting called eSave lets you reserve your electric range for low-speed city driving or silent, torquey off-roading. The Wrangler 4xe isn't the smoothest plug-in hybrid we've ever experienced, but then again, that's par for the course with this Jeep. As we write, the Wrangler 4xe typically has a sticker price of more than $10,000 above a comparable non-hybrid model, which is partly offset by a $3,750 federal tax credit.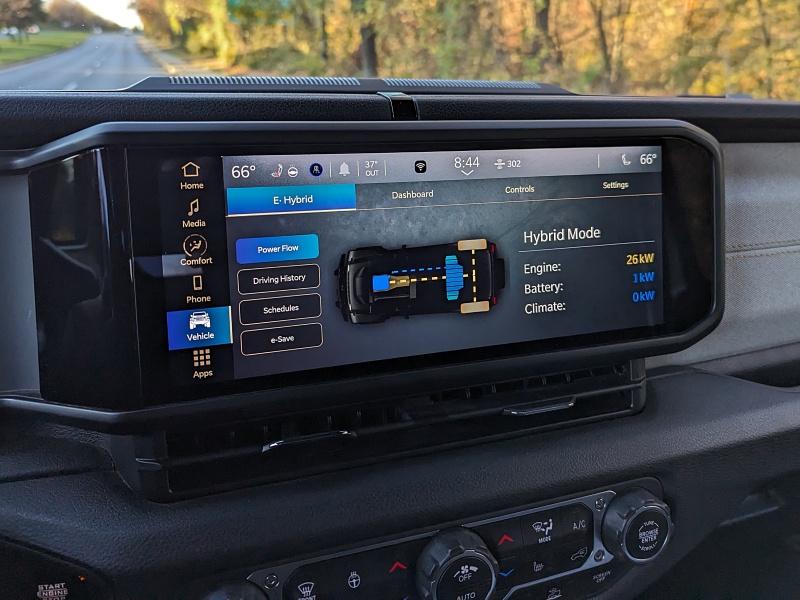 2024 Jeep Wrangler 4xe ・ Photo by Brady Holt
Competitors to Consider
The Wrangler goes head-to-head against the Ford Bronco: an SUV that's precision-crafted to take on this Jeep, right down to its available two-door version, round headlights, off-road focus, and removable doors and roof. Credit the Bronco for the Wrangler's big new touchscreen and power-adjustable seats; competition has forced Jeep to modernize. The Ford continues to be more comfortable and relaxed to drive than the Jeep, while the Wrangler has more character and a wider range of engine options – notably, the V8 and the plug-in hybrid – and more aftermarket support. 
We'd also shop the four-door Wrangler against the Toyota 4Runner, another mid-size SUV with a rugged rather than refined personality. The 4Runner is roomier, less expensive, and has a reputation for unkillable reliability, but the Wrangler's more advanced powertrains are quicker and more fuel-efficient. And if you're looking at a luxuriously equipped Wrangler, you could also shop it against the Land Rover Defender, which achieves off-road supremacy via advanced technology more than brute force; it's a mix of posh and purposeful in both its aesthetics and its capabilities. But both the Toyota and the Land Rover make you keep the roof and doors on.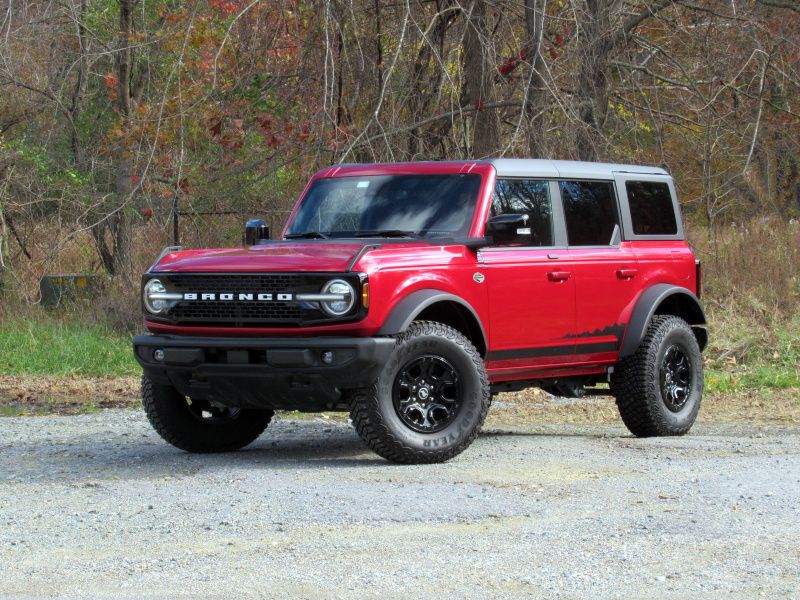 2021 Ford Bronco ・ Photo by Brady Holt
A Unique Experience, Improved
The 2024 Jeep Wrangler succumbs to the pressure of providing more amenities like power seats and a bigger touchscreen. But even as the Wrangler grows more civilized, it continues standing in clear contrast with everyday vehicles. While even most SUVs provide mild-mannered, effortless transportation, the Wrangler is a vehicle you work at. You hold tight to its steering wheel lest it wander all over the road. You keep your speeds down if you expect to make a turn. You raise your voice or turn up the radio at high speeds. Instead of a power liftgate, you get a two-part manual door that, with the soft top, must be disassembled for full access. And you pay dearly for the privilege to own one. 
That means for objective comfort, efficiency, and value, the Wrangler can't apporoach the likes of a Honda CR-V or Subaru Forester. But as long as you're willing to make some sacrifices, it can still fit a family and their belongings. Plus, unlike those crossovers, a Wrangler is an experience. And if you're eager to experience the 2024 Wrangler's wind, noise, and extreme capability, we don't think you'll mind a bigger screen on the dashboard, improved airbags, or available power seats.
2024 Jeep Wrangler 4xe ・ Photo by Brady Holt