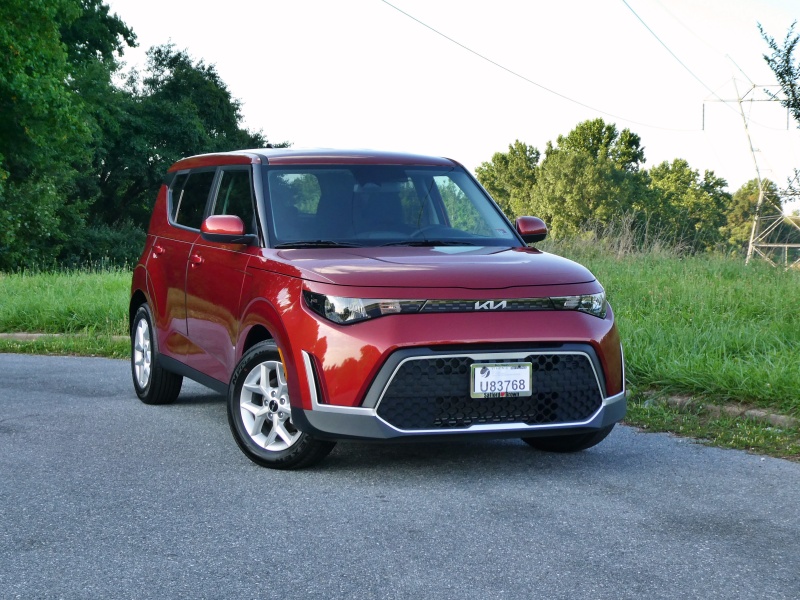 2023 Kia Soul LX ・ Photo by Brady Holt
Today, tall hatchbacks called subcompact crossover SUVs are everywhere. But many of them exist only because of the Kia Soul. The Korean value brand launched the Soul back in 2010 as a funky niche vehicle, but it was an unexpected smash hit for pairing a high seating position and a roomy cargo hold with an economy-sedan price tag. Even without all-wheel drive, the Soul has been an easy way to get some merits of an SUV without the downsides.  
Now in its third generation, the Soul sticks with that formula, but the market has grown less wild about it. Sales have dwindled to barely a third of their 2015 peak, when Americans bought more than 147,000 of these little cars. Is the problem just that the Soul has become less novel, or has the competition overtaken it? We just tested the Soul to see how it fits into the increasingly crowded subcompact crossover marketplace. Keep reading to learn more about its pros and cons, and to see if it's the right affordable utility vehicle for you. 
Affordable Price Tag
A key reason to keep looking at the Soul is its affordable price. Starting at $19,990, a 2024 Kia Soul costs less money than nearly any other vehicle on the market – crossover or otherwise. 
The base LX model like our test vehicle isn't an exception. The starting price already buys features that cost extra on many affordable cars, like a six-speaker stereo, automatic emergency braking, lane-keeping steering assistance, a driver-attention monitor, and automatic high beams. Our test vehicle had a $500 package that bundled alloy wheels and blind-spot monitoring. The Soul S, $22,490, includes those extras plus a bigger infotainment screen with GPS navigation, automatic climate control, push-button starting, a wireless smartphone charger, and a power driver's seat. The sport-themed GT-Line, $23,590, has upgraded upholstery, a sunroof, and revised styling; it's also the only Soul with optional adaptive cruise control or a 10-speaker stereo. The top EX, $24,190, meanwhile, adds heated front seats and a sunroof to the S. Kia no longer sells the Soul with higher-end options like leather upholstery, ventilated seats, a panoramic sunroof, or a bigger engine. And unlike most crossovers, all-wheel drive isn't available. But it's a great price for the amenities you do get.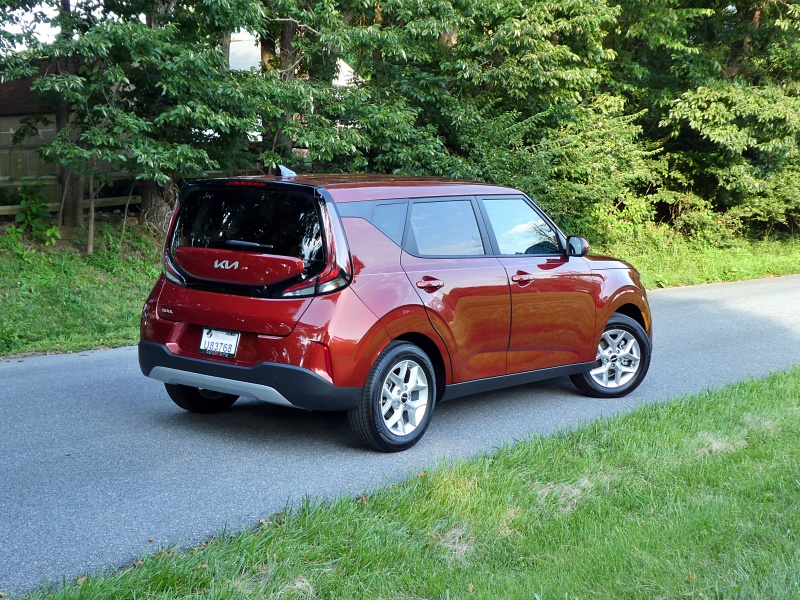 2023 Kia Soul LX ・ Photo by Brady Holt
Not So Radical-Looking
The current-generation Kia Soul arrived as a 2020 model, and it received some styling tweaks last year that included sharper-edged headlights, a more crisply detailed front bumper, and the removal of a lightbar above the rear windshield. But with more than 1.4 million Souls already sold, this little crossover doesn't look as radical as it used to. 
Today's Soul still has spunk, especially from the near-vertical rear end, where the high, slim taillights still make an oval visually even if the effect has become purely decorative after the lightbar's removal. To us, it's where the Soul has some confident spunk. Otherwise, it's a simple enough box on wheels. Its upright shape distinguishes it from most small SUVs, but few other details have much flair. This isn't the car you buy because you want to turn heads, but it doesn't merely blend in, either. 
2023 Kia Soul LX ・ Photo by Brady Holt
Interior Keeps Things Simple
The 2024 Kia Soul has a simple, well-finished, and extra-functional interior. It's not opulent or flashy, but it's solidly built – not fancy, but not flimsy either. Even the moving parts show attention to detail, which is a more expensive thing to get right.
The base Soul LX like our test vehicle includes an 8-inch infotainment touchscreen, which works well but looks plain. All other models get a 10.25-inch unit that's both bigger and has brighter graphics. And since last year, Kia has replaced the analog gauges with a reconfigurable digital gauge cluster on all trim levels. Remarkably, every Soul has ultra-simple physical controls as well: easy-to-reach buttons and knobs. Even the bigger touchscreen doesn't displace such simple pleasures as a radio tuning knob.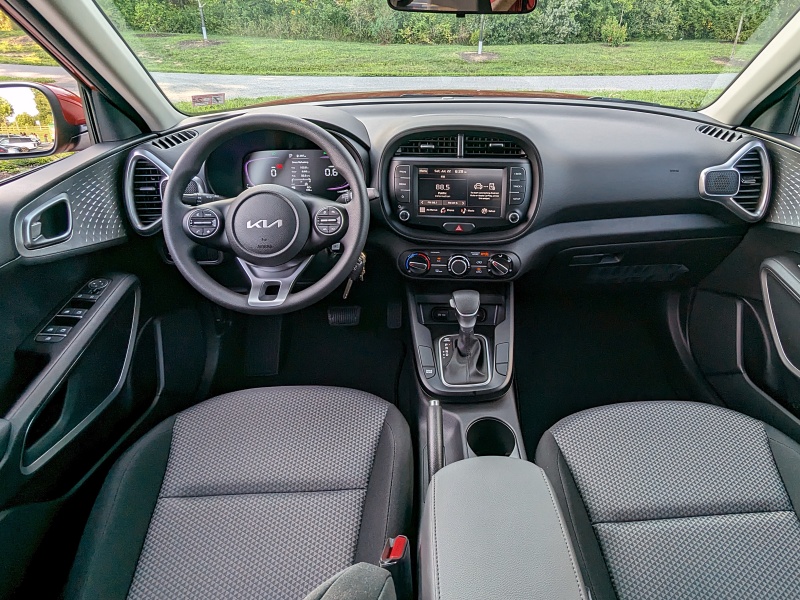 2023 Kia Soul LX ・ Photo by Brady Holt
Roomy Interior With a High Seating Position
The 2024 Kia Soul has ample space in the front and rear seats. This is a tall little box, and there's plenty of headroom even above the high-mounted seats. It's easy to get in and out of the Soul, and it's easy to see out of. Plus, like we said, even the backseat is adult-friendly; we can't say the same about plenty of other subcompact crossovers. 
We also appreciate that most trim levels get the easy fine-tune adjustability of a power driver's seat, though the LX's manual controls are also fine. We do wish there were an option for leather or even leatherette upholstery; Kia only goes as far as a mix of leatherette and cloth that's standard on the GT-Line and newly optional on the EX. We're also surprised by the fixed rear head restraints; they're adjustable and removable on most modern cars.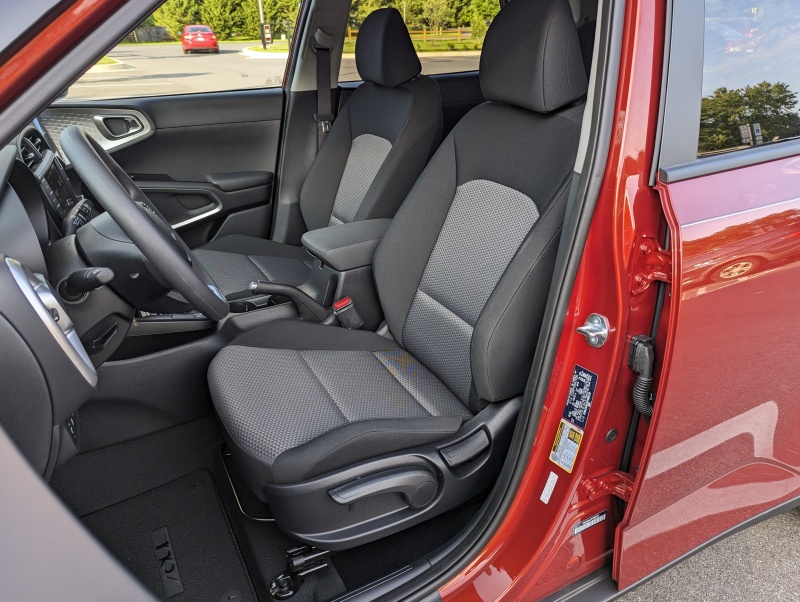 2023 Kia Soul LX ・ Photo by Brady Holt
Lots of Cargo Space With the Seat Folded Down
The Soul's boxy shape also benefits its cargo space. While many small crossovers have sporty rooflines that slope gently toward the rear of the car, Kia gave this one a high roof and a simple 90-degree angle. These factors contribute to its class-competitive 24 cubic feet of luggage space behind the backseat and its class-leading 62 cubic feet of cargo room with the seat folded down. 
Now, don't expect the little Soul to be completely magic. The Soul's modest footprint and ample rear legroom don't leave much floor space between the backseat and the rear of the cargo compartment. You'll have to arrange items carefully to make full use of the tall, shallow space. But folding down the seat offers genuine spaciousness. An available dual-level cargo floor also lets you raise the floor to sit flush with the folded front seatbacks or lower it to maximize your capacity. This feature is included on the Soul EX and included in an options package on the GT-Line; Kia and third-party sellers also offer it for about $200.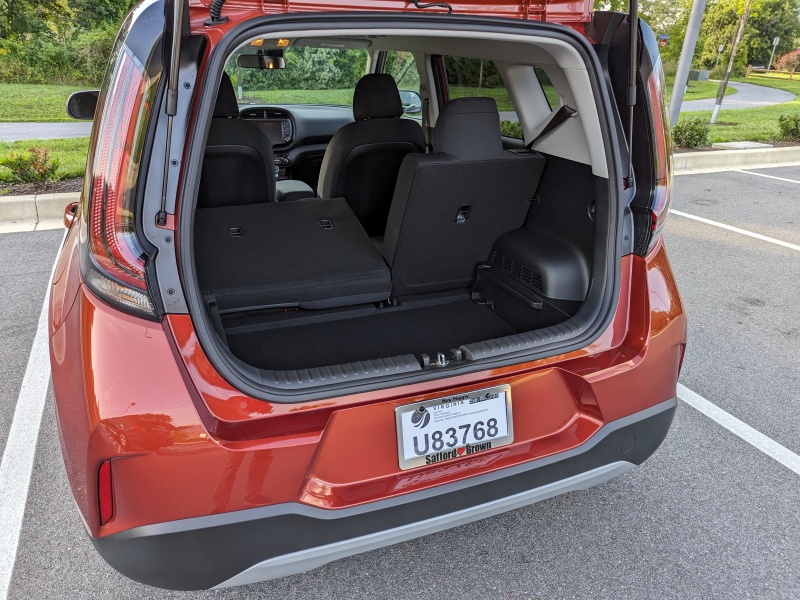 2023 Kia Soul LX ・ Photo by Brady Holt
Smooth and Easy to Drive
Until last year, the Soul was available with a zippy 201-horsepower turbocharged engine and a stiffer suspension. We don't really miss it. The beauty of the Soul is how nicely the base model drives. 
Equipped with a 2.0-liter four-cylinder making 147 hp and 132 lb-ft of torque, the 2024 Soul isn't a powerhouse. But it's impressively smooth and refined for a budget-priced economy vehicle. This engine is decently peppy, and it doesn't sound overly harsh or buzzy even when you gun it. And the firm ride is steady and comfortable, not light and flimsy. Unlike the competing Hyundai Venue or Nissan Kicks, the Soul is built from a compact sedan (the Kia Forte) rather than a smaller, lighter, cheaper subcompact model (the Hyundai Accent and Nissan Versa, respectively). This is likely the source of its cut-above-the-others substantial feel. The Soul isn't a sporty vehicle, and the steering goes numb if you try to whip this little crossover back and forth. But drive it in normal traffic, and the steering and handling feel natural and easy. The 34.8-foot turning diameter and 165-inch-long body also make parking a breeze. And the Soul's 6.7 inches of ground clearance is in line with its class, though remember that AWD isn't available.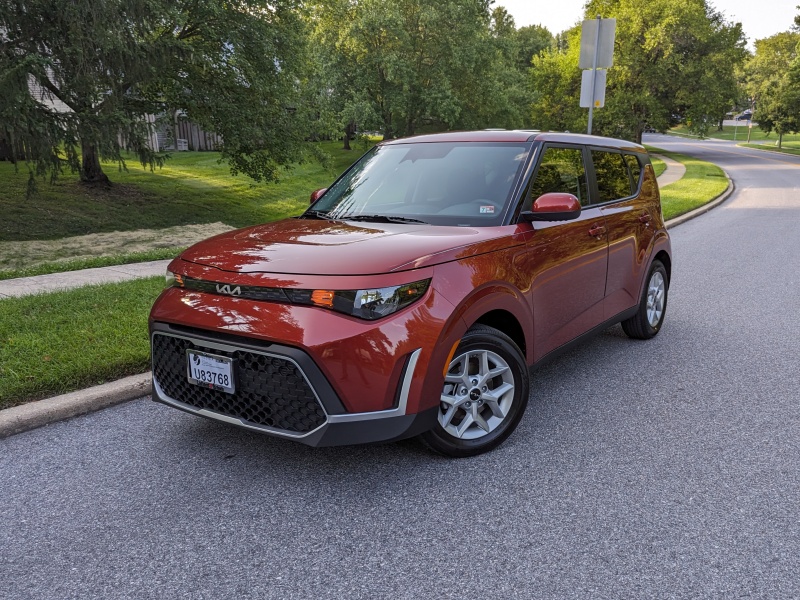 2023 Kia Soul LX ・ Photo by Brady Holt
Good Gas Mileage by SUV Standards
Most 2024 Kia Souls get an EPA-estimated 27 mpg in the city, 33 mpg on the highway, and 30 mpg combined. The top EX model has a few engineering tweaks that improve things by about 1 mpg. We saw about 32 mpg when we tested our LX model. 
This is good gas mileage for an SUV. But it's not the best. The Soul's engine is bigger than a Kicks's or Venue's, yet it still needs to work hard on the highway to combat this tall box's aerodynamics. The sleeker but mechanically identical Kia Forte sedan is rated at a similar 28 mpg in the city but an excellent 39 mpg on the highway.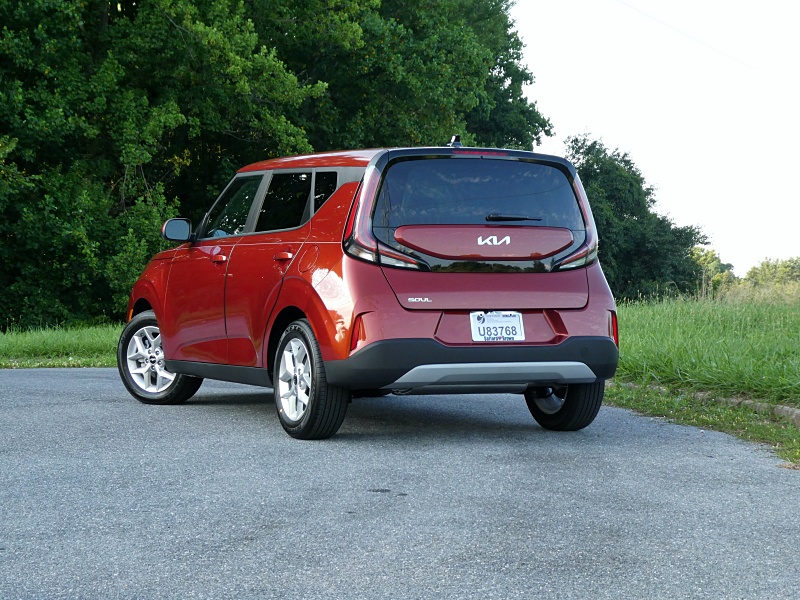 2023 Kia Soul LX ・ Photo by Brady Holt
Increasing Competition
As we mentioned, the Soul may have been among the first subcompact crossovers (even predating the term's existence), but it has spawned many compelling imitators. The Nissan Kicks gets better gas mileage and has more standard features, but the Soul is more powerful and refined. The Hyundai Venue is also more economical and less expensive, but significantly smaller inside. A new pair of close rivals this year is the Chevrolet Trax and Buick Envista; they're longer and lower than the Soul but promise a similar overall experience and more optional features. 
The Soul's roomy interior and composed driving manners also make it a tempting alternative to bigger, more expensive crossovers like the Honda HR-V and Hyundai Kona. And its low price means you could consider it even if your budget normally limits you to small sedans like the Hyundai Elantra or Kia Forte; its main downside against those sedans is its lower gas mileage, particularly on the highway.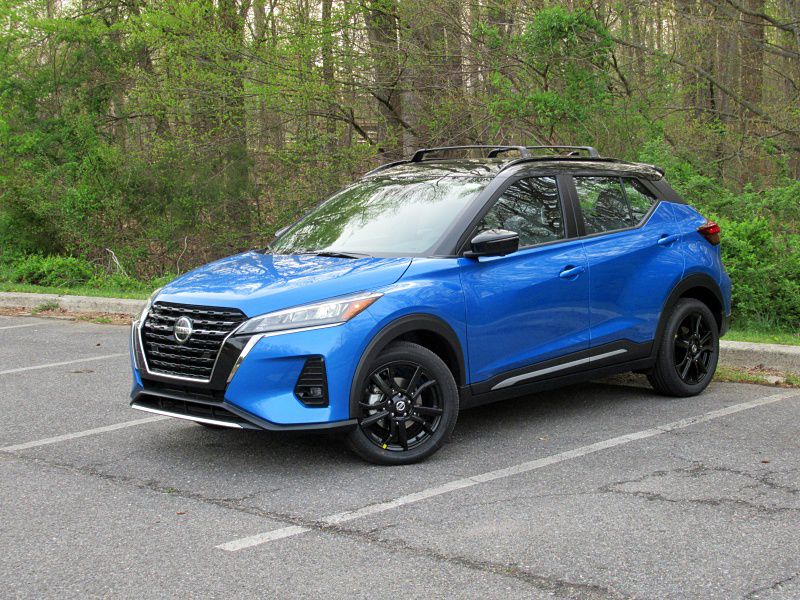 2021 Nissan Kicks SR ・ Photo by Brady Holt
Still a Leading Economy SUV
The 2024 Kia Soul doesn't have the buzz that it still enjoyed a decade ago. And without the halo of a turbocharged performance model, tough AWD variant, or amenity-filled luxury version, it's revealed as the simple, functional economy SUV-lite budget car that it is. 
But we think the Soul is an incredible deal. At a starting price of just $20,000, it has the spaciousness, technology, comfort, refinement, and build quality that many people pay thousands of dollars extra to get. Pricier crossovers have other advantages, sure. Some might have additional off-road capability, speedier engines, even more cargo space (particularly behind the backseat), more features, and fancier looks. But if you feel cars today have gotten too expensive, Kia has a sensible antidote.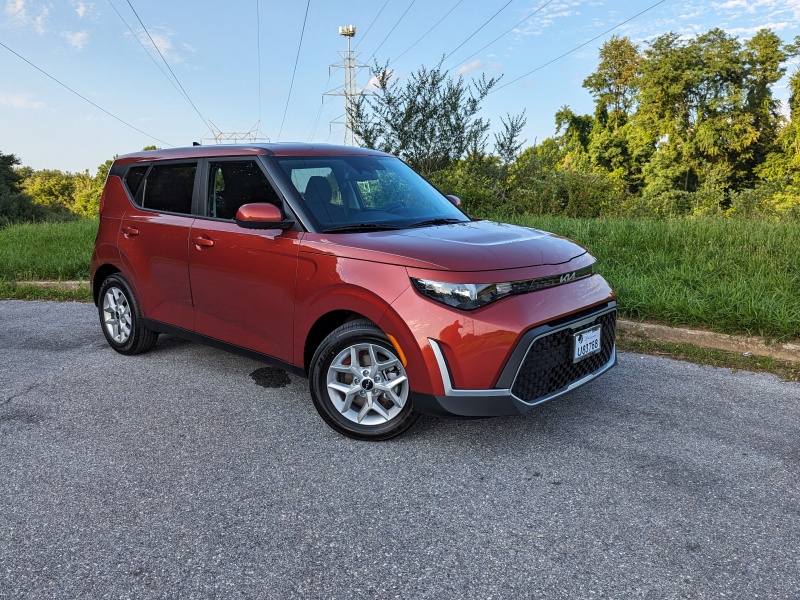 2023 Kia Soul LX ・ Photo by Brady Holt