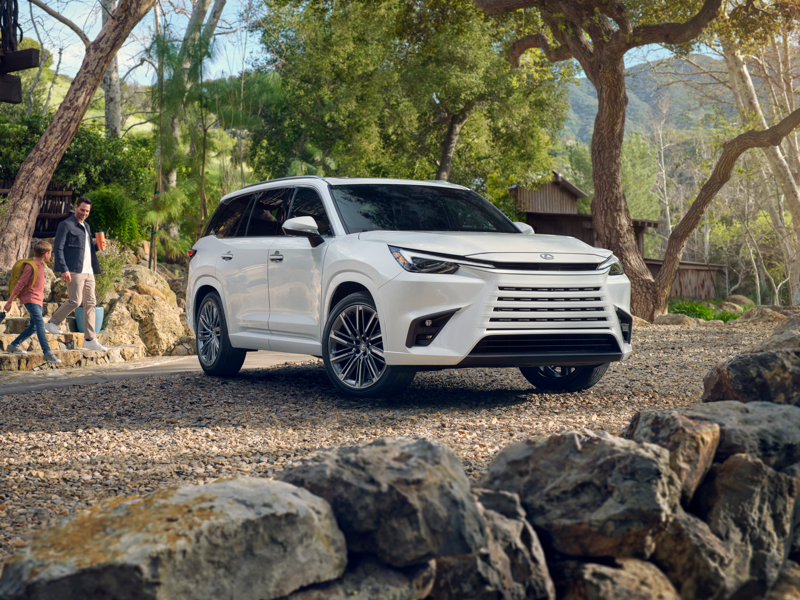 2024 Lexus TX 350 ・ Photo by Lexus
The 2024 Lexus TX is an all-new three row SUV designed for busy family life with seating for up to seven. This large SUV has a striking exterior design with the new Unified Spindle grille, showing off the latest Lexus design direction. Inside, it's a roomy and comfortable SUV with available second-row captain's chairs and premium synthetic leather seating surfaces, along with a standard 14-inch infotainment touchscreen. It looks and feels upscale with supportive, comfortable seating, even in the third row.
There's also a choice of gas, hybrid, and plug-in hybrid engines for those ready to take the first steps toward electrification. The Lexus TX is available with either front-wheel or all-wheel drive, further increasing your options and making this an SUV suited to most everyone's needs. Let's take a closer look at the all-new 2024 Lexus TX to see if it's the right luxury SUV for you.
Three Engine Options
The base engine is a 2.4-liter turbocharged 4-cylinder with 275 horsepower and an 8-speed automatic transmission found in the TX 350. Although not the most powerful option, it still provides good acceleration that easily gets the TX up to highway speeds. Those looking for a bit more power can step up to the 2.4-liter turbocharged hybrid in the TX 500h. This engine gives you 366 horsepower along with a 6-speed automatic transmission.
The most powerful engine in the lineup is the 3.5-liter V6 plug-in hybrid in the TX 500h+. This delivers a whopping 404 horsepower and is paired to a continuously variable automatic transmission. While all three engines deliver power aplenty to get this large SUV up to speed, the plug-in is the most responsive of the lot. It's also a great way to try out the electric lifestyle by letting you plug-in and charge a battery while still having a gas engine.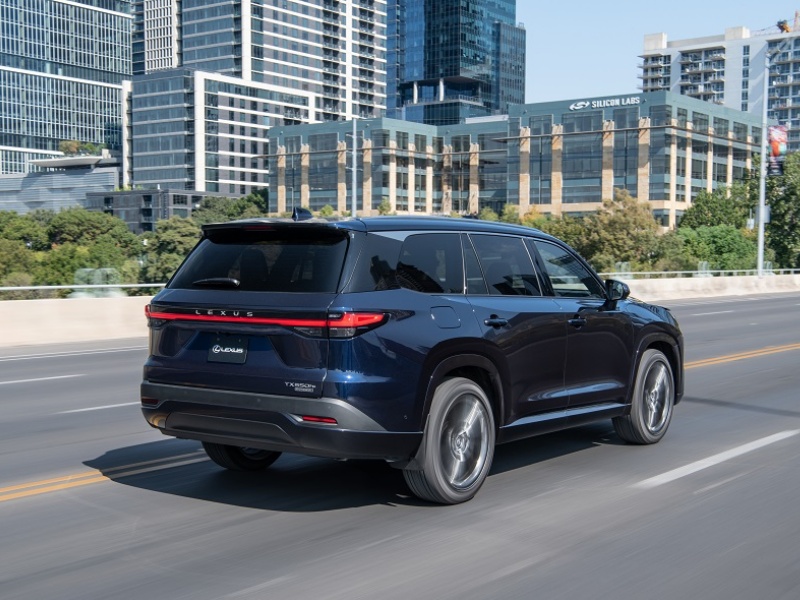 2024 Lexus TX 550h ・ Photo by Lexus
Five Trim Levels Starting at $55,000
There really is a version of the Lexus TX to suit pretty much every family. There are three engine options across a range of five trim levels: Standard, Premium, Luxury, F Sport Performance Premium, and F Sport Performance Luxury. The TX 350 is available in Standard, Premium, and Luxury trims with pricing from $55,050 to $60,950 equipped with front-wheel drive. All-wheel drive is optional on all three trims for an additional $1,600.
The hybrid TX 500h is only available with all-wheel drive and in the top two trim levels. Pricing varies between $69,350 and $72,650. That's a significant price increase, but remember, it's not just about getting the hybrid engine as both of these trims come with added features as well as sportier accents. At the top of the lineup is the plug-in hybrid 500h+ with pricing yet to be announced due to its later on-sale date.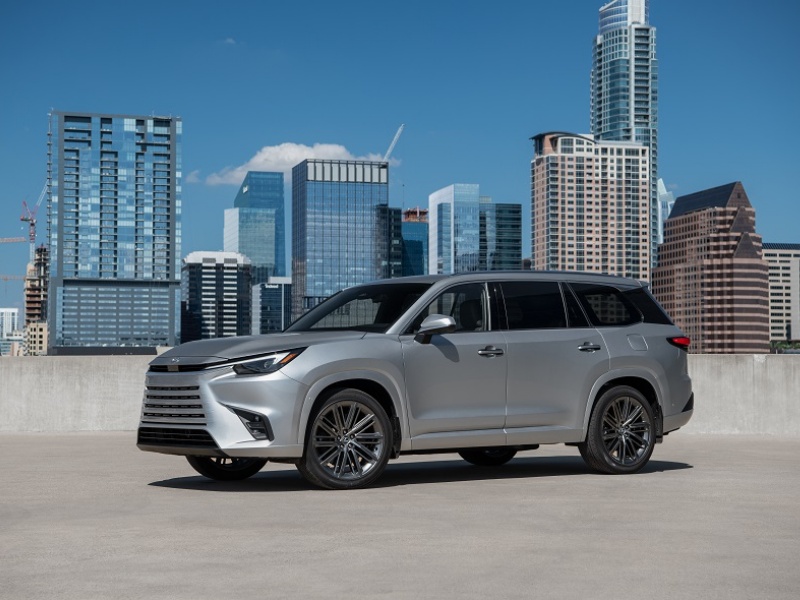 2024 Lexus TX 550h ・ Photo by Lexus
Seating for Seven
There are three rows of seating in the Lexus TX with room for up to seven people. The second row is available with a bench seat for three or captain's chairs for two with the gas engine, but with captain's chairs only on both hybrid variants. The bench seat is surprisingly comfortable, but the captain's chairs are far better, especially for adults or older kids.
In addition, having captain's chairs leaves a pass-through so kids can walk to the third row rather than having to slide the second row forward. Even though it releases at the touch of a button, kids aren't always tall enough to reach that button or strong enough to slide the second row forward. The third row is the least comfortable but has plenty of headroom and legroom for adults, even those over six feet tall.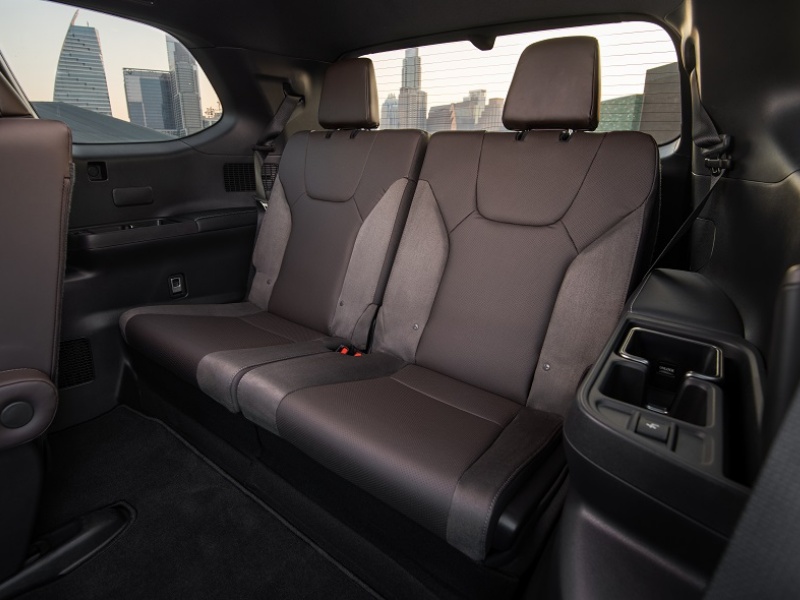 2024 Lexus TX 550h ・ Photo by Lexus
A smooth ride with easy handling.
The Lexus TX is a luxury vehicle, so despite being a large SUV, it delivers a smooth, well-mannered ride. There's minimal vibration over rough road surfaces with controlled steering that engages the driver without being tiresome over longer trips. Wind and road noise are both minimal as well, which further reduces weariness and creates a serene, calm interior for passengers to relax.
The suspension system soaks up the worst of the roads bumps and imperfections with the available adaptive variable system further improving the ride. It provides near instant adjustments to the shock absorber damping at each wheel to adapt to changing road conditions. It even reacts as the TX enters a turn to adjust damping for better control. All of this happens unnoticed in the background, so all you and your passengers will notice is the quiet, comfortable ride of the TX.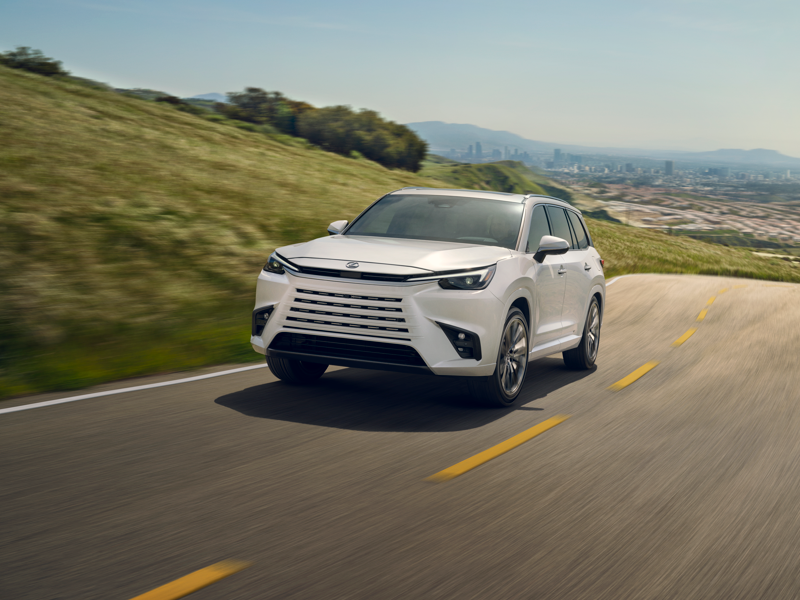 2024 Lexus TX 350 ・ Photo by Lexus
A Choice of Drive Modes
The Lexus TX offers up to five drive modes that let you tailor the throttle response, suspension, and all-wheel drive system to suit your preferences. Normal mode balances performance with fuel efficiency and is ideal for everyday driving. Eco mode puts the focus on efficiency for improved fuel economy. Sport mode goes in the other direction, delivering better throttle response for stronger acceleration and a sportier drive experience, but at the expense of fuel economy.
If those pre-programmed modes don't do the trick, then there's also a Custom mode that lets you individually adjust the powertrain, chassis, and air suspension if so equipped. If you choose all-wheel drive, then there's also a Trail mode. This helps minimize wheel slip so you stay in control on snowy, icy, and uneven roads. This range of drive modes makes the Lexus TX a go-anywhere vehicle.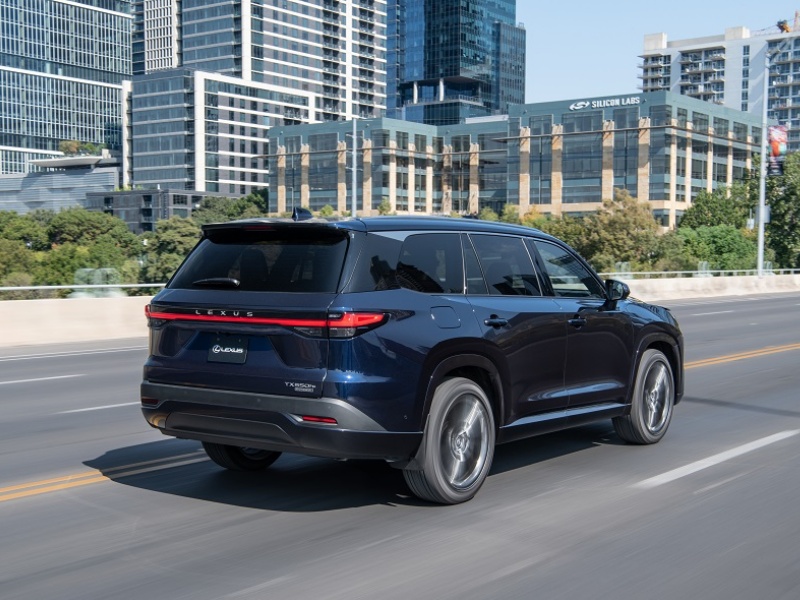 2024 Lexus TX 550h ・ Photo by Lexus
Large Standard Infotainment Screen
While many vehicles have small infotainment screens on lower trim levels, the Lexus TX makes a 14-inch touchscreen standard. There's no need to go up a level simply to get a larger touchscreen, which is a great feature and part of what makes this a luxury SUV. Menus are intuitive and easy to navigate with standard wireless Apple CarPlay and Android Auto to eliminate cord clutter. Wireless smartphone charging is also a standard feature.
Multiple USB-C ports are located throughout the Lexus TX to keep everyone's devices charged and ready to go. There are three for front passengers and two on the back of the center console for rear passengers. Even the third row gets charging ports with one on each side. There's also an available 21-speaker Mark Levinson premium audio system that fills the cabin with rich sound, so you get the best possible sound no matter where you sit.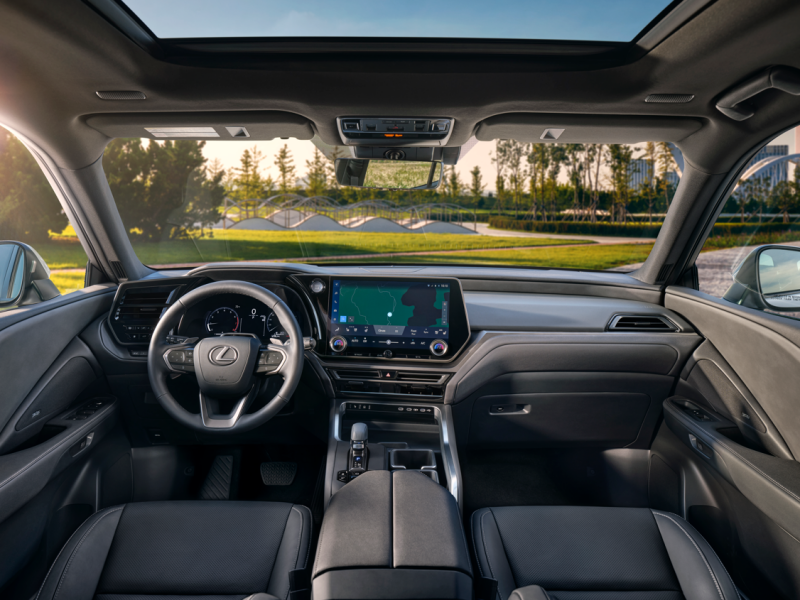 2024 Lexus TX 350 ・ Photo by Lexus
Standard Lexus Safety System+ 3.0
All trims of the TX come standard with the Lexus Safety System+ 3.0 suite of driver assistance features. This includes pre-collision with pedestrian detection that provides an audio and visual warning of a potential collision with a vehicle, pedestrian, or cyclist. It will even provide emergency braking if the driver does not react and the circumstances warrant intervention. There's also emergency steering assist to avoid objects in your lane and left turn oncoming vehicle detection and braking.
Additional features include all-speed dynamic radar cruise control, lane tracing assist, lane departure alert with steering assist, road sign assist, and proactive driving assist. An emergency driving stop system is also standard. If it detects the driver isn't steering, it issues an audible warning, and if no response is made, turns on the hazards and brings the TX safely to a stop. It's a strong offering of safety features to set your mind at ease.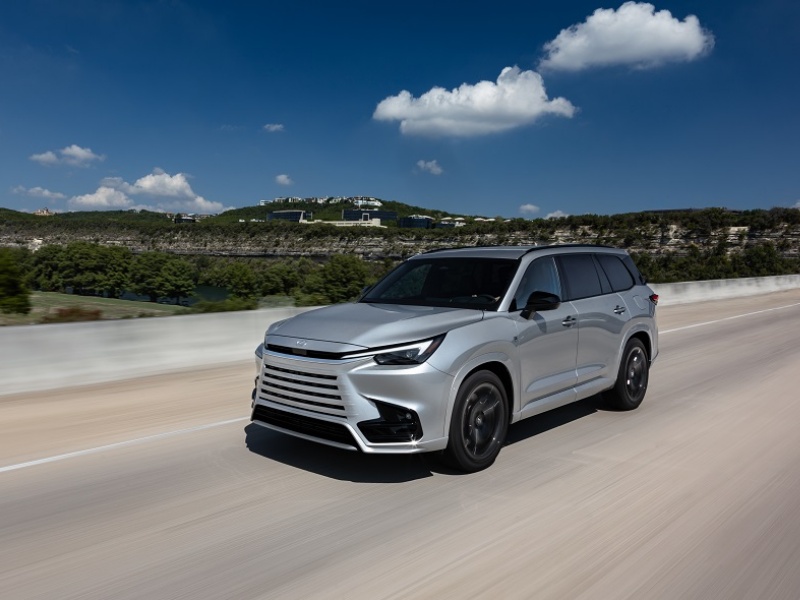 2024 Lexus TX 500h ・ Photo by Lexus
Lots of Cargo Room and the Capability to Tow
A three-row SUV puts a priority on people, but it also needs to be able to handle cargo. The Lexus TX is up to the task with 20.2 cubic feet behind the third row of seats. Fold down the 50/50 split-folding third row and cargo capacity increases to 57.4 cubic feet. Lastly, fold the second row and there's 97 cubic feet of cargo room in the Lexus TX. This makes it easy to manage everything the family needs and provides the flexibility to quickly reconfigure seating as those needs change. The TX can also tow 5,000 pounds regardless of the engine you choose.
Smaller items are easy to store with a dual-opening center console up front and removable cupholders that let you use that space for storage instead of your drink. In trims with captain's chairs, there's an available removable center console that also has removable cupholders.
2024 Lexus TX 350 ・ Photo by Lexus
Final Thoughts
The 2024 Lexus TX is a great addition to the brand's SUV lineup. It's a true family-focused vehicle with a third row large enough to comfortably seat adults. It's also filled with creature comforts that make the ride a premium one with eye-catching trims and premium finishes throughout the vehicle. The Lexus TX is smooth, quiet, and easy to handle, making it ideal for relaxing and a pleasure to drive.
Rounding out the package is a choice of three powertrains, including a plug-in hybrid for those edging toward electrification. The Lexus TX provides families that need the versatility of a three-row SUV with a compelling luxury option to consider.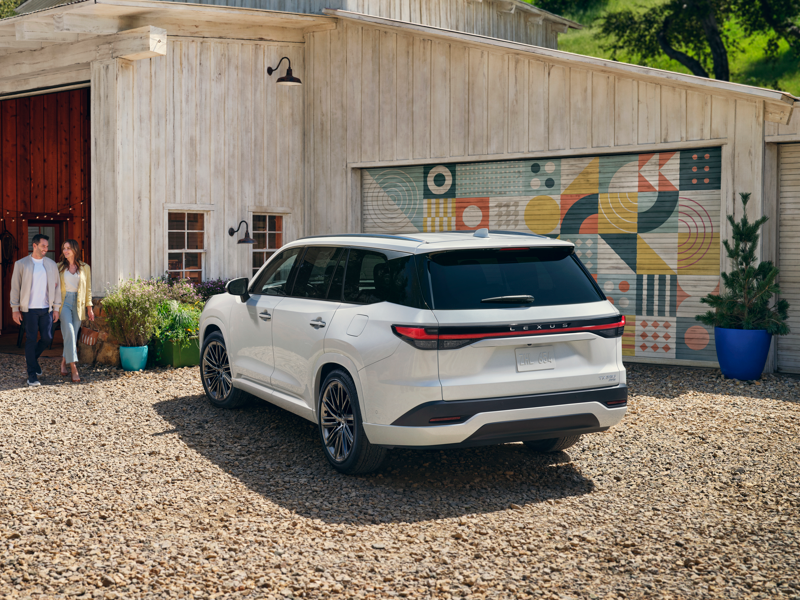 2024 Lexus TX 350 ・ Photo by Lexus