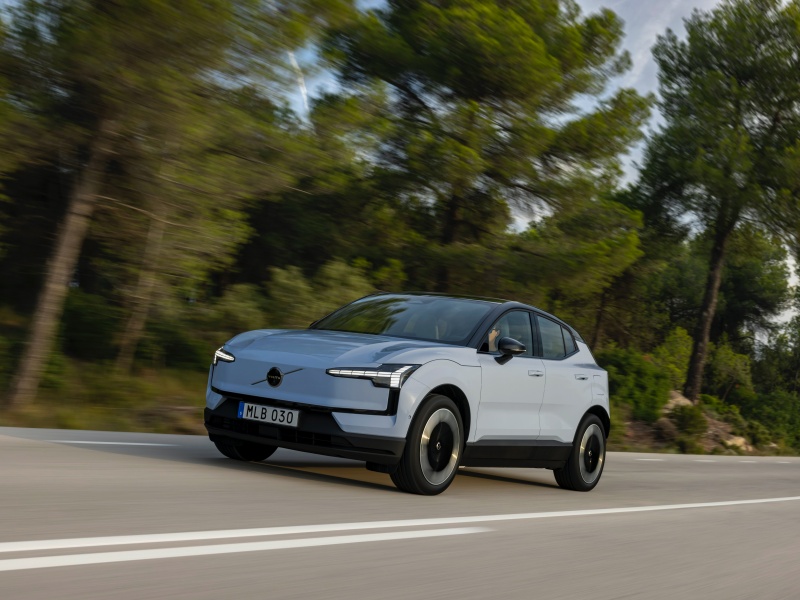 2025 Volvo EX30 ・ Photo by Volvo
The 2025 Volvo EX30 is an all-new vehicle in the Volvo lineup. This electric vehicle is the smallest SUV ever built by Volvo, which makes it a great option for those who often drive through narrow, congested city streets. It's available in a range of three well-equipped trims with even the base model delivering plenty of amenities. The EX30 has a wide range of safety features along with a large infotainment screen that also serves as an instrument cluster.
Designed with a focus on sustainability, the EX30 uses recycled and renewable materials in everything from the dashboard to the carpet. Four unique interior design themes showcase these materials and move the minimalist Volvo aesthetic in a fresh new direction. Let's take a closer look that the all-new Volvo EX30 to see if it's the right electric vehicle for you.
Choose From Three Trims
The Volvo EX30 is available in a range of three trims starting with the Core, which is priced at $34,950. This trim is available with rear-wheel drive only, and standard features including LED headlights, rear parking sensors, wireless Apple CarPlay, front and rear collision mitigation, open door alert, and driver awareness alert.
The Plus trim, which starts at $38,900, adds the option for all-wheel drive along with a standard Harman Kardon audio system, power tailgate, front parking sensors, dual-tone roof, wireless smartphone charging, 2 rear USB-C outlets, and dual-zone climate control. At the top of the lineup is the Ultra, which starts at $40,600. It, too, offers optional all-wheel drive along with standard power front seats, 4-way lumbar, 360-degree camera, Park Assist Pilot, and Pilot Assist. The EX30 is well-equipped at every trim level yet still has pricing that makes it an affordable option for those looking to go electric.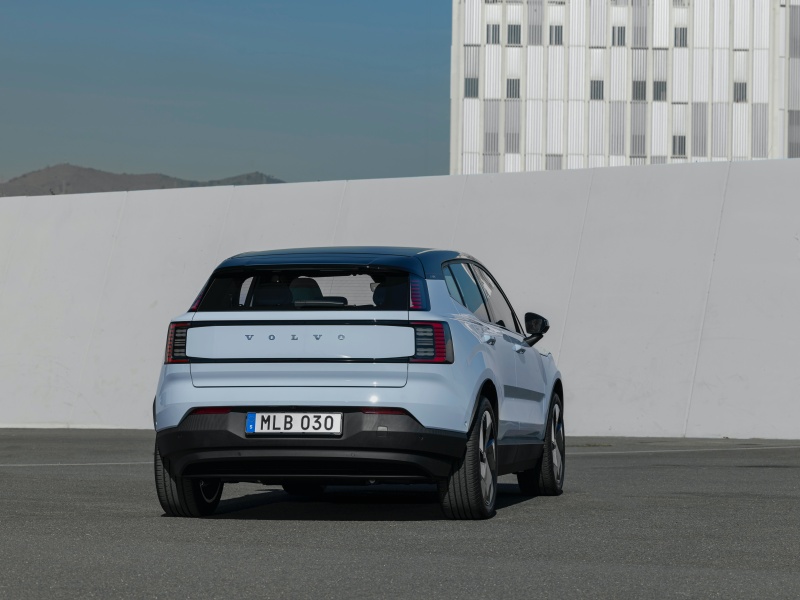 2025 Volvo EX30 ・ Photo by Volvo
Rear-Wheel or All-Wheel Drive
The base trim of the EX30 is available only with a single motor and rear-wheel drive. This provides 268 horsepower with 253 lb-ft of torque for an engaging drive experience. Press on the accelerator and the EX30 doesn't hesitate. It delivers the impressive instant torque found in electric vehicles so you're quickly up to speed with plenty of power in reserve for passing slower traffic, even on the highway.
The Plus and Ultra trims have standard rear-wheel drive but are available with a second electric motor for those who prefer all-wheel drive. This not only improves handling, especially in winter weather, but delivers more power for a more engaging drive experience. All-wheel-drive versions of the EX30 have 422 horsepower with 400 lb-ft of torque, which is a significant jump in power. Going with the second electric motor is a compelling option for those who enjoy more spirited driving.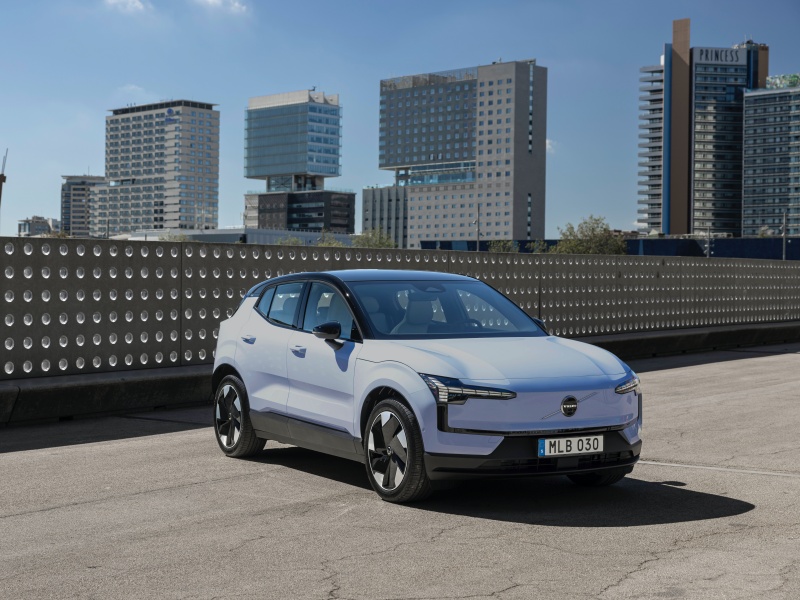 2025 Volvo EX30 ・ Photo by Volvo
The Composed Ride of a Premium Vehicle
The Volvo EX30 is a smaller and more affordable option within the Volvo electric lineup, but it still has the smooth, refined ride of a premium vehicle. Even during aggressive acceleration, the vehicle remains controlled and stable, making it an easy SUV to drive. Responsive handling makes winding roads fun rather than tiresome, and during longer road trips, the EX30 proves less wearying to driver and passenger alike.
Road imperfections are nicely muted so even the roughest of surfaces won't rattle passengers. No matter the conditions outside, the interior of the EX30 remains calm and quiet. Electric vehicles don't have any engine noise to deal with, which can sometimes make tire noise and wind noise more noticeable. The EX30 suffers no such trouble, delivering a relaxing experience with a true premium feel no matter how long the drive or how rough the roads.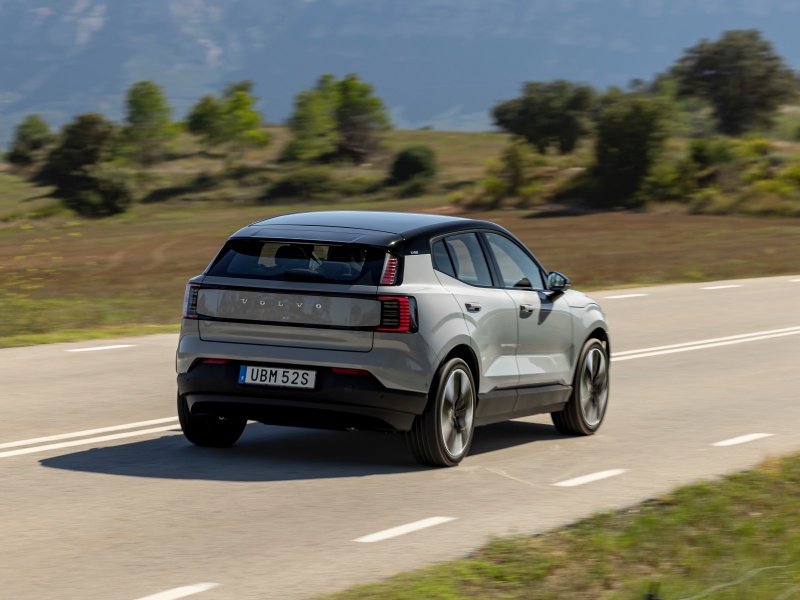 2025 Volvo EX30 ・ Photo by Volvo
Plenty of Range to Keep You Going
Whether you choose the rear-wheel-drive or all-wheel-drive version of the EX30, it features a 69 kWh battery. This battery can charge from 10 to 80 percent in roughly 26.5 minutes using DC fast charging at a rate of 153 kW. That charging time lets you quickly get back to driving and makes it easy to road trip in the EX30 without worrying about excessively long breaks to keep the battery charged.
As for range, it varies depending on whether you choose rear-wheel or all-wheel drive. The best range comes from rear-wheel-drive models with up to 275 miles per charge. The added weight of the all-wheel-drive system gives those models a range of up to 265 miles per charge. It's only a small reduction so you don't pay much of a range penalty for all-wheel-drive capability and the improved performance figures.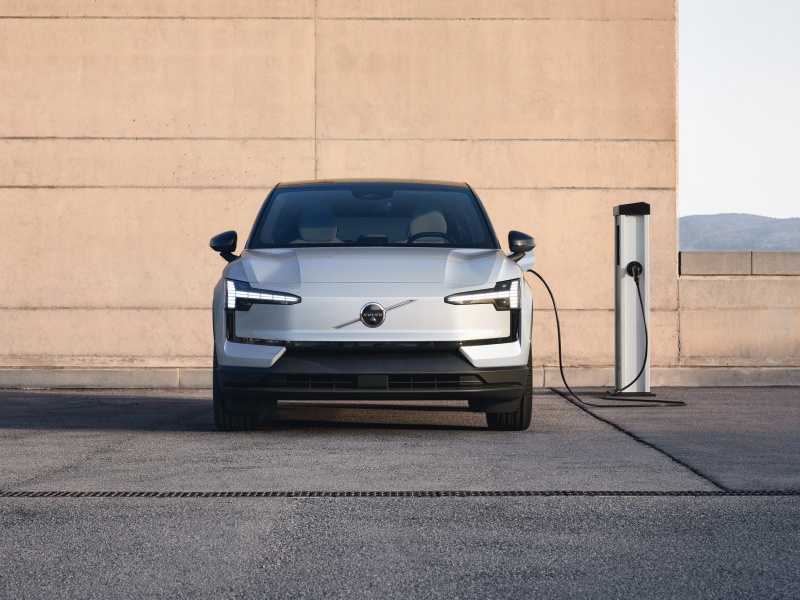 2025 Volvo EX30 ・ Photo by Volvo
An Elegant and Sustainable Interior
Volvo is a premium brand with beautiful cars boasting plenty of luxury features. Its interiors are elegant and refined rather than brash or flashy. The EX30 continues that tradition but with a fresh, new look and a focus on sustainability. There are four interior design themes – Breeze, Indigo, Mist, and Pine – each with a distinctive look and materials.
Woven flax made from the linseed plant adorns the dashboard. Upcycled denim fibers from jeans and ground plastic from old window frames are also used for the interior to create a standout design that gives the EX30 personality. Rather than leather, there's Nordico, which is a bio-attributed material that uses pine oil from Finland and Sweden. There's even recycled polyester in the seating surfaces and recycled bottles used in the carpets. Sustainability was a key part of the EX30 design process.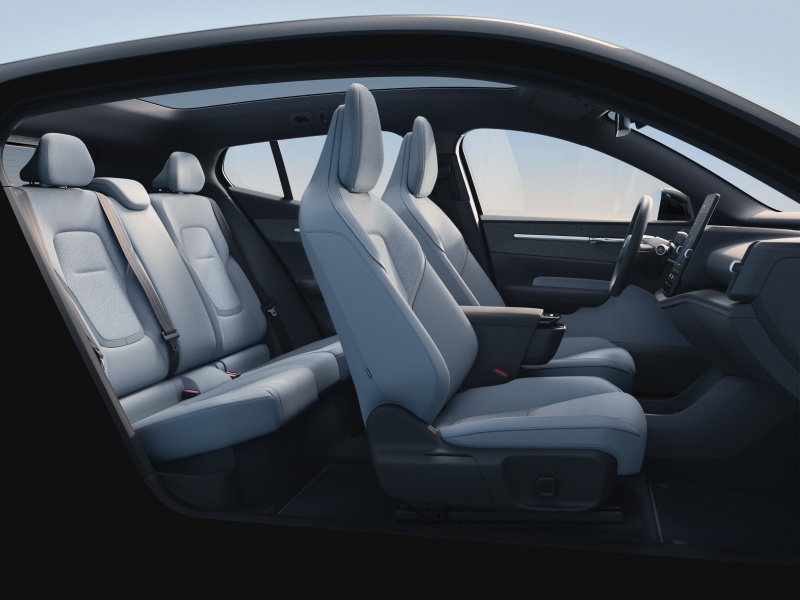 2025 Volvo EX30 ・ Photo by Volvo
Room for Cargo
The Volvo EX30 is not a full-size SUV so it doesn't have the impressive cargo capacity of larger vehicles, but that's okay. It's not designed to be a huge cargo hauler with room for large families and all their stuff. Instead, it has more city-friendly sizing with a bit more cargo versatility for those who, on occasion, need more than what a sedan can easily manage.
With the seats up, there's 14.1 cubic feet of cargo room. That's easily enough for luggage for a week's vacation. Fold those seats down, and cargo room increases to 31.9 cubic feet. When there are larger things to move, this makes it easy to manage the task. There's also a small frunk with 0.2 cubic feet of cargo room and the ability to tow up to 2,000 pounds. It might be small, but the EX30 still has the versatility to handle cargo.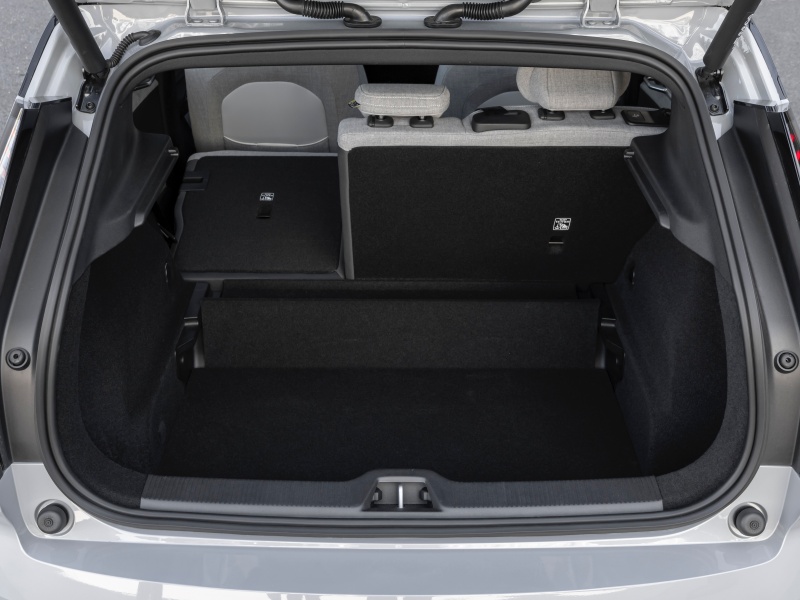 2025 Volvo EX30 ・ Photo by Volvo
An Extensive Range of Safety Features
Volvo has long had a reputation for building safe vehicles, and the EX30 lives up to that legacy with a long list of standard and available safety features. Lane keeping assist, rear collision warning, rear cross traffic alert with automatic braking, lane departure warning, door opening alert, blind spot warning with steering assist, pedestrian and cyclist steering avoidance, and pilot assist are all standard across the full EX30 lineup.
Optional features include traffic jam assist, lane change assist, front and rear park assist, park assist camera, rain sensor, adaptive cruise control, and park pilot assist. It's a well-conceived offering with the most sought after features standard, so there's no pressure to stretch your budget for peace of mind. No matter which trim of the EX30 you choose, good safety features are standard.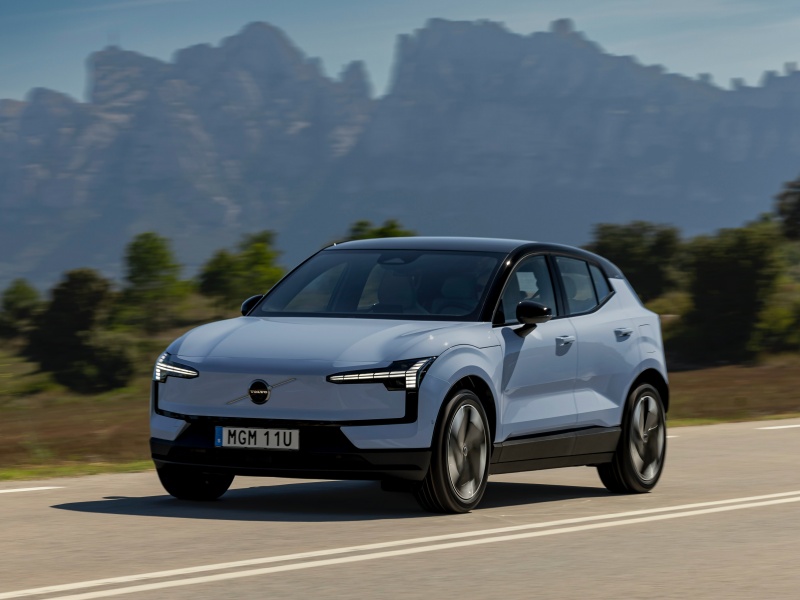 2025 Volvo EX30 ・ Photo by Volvo
A Large Touchscreen With Great Features
There's a standard 12.3-inch infotainment touchscreen that's mounted vertically on the dashboard. It's easy to reach for both driver and passenger with a crisp high-resolution display and features like built-in Google with Google Maps, Google Assistant, and the Google Play store. The display shows not just infotainment, but driver information that's usually in an instrument cluster, including speed, right at the top.
Standard features include wireless Apple CarPlay, USB C charging ports, 5G Wi-Fi connectivity, and over-the-air updates to continually improve system functionality. The system is intuitive, so glancing over to see your speed won't be an issue. It also has a large enough screen to easily use navigation. The fixed row of options at the bottom, which includes a home icon and climate control, ensure that what you use most often is always at the ready.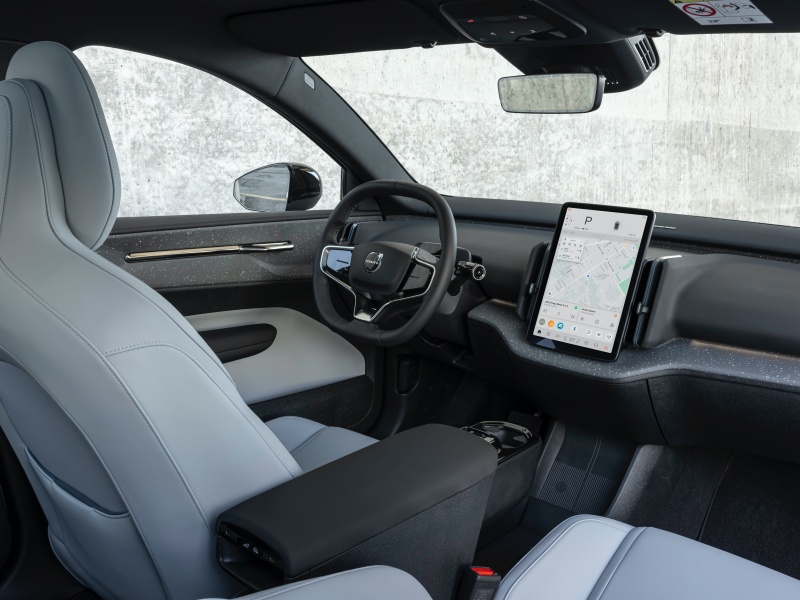 2025 Volvo EX30 ・ Photo by Volvo
Final Thoughts
The EX30 expands the Volvo lineup with a new electric vehicle option. Its smaller dimensions make it ideal for those who live in more urban environments while still providing versatility for cargo and people. Its price point further adds to its appeal by bringing the possibility of owning an electric vehicle to a group of consumers who might not have the budget for pricier models.
A choice of rear-wheel or all-wheel drive along with a good driving range gives the EX30 wide appeal, as does its long list of safety and convenience features. Rounding out the package is a focus on sustainability with unique interiors featuring recycled products and renewable resources to help reduce your carbon footprint.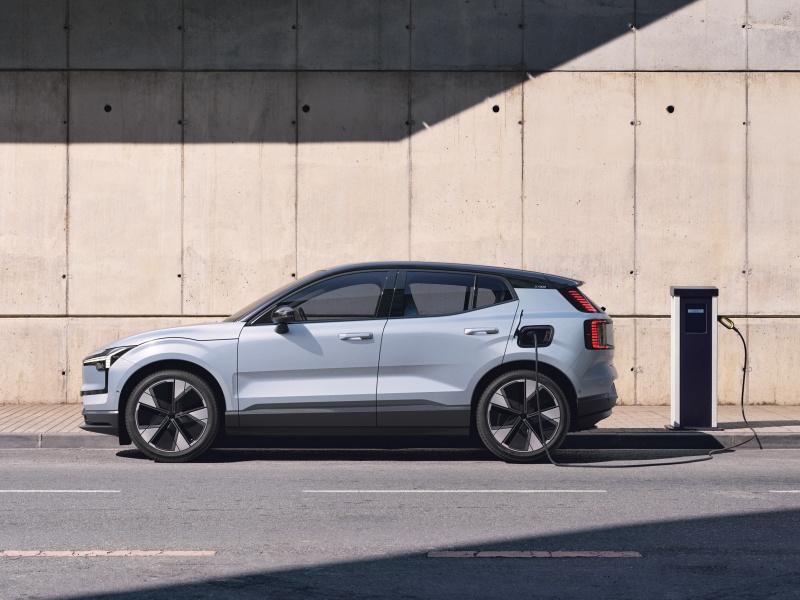 2025 Volvo EX30 ・ Photo by Volvo