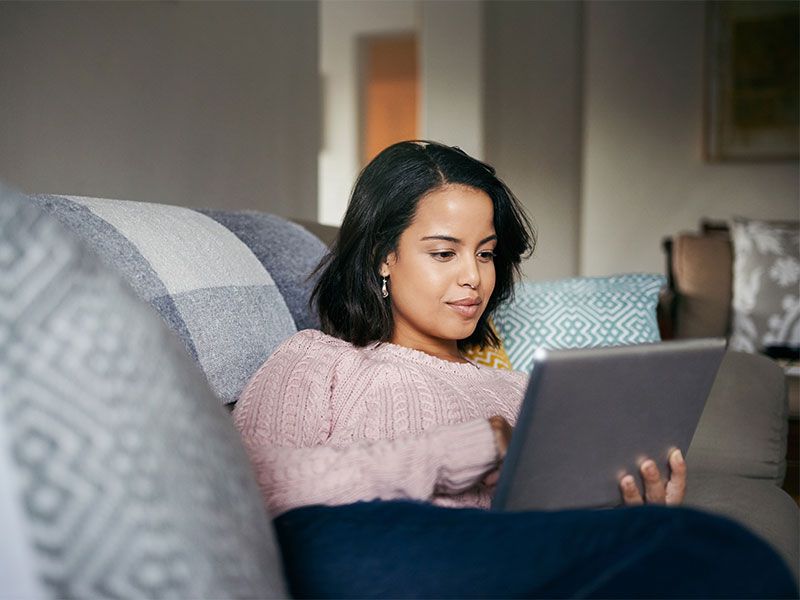 iStock woman web surfing on laptop
One of the trickiest parts of buying a new car is making sure it stays within your budget. You need to find a balance between the down payment and the monthly payment, so you don't overspend. One way to keep those costs down is by taking advantage of new car incentives and rebates.
New car incentives and rebates are essentially discounts offered by the automaker. They're available only for a limited time and can be quite specific, sometimes only applying to a single model in the lineup. Here's a rundown of how it all works so you can find the best new car incentives and rebates when you're ready to buy your next new car.
It's tempting to start just by searching for new car incentives and rebates to see what's available. You'll quickly discover there are so many offers it can be overwhelming. Instead, start the process by figuring out what kind of car you want to purchase.
Do your research to narrow down what type of vehicle you want, whether a sedan, truck, or SUV, and then compare features. Once you have all the options narrowed down, then you're ready to take a look at the incentives and rebates offered for those specific vehicles to see how they'll change the bottom line.
It's important to know that new car incentives and rebates are issued from the automaker, not the local dealership. Sure, you're making a deal with someone sitting behind a desk at the dealership when it comes to the final price of your new car, but the terms of the incentive or rebate isn't something he or she controls.
Instead, this is something offered directly by the automaker through the dealership. They're a middleman in this situation. This makes things simple since there's no one to haggle with over just how much is offered. It's a set amount with set terms that the dealership can't change, so don't go in thinking you can get better terms on the spot.
Part of finding the best incentive or rebate is understanding the terminology. One of the most common offers is a cash back rebate. This is cash offered directly to the buyer and these rebates often change from one month to the next depending on which models aren't selling. A cash back rebate on slow-selling models helps get them off dealer lots.
Once you narrow your choices, check to see if a cash back rebate is offered on any of your top picks. Amounts can range from several hundred dollars to several thousand, significantly reducing the overall price. Keep in mind you don't have to apply a rebate to the purchase price and can choose to keep the money instead.
While cash rebates are designed to move a specific model of vehicle, bonus cash usually targets specific shoppers. This is extra money offered to groups like students, recent college graduates, or members of the military. You'll need to prove you are part of the specified group in order to be eligible for bonus cash offers.
They aren't advertised as much as straight cash rebates, so it may require a little digging to find out what's available in your area. You can check online or call your local dealership and they can tell you what is currently offered. Like any offer, these are subject to change, so don't assume what's available today will still be available next month.
If your previously bought a new car from a dealership and were happy with the ownership experience, then a loyalty bonus could help convince you to stick with that brand. This isn't as common as cash back, but it still offers a nice savings for qualified buyers. Think of it as the company's way of saying thanks for coming back.
On the flip side, there's also something called conquest cash and it's the exact opposite. Some automakers will offer you cash for coming from a competing brand. These offers can be hard to find, so be sure to ask the dealership what's offered so you don't miss out.
While incentives and rebates usually come directly from the car company, there may also be dealer incentives. It could be a loyalty bonus if you bought your last car at the same dealership. It might also be dealer cash. This is money is offered by the car company to the dealership for any number of reasons.
A dealership may decide to keep that cash, in which case you won't know it existed. Sometimes, however, a dealership chooses to pass on a portion of that incentive to the buyer. Since this is up to each dealer, the only way to figure out what might be available is to inquire with them directly.
It seems a bit more exciting to get a cash bonus because the numbers look big, but finance incentives offer their own savings, just one monthly payment at a time. These are easy to find and come in all different forms. There are low finance rates and even 0% interest loans available to buyers with good credit.
This requires a little math on your part to determine just how much you'll save for however long a loan term you're considering. Sometimes financing incentives are offered in combination with cash back and bonus offers, but they're often mutually exclusive. Choose the one that works best for your budget.
Leasing a car isn't the same as buying one, but there are still incentives and rebates offered if you decide to lease instead of buy. Financing incentives can be applied to the lease period reducing your monthly payment just like it would if you were buying a car outright and needed a traditional car loan.
Even cash back can be used to help make your lease more affordable. Depending on the terms of your lease, it may be applied to the residual value, which is what you owe if you decide to buy out your lease at the end of the term. It can also be used to lower the capitalized cost of the car, which helps lower monthly payments.
Taking full advantage of incentives and rebates requires a little research, but it's worth it for the money it will help keep in your wallet. Once you narrow down your choices for a new car, you can quickly and easily figure out which dealerships in your area have the car you want at a price you can afford right here at Autobytel with a free car quote. This will save you time at the dealership and make finding the perfect car a little easier.