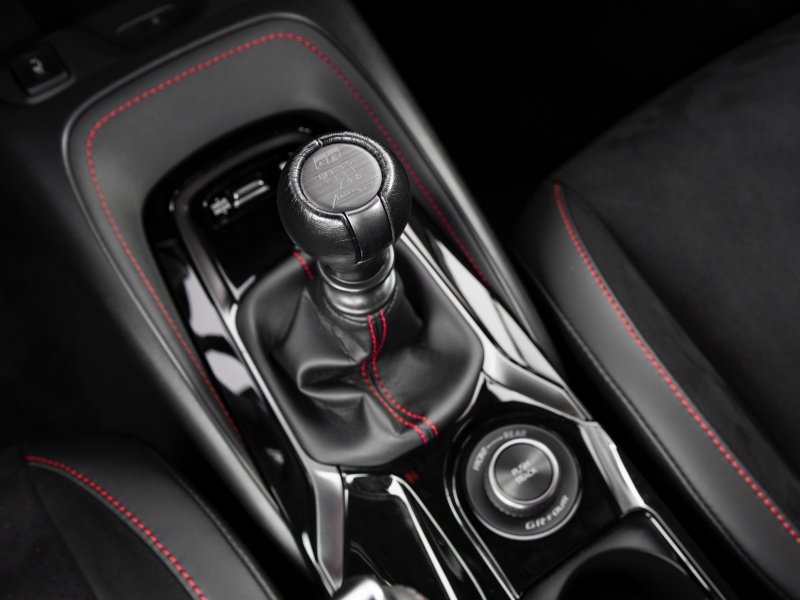 Photo by Toyota
For driving enthusiasts, there was a glorious window: Automakers had widely adopted the performance benefits and all-weather convenience of all-wheel drive, but they were still willing to produce manual transmissions. When we last compiled a list of the top 10 AWD cars with a manual transmission, it included everything from economy cars to luxury sports sedans.
These days, the pickings are slim. Just four models still meet the strict definition of AWD cars with a manual transmission. To reach 10, we had to be flexible about our definitions of car and AWD, then had to include two models whose manuals recently ended production. (If you are willing to stretch your definition of a manual transmission to include dual-clutch automatics, your options abound.) If you're still interested in this niche, here's what's left for you. 
2023 Toyota GR Corolla
Toyota missed the memo that AWD cars with a manual transmission are on the way out. Just this year, it introduced a brand-new entry into this segment, and it's an incredible machine. The 2023 Toyota GR Corolla takes the body of an ordinary Corolla hatchback, then transforms it from an economy car into a performance superstar. 
The GR Corolla uses a 300-horsepower turbocharged three-cylinder engine to reach 60 mph in around 5 seconds. Its all-wheel-drive system sends that power to the wheels, and you can tell the car whether to split that power 50/50 between front and rear for maximum traction, 60/40 for smooth everyday driving, or 30/70 when you're trying to drift it sideways. And every GR Corolla has a six-speed manual transmission. Prices start at $35,900, though many dealers are charging steep markups.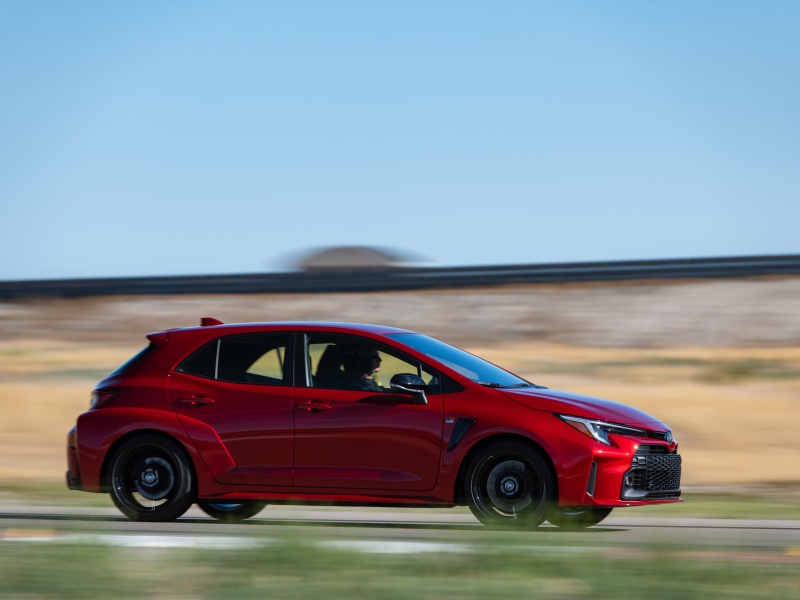 Photo by Toyota
2023 Volkswagen Golf R
The 2023 Volkswagen Golf R is another "hot hatch" that pairs all-wheel drive with a six-speed manual transmission. But where the GR Corolla is raw and feisty, the Golf R is a speedy, capable, luxury car. 
That's because the Golf R is essentially an Audi S3 sports sedan that shares many of the Audi's mechanical components, including its advanced all-wheel-drive system, 315-horsepower engine, and price tag of well above $40,000. But while the two cars also share a seven-speed dual-clutch automatic transmission, only the Golf R also offers a six-speed manual for a more immersive driving experience. We also welcome the Golf R's hatchback versatility, though the S3 has arguably a more upscale design inside and out, and has an almost inarguably superior control layout.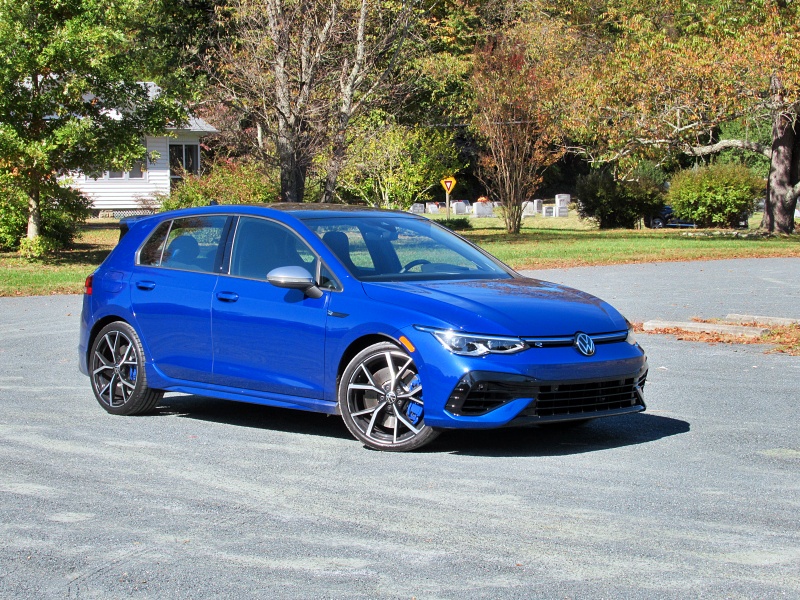 Photo by Brady Holt
2023 Subaru WRX
The most affordable AWD car with a manual transmission is the 2023 Subaru WRX. Priced from $30,605, the WRX is a compact sports sedan packing a 271-horsepower turbo engine, a spacious interior, and a rally-tuned suspension that's built for speed even on challenging surfaces — not merely on perfectly smooth tarmac. 
WRX purists lament that this Subaru sedan has lost the purity of its once-raucous demeanor, settling into more civilized speed even as it comes up short of posh and relaxed. Its performance credentials have tread water over the years even as other cars have gotten steadily faster. But if you like shifting your own gears, the WRX's manual transmission is already enough to give it the edge over any other all-wheel-drive sedan that's still in production.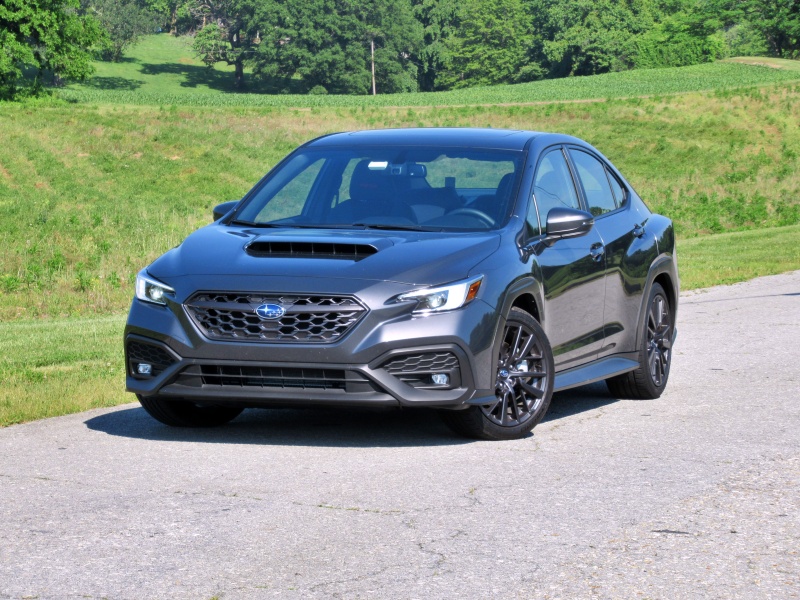 Photo by Brady Holt
2023 Porsche 911
Manual transmissions are losers when it comes to straight-line speed. Computers can change gears more quickly than human drivers. Between these genuine performance gains and the inability or unwillingness of many drivers to operate a stick shift, most of the world's best-performing sports cars have stopped offering manuals.
Not the 2023 Porsche 911. Its seven-speed manual is available even with the rear-engined sports car's all-wheel-drive version. You can row your own gears in the 443-hp S model or the 473-hp GTS, and if you do it right, you shouldn't need much more than 3 seconds to reach 60 mph. Plus, you get the 911's famous perfection in its steering and handling, along with an elegantly trimmed, high-tech interior. And you can get a choice of hardtop or convertible versions. All it will cost you to pair AWD and a manual on this exquisite machine is $130,300.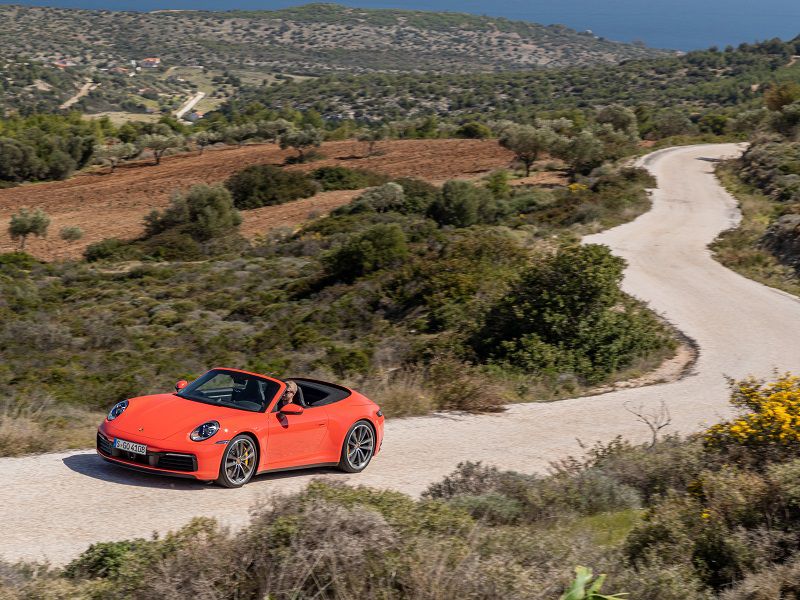 Porsche 911 ・ Photo by Porsche
2023 Subaru Impreza
Turning back to more affordable models, Subaru is known for including AWD as standard equipment on nearly all its lineup. So you shouldn't be surprised to see the 2023 Subaru Impreza compact car make our list. It's a comfortable, functional all-weather sedan or five-door hatchback with a five-speed manual transmission and a base price of just $19,795.
But like most automakers, Subaru is walking away from manuals. It redesigned the Impreza for 2024, and the new model (which has already supplanted the 2023 on dealer lots) is sold only with an automatic transmission. As we wrote this article in summer 2023, we found three leftover 2023 Imprezas still in stock with manual transmissions nationwide. If you're dedicated to owning one of them, we're confident their dealers will be happy to work with you.
2023 Subaru Crosstrek
Our next discontinued AWD car with a manual transmission is the 2023 Subaru Crosstrek. It's an SUV version of the Impreza hatchback, just lifted higher off the ground and slightly restyled.
The 2024 Crosstrek no longer offers a manual. But as with the Impreza, we still found a couple of leftover 2023 models with a five-speed manual transmission. The five-speed Crosstrek has lower EPA ratings than the CVT automatic (a difference that may be less in the real world), but it has a lower sticker price and a more engaging driving experience. We're also fans of the Crosstrek's comfortable interior, its ride that stays comfortable even on poorly maintained roads, and its elevated ground clearance. Prices start at $23,645.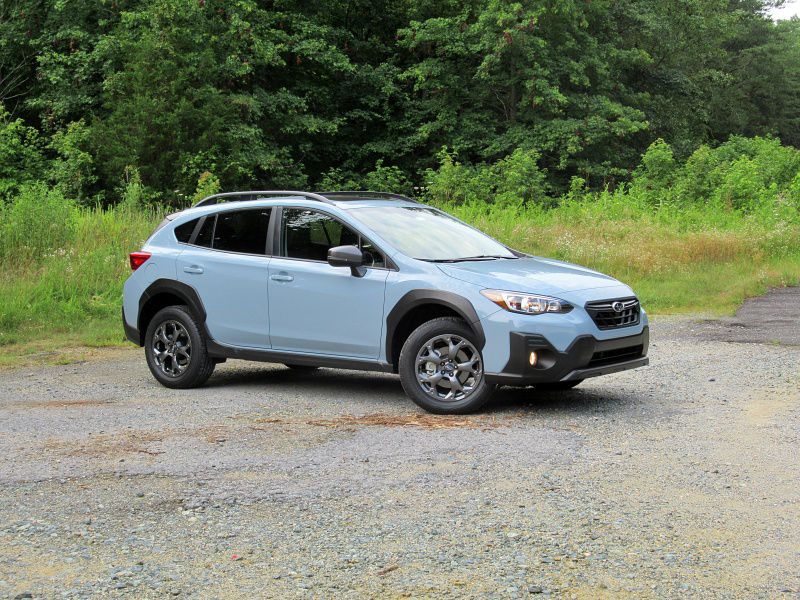 Photo by Brady Holt
2023 Ford Bronco
Subaru calls the Crosstrek a crossover SUV, but we could have gotten away with calling it a car. The 2023 Ford Bronco, meanwhile, is definitely an SUV — and not even a crossover. Although it's a fairly new model, it uses a traditional body-on-frame construction that's built for challenging off-road conditions.
It makes this list because it's one of just two brand-new SUVs to pair four-wheel drive with a manual transmission. The Bronco's seven-speed manual is widely available with its base 270-hp turbocharged four-cylinder engine and both its two-door and four-door body styles. Ford has said that a respectable 15 percent of Bronco buyers are choosing the manual, including a quarter of all two-door Bronco buyers. The Bronco won't scratch your itch if you were looking to row your own gears in an AWD sports sedan, but it can handle all weather (and any terrain) while letting you buy a stick shift. Bronco prices start at $34,890.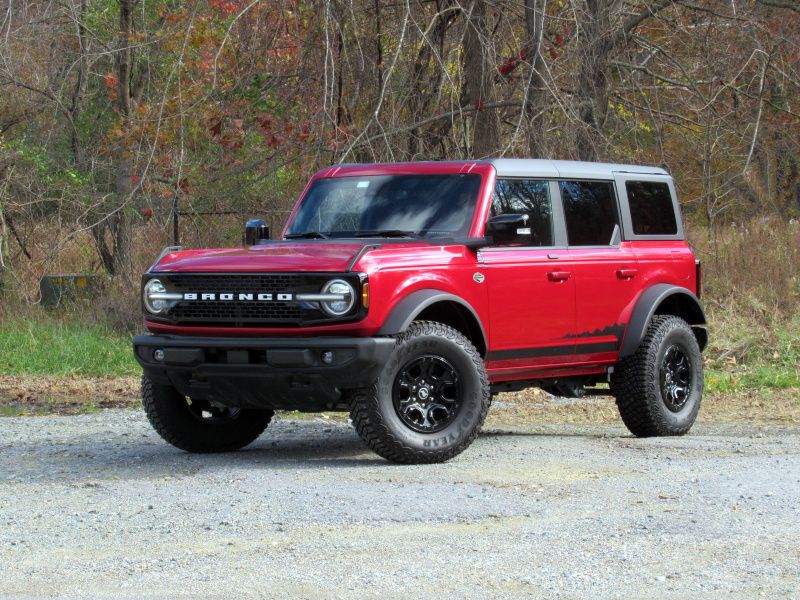 Photo by Brady Holt
2023 Jeep Wrangler
The Bronco's top rival, the 2023 Jeep Wrangler, is another body-on-frame 4WD SUV that is available with a manual transmission in both two-door and four-door form. And just as the Wrangler and Bronco are the only two SUVs left in production with manual transmissions, they're also the only SUVs sold as open-top convertibles.
Despite repeated steps to civilize it over the years, the Wrangler remains clumsier to drive and retains a more rudimentary interior feel than the slicker, newer Bronco. But to some buyers, that's just a matter of character. As some put it in proud bumper stickers, spare-tire covers, and T-shirts, "it's a Jeep thing, you wouldn't understand." The Wrangler starts at $31,195, and the six-speed manual is available with its base engine: a 285-hp V6.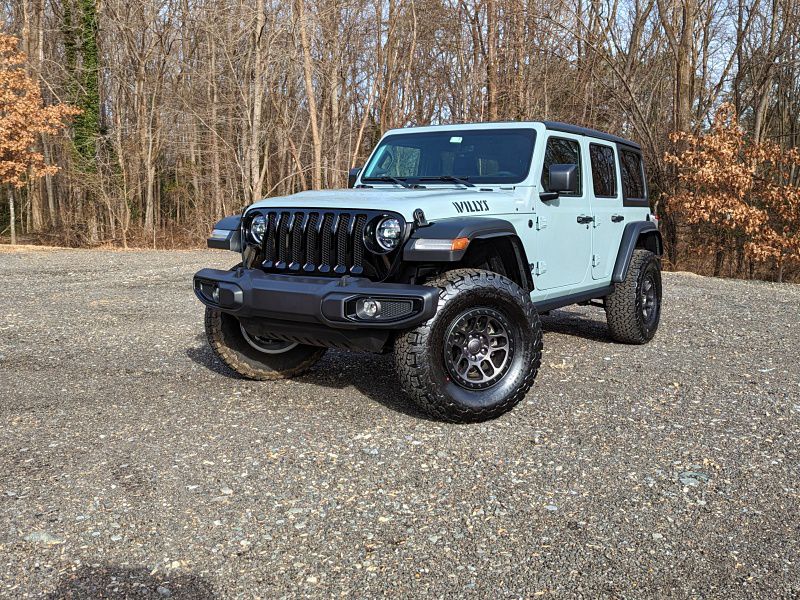 Photo by Brady Holt
2023 Jeep Gladiator
As we continue to drift further from 'car' in our quest for the elusive AWD car with a manual transmission, we come to the 2023 Jeep Gladiator. In essence, the Gladiator is a pickup version of the Wrangler SUV. This truck has the styling and driving manners of a Wrangler, but it has a 5-foot pickup bed on the back and a Ram pickup rear suspension for superior towing abilities.
Like the Wrangler, the Gladiator is available with a six-speed manual transmission with its V6 engine, along with a removable roof and doors. Prices start at $38,990.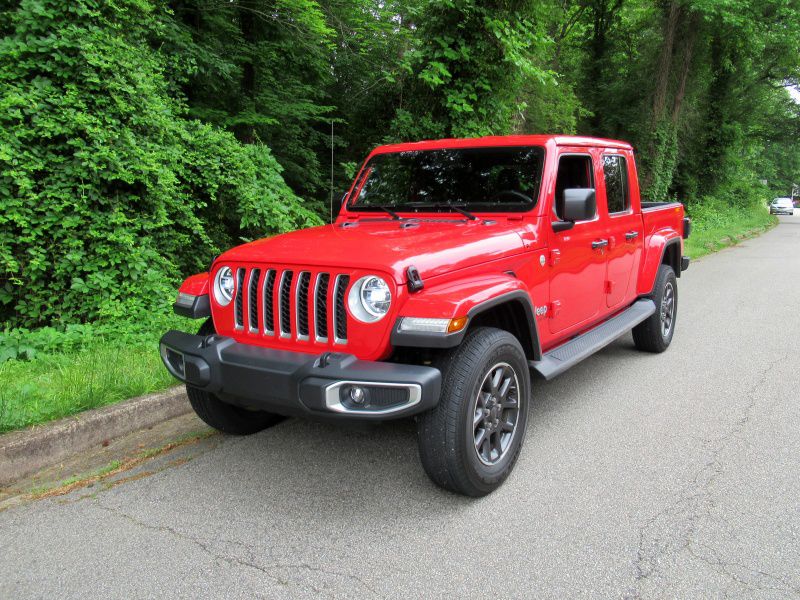 Photo by Brady Holt
2023 Toyota Tacoma
If our list hasn't made it clear, you have few options for a traditional AWD car with a manual transmission. You can buy one of three small sporty cars, get one six-figure luxury sports car, hunt for a brand-new discontinued model, give up your AWD or manual requirement, or buy something used.
Barring that, you can get our final choice: the 2023 Toyota Tacoma 4WD pickup, which is available with a six-speed manual on its off-road-focused TRD trim levels with a 278-hp V6 (starting at $36,935). The Tacoma has a cramped interior for adults, though Toyota has improved things in recent years with a height-adjustable driver's seat and telescoping steering column. A fully redesigned Tacoma is hitting the market soon, and it retains a manual with a new turbocharged four-cylinder engine.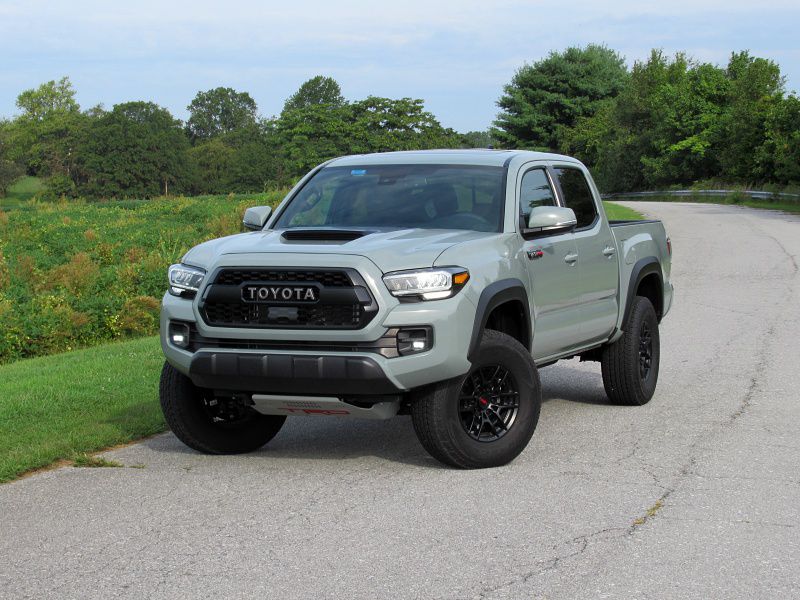 Photo by Brady Holt